Giveaway: Family Pass To Titanic Museum- Pigeon Forge, Tennessee
I am excited to kick off Travel With Sara with a Family Pass to Titanic Museum in Pigeon Forge, Tennessee. Thanks for stopping by. Our travels are just beginning.
The Titanic Museum located in Pigeon Forge, Tennessee offers fun and education for your whole family. Springtime brings new opportunities, as well as an opportunity to re-visit some of your favorite attractions.
The Titanic Museum in Pigeon Forge, Tennessee will be home to the Titanic Author's Week during the week of April 1- 7th, 2013. Ten of your favorite authors of Titanic historical books and novels will be in attendance during this time from 10 a..m.- 5 p.m. This six day book signing event, is simply one of a kind. If you have been wanting to visit the Titanic Museum, this is a great time to visit.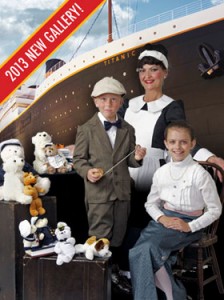 The Titanic Museum in Pigeon Forge,Tennessee, and Branson, Missouri; are both home to the new Children of The Titanic exhibit. The 133 children aboard are known as Titanic's littlest heroes. What they saw, heard, and felt from the moment they boarded the ship has been documented and visualized for the first time anywhere. This year-long exhibit is one you will want to visit! Discover the 133 Children Stories while visiting and be inspired.
Are you a homeschooling family? Special home school rates are available during the month of March on selected dates. Reservations are required. Call the Titanic Museum in Pigeon Forge to line up your visit at 1-800-381-7670. Homeschooling parents can also download a Titanic Education Guide filled with valuable history lessons.
There are many more events happening during this exciting Spring season at the Titanic Museum in Pigeon Forge, Tennessee. One upcoming event you may want to add to your family calendar, is the Titanic Pigeon Forge Princess Tea Party. If you have a little Princess in the house, this event is for you. Saturday, April 27, 2013, is the day! A fun way for your little Princess to learn table etiquette, proper table settings, and more.
The Titanic Museum of Pigeon Forge, Tennessee, is offering one of you a Family Pass. Enter through the Rafflecopter form below.
Disclosure: I am a Titanic Mom Blogger which means I receive tickets to visit, along with giveaways to readers throughout the course of the year. The Titanic Museum is responsible for prize fulfillment. The opinions expressed here are mine and nobody else's.