The Cowboys Of The Fort Worth Stockyards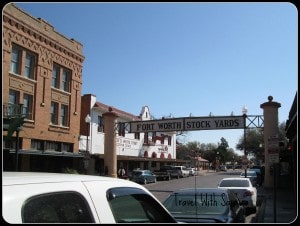 I recently visited the Fort Worth Stockyards in Texas and have to tell you that I cannot wait to return! I had been to the Fort Worth Stockyards as a young girl, and had not been back since. Once I set foot on the sidewalks in the area, I remembered being there as a young girl. Funny how that works, huh?
While in the Fort Worth Stockyards I spent some time in a few shops and let me tell you, if you need a pair of cowboy boots, this is the place to make your purchase. I observed a gentleman selling a pair of cowboy boots in the ever famous Fincher's White Front Western Store. When you visit the Fort Worth Stockyards you will see a cowboy around every corner.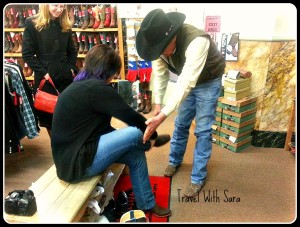 This gentleman knew how to fit a pair of cowboy boots and was genuinely helpful. He casually explained the difference between a fashion boot and a cowboy boot. In case you don't know, a cowboy boot has a square toe! He knew how to sell and fit cowboy boots.
The shops and hotels located in the Stockyards National Historic District showcase our nation's Western heritage, Cowboys and Culture are well represented here! Western wear and all things related to food, drinks, live country music, rodeos, and Texas can all be found here in the Stockyards National Historic District.
The world's only twice-daily cattle drive takes place at 11:30 a.m. and 4 p.m. Kids of all ages will enjoy the cattle drive, which features cowboys, cows, and horses. And in case you were wondering how all of this came about, I was able to chat with a few cowboys after the daily cattle drive. These cowboys have a passion for sharing the history of Texas and inspiring kids to appreciate their Texas heritage. The Fort Worth Stockyards is home to cowboys and culture. Listen to their story and you will have a new appreciation for the American Cowboy.
Have you visited the Stockyards in Fort Worth? If you have, I'd love to hear about your experience. I really enjoyed my time there and can't wait to share more in the days to come!
Fort Worth, Texas is full of many fun activities for families of all ages. A special Thank You to The Fort Worth Convention and Visitors Bureau for inviting me to tour Fort Worth. I am not required to share any specific viewpoint about my experience. The opinions expressed here are mine and nobody else's.
The following two tabs change content below.
SaraB
Sara is a travel enthusiast that resides in North Iowa. You can find her traveling where the plane, train, ship, or car will go. Are you looking to take a road trip? Sara has solutions for you!