Culture in Fort Worth: Modern Art Museum
I do not consider myself to be a lover of art, so I was rather surprised at myself when I learned I had spent much more time than planned while visiting the Modern Art Museum in Fort Worth, Texas. My curiosity was sparked before I set foot inside. Now, doesn't this spark your curiosity? A special thank you to the CVB of Fort Worth, Texas, for introducing me to the Cultural District in Fort Worth,Texas.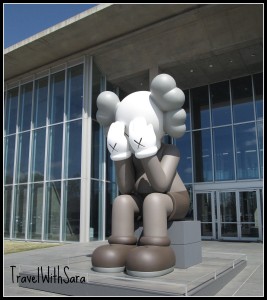 Upon entering, the group I was with enjoyed a delicious noon meal at the Café Modern. I must say that I had one of the tastiest turkey sandwiches that I have ever eaten. How's this for a noon meal? The foods that make up the menu here are all cooked exclusively from scratch, while showcasing local ingredients. Flavors from all around the world top off the tasty menu items.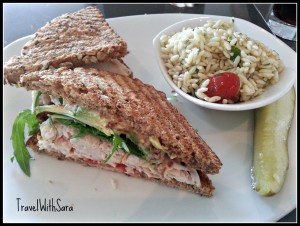 If turkey is not your thing, there are several other fantastic choices to choose from. Once you set foot in this restaurant, you realize that you are really surrounded by modern art. I was extremely curious with this view over our noon meal. Yes, those are metal trees across all that water.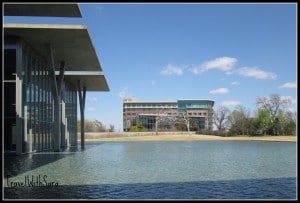 This museum is all about Modern Art and this view just reinforces that fact. Take note of the building, trees, and water. All of these things are art. The collections throughout the museum were intriguing and interesting. The colors, patterns, and shapes were eye catching.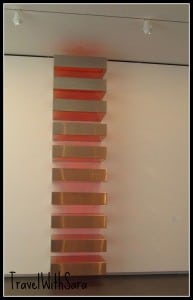 Thought provoking is what each display was. I think that is why time got away from me while visiting. And then this display, I could have stood here for hours. The words seem to appear to head right out into the water, pretty cool huh?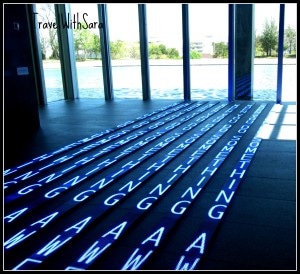 The Museum of Modern Art in the Cultural District in Fort Worth, Texas is a museum you will want to put on your list of must visit museums. The fact that I found myself "lost" in the collections here, says that you need to visit.
There are several other museums within walking distances of the Modern Art Museum in Fort Worth, Texas. Plan a full day to visit all of them. Keryn, of Walking on Travels, shares her experience in the Cultural District in Fort Worth. The Cultural District in Fort Worth, Texas, is a must to put on your list while visiting Fort Worth!
The following two tabs change content below.
SaraB
Sara is a travel enthusiast that resides in North Iowa. You can find her traveling where the plane, train, ship, or car will go. Are you looking to take a road trip? Sara has solutions for you!