Ventura Gun Club: Iowa's Oldest Continually Operated Gun Club Hosts Trapshooting Events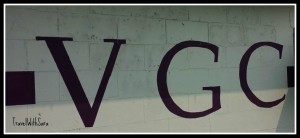 We spent our week-end at a trapshooting event in Ventura, Iowa. The Ventura Gun Club is the oldest, continually operated gun club in the state of Iowa. The outdoor trap enthusiast will appreciate the Ventura Gun Club, as there are four trap ranges with a skeet and 5-stand field. Here's a great view of the skeet and 5- stand area. This particular area was not being used during this week-ends ATA Registered Shoot.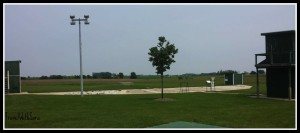 Trapshooting events are held throughout the United States. Ventura, Iowa, happens to have a set-up that interests trapshooters of all ages. There were shooters of all ages participating in this shoot this past week-end. There were cars with license plates from Minnesota, Iowa, and even Texas.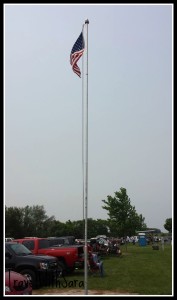 Trapshooting is a sport that women, men, boys and girls can all participate in. People with disabilities even participate in trapshooting. If you have never spent anytime out on a trapshooting range, I would encourage you to do so. The camaraderie amongst the shooters is amazing!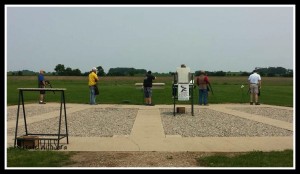 This is a sport where you see a lot of handshaking, people talking to each other, people congratulating and encouraging each other. I have personally never witnessed anyone at a trapshooting event degrade another shooter. The people in the trapshooting arena, are a class act.
The Ventura Gun Club holds different events throughout the year, and it is also open for open shooting on Tuesdays/Thursdays from April until the end of September. Club memberships are available for purchase, as well as other trapshooting gear.
There is a concession stand on site, as well as a couple nice sheltered areas for watching shooters shoot out on the range. I would recommend packing a lawn chair when attending a shoot at the Ventura Gun Club. And as always, the Ventura Gun Club is out in the open, so it's always a little cooler and windier than it is in town. My advice is to dress in layers, during all times of the season. The weather in Iowa is like a roller coaster.
The Ventura Gun Club is easy to get to. It is about five miles West of I-35, from the Clear Lake, Iowa, interchange. It is also approximately four miles East of Garner, Iowa, on Hwy 122. Ventura, Iowa does have a small gas station and it does have some family owned restaurants that are also open during the trapshooting season.
I should add, if you are looking for something do on July 4th, 2013. There is an ATA Registered shoot taking place, starts at 12:00 noon.
The following two tabs change content below.
SaraB
Sara is a travel enthusiast that resides in North Iowa. You can find her traveling where the plane, train, ship, or car will go. Are you looking to take a road trip? Sara has solutions for you!