Cody Go Karts: North Platte, Nebraska
CODY GO-KARTS OFFERS FAMILY FUN IN NORTH PLATTE, NEBRASKA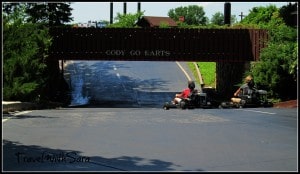 CODY GO KARTS= FAMILY FUN IN NORTH PLATTE
We were guests at Cody Go Karts in North Platte, Nebraska this summer and had a blast! We have traveled the I-80 Corridor in Nebraska several times and had never stopped to take a spin on the Go-Karts. Well, let's just say we were pleasantly surprised to find the attractions included Go-Karts, Bumper Boats, Miniature Golf, Water Slides, and More.
TWO GO KART TRACKS: SPEEDWAY & SLICK TRACK
Cody Go Karts has two different Go-Kart Tracks. One is a Speedway and the other is a Slick Track. I personally liked the Speedway the best, but my boys all thought the Slick Track was the most fun. They do have several signs up around the property stating how tall kids have to be to ride. It's important to make sure your kids are tall enough, as these go karts do move right along.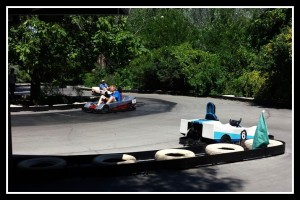 Cody Go Karts is hidden by beautiful trees along I-80. The water slides are visible, but the really cool Go-Kart tracks are not. The setting here was very nice. It's a clean park, with a lot of shade, and the employees were very helpful and friendly.
KODY GO KARTS ALSO OFFERS BUMPER BOATS
Bumper Boats were new to us as well. I had never been on a Bumper Boat.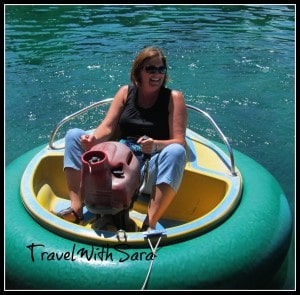 Once I figured out how to maneuver the crazy boat, life was good. It was kind of a challenge.
Cody Go Karts also offers a nice concession stand, which does offer Soda Drinks, Gatorade, Bottled Water, Nachos, Candy and the like. The Concession stand is located right next to a game room. The game room was home to several traditional fun games that families enjoy engaging in.
You know what I loved about this place? It's the fact that it was so easy to get to off of I-80, making it the perfect place to stop with a family to break up that long I-80 Nebraska haul! Next time you are traveling on I-80 in Nebraska, make Cody Go Karts a must top on your list. To save time, you can even purchase your tickets online.
North Platte is a community full of history, fun, and lots of good home cooked food! A special Thank You To the North Platte CVB for hosting our family for a couple days in North Platte, Nebraska.
The following two tabs change content below.
SaraB
Sara is a travel enthusiast that resides in North Iowa. You can find her traveling where the plane, train, ship, or car will go. Are you looking to take a road trip? Sara has solutions for you!