Discover Vacation Ownership at Ron Jon Resort: Cape Caribe
We were guests at Ron Jon Resort: Cape Caribe in March of 2013 and are excited to return for a visit this Fall. This fantastic, family friendly resort is located in Port Canaveral, Florida. It is the ideal place to call home before and after you cruise on any of the fun cruise ships that depart from this port. Ron Jon Resort: Cape Caribe also offers vacation ownership packages for the family looking to invest in a vacation home near Port Canaveral and Cocoa Beach, Florida.
This resort is not only the perfect location, in regards to cruising; it's a great place to vacation with your family. Ron Jon Resort: Cape Caribe, offers vacation homes to meet the size of your family, as well as activities to keep everyone busy while vacationing here. Our particular unit had a very large living room- how's this for space?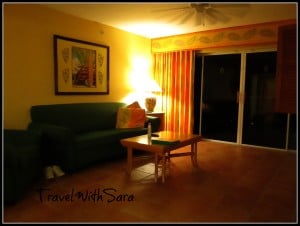 The units here are warm, cozy and open. With the beach nearby, the tiled floors are appealing to the eye and make for easy clean-up, should sand find its way into your room. And speaking of the beach, here's a great view of the beach!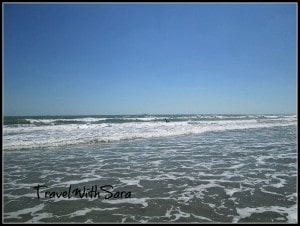 There are two buildings at Ron Jon Resort: Cape Caribe. One is home to the water park and the other has the boardwalk to the beach right outside the door. If you are staying in the Main Building, you can walk to the beach or hop on the tram that transports families back and forth to the boardwalk to the beach.
The amenities are endless! From an indoor playground for the kiddos, a large outdoor water park, as well as a hot tub and restaurant on site. Each unit contains all the necessities for preparing and eating meals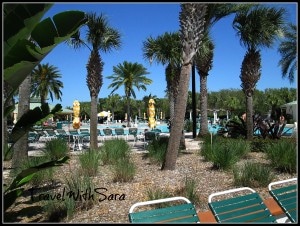 It's a good idea to swing into Cocoa Beach and stock up on groceries before you plant your feet at Ron Jon Resort: Cape Caribe. The drive into Cocoa Beach is five minutes, it's literally a hop, skip, and a jump. Vacation ownership can be a reality! Connect with the folks at Ron Jon Resort Cape Caribe for your own personal tour of this fun property! Once you set foot on the grounds, you will easily see why you will want to call Ron Jon Resort: Cape Caribe your vacation home.
The lobby is welcoming and is a great place for family and friends to gather. We gathered here, as a party of 10, to chat about our upcoming cruise. The atmosphere was ideal, as we could all sit together to chat.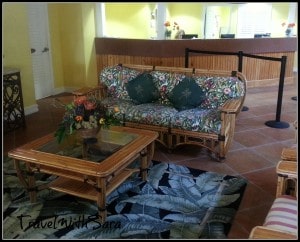 So- what's keeping you from investing in your vacation home at Ron Jon Resort: Cape Caribe? Make your vacation home a reality today- schedule your private tour and the vacation memories can begin!
And if you happen to be cruising and are not a vacation home owner. Book a one night stay before and after you cruise and park your car for free at Ron Jon Resort: Cape Caribe. We have loved the hospitality and fun that Ron Jon Resort: Cape Caribe has to offer and I am confident that you will too.
The following two tabs change content below.
SaraB
Sara is a travel enthusiast that resides in North Iowa. You can find her traveling where the plane, train, ship, or car will go. Are you looking to take a road trip? Sara has solutions for you!