The High Museum Of Art Atlanta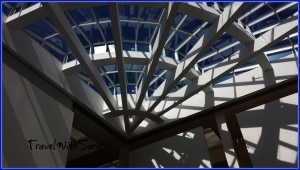 I recently spent a few days in Atlanta, Georgia, and all I can say is, "Wow!" Each day I found something a little more unique and intriguing than I did the day before. I hopped on the Marta to go visit The High Museum of Art Atlanta. The Marta is super easy to use while in Atlanta and The Museum of High Art is seriously just a hop, skip, and a jump from where you exit at The Arts Center Station in Mid-Town Atlanta.
Tickets can be purchased at the door and online. I had an Atlanta CityPass in hand, which was my ticket. Keep in mind that this museum is closed on Monday when planning your itinerary while in Atlanta.
The permanent collection of art here is phenomenal, from American Art to African Art. And then there is the Folk, European, and Contemporary Art. With more than 12,000 pieces which include 19th and 20th century pieces, The High Museum of Art Atlanta has it all!
All areas of this museum are handicap accessible and wheelchairs are available on a first come, first served basis. Guided tours and well as groups with sight, hearing, or physical disabilities can also be accommodated by calling 404-733-4444.
As with any museum, use some common sense when visiting. Do not touch the displays and do not allow children to climb on or around the beautiful sculptures that you will find in The High Museum of Art Atlanta.
Here's a glimpse of some of the stunning art you will find in this museum.
The older I get, the more I appreciate art and what it has to offer. From the wood projects to the crystal, this museum had it all. The architecture of the building is art in itself. The High Museum of Art Atlanta is located in Mid-Town Atlanta, which is home to several art oriented experiences. I did not have time to explore other venues while in the area, but there looked to be several. I could see that a person could easily spend a whole day in this area of Atlanta.
A special thank you to the folks of AtlantaCityPass for providing me with a pass. The AtlantaCityPass does save you money, so it is worth investing in. You can visit five attractions, including The High Museum of Art Atlanta. The attractions in Atlanta were all very fun, educational, and exciting! I cannot wait to go back to Atlanta to explore. The people of the South sure knew how to welcome this gal from the North.
The following two tabs change content below.
SaraB
Sara is a travel enthusiast that resides in North Iowa. You can find her traveling where the plane, train, ship, or car will go. Are you looking to take a road trip? Sara has solutions for you!