Home For The Holidays Mason City, Iowa
The holidays bring families together from near and far. Quite often a visit to where your hometown roots were planted is on the agenda. Mason City, Iowa, is my hometown and I am proud to claim it! Did you know that Mason City is where The Music Man's own Meredith Willson was born and the last known hotel remains in the whole world that Frank Lloyd Wright designed? Aside from this awesome history, there was a fun event today in Mason City.
Home For The Holidays 2013 hit a home run today. Lots of folks gathered in the plaza downtown for the annual snowball drop.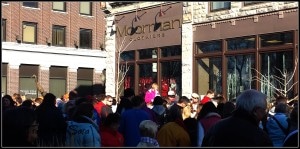 The snowball drop is an exciting time! Folks gather to see what color of snowball they can catch. The snowballs offer discounts and coupons that are good at participating downtown businesses. It was fun to see so much life on the plaza in downtown Mason City.
Families stood in line for quite a few minutes to experience a horse drawn carriage ride through the streets of Mason City. And it was 40+ degrees on November 30th!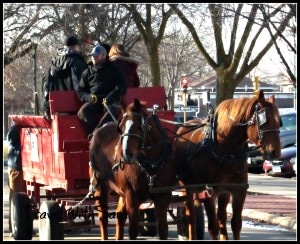 Music Man Square, Southbridge Mall, and other downtown businesses were home to fun, family oriented activities all afternoon. From magic shows, to cookie decorating, to a family friendly bean bag toss, there was something for everyone. And of course, Santa and Frosty The Snowman were on hand to greet kids of all ages.
And if you venture down past the Meredith Willson Footbridge on East State Street, you will find Soyphisticated Candles, one of North Iowa's premiere candle makers, right here in River City! A nice selection of holiday candles that your home will welcome in a second or two.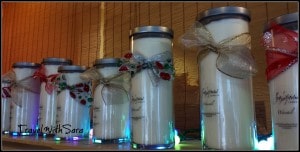 Soyphisticated Candles will be open throughout the holiday season with the following hours:
Monday/Wednesday/Friday 10:30-4:00 P.M.
Tuesday/Thursday 12:30-5:00 P.M.
Saturdays 10:00- Middle of Afternoon (Call for specific hours 641-424-3223)
And just in case you won't be able to make it home to your hometown, check out the nice selection that Soyphisticated Candles has to offer. Camille does ship all around the world!
East Park is also home to the Rotary Cannonball 457, the last known locomotive of its kind in the world! Another treasure that my hometown, Mason City is lucky to have. This 457 is all decked out for the holidays. I have yet to see it all lit up at night, but I can only imagine!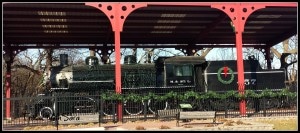 Does your community celebrate the season with a welcome home celebration? If so, I'd love to hear about it! There's something about celebrating one's hometown that makes the season a little more special.
The following two tabs change content below.
SaraB
Sara is a travel enthusiast that resides in North Iowa. You can find her traveling where the plane, train, ship, or car will go. Are you looking to take a road trip? Sara has solutions for you!