Christmas is coming and it's time to start planning the fun for you and your family. Grapevine, Texas is the capital of Christmas fun when it comes to the great state of Texas. In fact, it's a pretty darn GREAT time and should be referred to as the Christmas Capital for fun in the United States.
EVERYBODY LOVES A PARADE
Now, I don't know about you, but I am not aware of many places that offer so many family fun events around the Christmas holiday. Everyone loves a parade and Grapevine hosts a terrific family-friendly parade that involves the whole community. Cute parade entries like this are sure to bring a smile to faces along the route.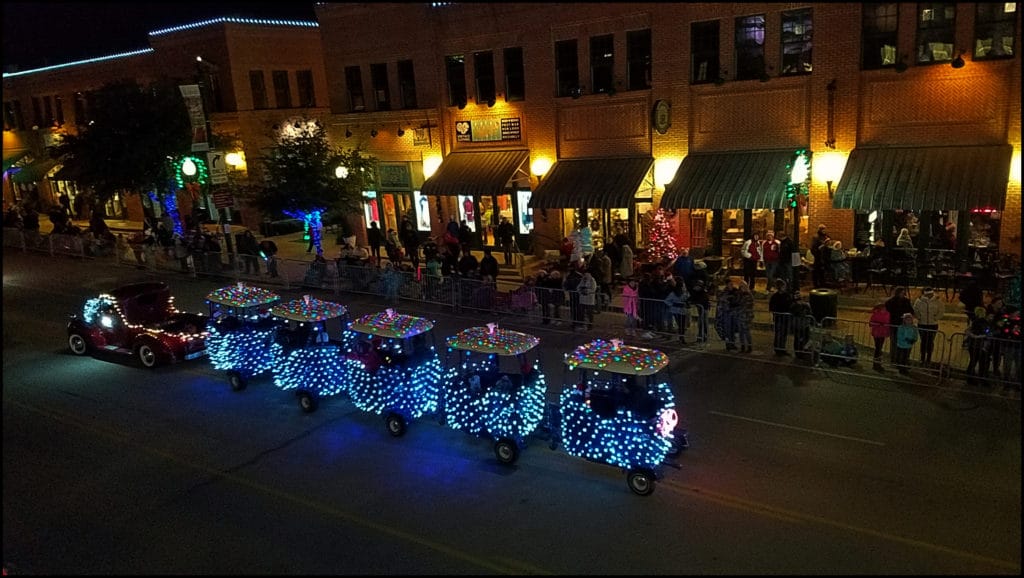 From the local school dance team to the small business owner on Main Street, there are dozens of parade entries that feature good old fashioned Christmas pride. The parade is held annually on the first Thursday in December. The theme for 2018 will be "Holiday Magic on Main." The parade is free to the public and begins at 7:00 PM. My suggestion would be for visitors to arrive early to claim their viewing spot along Main Street, as it does crowd quickly. Tip: Dress for the Christmas season and a Christmas parade.
EVERYBODY LOVES A HOLIDAY TRAIN
If there is one thing that I would highly recommend for families to participate in, is to take a ride to the North Pole and meet up with Santa and Mrs. Claus. The train ride is festive and the time onboard with Mrs. Claus and an Elf or two is joyous and memorable.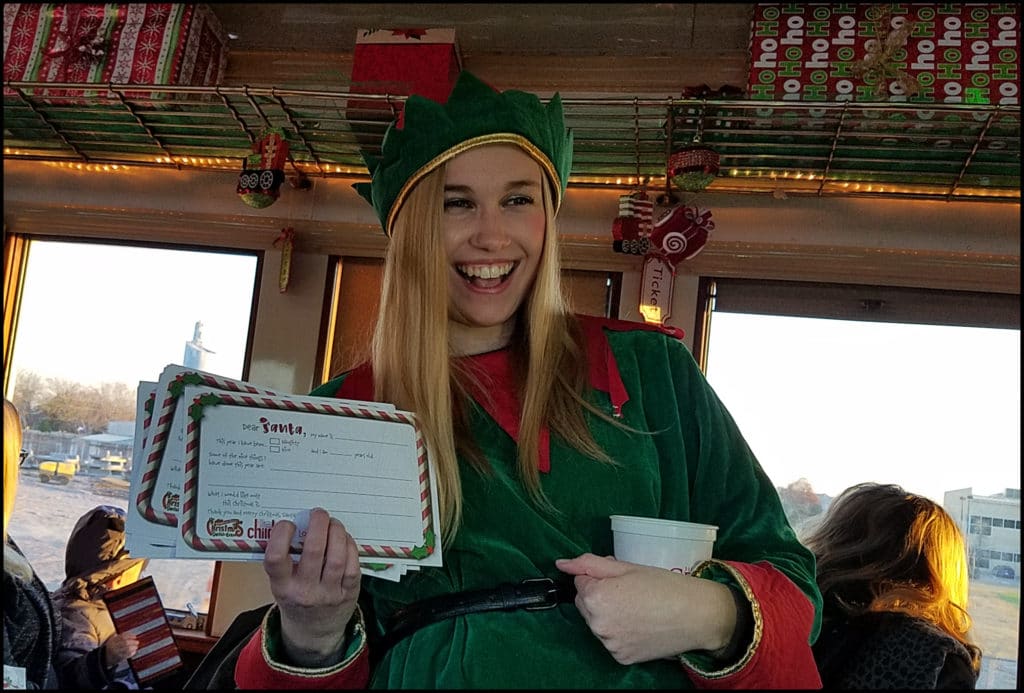 If you are not in the Christmas spirit when you board the train, you will be when you arrive at the North Pole to meet up with Santa Claus. Tip: Purchase your tickets ahead of time, as they are already sold out for the 2018 season. Inquire about cancellations to see if you can still snag a ticket or two.
EVERYBODY LOVES HOLIDAY ART
A fun way to get your creative spirits flowing is to reserve your space at the VETRO Glass Blowing Studio. As a guest of the Grapevine CVB, I had the opportunity to create my very own glass holiday ornament.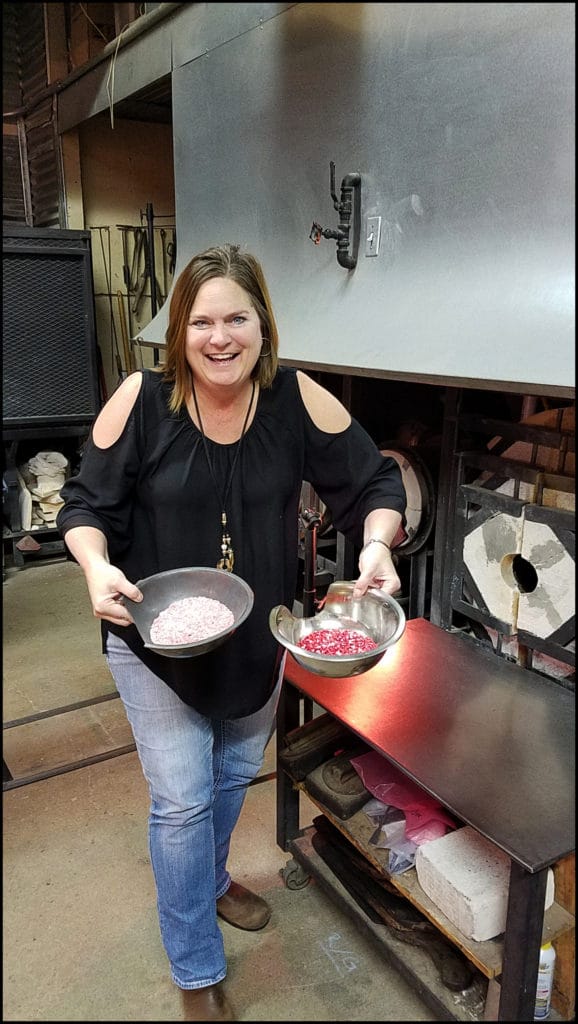 As you can tell the people that assisted me were very patient, helpful and made the experience a lot of fun.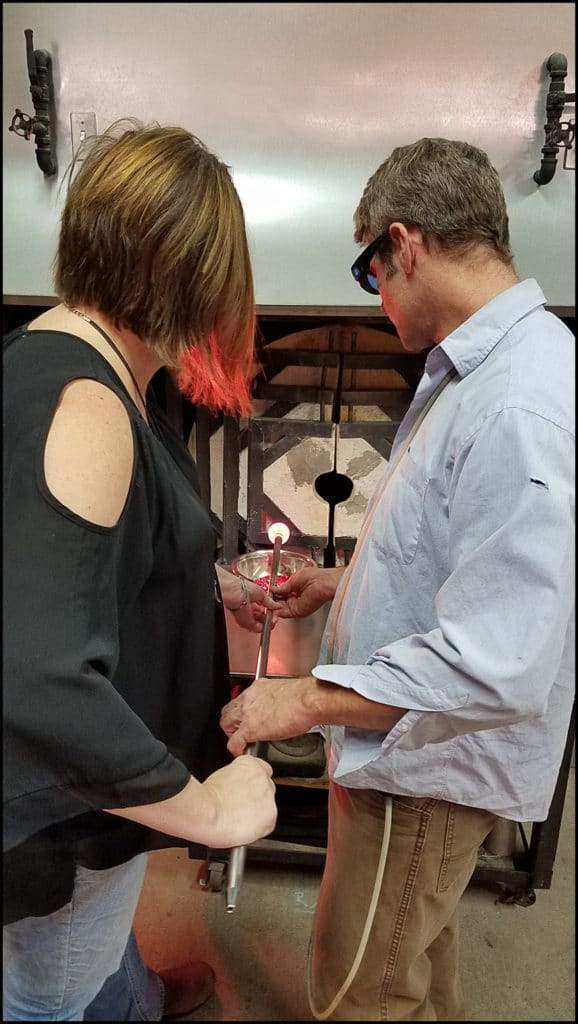 The beauty of this project is that you will have a beautifully handcrafted ornament that you created with an investment of time and $30-$50.
Those that know me well know that I am not an artsy person, so it was fun that Grapevine challenged me in this area. I challenge you to get your Christmas on over at the local Painting with a Twist studio. And once again, I found a patient instructor.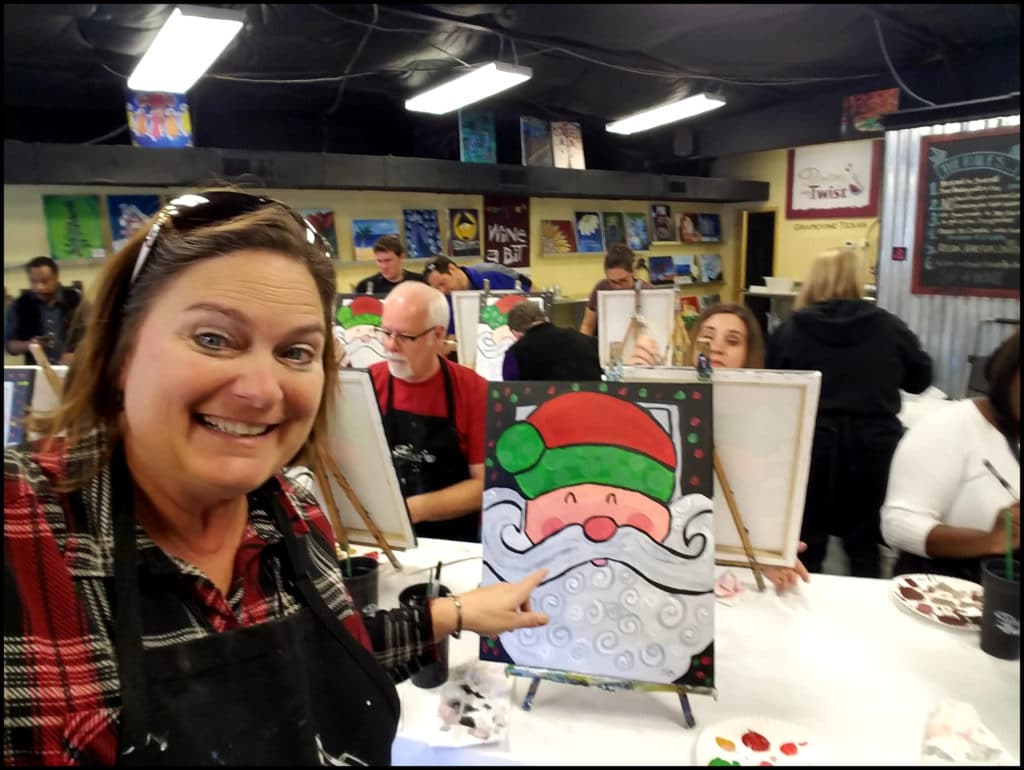 I was able to produce a work of art that I am looking forward to displaying in my home this Christmas season. Tip: Paint with friends, as it adds to the experience.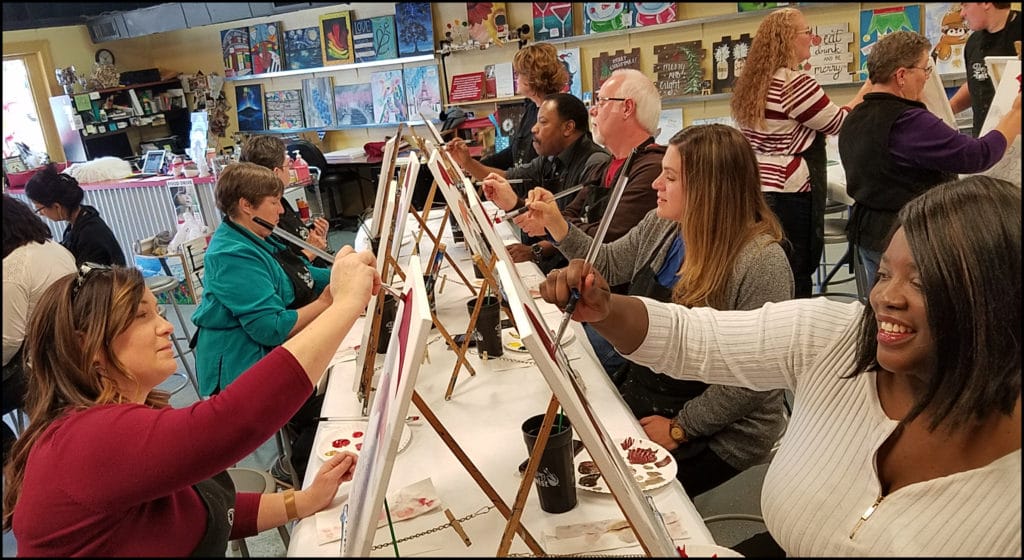 EVERYBODY LOVES CHOCOLATE
Dr. Sue's Chocolate was an out of this world chocolate experience. This chocolate shop is located on the cute Main Street that turns into a magical Christmas treat throughout the holiday season.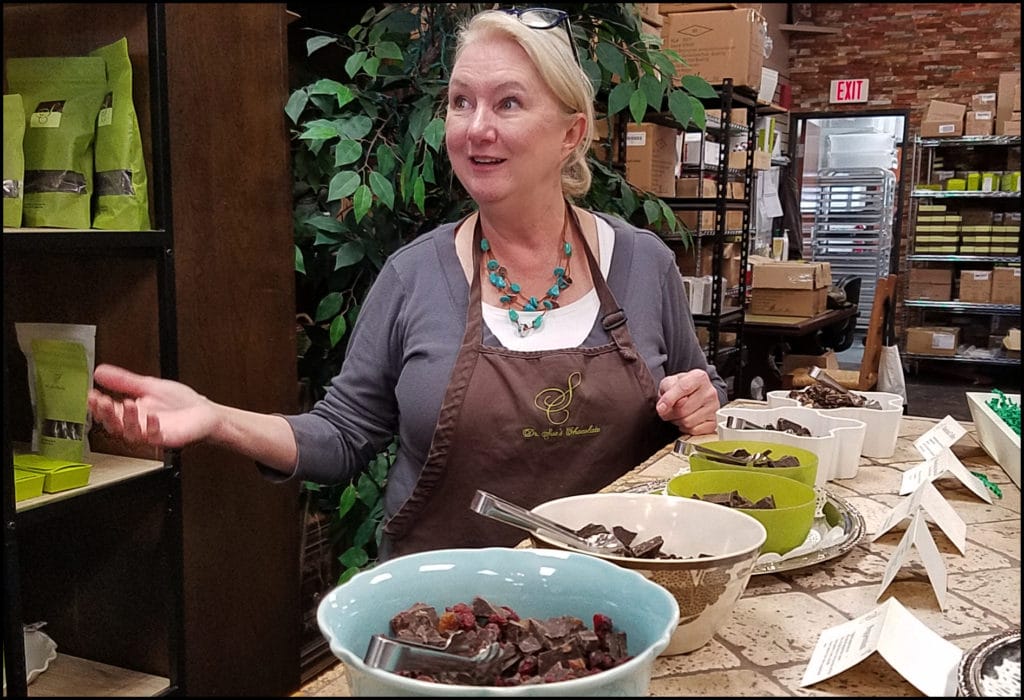 It's no secret that I do love chocolate, as I have visited many chocolate shops over the past year. I am not a huge dark chocolate fan, but it is fair to say that Dr. Sue's Chocolates were very, very good! Dr. Sue is a practicing physician who is passionate about helping people be healthier and it's through her love of chocolate and health that her chocolate shop exists.
EVERYBODY LOVES ICE! CREATIONS
For 52 days during the months of November and December, Gaylord Resorts present ICE!, a "walk-through winter wonderland" of ice sculptures at all four of their properties. This icey exhibition at the Gaylord Texan is a perfect addition for the Christmas Capital of Texas, and it will be unlike any other Christmas experience you will ever participate in.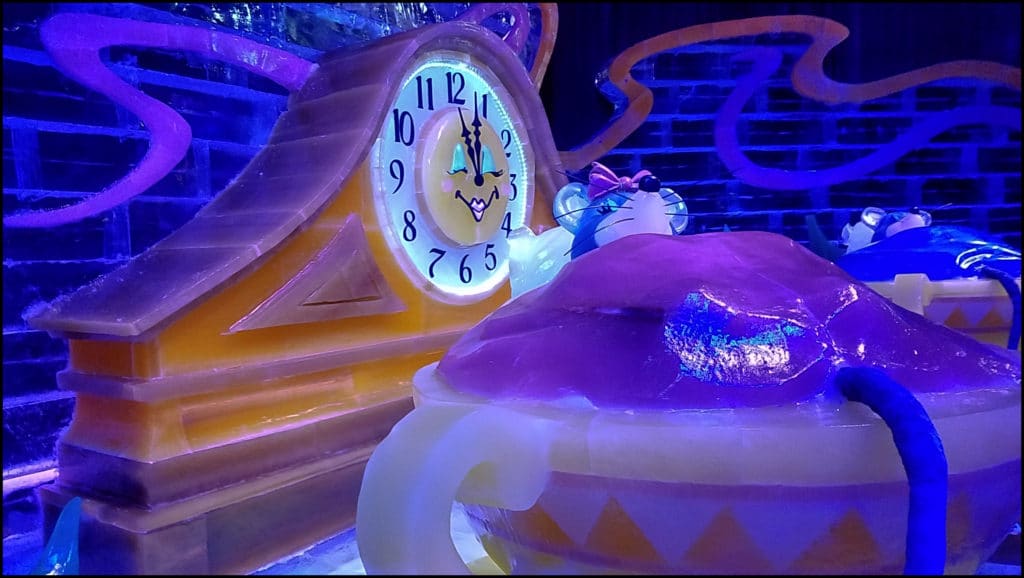 ICE! is hand-sculpted by 40 international artisans and kept at a chilling 9 degrees.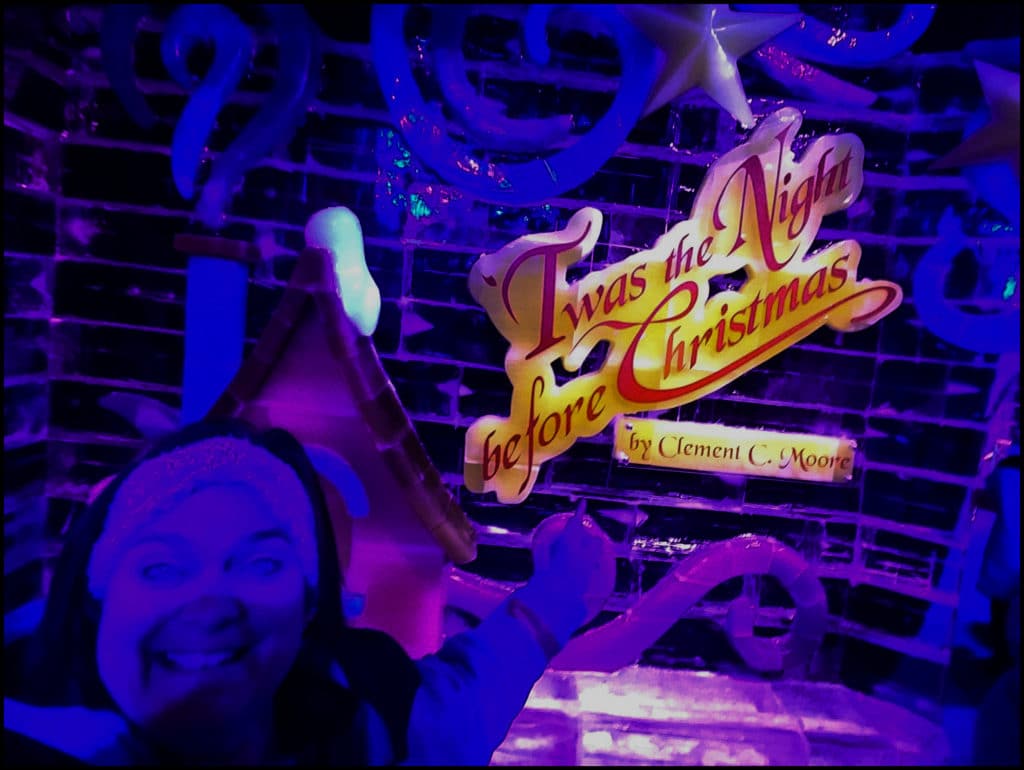 Now, this Iowa gal accepted the blue parka and bundled up. Tip: Bring a hat and gloves.
I have honestly never experienced anything like this beautiful exhibition, as it was truly stunning! The artwork was out of this world and kids of all ages were enjoying the numerous slides throughout and the fun ice displays.
These are some of the highlights of the more than 1,400 Christmas activities that Grapevine, Texas has to offer over the Christmas season. I loved Grapevine and the good old fashioned down home Christmas spirit that it left in my heart. Have you experienced an Old Fashioned Christmas in the past year or two? If so, I'd love to hear all about it.
 *Thank you to Grapevine, Texas for hosting me and showing me the Christmas spirit that Grapevine has to offer.