Your Guide To Success When It Comes To Working With Media
When people hear the word media, they often cringe. The word media is YOUR friend and you need to treat it that way. When you embrace the word media, your business will change for the better. Through the past eleven years, I've had some very good things happen, because of my contacts with media. I am going to share with you how I have done it and then I want you to take this knowledge and turn into a media rockstar.
GET DRESSED AND SHOW UP
You may be asking, "How do I do that?" It's really fairly simple when you find a presence that others are simply not finding. I work from home, as many business owners do and one of the things that I do every single day is get dressed and show up. If I do not get dressed for the "work" day, my mind is simply not in it to win. I also make it a point to visit one local business a day throughout the work week. This is the easiest way to learn what's going on in your hometown and word will travel that you are a knowledgeable person. Your local business owners are often the first line of contact for news stories when it comes to local media. If you have stood out amongst the crowd, by getting dressed and showing up, you will get the call to come into the tv station for an interview and/or being a guest on a radio show or podcast.
This particular interview call came an hour before they needed the story. I was dressed and ready to show up!
https://www.kimt.com/content/video/478364113.html
TWITTER IS A HOT SPOT FOR CONNECTING WITH MEDIA
Twitter was hot 11 years ago and it still is today. Find all of the people that you know would have an interest in your business and what you do. Then, take action and follow them on Twitter. Many of you know that in 2018, I was hired by a flooring company in Ohio to manage their social media accounts. Due to the internet and the world wide web, it was a great fit for this Iowa gal. When I asked them why, they responded with, "You were the only person engaging with us that had clean Tweets." That, my friends, speaks volumes as to the power of Twitter. You are in charge and by engaging with media on this social media platform, you will be noticed and stand out from the rest of the pack. The key here is to engage! Exchange conversations through Tweets and the magic will happen. Fun Fact: I worked with this company for six years and let them go when my business took a change in direction. 
Most people Tweet a couple times with someone they want to partner with and they move on. The key here is to stay connected. Media is always watching for new stories. You, as a business owner, always have something new to share. When media comes calling, grab the opportunity and run.
DEVELOP PROGRAMS WITHIN YOUR LOCAL COMMUNITY
Local is important and when you embrace it, you will be ahead of the pack. The best thing I ever did from a local perspective was to start a social media breakfast club. I started it 6 years ago and it's still going strong today. It is not Chamber driven, just driven by me. People from all media within our community attend and know about it. By being a leader in a local event, you will be the go-to person for media.
Press releases do work. Send out a press release to local media anytime you are bringing an event to your community. It can be something very simple with five attendees, or a huge event with thousands of people. Local media needs stories and you are their avenue. It won't take the reporters long to know that you are their go-to person, as you will make things easy for them. A press release is how this interview came to fruition:
Travel Writers Seeking the Quirky, Hoping to Inspire Road Trips
Under promise and over deliver. If you do this, you are set to win! You will be known in your community as the rock star when it comes to tv interviews and guest radio spots. When you are comfortable in the interview, you will be called back time and time again. If you are unable to fill a spot when media comes calling, give them the name of someone that you know can help them. This way, you are again, at the forefront of the reporter's mind.
Most importantly find your online and offline tribe. For me, The Midwest Travel Network is my online tribe and my offline tribe includes the near 1,000 people that have attended the North Iowa Social Media Breakfast Club. By staying in front of the media, I find myself with interview requests on a monthly basis and often refer them to someone else. It's not because I'm not always available, but I sometimes feel that they can get a better story from someone else. Be a team player….. Be confident… and you will be a media rockstar!
If you would like to set up a FREE 15-minute coaching call on this topic, please email socialmediasara@yahoo.com and we will set a call up!
A little more about Me (Sara Broers)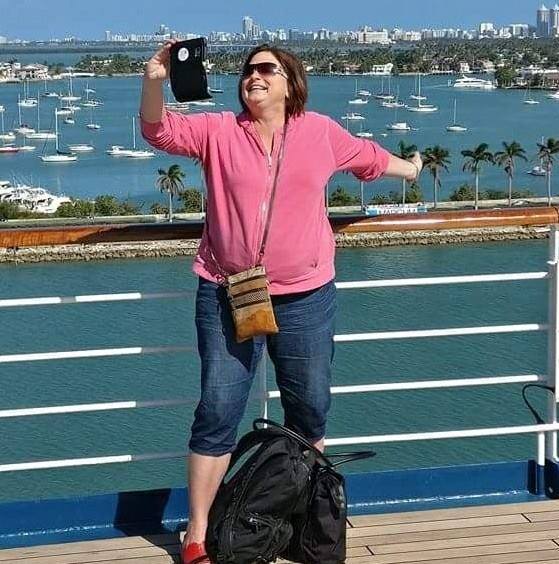 I am the CEO of Travel With Sara, the CEO of Social Connections, LLC, co-owner of Home Grown Social Media, and the co-owner of the Midwest Travel Network.
I have personally assisted more than 150 businesses  grow their businesses through the use of social media and helping them with their online presence. Through social media, we drove in a lot of extra media attention that they would not have had otherwise.
I am also the social media instructor at World Wide College of Auctioneering, where I have assisted hundreds of auctioneers on improving their online appearance. I assist them with social media and help them land their next gig, which often includes reaching out to media.
It's true, I will travel where the car, train, plane, ship or car will go!
I wish each of you the BEST of LUCK when it comes to working with media.. Get dressed, show up and do the work- YOU WILL GET NOTICED!!!!