Take Flight In Ottumwa At The Airpower Museum
Take flight at the Airpower Museum on Antique Airfield, a hidden gem in Iowa. The folks of the Ottumwa Convention & Visitors Bureau recently introduced me to the Airpower Museum. This fun museum is located outside of Ottumwa in SouthEast Iowa. I do not consider myself to be an aviation enthusiast, but for some reason, I fell in love with this museum. This year has been a year of aviation for me. In July, I also had the opportunity to meet aerobatic superstar Julie Clark in Atchison, Kansas.
*Thank you to the Ottumwa, Iowa Convention & Visitors Bureau for hosting me for a few days in October. As always, the opinions here are mine and nobody else's.
When To Visit The Airpower Museum
Visitors can enjoy the exhibits on the following days:
Monday-Friday 9 am- 5 pm
Saturday 10 am- 5 pm
Sunday 1 pm- 5 pm
Admission is free, but visitors are encouraged to make a donation.
Directions To The Museum
The address of the Airpower Museum is 22001 Bluegrass Raod Ottumwa, Iowa 52501. From Highway 34 either west from Ottumwa or east from Albia, turn south onto Monroe Wapello Road towards Blakesburg, Iowa. Upon entering Blakesburg, turn left (east) onto Bluegrass Road. The Airpower Museum is about 4 miles from the town of Blakesburg. Telephone number: (641) 938-2773 
Visitors will have the opportunity to be up close with several airplanes. Anyone with an interest in technical drawings in the aviation industry will be intrigued by their visit. There are also aircraft on display that champion pilots have flown, as well as planes that will bring a smile to your face.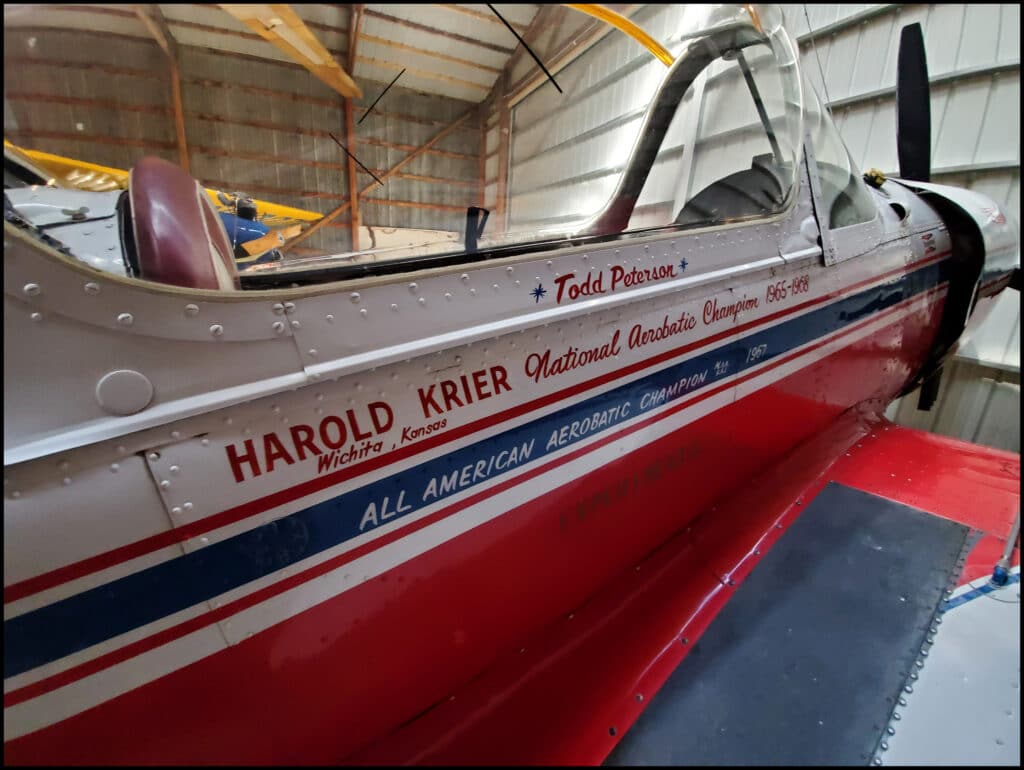 Stroll through the room that showcases the champions and their winnings. There are many pilots that have flown into Antique Airfield, in the heart of America.
Historic Airfield Rally to the Antique Airfield Homecoming
Each Labor Day weekend, a special fly-in is held. All participants need to register ahead of time, but hundreds of airplanes gather on the airfield, near the Airpower Museum. In fact, if you plan on flying in for the event, here are the details of the event. If you need accommodations while in the area, I'd highly recommend Hotel Ottumwa.  A stay here places you in the heart of a thriving downtown. In fact, there's a major renaissance happening in the downtown area, which will surprise everyone who visits.
Take flight with a pilot on the field and enjoy what Iowa has to offer.
I also had the opportunity to meet Ben, who you will most likely meet on your visit.
Plan a visit to Ottumwa, Iowa and visit the Airpower Museum. Don't forget to visit Canteen Alley. This is where you can enjoy one of the world-famous Canteen sandwiches. You will be grateful that you took the time to check out this hidden Iowa gem.
More tips to help you with your visit to Ottumwa, Iowa:

Pyramid Hill Sculpture Park and Museum is truly a one of a kind museum located in Butler County, Ohio. It is the only museum in the world where visitors drive golf carts around to see the displays. And yes, you can drive the golf carts right next to the works of art. Located at 1763 Hamilton Cleves Rd., Hamilton, Ohio 45013 in a beautiful wooded area.
*Thank you to Butler County, Ohio and the Pyramid Hill Sculpture Park & Museum for hosting me.
Explore Pyramid Hill Sculpture Park & Museum In Your Art Cart
With more than 300 acres of nature to drive through, visitors are sure to enjoy the rolling hills and woodlands. Your Art Cart (golf cart) will be your best friend, as you take the whole park in.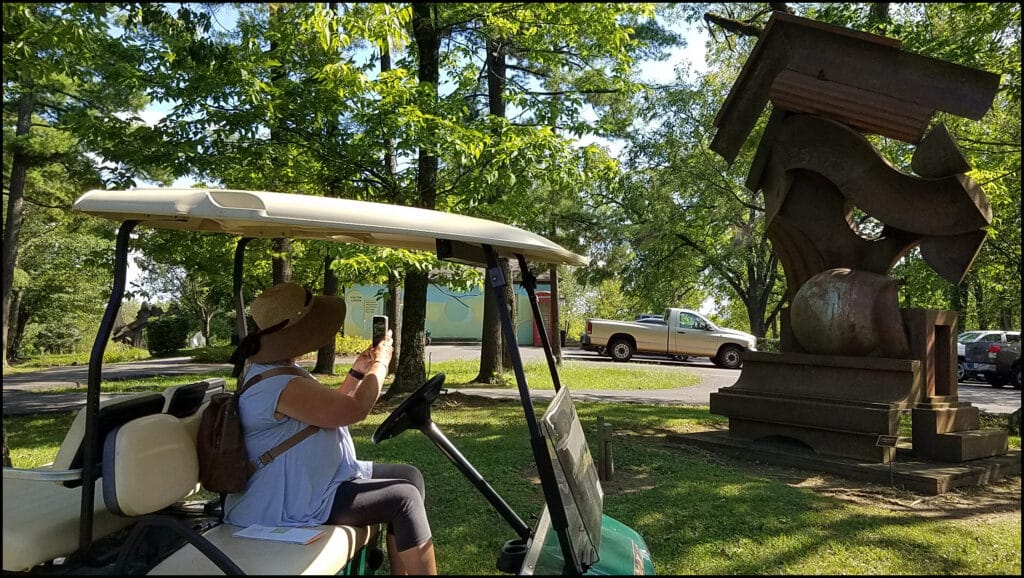 My friend Cindy and I were delighted to have an Art Cart, as we explored the park. My hometown is home to River City Sculptures on Parade, so I'm used to seeing a lot of art. The beauty of this park is the fact that it's all out in the wide open. The blue skies, green areas and lakes surrounded in art, make for a beautiful art park.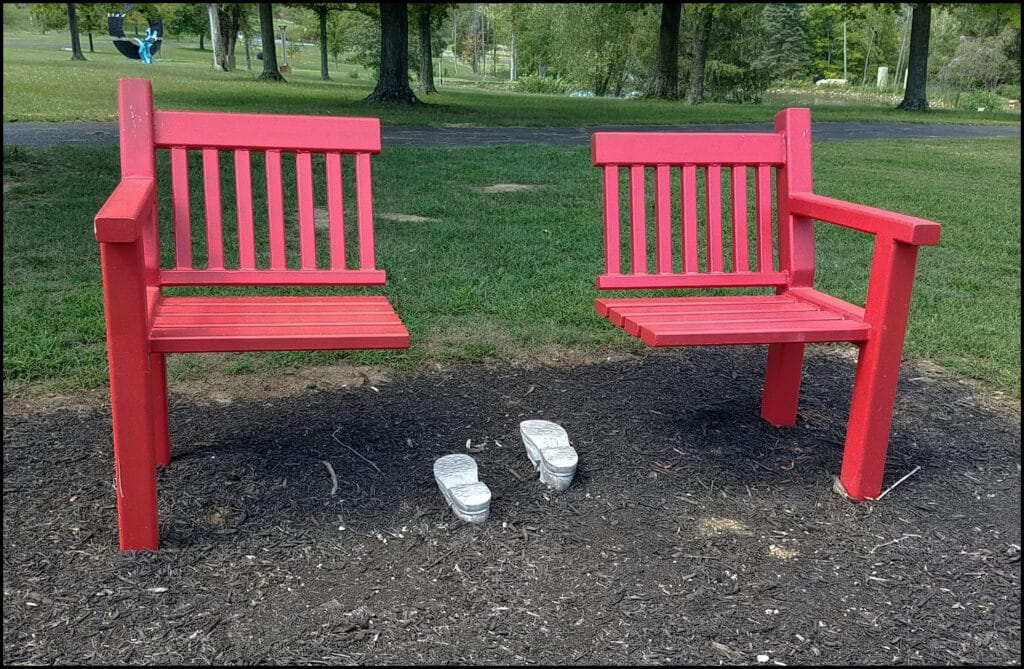 Ancient Sculpture Collection On-Site
The Sculpture Park and Museum came to life in 1987, when Harry T. Wilks, an attorney purchased 40 acres of land to build a Pyramid House. He created hiking trails and all things that nature enthusiasts enjoy. It wasn't until he passed away, that the art in the park really took off. Today there are many festivals and special activities all year long.  A 10,000 square foot Ancient Sculpture Museum opened in 2007, which houses the founder's ancient sculpture collection.
What You Need To Know Before You Visit
Here are a few things to make note of before you visit:
Keep pets on leashes.
Field trips are welcome. Call 513-868-1234 to schedule your field trip.
Several buildings on site are available for rent.
Wedding ceremonies are welcome on the grounds.
Art Carts are available on a first-come, first-served basis. They are not reservable.

I loved this art park. It's truly a one of a kind experience. Cruising around a sculpture park in an Art Cart is something I will always remember. This will go down as my most memorable museum visit, ever!
More fun in Butler County, Ohio: Visit Barn n Bunk Farm

The Barn-n- Bunk Farm Market in Trenton, Ohio offers fun for everyone. Fall is the time of year that I would highly recommend a visit. From pumpkins to apples, this award-winning Ohio attraction has something for everyone. After all, who doesn't like spending a day on the farm?
*Full Disclosure: Thank you to Butler County, Ohio for hosting me during my time in the area.
Silos Welcome Visitors at Barn-n-Bunk
I traveled to Butler County, Ohio with my friend Cindy of Traveling Adventures of a Farm Girl. When we pulled into the parking area of Barn-n- Bunk we both noticed the gorgeous silos on the property.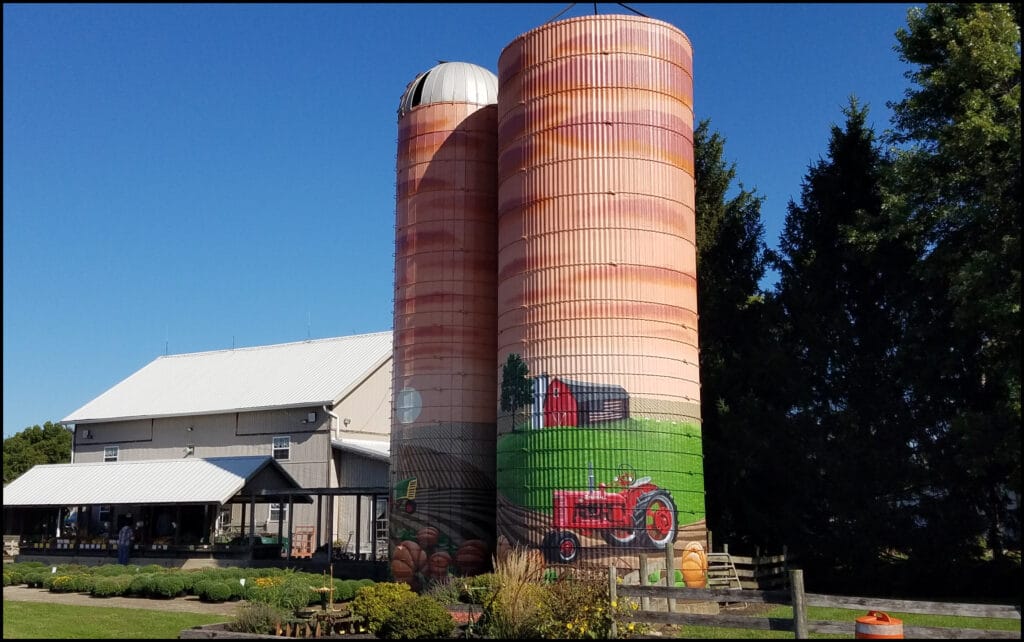 The fact that both of us were farm girls made this stop look more and more appealing. The tractors on these silos took our breath away. We knew that this was going to be a place that we would fall in love with. Imagine the looks on our faces when the owner, Tom Theobold said, "Oh, we have tractors, too."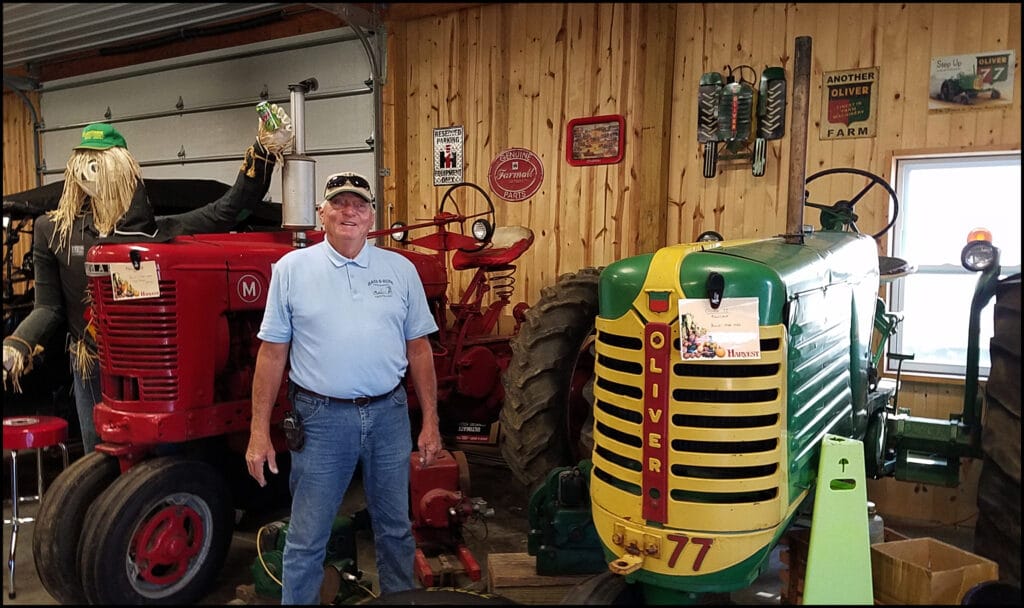 We had the opportunity to see family history in tractors, with Tom. Remember those silos that we raved about when we arrived? The Oliver tractor was his Dad's first new tractor and his Father-in-law had the Farmall M. We loved visiting with Tom and it was clear that he is very passionate about the family business. We had a fun time talking about tractors and we even talked about Charles City, Iowa. Fun Fact: Charles City is where the word tractor was coined.
The history of agriculture comes to life 
This business was built upon a love of the farm and agriculture. It was in 1992 that Tom and his wife, Bev started the Bunk -n- Barn Farm Market. Tom's collectibles and other fine pieces could be seen as visitors strolled the grounds. It is no secret that agriculture is a challenging business and the Theobold's have taken that challenge and made things happen. Nostalgia and Coca-Cola make for a fun experience, don't you agree?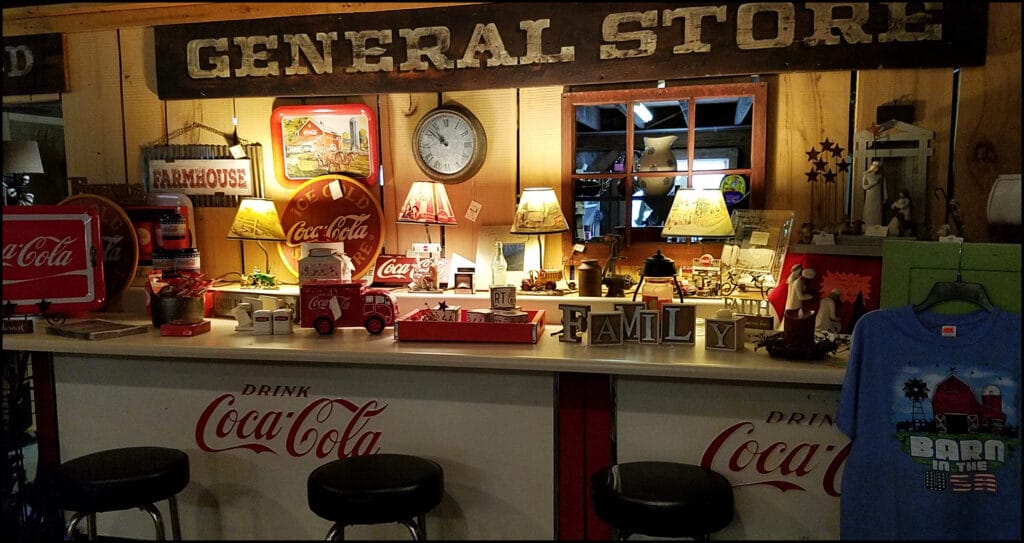 The barns on the property showcase agriculture, but they also offer a venue for folks to hold events. It was also interesting to learn that Mr. Theobold has also helped many people save barns across Ohio. He not only runs a successful business, but he also understands how important the history of agriculture is.
Tom and his family listen to their guests, as they are always holding new events. I firmly believe that Barn-n-Bunk is so successful in Butler County, Ohio because Tom is an entrepreneur. He listens to his customers and he's not afraid of helping others along the way.
Milk Parlor Pottery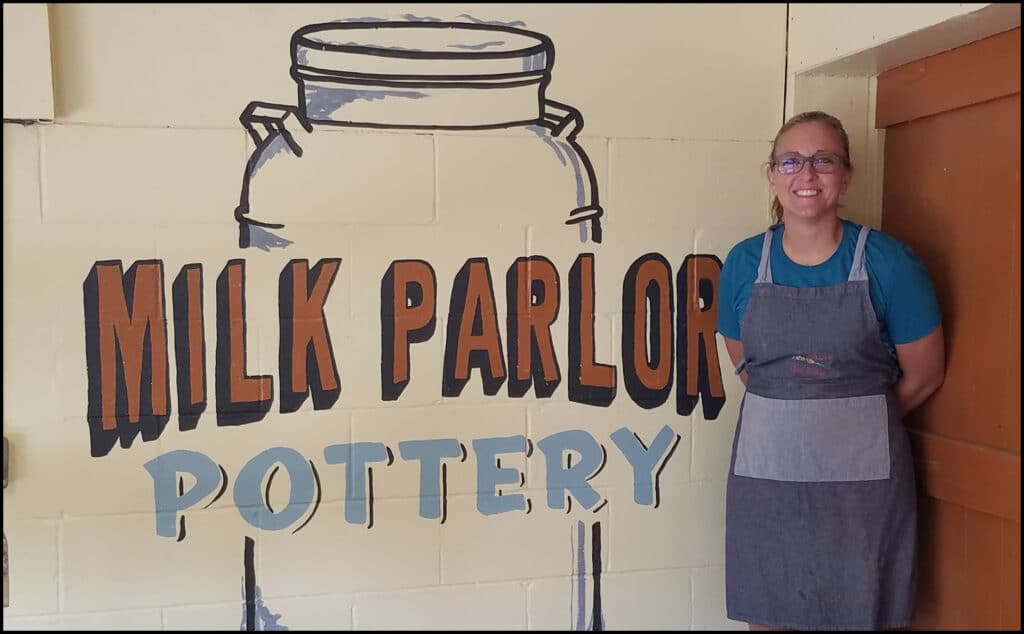 Homemade goods and other fun Ohio products are also available onsite. Would you like to try pottery? There's even a pottery shed in the old milk parlor. How's that for repurposing the farm? If you are near Trenton, Ohio you cannot miss this beautiful property. The barns stand out along the road.
Barn-n-Bunk Farm is located at 3677 Wayne Madison Road in Trenton, Ohio 45067. They are open daily April-December. Call 513-988-9211 for more information. The Theobold family will roll out the red carpet for you, as you experience a day on the farm.