The Wayne County Historical Museum in Richmond, Indiana offers an adventure in time. In fact, you can see a 3,000 year old mummy that is permanently on display. There are not many places in the United States where you can see things like this. The history that visitors experience while in Richmond, is unlike any other town in the Midwest.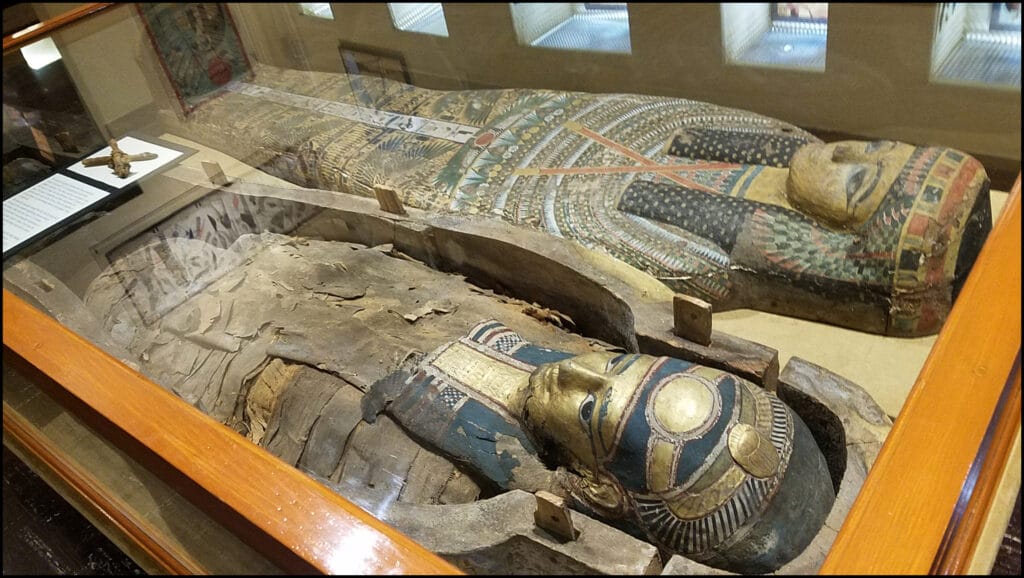 This Egyptian mummy is quite historic, as it is one of 2 mummies on display in the state of Indiana. The other one is also located in Wayne County at the Joseph Moore Museum of natural history.
History Comes To Life At The Wayne County Historical Museum
It's clear that the people of Wayne County appreciate where they came from. The General Store was s a great example of how life on Main Street used to be.
It's no secret that things have changed when it comes to how we shop. When is the last time you rang an actual doorbell like the one featured here? When you visit this museum, you are literally taken back into time. It's a great experience and a fun way to slow down.
The History Of The Automobile
Who knew that there were cell phones before the "bag" phones that we had about twenty years ago? Well, they have the first car phone here in Richmond, Indiana.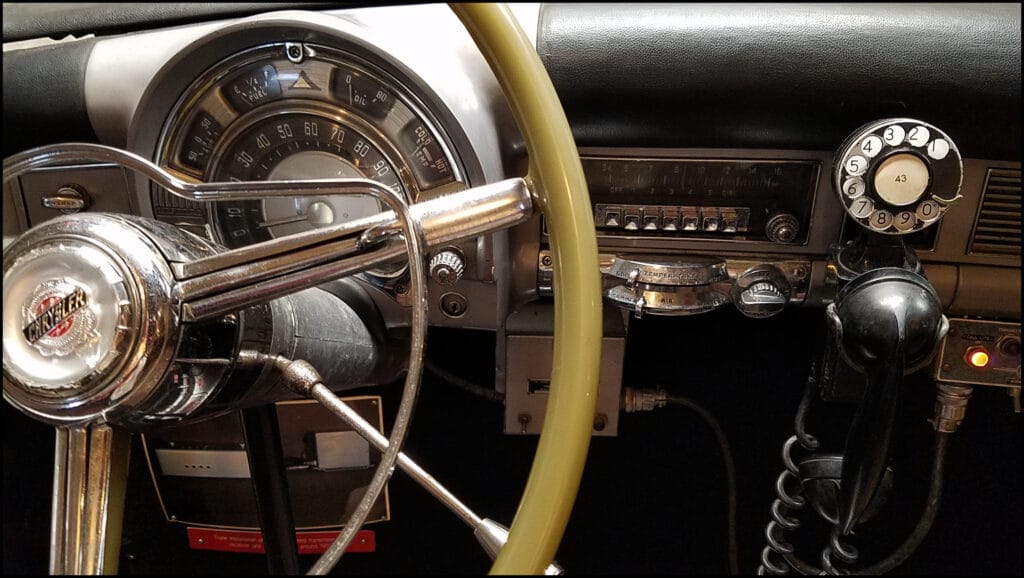 This display is surrounded by several stunning automobiles. Each car has a story that will keep you dreaming about riding in the car you are looking at.  The most unique car on display was most likely this one.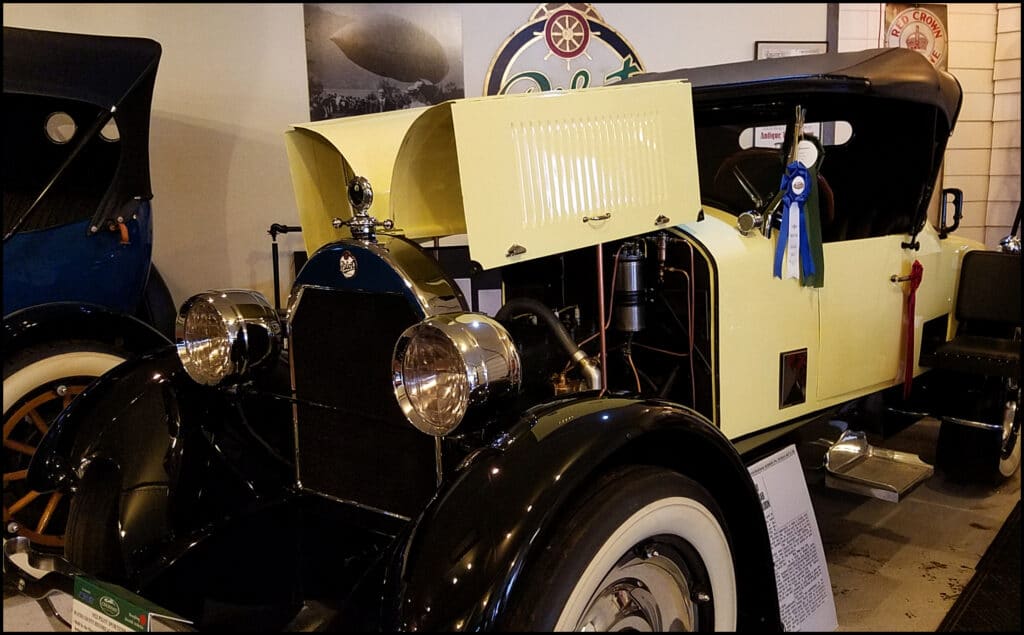 With so much history in one location, visitors need to allow a minimum of two hours on site here. If there's a special event going on, make that three hours. Inside was filled with so many fun exhibits that it was easy to forget that there was more outside. Once you step outdoors, you find yourself stepping back in time. With two log cabins in the yard and other outdoor attractions, the outhouse seems to get left behind.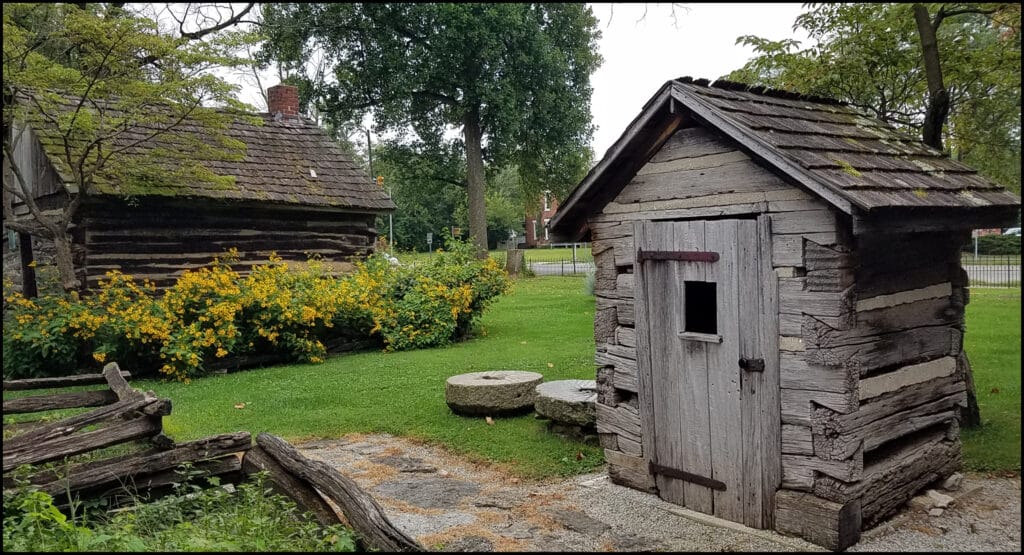 The staff at the Wayne County Historical Museum is ready to help guests out in any way that they can. With so much history in one space, there's a lot to sift through. I really loved the fact that there was truly something for everyone in this museum. Richmond, Indiana is one of those towns that I find myself thinking about quite often. If you have not visited, you are missing out. The best place to stay is in this cute loft, called Starr Loft. It's located in the heart of downtown and a place you will want to call your own.
The Midwest has many wonderful historical museums and Richmond, Indiana ranks right up at the top. Cindy of Traveling Adventures of a Farm Girl also enjoyed this fun museum. You can find other museums of the Midwest here:
A Surprise Find In North Iowa: Floyd County Historical Museum
Emmet County Historical Museum Complex: Estherville, Iowa
Amelia Earhart Adventures In Atchison, Kansas
Celebrating American Agriculture at the National Agriculture Center and Hall of Fame: Kansas City, Kansas

Little Swan Lake Winery with a Bed & Breakfast, may be the find of the year. I had no idea that this rustic adventure awaits guests, right outside of Estherville, Iowa. The view off the deck is sure to leave your jaw dropped. Here is where you can hang out and watch the buffalo roam. All of this can be found in Northwest Iowa.
Little Swan Lake Winery
The vineyard offers cold-hardy grapes, on two acres of land. Owner Scott Benjamin shared his slice of Iowa paradise with us on a beautiful summer afternoon. Scott and his family own and operate this winery.
Located in a renovated grain elevator, surrounded in the beauty of Iowa and a buffalo herd. My summer has consisted of many buffalo, so it was no surprise that I would come across a herd here in North West Iowa. With more than 35 different wines, all produced on site and of course, buffalo meat your ultimate shopping adventure also awaits.
Little Swan Lake Winery Bed and Breakfast
What really made this property stand out was the fact that this is also a bed and breakfast. The rooms each have their own appeal and offer a rustic getaway unlike anywhere else.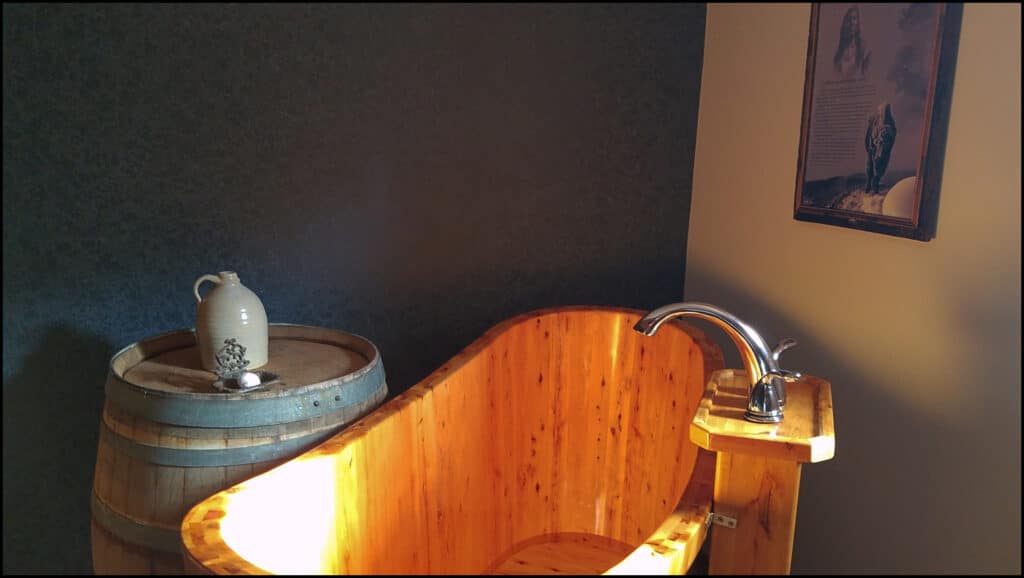 Choose between the Swan Room, Buffalo Room and Lake Suite. In my opinion, guests can not go wrong with either option. Each room was unique with many features guests will talk about for years.
This property is also a hot spot for taking in events. A beautiful venue that features buffalo at each event, is a winner in my book.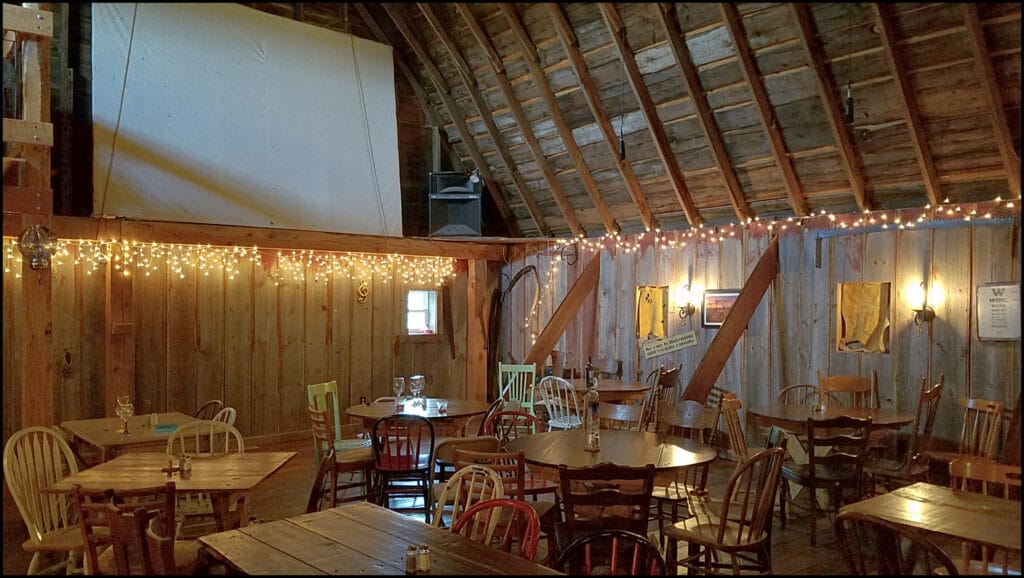 Musical groups perform as guests enjoy great Iowa conversation and good wine. With a schedule of something for everyone, plan your visit today. The beauty of this winery is the fact that you can spend an hour here, or spend a whole day. It's up to you, the guest. The beauty of Iowa is all around you when you spend time with friends at this winery.
If you are looking for something a little different to do in Iowa, this is your place to go! The company is welcoming and the wine is sure to please your taste buds.

Acquiring the funds for a 1-week trip can be difficult, but covering the expenses of an extended trip usually requires more than savings (unless you're very rich). Long term travel can be life changing. For most people who want to travel for a lengthy period of time, their best option is to work abroad. There are plenty of great careers that provide this opportunity, such as working on a cruise ship or teaching a subject in another country.  In fact, I met someone at auction school this past week that does live on a cruise ship. Of course, there's also the option of freelancing. Let's talk about a couple of smart ways to afford your travels on a long-term basis. Traveling for myself on a long term basis is something that I don't strive for, but it is for many.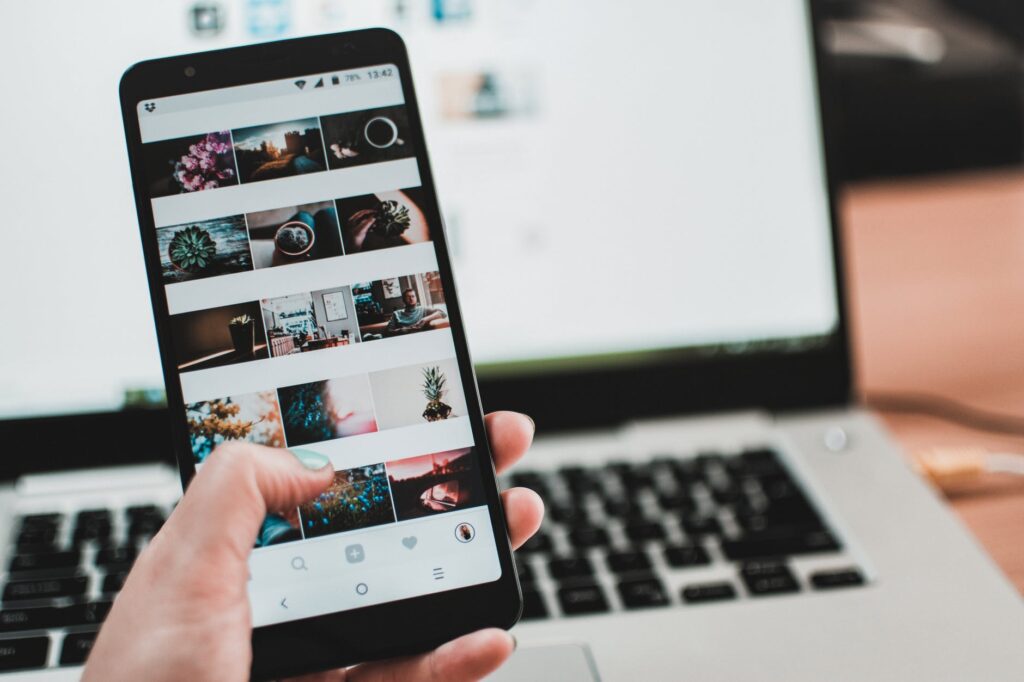 Post about your travels online.
Your trip could pay for itself if you know how to build up a following online. You should post about your travels on a blog and social media pages. If you can attract a dedicated following, then you'll be able to make money in two very important ways. Firstly, adverts on your blog or your YouTube channel (if you want to make travel videos, too) could help you to generate an income. But you might not see serious profits from this avenue unless you gain a gargantuan following. The second option might be more viable for you: sponsored deals. Companies will pay travel influencers with big followings to promote their goods or services. They might even pay for your flights or accommodation, so this is a great way to fund your travels.
And make sure you use Instagram if you really want to build your following because that social network is quickly becoming the most important website for travel influencers. People love pictures of stunning destinations. Of course, if you're going to make money online, then you need to make sure you always have reliable technology and a reliable network connection. You need to have a solution for any network problems that might crop up, too – after all, this is your source of income. It's important to know your Mac IP address. This will help you if you need to fix network issues whilst you're on the move. The internet is the most valuable tool at your disposal if you want to make money on your travels.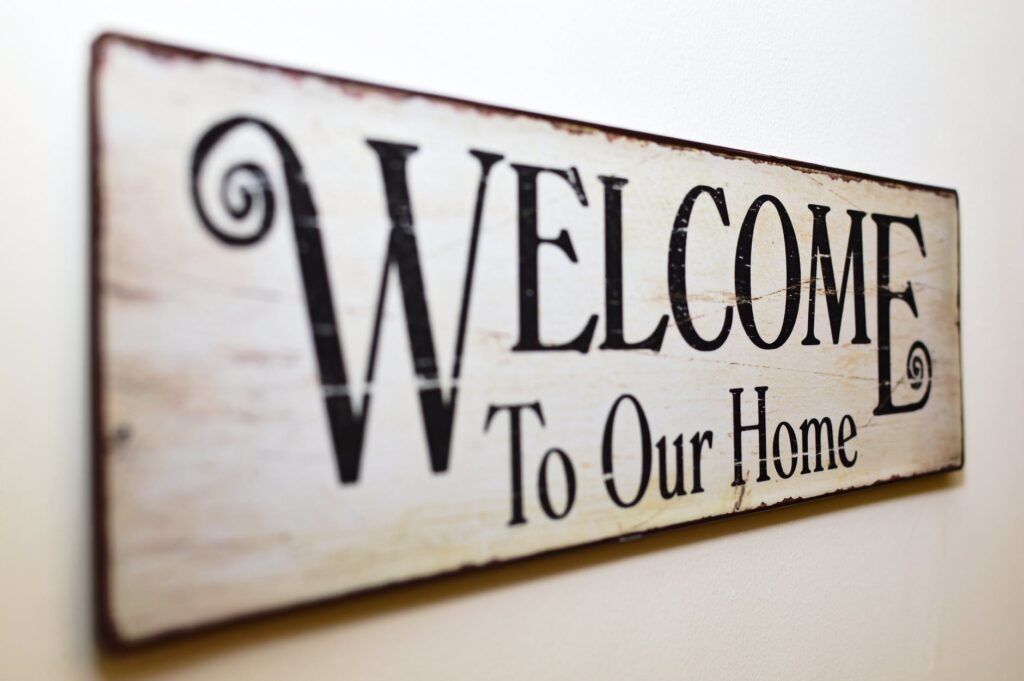 Rent out your home.
When exploring the world, the best way to afford your travels on a long-term basis is to make money from things you're not using. In particular, we're talking about your house or flat back home. That's an incredibly valuable asset which will just be gathering dust whilst you're gone. Why not become an Airbnb host and rent out your apartment or house? My friends Steve and Ann of the Postcard Jar are doing just that, with Postcard Place in Pawhuska, Oklahoma. This could easily fund your travels. You might even want to rent out your driveway if you live near the city because you'll probably find that plenty of commuters are desperate for a parking space and an opportunity to avoid the road congestion at rush hour. By charging money for something you own but aren't using because you're out of the country, you could easily afford your travels on a long-term basis. It makes sense to do this.  Long term travel can be life changing when you put in the effort and make it happen.
Properties that will rock your world: