If Bellingrath Gardens and home is not calling your name, it's going to shortly. Here is where you will find the best holiday light show in the United States.  Plan your visit to the Magic Christmas in Lights Show as soon as possible. With more than 3 million lights and 1.100 set pieces, visitors will not be disappointed. This historical setting is located in Theodore, Alabama, along Alabama's Coastal Connection.
*Thank you to Bellingrath Gardens and Visit Alabama Beaches for hosting me in December.
The Best Holiday Light Show In The United States: Bellingrath Gardens & Home
Visitors can expect to be inspired November 29- December 31, 2019, nightly from 5 to 9 pm. Note: They are closed on Christmas Day. I had the honor of visiting the garden during the best holiday light show last year and it was a magical experience. Once I got out of my car, I could hear the sounds of the season. With choral performances throughout the gardens and magical lights throughout the property, you will be sure to be in the holiday spirit shortly after entering the grounds.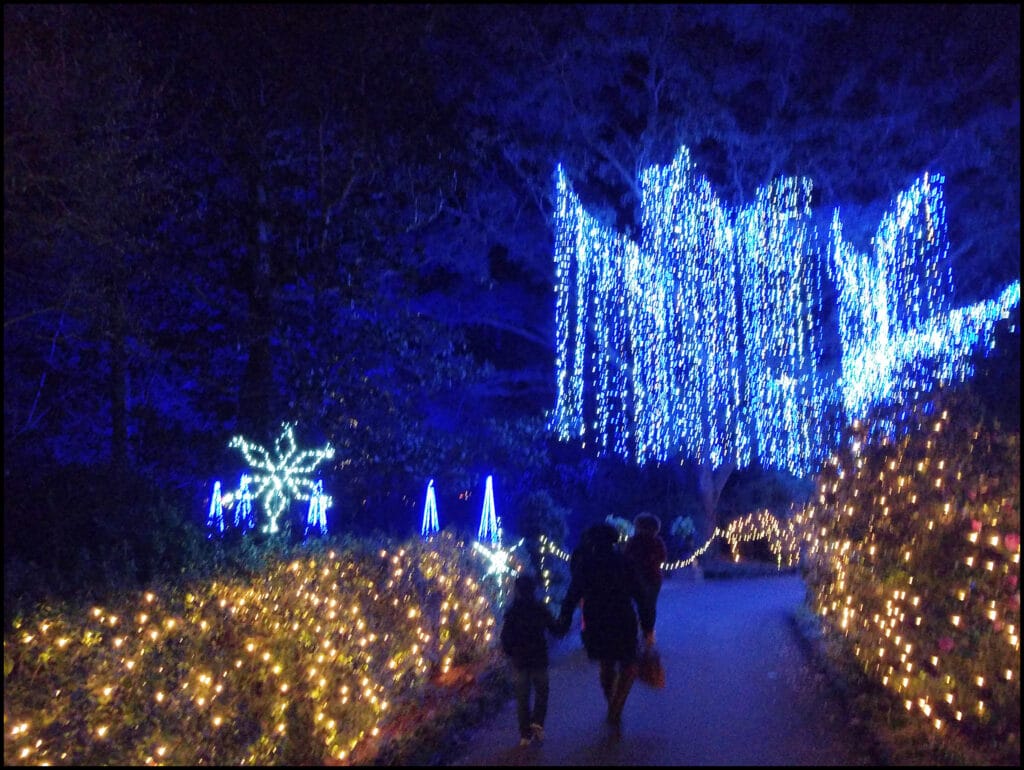 Breathtaking holiday light displays
The holidays are extra special when it comes to the magic of these gardens. Visitors stroll the 65 acres of gardens, all dressed up for the holiday season. The 1936 historical home is also all decked out during the holiday festivities. Each step you take, will offer beauty unlike anything you have ever experienced. Bring your children and connect in a way that you never knew was possible. The reflection of Christmas is abundant with a lake and gardens nearby.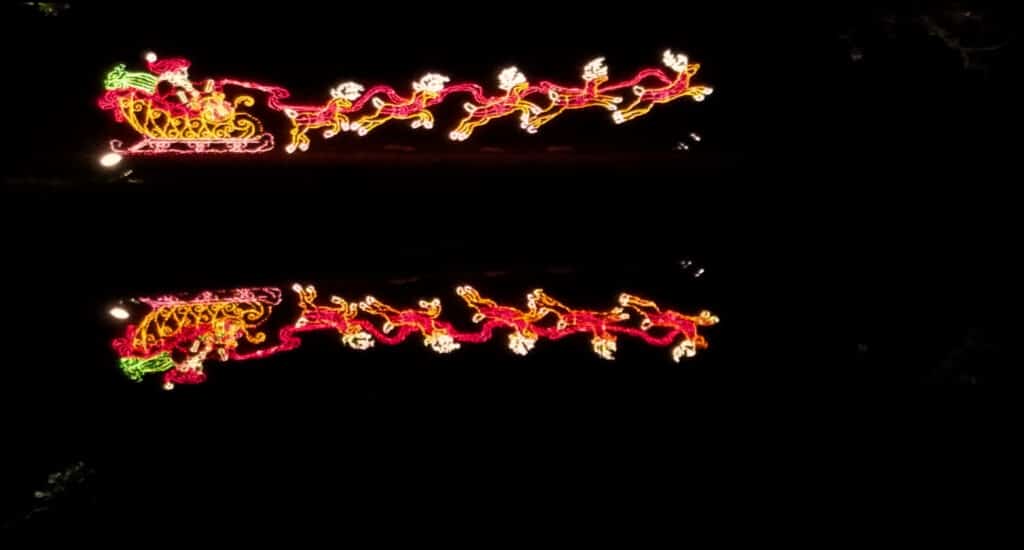 From flowers of the season to the carols, there's truly something for everyone. Here's a sight you will not forget!
One of the best tips that I can give you, is to bundle up for the outdoors. There is a lot of walking, so wear a good pair of walking shoes. The nights can be chilly, so dress accordingly. If you are not in the holiday spirit after your visit, I'm not sure you ever will be.
Bellingrath Gardens is not only magical during the daylight, but it is extra magical after the sun goes down during the months of November and December. I hope you are now planning your visit to the Gulf Coast and have Bellingrath Gardens on your itinerary. As I said earlier, Gulf Shores is worth a visit, as is the Mississippi Gulf Coast. You will not want to miss the exceptional artwork in Ocean Springs, Mississipi.
How To Get To Bellingrath Gardens & Home
Bellingrath Gardens & Home is located at 12401 Bellingrath Gardens Road Theodore, Alabama 3658
I happen to love spending time in Gulf Shores, Alabama, which is a short drive from the gardens. If weather and time allow, hop on the Mobile Bay Ferry to visit the gardens in the late afternoon. Drive back to Gulf Shores on I-10 and take Highway 59 south and into Gulf Shores. The Mobile Bay Ferry schedules can be found here. I would highly recommend booking a stay at Turquoise Place in Gulf Shores, as you can relax in your personal hot tub, upon returning from the best holiday lights show in the country.
If you are traveling on I-10 from New Orleans, take Exit 13 to US Highway 90. Turn right on US Highway 90 and then left onto Bellingrath Road. Go 6 miles and turn left onto Bellingrath Gardens Road at the Bellingrath billboard. Travel south for 6 more miles and turn left onto Bellingrath Gardens Road.
If you are coming from Pensacola on I-10, take Exit 15A to US Highway 90. Go 2 miles and turn left onto Bellingrath Gardens Road at the Bellingrath Billboard. Go south 6 miles and turn left onto Bellingrath Gardens Road.
If you are traveling from Montgomery, Alabama, travel south on I-65 until it merges with I-10 west. Take Exit 15A to US Highway 90. Go 2 more miles and turn left onto Bellingrath Road at the Bellingrath Billboard. Go south for 6 miles and turn left onto Bellingrath Gardens Road.
Purchase your tickets ahead of time, to save time in line. I hope you have the time of your life at Bellingrath Gardens this upcoming holiday season.

Traveling has a lot of things to offer, and you're (hopefully) going to have the time of your life whenever you're away! But that doesn't stop you from being human – even when you're standing at the tallest point of the world. Hunger sets in and it's time to eat foods that you should eat while traveling.
And so, it's important to discover the kinds of foods you should eat while traveling. You need to keep your energy up, and you also want to experience the best cuisine you could ever come across; how do you manage both? Well, hopefully with the tips below you'll be able to do just that! 
Pack a Car Food Kit
Who loves a good road trip? If you've got a road trip ahead of you, you're going to want to pack some proper food for the car. You're going to be sitting for hours and hours, and you're going to need extra energy to stay awake at the wheel. Be sure to pack yogurt and grapes into a cooler in the back of the vehicle.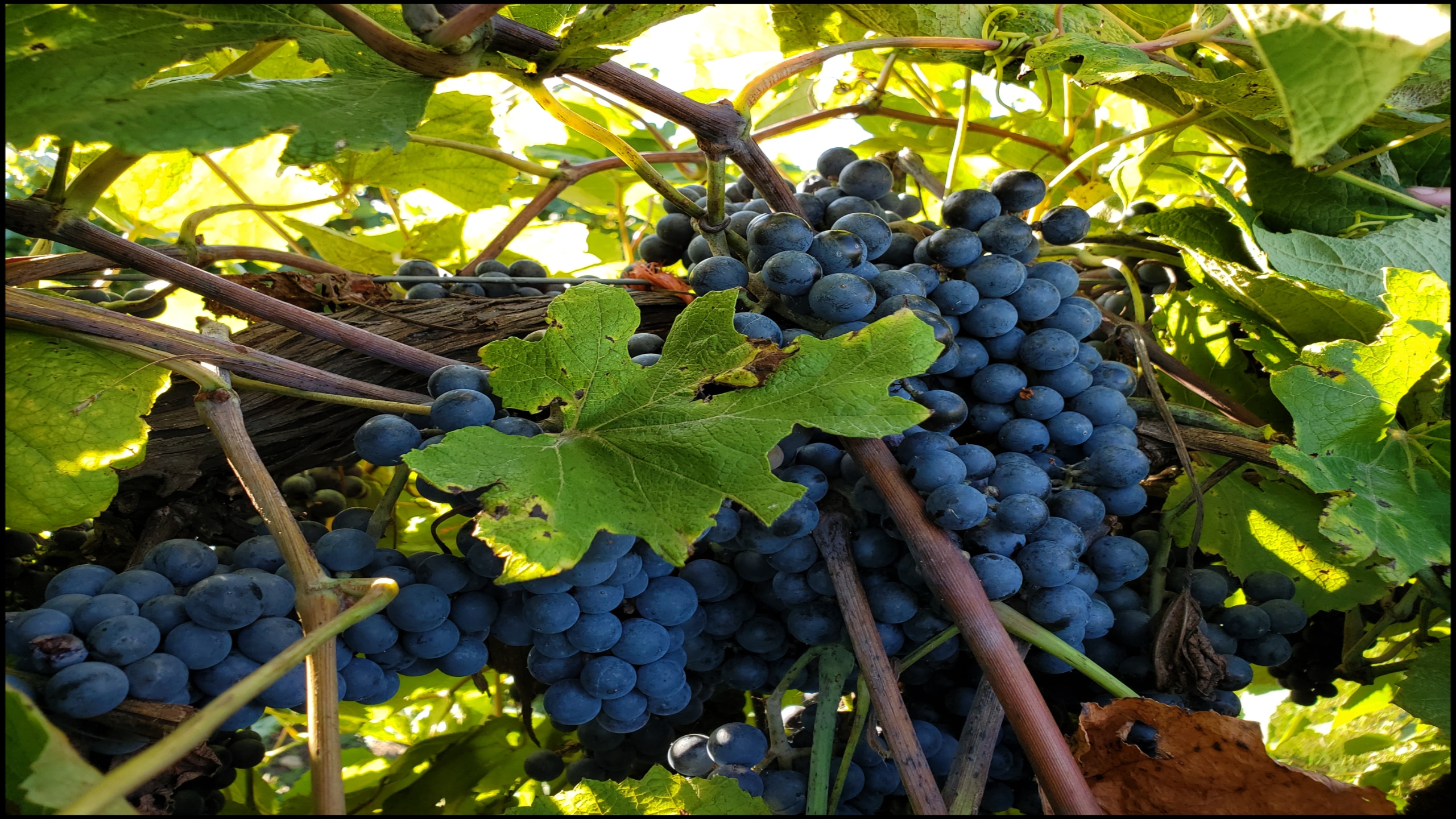 Green and leafy sandwiches with turkey or ham, make for a great sandwich.  Most importantly do not forget the baby carrots and ranch dip! 
Eating for Some Real Energy
You're going to want to chow down on wholegrain foods, mainly loaves of bread and pasta, especially if you have long hikes and adventures ahead of you. Try to pair these with some boiled eggs for hits of protein for your muscles. Include hits of energy in the form of grain bars and rice crackers. And these items are all easily picked up from local shops too! Tip: Rocky Mountain National Park offers great hiking trails. These are just some of the foods you should eat while traveling.
Hit Up Hotspots
Once you've arrived at your destination, make sure you've got the lowdown on all the best places to eat written down on a note on your phone. You're going to want to be able to check all these places out. Here is where you will most likely find a good deal, value for money, and the best foreign cuisine that a traveler like you would be after!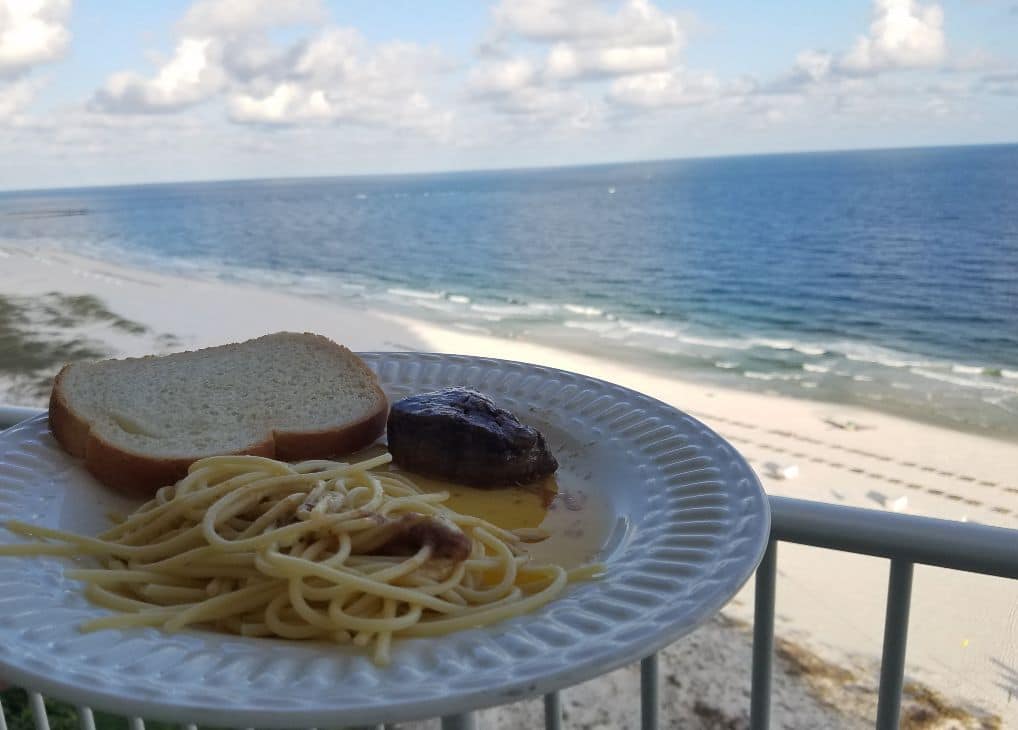 Even a local steakhouse deserves a look in here. Depending on your location, a good fish and chips always wins on the coast of England.  
                 Healthy In The Hotel
Finally, you can eat healthy in the hotel as well, especially if you've got some self-catering accommodation at your disposal. Using the kitchen or portable stove you have at hand, you can steam or boil vegetables,. Pair them with some boiled rice that you've covered in spices – these are sold in little pots. Roll out pizza dough for a fun twist!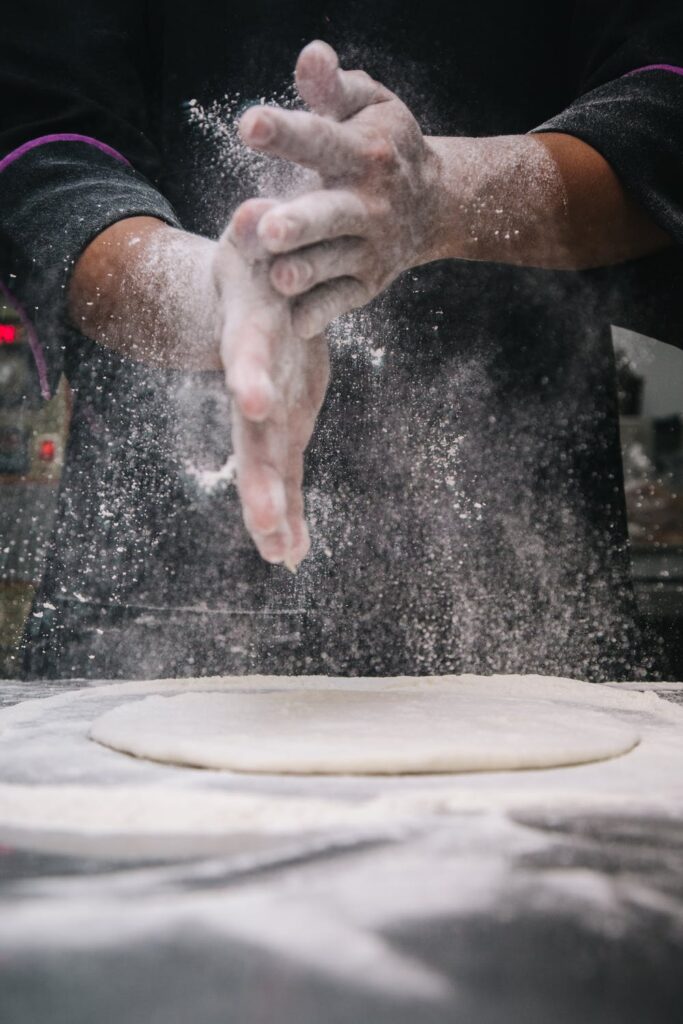 Bonus- they are easy to carry on your walk back to your hotel room! And this process doesn't have to take long either.
As you most likely have a tap in the bathroom and probably a kettle in your room to heat up the water too. 
Eating when traveling is serious business! Make sure you pack right to keep you from being tired before the day is through.

Elk Horn, Iowa is one of those towns that you will never forget, when you meet the people of Elk Horn, Iowa. Fun Fact: This town is the largest rural Danish settlement in the United States. On a recent visit to Elk Horn, I learned so much about the town in simple conversations. Upon arriving into town I headed out to the winery, Danish Countryside Vines & Wines. I was fortunate to visit on a bright, sunny Fall day.
*Thank you to the Danish Windmill for hosting myself and several bloggers on a Fall day in September. I truly loved meeting the people, enjoying the experiences and good food.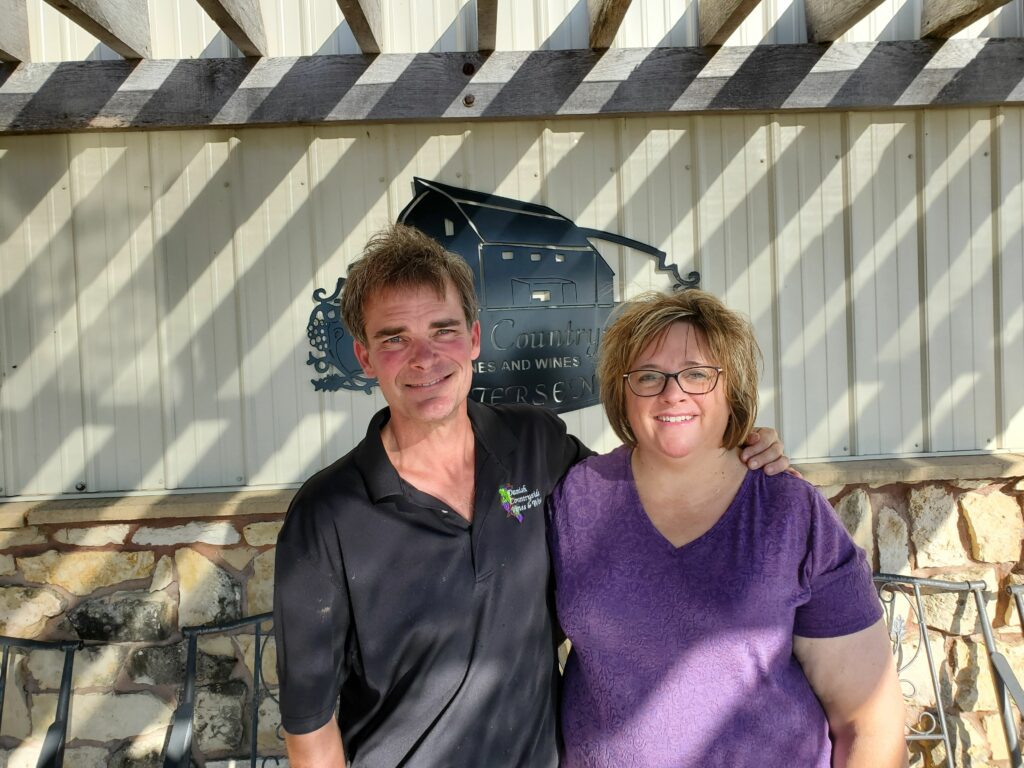 Here is where I met Loren Christensen. He and his wife Jennifer, own the winery, which has been in the family for several years. A tour of the vineyard blew me away, as it was Iowa beauty all wrapped up in a vineyard. They are open Monday-Saturday 10-5 and Sunday 11-4. You can also visit by appointment, give them a call at 712-764-2991 or message them here. Take a tour with me in the video featured below.
This was also the first time that I had been in a vineyard, surrounded by so many ripe grapes. Loren was welcoming and it was clear that he and his family are passionate about wine and Elk Horn, Iowa.
Elk Horn and Iowa beauty featured here in these photos.
BOUTIQUE SHOPPING IN ELK HORN, IOWA
Copenhagen Friday is a new shop in town. Shon Andersen wanted to do something for herself and others, and she opened this shop on Main Street.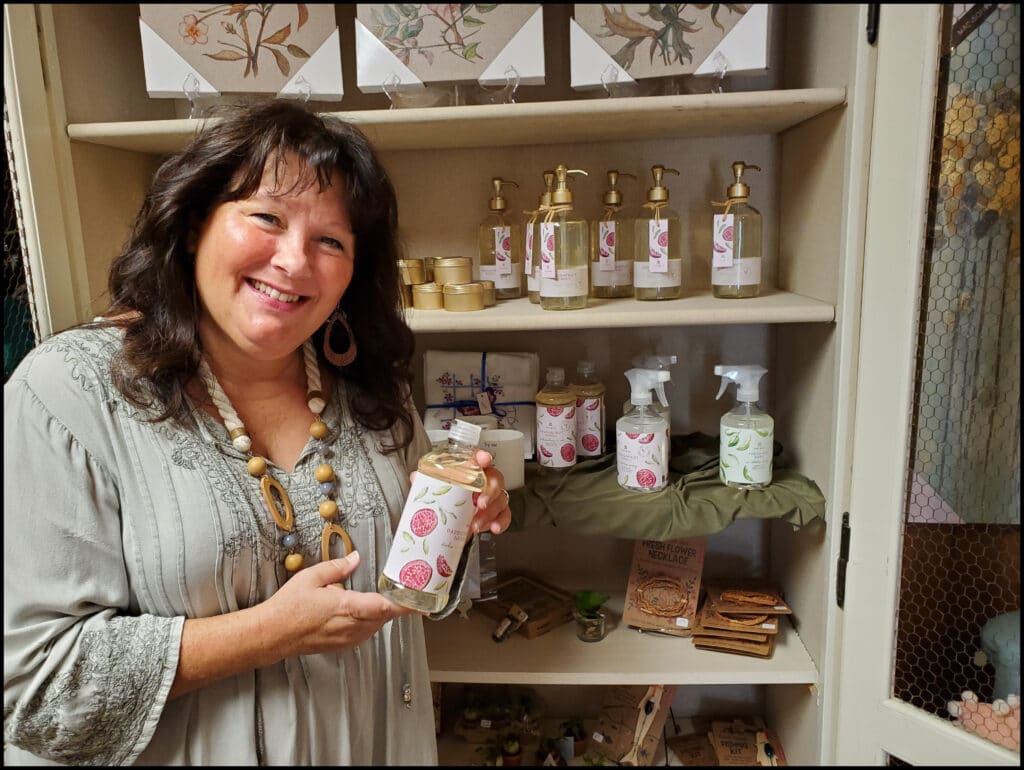 You will find gifts, handbags, clothing, and all sorts of boutique items that you will not find elsewhere within the area. From serious to fun items, this shop has it all.
WORKING DANISH WINDMILL
A climb up into the Danish Windmill was led by Lisa Riggs. Lisa knew that windmill like the back of her hand, and everything that makes it work like clockwork.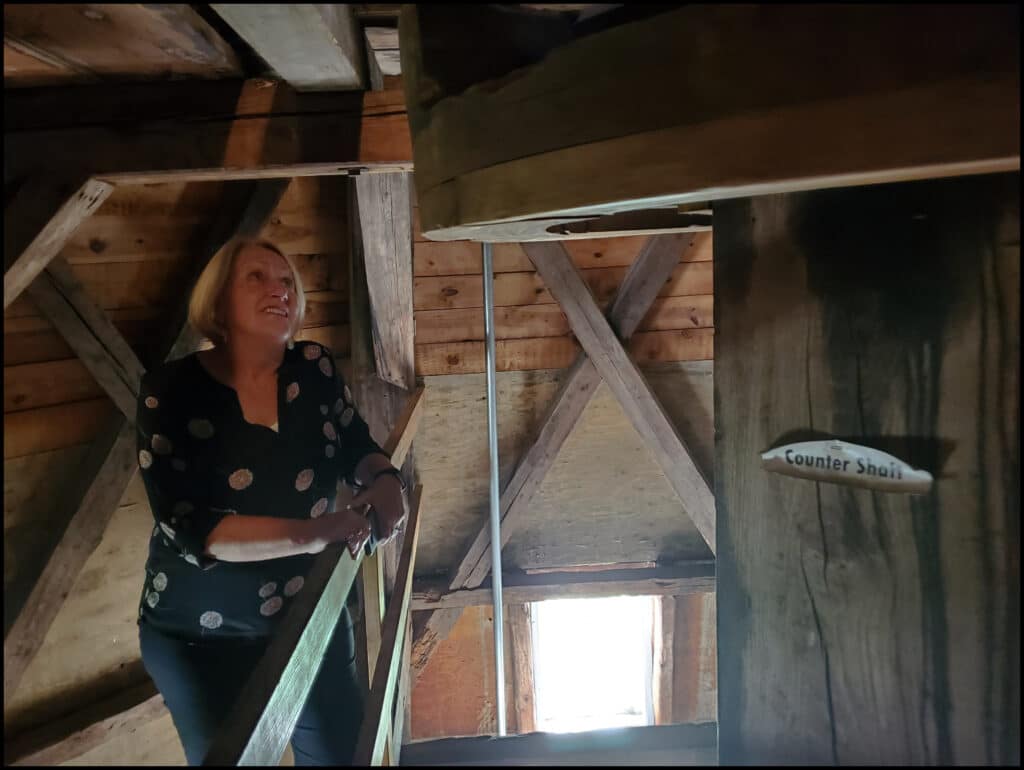 Tip: If the wind is not blowing, the windmill may not be turning. On our visit, the wind was blowing and the windmill was moving.
FAMILY HISTORY COMES ALIVE AT THE GENEALOGY CENTER 
A visit to the Genealogy Center led to a wonderful visit with Wanda Sornson. People come from all around the globe to learn about their Danish heritage.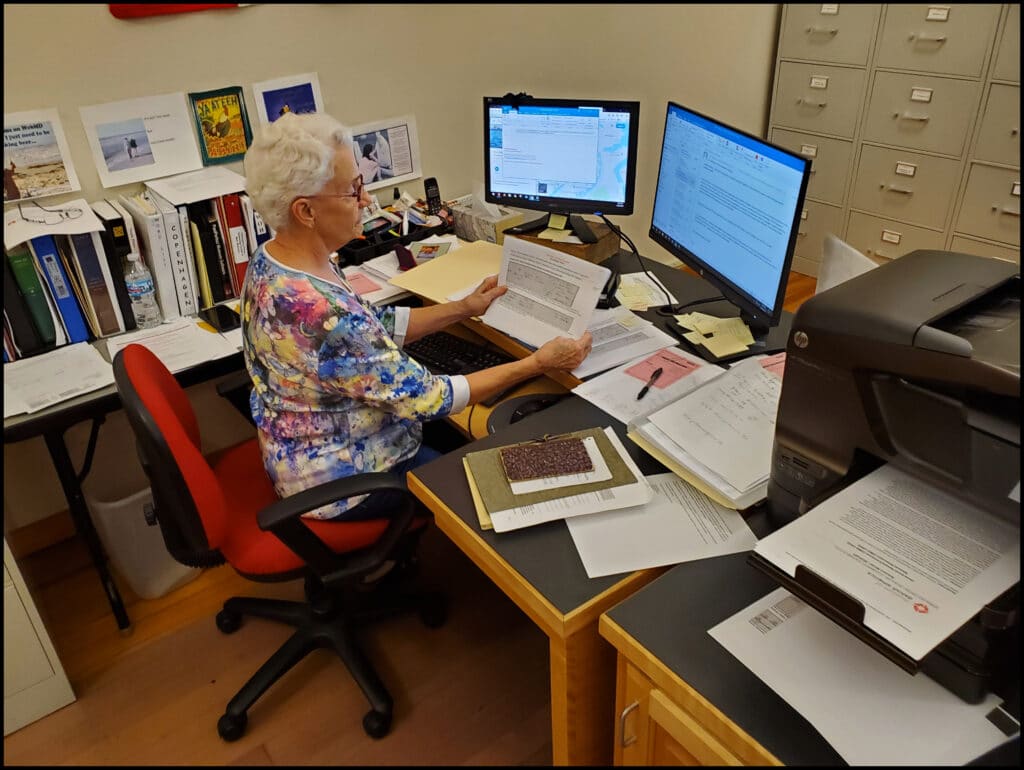 Wanda is a genealogy assistant, but she puts in full-time work with each project she works on. She said that it is not uncommon to spend more than 125 hours researching the history of some families. She loves her job and retirement! Wanda is a retired teacher and she is lucky to have found something so much fun to do in her "spare" time. Even if you do not plan on using the services they offer, do stop in and say, "Hi!"
In the building behind the Danish Windmill, be sure to stop into the Old Danish Workshop. Here is where you will meet Gene Thomsen!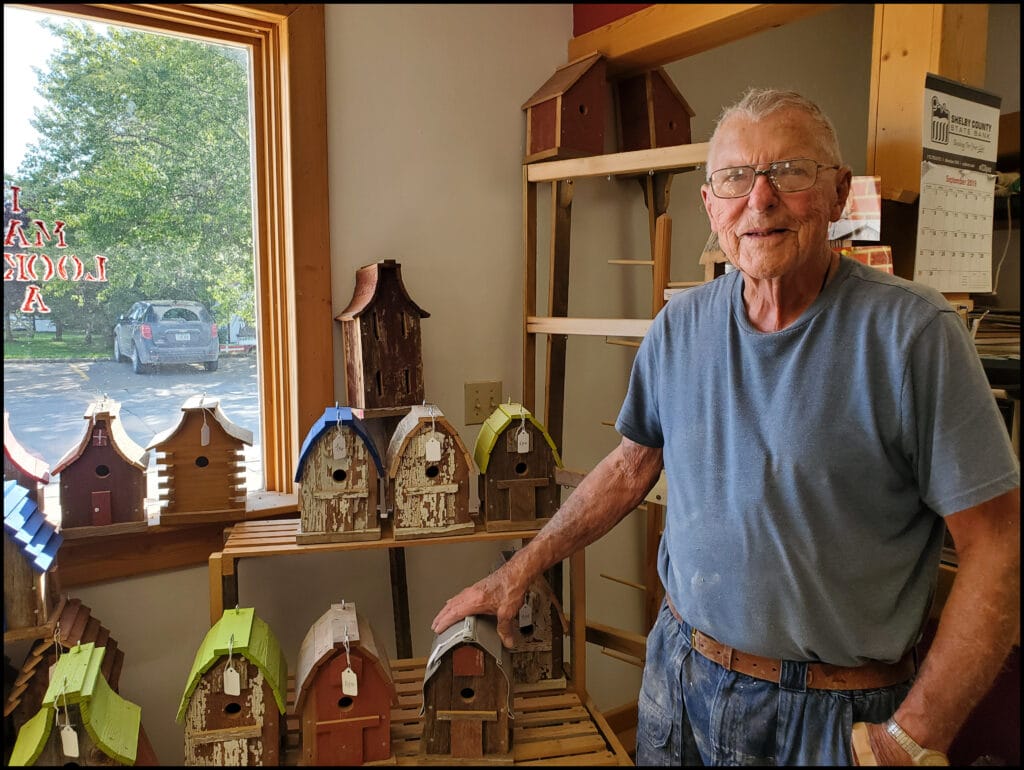 Gene is an icon in town and is loving retirement. His passion for Elk Horn and all that it has to offer, are showcased here.
AWARD-WINNING IOWA TENDERLOINS
Iowa is known for their tenderloins. In fact, Larsen's Catering & Pub has been the recipient of Iowa's BEST tenderloin! Brenda Larsen serves them up with a smile.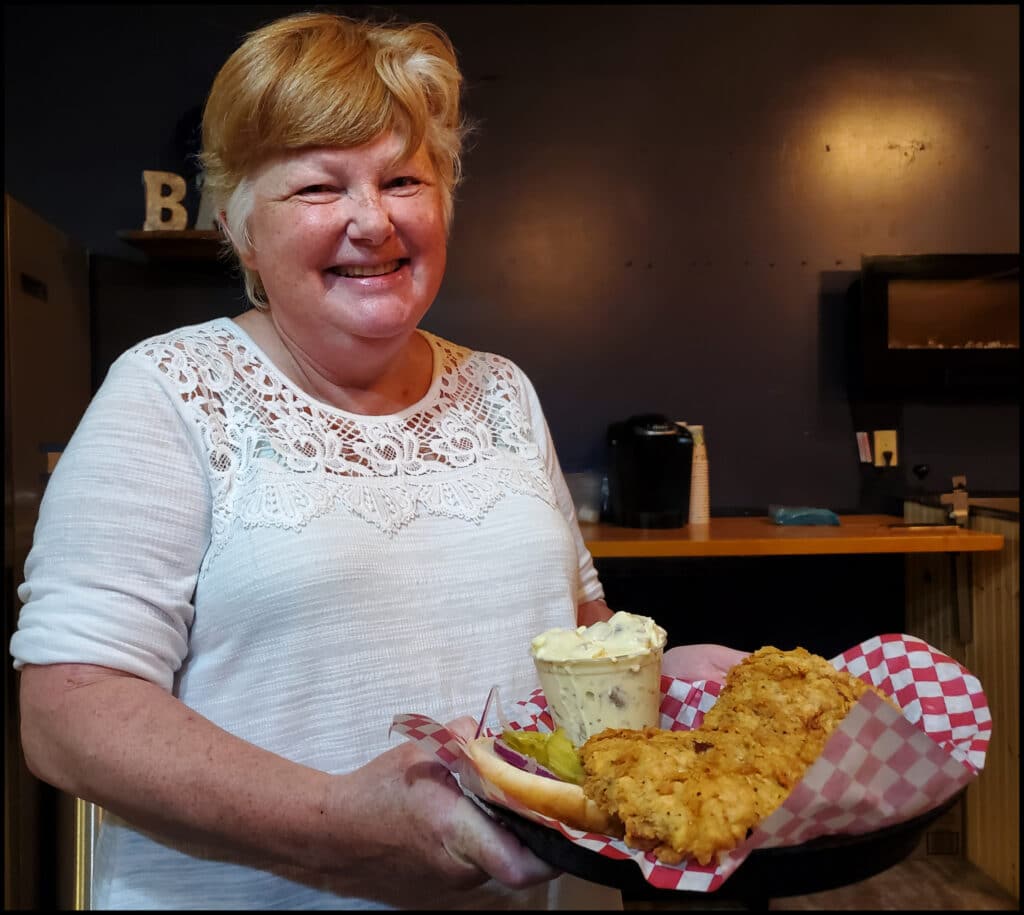 That in itself, is a reason to visit, don't you agree? If there is one thing I can guarantee, it is the fact that the people of Elk Horn, Iowa will make your day brighter and better.
HOW TO GET TO ELK HORN, IOWA
Directions to Elk Horn, Iowa: Take Exit 54 off of I-80 in South Western Iowa. A short five-minute drive North will take you to the world-famous Danish Windmill. Elk Horn makes a great day trip from the Omaha and Des Moines metro areas. The grounds of the Danish Windmill is where you will want to start your visit. Make the time to explore and shop.
In case, you missed my experience of going down the rabbit hole on the other side of the state of Iowa, here it is, Horsfall's in Lansing, Iowa.