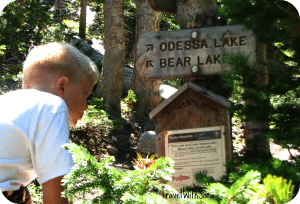 My favorite hike in Rocky Mountain National Park is from the Bear Lake Trailhead to the Fern Lake Trailhead. To get the most out of this hike, be sure to be on the trail by 6:30 a.m. Odessa lake is absolutely stunning and this hike offers fantastic hiking, views, and a variety of terrain. Once you hop on this trail at Bear Lake, your ascent towards Odessa Lake begins. Here you will hike through lots of aspen trees and shade. Shortly into your hike, you will see a sign that says Bierstadt Lake, you will want to take a left and continue towards Odessa Lake. If you are planning a hike to Bierstadt Lake, this is the route you will want to take on another day.
Once you take this left, the sky and the mountains seem to light up. A few steps into this part of the trail, be sure to look up to your left, you will see people hiking up to Flat Top Mountain.You will continue to climb upwards while stunning views of Longs Peak and other peaks come into sight.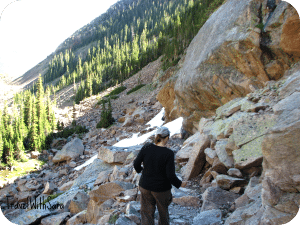 A few miles into this hike, things level off and chances are you will find snow. My family and I have hiked this trail in June, July, and August- and yes, each month there has been snow! As always, check with a ranger at Bear Lake before you head towards Odessa Lake, the snowfields and the trail along Odessa Gorge can have a lot of snow on it. If you are hiking with kids, your kids will love the snowfields along the way.
Here's a glimpse as to how much snow you can find on this trail.
Do not walk right on by Odessa Lake, be sure to follow the sign that says Odessa Lake. Trust me, if you have hiked all this way, you need to make the descent towards Odessa Lake. The views here are absolutely breath taking. Depending on what part of the season you visit, the flowers here can also be extremely colorful and stunning.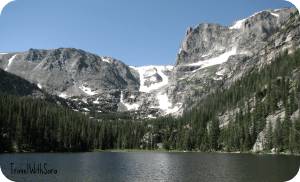 After spending a little bit of time at Odessa Lake, begin your ascent and continue to the Fern Lake Trailhead. You will hike through lots of shade, and find yourself walking downhill. The trail is rugged with a lot of rock. Fern Lake and Fern Falls are two places you will want to stop for a photo shoot or just a little rest and relaxation.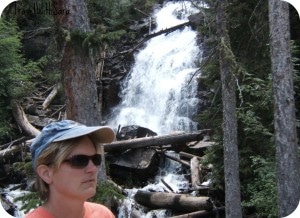 Once you reach The Pool your hike is getting closer to ending. But hold on, you will still have some awesome views. There are two large rocks known, as Arch Rocks that you will walk around. We have been caught in rain showers in this area several times. Through this last part of your hike, the Big Thompson River flows near the trail, again, offering another fine setting for a picnic.
At a whopping 9.2 miles, you will reach the Fern Lake Trailhead. If you do not have a car parked in the parking lot at this area, you will need to proceed almost another mile to get to the shuttle bus.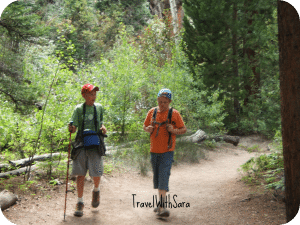 And yes, this last 8/10th's of a mile always seems like the longest hike in the park! We are usually exhausted and ready to call it a day. The hike here is on a flat, gravel road. Not very scenic, but well worth it! And if you time it just right, you will not have to wait very long for the shuttle bust to pick you up.
Have you hiked the Bear Lake To Fern Lake Trailhead in Rocky Mountain National Park? If so, I'd love to hear about your experience on this trail!