Sprague Lake: Rocky Mountain National Park
We fell in love with Rocky Mountain National Park several years ago. Sprague Lake is one of the most user-friendly trails in the park. Before you hop on the trail, look at the board at the beginning of your hike. Here is where you can learn about anything specific on the trail. As with any hike, remember to pack it in and pack it out!
Click Here To Take A Drive On Trail Ridge Road


Several Lakes Are In Rocky Mountain National Park
Rocky Mountain National Park is home to numerous stunning lakes. This lake is no exception, as it is easy for everyone to see while visiting Rocky Mountain National Park. Wheelchairs, scooters, strollers, and hikers can all explore this area of Rocky Mountain National Park. It may not be super smooth in places, but it's a friendly hiking trail. This national park is kid-friendly, but Theodore Roosevelt National Park has it beat for family friendliness.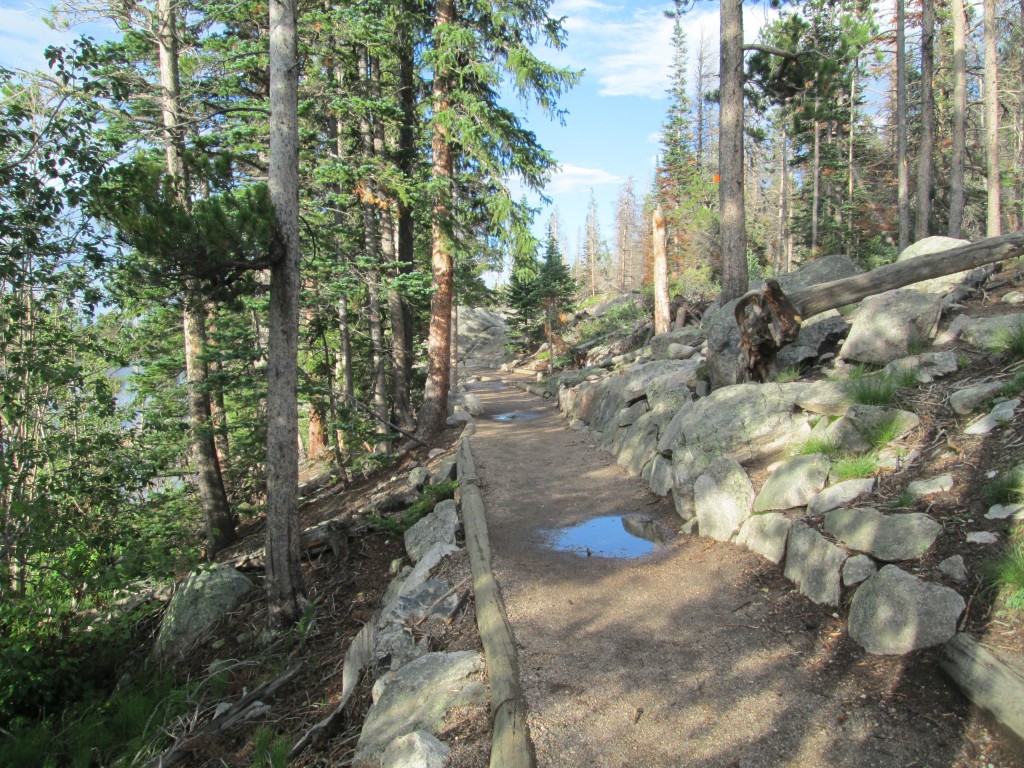 Directions To Sprague Lake
Follow Bear Lake Road from the Highway 36 turn-off for a little more than five miles and you will see signs to Sprague Lake. Follow the signs and you will come to a large parking area that offers handicap parking, restrooms, fire pits/grills, and picnic tables; all within a few steps of Sprague Lake.
The cool thing about this lake is the fact that the views here are beautiful and it's accessible to everyone while visiting Rocky Mountain National Park. We were fly fishing down at Moraine Park Basin during the day and a fellow fly fisherman mentioned the fish were biting between 6-9 p.m. up at Sprague Lake.
Evening Fishing On The Trail
So, you can guess where we headed during that time frame! Yep, Sprague Lake it was. We had visited this lake during the day in the past, but never in the evening. We were skunked with the fly fishing, but the views here made our little fly fishing trip a fun one.
Fishing Lakes You Need To Know About In The Midwest
This area of the national park makes for a great first stop when you arrive in the park. You will also want to allow yourself time for your body to acclimate to the high altitude in Rocky Mountain National Park. Hiking this trail is not strenuous, it is really very easy when you compare it to several other trails in the park. Your time spent here will give you a taste of what Rocky Mountain National Park has to offer. Just think? If this much beauty can lie here where many people have access, can you imagine what the backcountry is like?
If you like to camp, there are several campgrounds in the national park that do require reservations. They make for a great place to stay while visiting. If you are curious as to what type of trailer may work for you, check this one out!
Sprague Lake is full of splendor and breathtaking views that will inspire you to see more. Here's a glimpse of what you will see when you visit this stunning lake in Rocky Mountain National Park.
Happy Traveling ~ Sara
The following two tabs change content below.
SaraB
Sara is a travel enthusiast that resides in North Iowa. You can find her traveling where the plane, train, ship, or car will go. Are you looking to take a road trip? Sara has solutions for you!