There are many outdoor things to do in Medora, which are sure to provide memories of a lifetime. North Dakota is home to many epic outdoor experiences, and Medora is no exception. This charming mountain town is located approximately 25 miles from the Montan border on the western edge of the state. It's very easy to escape the hustle and bustle of everyday life, as soon as you set foot in this beautiful town. Each time I visit, I have found something new to fall in love with.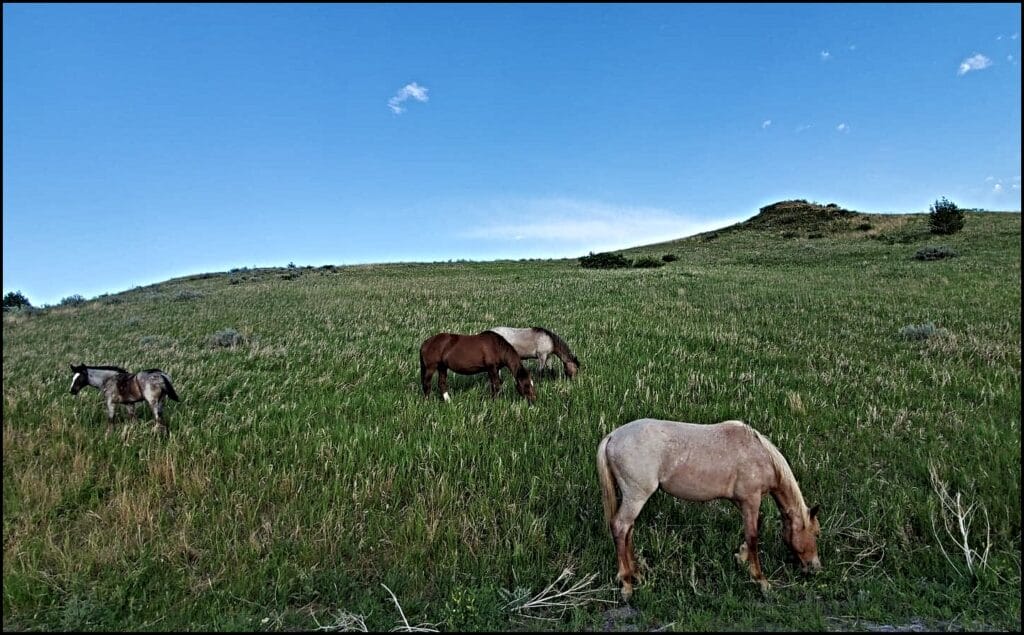 It's fair to say that my most recent visit included some epic outdoor experiences in Medora. Thank you to Medora, North Dakota, and North Dakota Tourism for hosting my husband and myself on this epic outdoor adventure.
Horseback Riding At The Medora Riding Stables In Medora
The Medora Riding Stables offers horseback rides which vary in times. Depending on the time of year and the availability of trail rides, will most likely determine on which ride you can book your epic horseback riding experience. In the particular group that I was with, there were three of us in total. One rider was our trail guide, who understood everything about tourists, and the other rider was my friend Maria.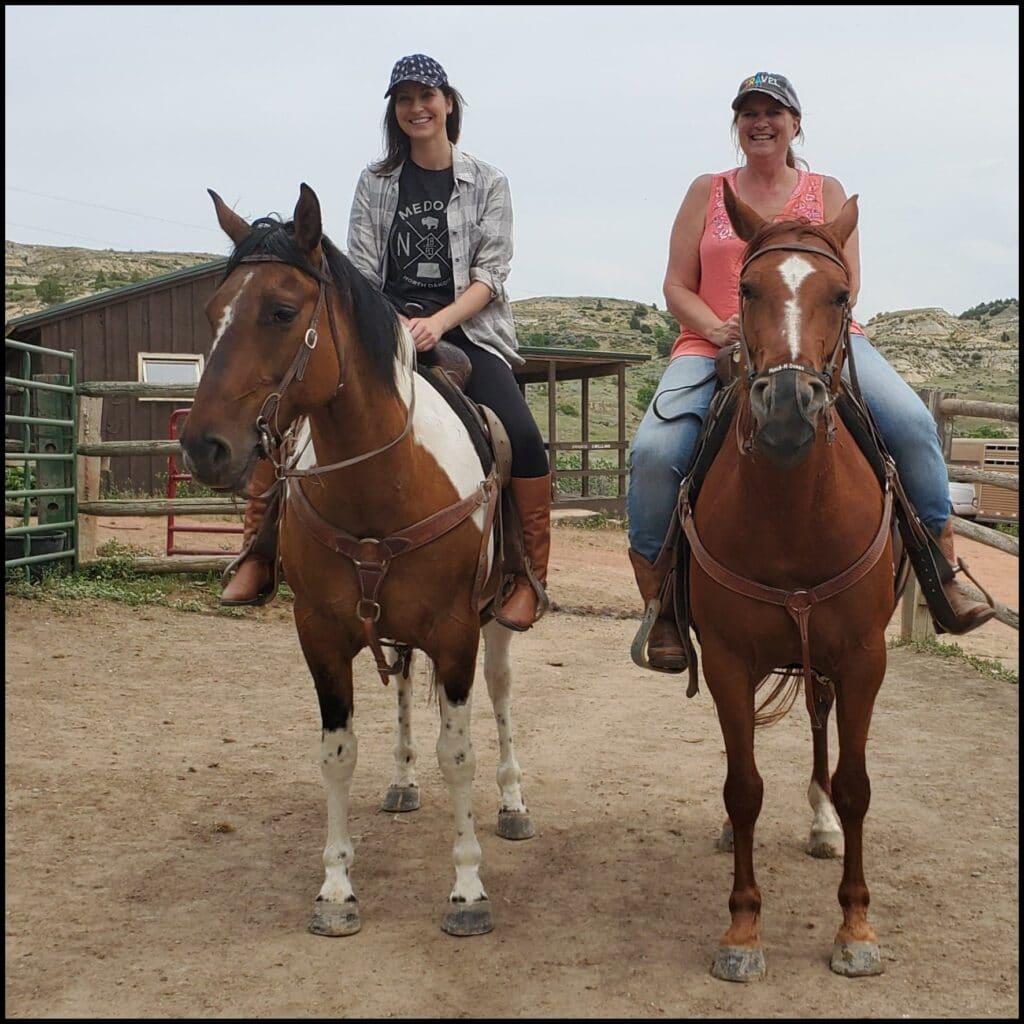 Before we hopped on our horses, we were all weighed. The scale does not have actual numbers on it, but it will show if you are too heavy to ride. In case you were curious, the magic weight to not ride is 250 pounds.
We started off from the stables and headed towards the Badlands of North Dakota. The trail went up and was on the side of a mountain, which produced dynamic views of the area.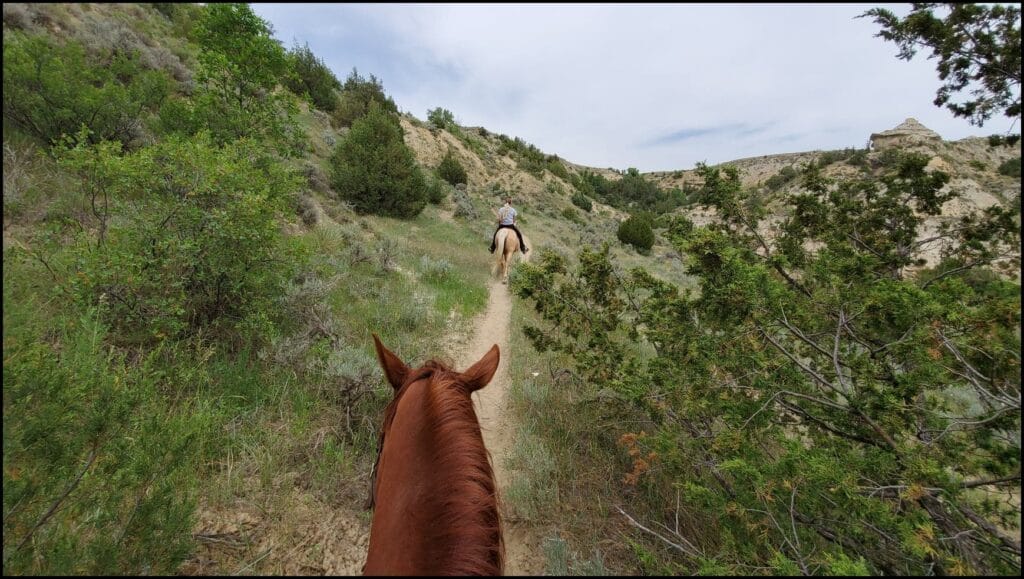 Your reward after your climb is an epic view that overlooks the town of Medora. After you ride around the top of the mountain, your ride will take you back down the mountain.  Call 1-800-633-6721 to book your ride before your visit. This will help you avoid disappointment, as these trail rides do fill quickly.
Golfing At Bully Pulpit In Medora
I am not a pro golfer, but I sure like to have a good time on any golf course. I survived all 18 holes at Bully Pulpit and I am proud of that. This epic golf course is home to 18 beautiful holes. The front 9 offers views of the Badlands and 9 holes of fun.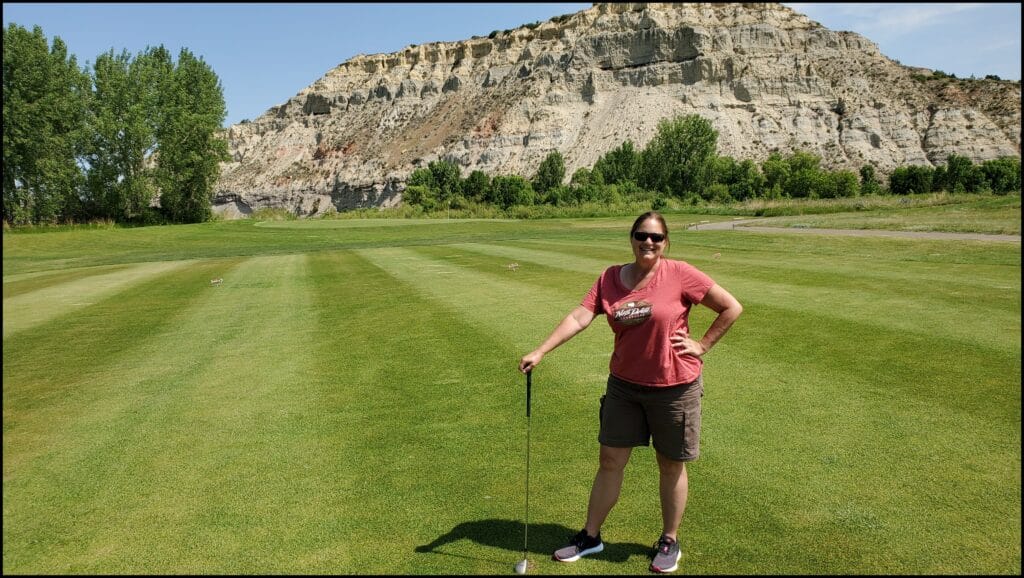 In my opinion, the back 9 of this course is an epic adventure in itself. The views from above are truly magical. It was on Hole 15 that I shocked myself. I actually hit the ball and was able to retrieve it near hole 15. On this course, we did see a deer and a snake, which were both fairly close to us. We managed to complete the course in the amount of recommended time, which surprised us.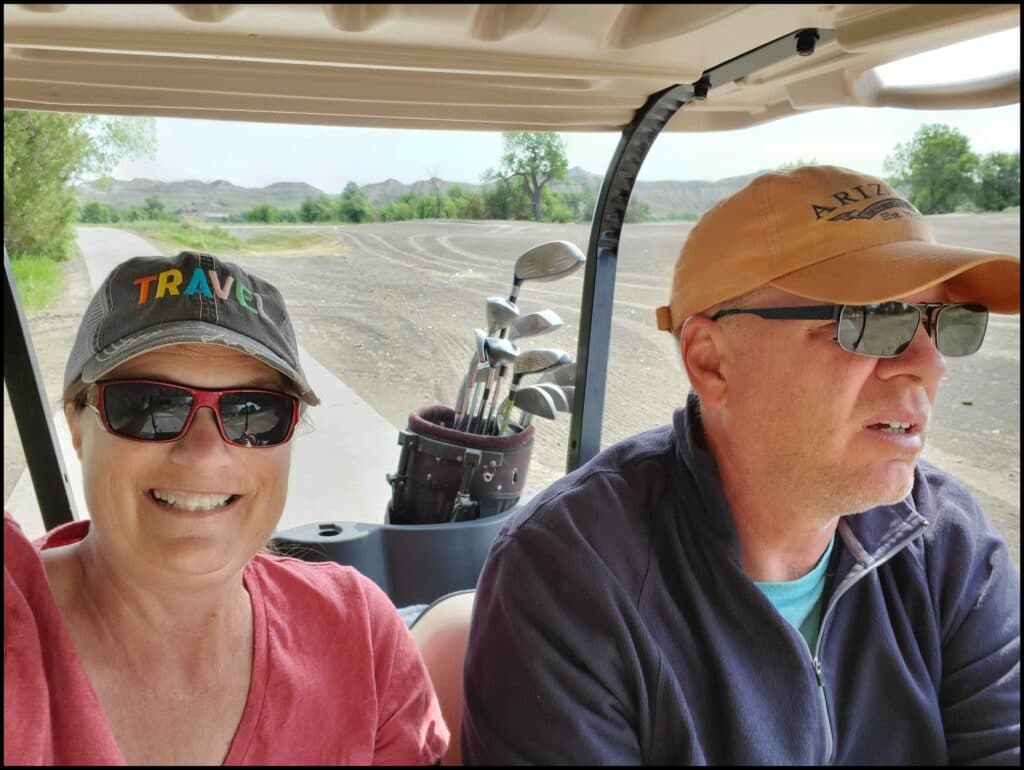 Our handy golf cart kept us moving on the course, as we hit many golf balls. Pro Tip: Take bottled water, sunscreen, and bug spray with you out on the course.
Book Your Tee Time At Bully Pulpit
Explore Theodore Roosevelt National Park
I could literally spend one whole week exploring Theodore Roosevelt National Park. The bison and wild horses can keep me entertained for hours. It's not uncommon to find yourself and your vehicle in the thick of a herd of bison. Most importantly, you need to respect the wildlife and view them from a distance.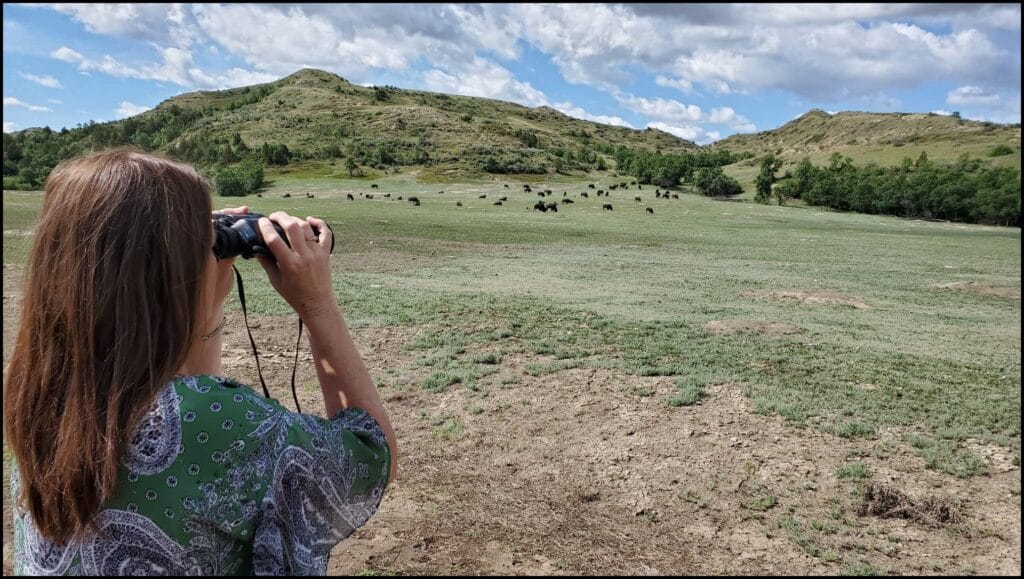 There are several hiking trails within the park, as well. Before you head out on any hike, you will want to be sure you have plenty of water, as the Badlands are very hot and dry at times.
Each scenic overlook and pull out has something to offer in the park, so take advantage of each parking area.
Click Here To Learn More About Theodore Roosevelt National Park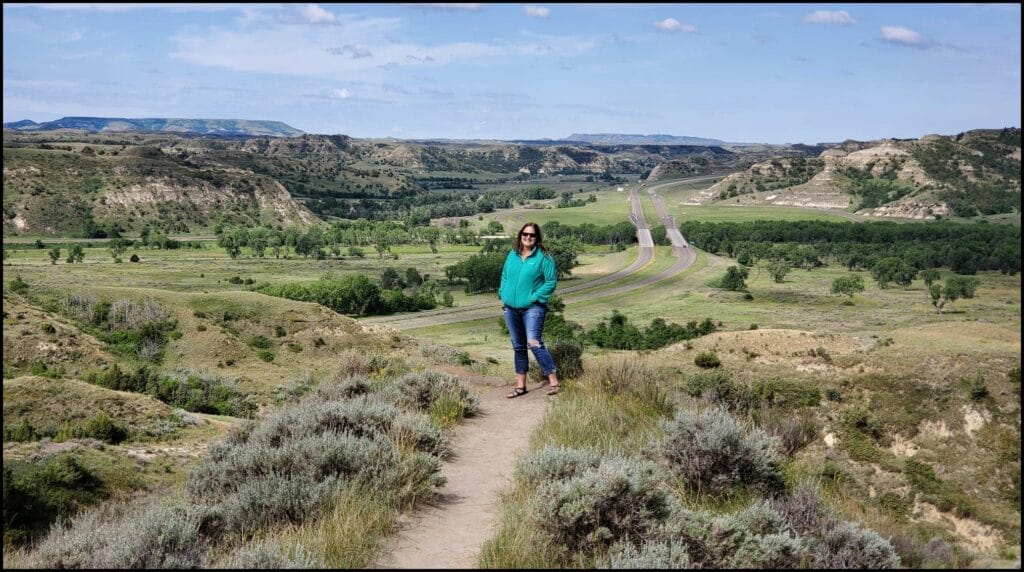 Pack a picnic lunch and enjoy the views from one of the picnic areas within the park. On our last visit, we planned on finding a picnic table to enjoy a picnic, but the bison had other plans.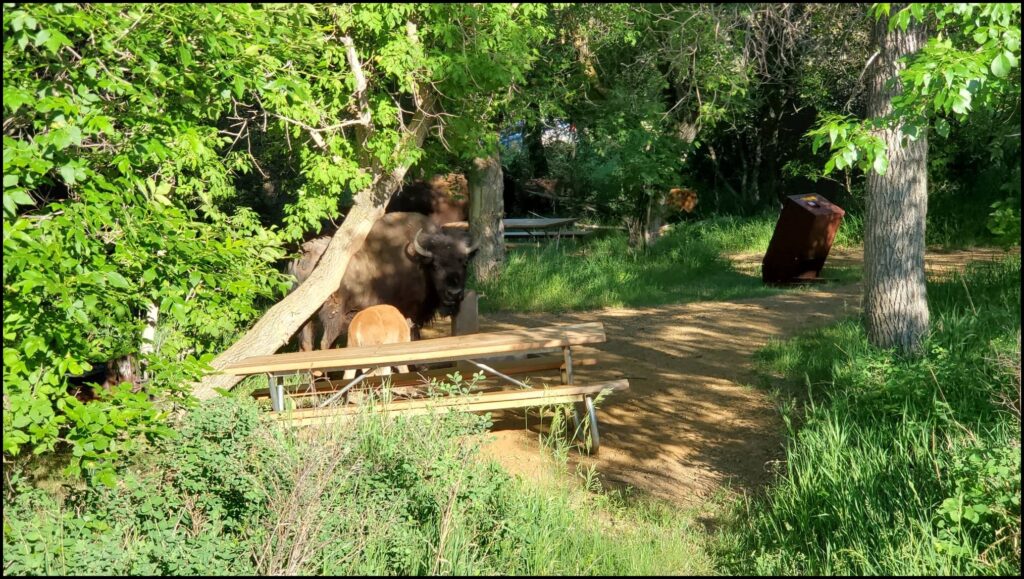 Be flexible, as you never know where the wildlife will decide to show up when you are in the national park.
Click Here to learn more about Medora
Hike & Bike The Maah Daah Hey Trail
The Maah Daah Hey Trail offers an amazing outdoor, rugged hiking and biking experience near Medora. You can hop on this trail south of Medora with your bike or your hiking boots! The views along this trail are some that many never see, as this trail is off the beaten path.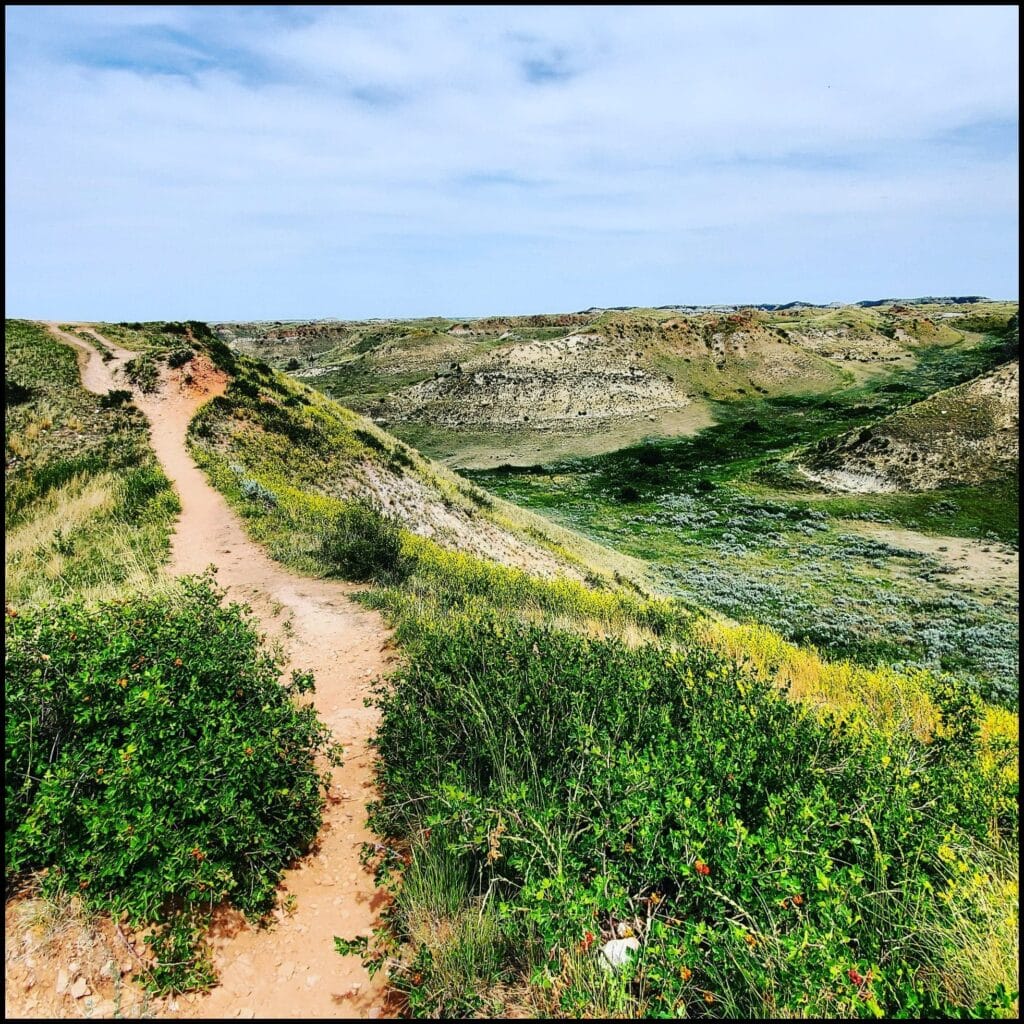 The whole trail is more than 140 miles long and runs through the Badlands of North Dakota. If you don't want to hike all 140+ miles, I 'd suggest hopping on the trail near Medora and experience the trail for a few miles. As with any hike or biking experience, pack plenty of water, bug spray, sunscreen, and be ready for an epic outdoor experience in North Dakota.
Camp At The Medora Campground
We recently got back into the camping world and towed our 17′ Grand Design Trailer to Medora, from North Iowa. In case you are wanting to learn more about what campers look like in today's market, here you go.
We stayed in the Medora Campground, which was near everything you could possibly want to experience in Medora. There are many outdoor things to do in Medora, and camping is one of them. The sites are level but are packed in tight. There's not a whole lot of space between camping units, but it was a clean campground that met all of our needs.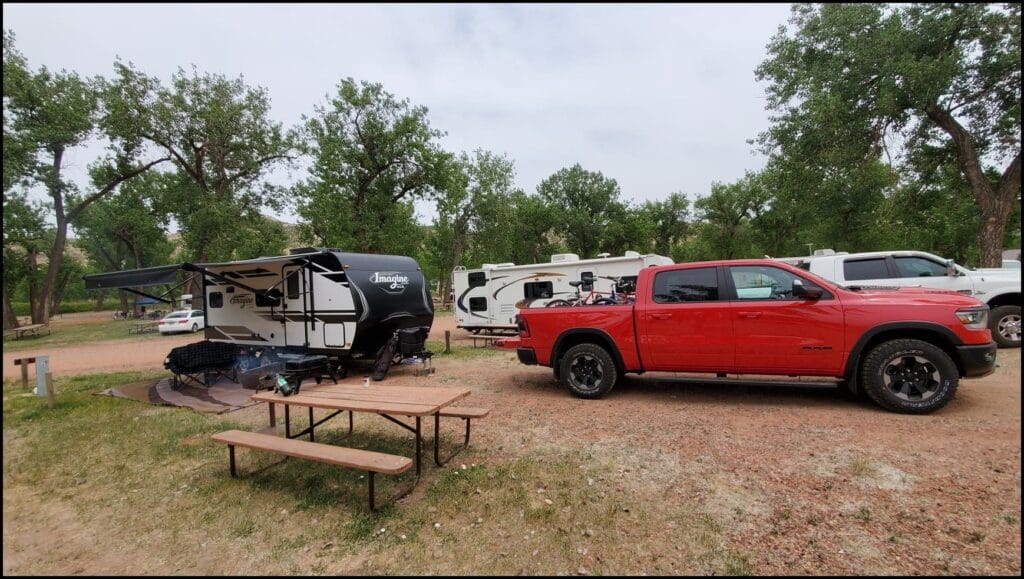 If you want more of a remote camping experience, you may want to consider a campsite in Theodore Roosevelt National Park. We appreciated how close it was to everything we wanted to do while in the area. I did notice that the camp store did have a nice selection of items that you may have forgotten at home, or you need to replenish. This campground also sits less than 1/2 mile from the entrance to the South Unit of Theodore Roosevelt National Park.
If camping is not your jam, book your lodging with the AmericInn in Medora. This property has an indoor pool and all of the amenities that you could want while exploring Medora.
It's fair to say that this charming western town in North Dakota has won me over. Each time I visit, I find something new to see and do. With so many epic outdoor experiences in Medora, you are sure to find something that "wows" you and wins you over. If there has ever been a time to explore more of the great outdoors, now is that time.
Happy Traveling~ Sara