World of Coca-Cola Museum In Atlanta
The Coca-Cola Museum located in downtown Atlanta, Georgia, offers fun for your whole family. Kids of all ages will delight in the Coca-Cola memorabilia and interactive displays that are all under one roof. From the lobby to the ever famous Coca-Cola polar bear, this museum has it all. Visitors can sense the "secrecy" surrounding Coca-Cola upon entering the museum. There are hints along the way as to what the secret recipe is and take a glimpse as to where you can see it!
Tickets are available for purchase online in advance, as well as through your mobile device. You can also head straight to the walk-up ticket windows or the on-site ticketing kiosks. If you know ahead of time that you will be visiting, go ahead and make the purchase ahead of time, as you can save a lot of time. I visited on a quiet week-day in September, and I am sure that during peak visitor times; the line can be long.
I had an Atlanta City Pass, which offered entry into 5 must-see Atlanta attractions. The Coca-Cola Museum is one of the must see attractions. The CityPass alone, can save more than 42% off the combined attraction prices. I would allow a minimum of two hours when visiting the World of Coca-Cola in Atlanta.
Anything and everything Coca-Cola can be found here at the World of Coca-Cola, including trucks like this one!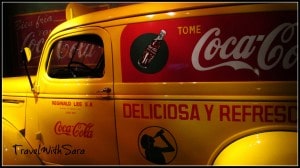 There is a lot of mystery surrounding Coca-Cola. The World of Coca-Cola captures this, through the attractions that are part of this fun display of Coca-Cola history. There are several hands on activities for all visitors throughout the Coca-Cola Museum.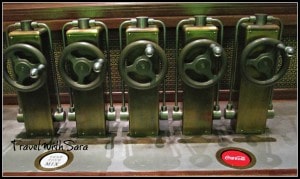 The most fun part of visiting the World of Coca-Cola is the fact that you get to sample Coca-Cola products from all around the world.

Sampling all of these tasty Coca-Cola drinks is the most fascinating part of the World of Coca-Cola. Oh yeah, and don't forget to take a seat in the 4-D movie theater while sporting a pair of cute 4-D glasses. The fun awaits you and is sure to be a memorable show.
Next time you are in Atlanta, Georgia, I highly recommend a stop in the World of Coca-Cola. It is simply a fun way to experience the joys that Coca-Cola has to offer.
A special Thank You to the folks of City Pass Atlanta for a pass to tour the sites. The City Pass is an affordable way to see the highlights of a city near you.
The following two tabs change content below.
SaraB
Sara is a travel enthusiast that resides in North Iowa. You can find her traveling where the plane, train, ship, or car will go. Are you looking to take a road trip? Sara has solutions for you!