Best Gift For The Valentine That Travels
*This post is a partnership with World Is Wide™*
Valentine's Day is coming and I have found the best gift for the family that travels and enjoys sharing their story. Does your Valentine love to travel? If so, you have found the perfect gift for this Valentine's Day. I was thrilled when Kristie of World Is Wide™ reached out to me to inquire about a partnership, as I know many of you would enjoy what she has to offer. World Is Wide™ offers quality, quality, custom wooden maps to help your family tell your travel story. Every year, in my opinion, should be the year that we focus on travel during a holiday. This year should be no different. Think of all of the places you have traveled as a family and then show them off on one of these beautiful maps.
Family Adventure Map
The Family Adventures Travel Map is great for the family that has a goal of visiting all 50 states. It's also a fun way to keep track of where you have been and a reminder of where you would like to go. Each map is approximately 24″ x 11.25″ x 0.25″ and is made of solid wood. You can choose to have your map personalized with your name on it, as well.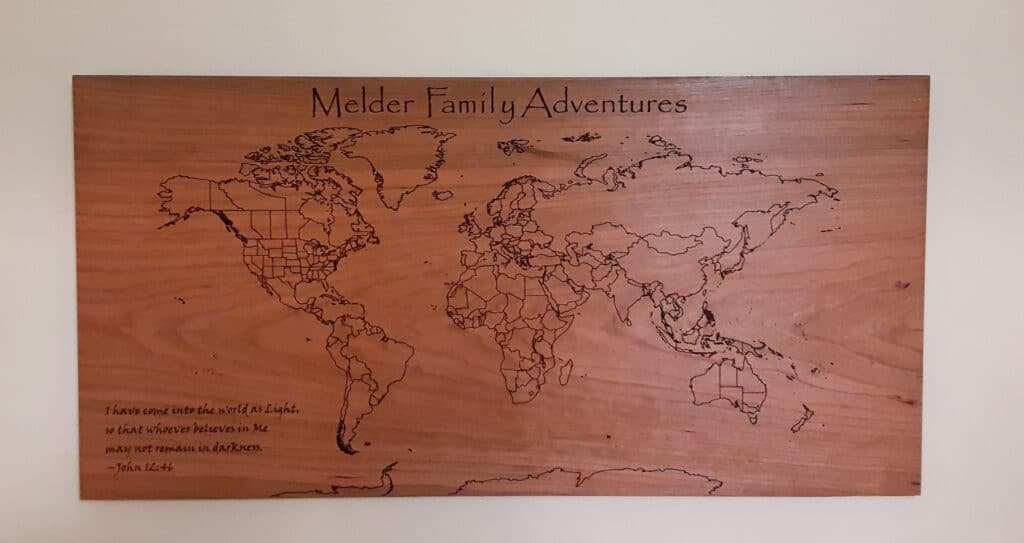 The unpainted maps are from cherry wood or another comparable wood. No need to worry about where to find pins, as each map comes with 50 gold and silver map pins. Use the discount code TWS30 on January 15 -16, 2020 to receive a 30% discount and use this link: https://www.worldiswide.com/store/#!/Wooden-Maps/c/32293702
Travel Adventure World Map
If you are a world traveler or know of someone that is, this map is the best gift for the person that travels. The Travel Adventure World Map is a family history in the making. This comes with 50 gold and silver map pins and each map is approximately 24″ x 11.25″ x 0.25″. All maps are made out of solid wood and the unpainted maps are of finished cherry or compatible wood.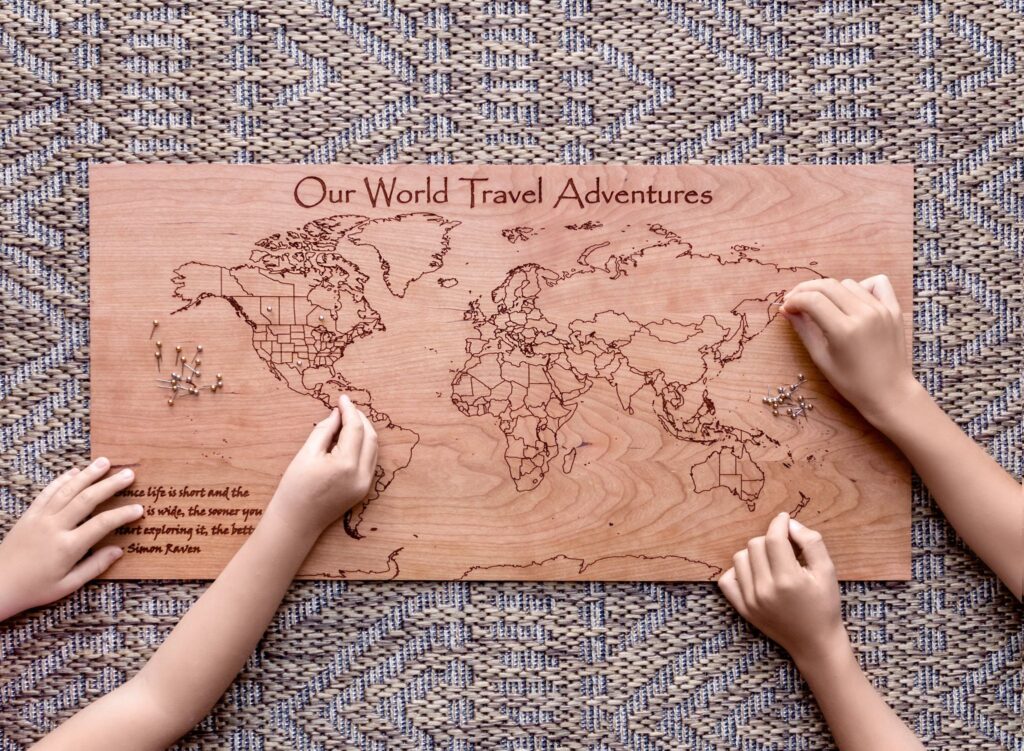 Each map is made for each customer. Minor imperfections in the wood are part of the rustic design, and I will add, that's what really makes these maps unique. Use the discount code TWS30 on January 15-16, 2020 to receive a 30% discount and use this link: https://www.worldiswide.com/store/#!/Wooden-Maps/c/32293702
What You Can Expect When Ordering From World Is Wide
I ordered my map from the user-friendly website and found the ordering process easy. My order was packaged in a professional manner and I received my map within the time frame stated on the website. Kristie will work with you to make sure you have a family travel adventure map that your family will adore. I'm calling this personal service for the win! After all, who doesn't want to plan their next road trip?
The American Road Trip Is Back
More World Is Wide™ Decor and Keepsakes
If a custom map is not on your list or on your giving list, you may want to check out the other fun ideas that Kristie and her team have to offer. Personalized leatherette luggage tags may be something you would enjoy if you love to travel. If you own a lodge or cabin, a personalized cabin guest book would be fun. Join the mailing list of World Is Wide™ to stay up to date with new items. If you have an idea of a travel keepsake and don't see it in the store, inquire with the team. Kristie and her team will listen to you and work to make your inquiry come to fruition.
Customer Service For The Win
If you want to work with a company that will provide you with top-notch customer service World Is Wide™ will offer that. When you have a question, you will speak with a real person. If there is one thing I have learned over the years, it's the fact that customer service is the top priority with any business. You can be assured that you will receive that when you order from World Is Wide.
Happy Traveling~ Sara
The following two tabs change content below.
SaraB
Sara is a travel enthusiast that resides in North Iowa. You can find her traveling where the plane, train, ship, or car will go. Are you looking to take a road trip? Sara has solutions for you!