A Memorable Day At Cabbage Beach In Nassau
We cruised on the Carnival Sensation in March of 2013 and had a day to play in Nassau. We opted to visit Cabbage Beach.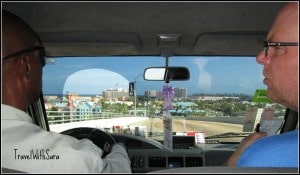 The cab ride was reasonably priced, it was $4.00 each way/per person. Once we arrived, we were greeted with some locals that were hanging out near our walkway. We walked on by them and they too walked on, waiting for the next cab to arrive.
We headed towards Cabbage Beach. We had a short, shaded walk. Once Cabbage Beach came into view, it was beautiful.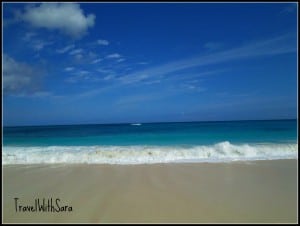 The water was turquoise and looked stunning next to the blue skies. This was Spring Break season, so the beach was full with lots of people. The beach is quite a large area, so it did not seem too crowded. We noticed that the waves appeared to be crashing and it appeared as though rip currents were present. Being from the Mid-West, we don't experience rip currents on a frequent basis, but having spent quite a bit of time on Florida beaches; we knew that rip currents were present. I glanced around for a sign or two, none to be found.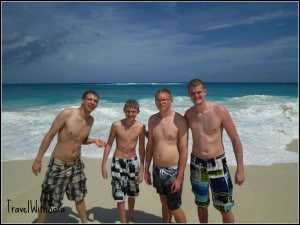 Our boys enjoyed jumping around in the waves. My sister and I enjoyed the lounge chairs, which were available for rent. The waves appeared to get larger after we arrived. Soon after I had looked for a lifeguard (there were none to be found here) , I noticed a crowd of people running. A woman had been walking on the beach, somewhat close to the shoreline; and she had literally got swept out to sea. Several spring breakers hopped in the water to help her. She was OK.
At that point I ventured to tell our boys to step back and be careful. They stepped back from the water and started digging around in the sand on the beach. I then returned to my beach chair, which happened to be next to a local man who was selling mixed drinks. I had not sat down one minute when he stated to a relative that he was going to go down to the beach and go in the water. At that point, he reached down and rolled up his pants and headed towards the water. His relative was not pleased. He was running towards the water. We could see something floating out in the open water. The lady who had been swept out earlier had lost her purse when she was taken under the rip currents. This young, local man was going in to get her purse. I knew that we were about to witness a horrible scenario.
He ran into the water and within a few seconds he had his hand in the air. He was motioning for help, as he was being swept under the waves. Several spring breakers headed into rescue him. I thought to myself, "This is not good." This group of young adults got him up to shore and a rip current literally came in and swept him out of their hands and took him back out to sea. Our jaws were dropping. What an experience for our teenage boys to witness.
Several spring breakers hopped back into the water and were finally able to rescue him. Sadly, it was too late.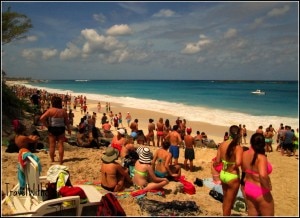 We had watched this young, local man drown on our not so fabulous day at Cabbage Beach in Nassau. He was wearing his rolled up pants and a t-shirt, clearly too many clothes. Thinking back to what we watched unfold. There are lessons to be learned.
When you visit a beach in a foreign country, you are swimming at your own risk

If the waves look high- stay out of the water
Be aware that water moves about the beach- the tide comes in and the tide goes out
If lifeguards are present in a foreign country, they are not present in a way that we are accustomed to in the United States
Rip currents are very dangerous. Every single spring breaker that went into rescue this local young man put their own lives on the line. Thankfully it came out OK. But, it is never safe to go in and try to rescue someone when rip currents are present.
We left shortly after the paramedics arrived.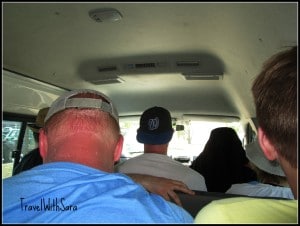 It was easy to find a cab to get us back to the Carnival Sensation.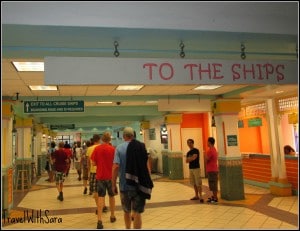 It was a somber way to round out our visit to Cabbage Beach in Nassau. Would we go back? Maybe. If we went back, we would probably visit another beach. The whole experience was an eye opener, in regards to how beaches function in other countries. Cabbage beach was extremely beautiful, and according to our cab driver, the waves were extremely high for this beach on the day we visited. Mother Nature is often in control and we need to respect what she has to offer.
If you have visited Cabbage Beach in Nassau, I'd love to hear about your experience.
The following two tabs change content below.
SaraB
Sara is a travel enthusiast that resides in North Iowa. You can find her traveling where the plane, train, ship, or car will go. Are you looking to take a road trip? Sara has solutions for you!