Cruising With The Extended Family on Carnival Cruise Lines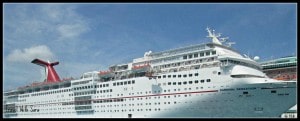 Carnival Cruise Lines offers fun, family friendly cruises day in and day out. My family and I cruised on the Carnival Sensation in March of 2013. We cruised out of Port Canaveral, Florida. Freeport and Nassau were two ports that we explored while cruising. We were a party of ten, ages 14-73. I never heard the words, "I am bored!" That to me, says our cruise on the Carnival Sensation was a huge success!
We boarded on a Sunday, and learned rather quickly that there would not be a lack of food for the five days we would be on the Carnival Sensation.
It took the 14 year old boy in our group ten minutes to find the ice cream machine! He stopped counting at 24 ice cream cones on day #3.
Carnival Cruise Lines offered a nice variety of shows, games, activities, and about anything you can imagine. Our family opted to attend a karaoke night on night #3. My boys (ages 17 & 22) and my nephews (ages 14 & 20) thought it would be fun to see their Mom, Aunt, and Grandma sing!
The Dixon Three debuted on the Carnival Sensation, thanks to four boys. Fun memories and a new arrangement of We are Family, by Sister Sledge, debuted that evening.
Our waiter, Joseph, knew how to engage all of us during dinner each evening.
We opted for the 6:30 dinner each evening. The food was very tasty, flavorful, and never ending! Again, it took the 14 and 17 year olds in our group a total of one conversation with Joseph, to learn that they could order two entrées. If you have a teenage boy that eats a lot; cruising with Carnival Cruise Lines should be on your radar! Cruising is a great value for your dollar. The activities and food are all abundant.
The piano bar and the unique shopping experiences while onboard the Carnival Sensation were also huge hits for our cruising crew! When you cruise with Carnival Cruise Lines, you not only have several days of fun in the sun, you also have the opportunity to explore new cultures. So, what are you waiting for? Go ahead and book that Carnival Cruise today! You will be glad you did.