Minnesota is known for 10,000 lakes and loons. Once you head North on I-35 out of the Twin Cities, the landscape really changes. There are many more trees and lakes! The lakes appear to get bigger and more numerous. With so many stunning lakes to choose from, how does one choose? We ventured into Northern Minnesota in August of 2011. The summer season here is short,so plan accordingly.The view from the lodge speaks for itself!       We stayed at the Arrowhead Lodge & Resort, located on Lake Kabetogama. The
Arrowhead Lodge & Resort
offers cabins, rooms in the lodge and three camping spaces with full hook ups available for rent. Depending on the size and needs of your party, Arrowhead Lodge & Resort does have accommodations that will meet your needs.We
camped
here with a self contained unit, which is a requirement when you camp here. If you are a tent camper, this resort will not work for you.The camping area is not big, but it does offer a fire ring, picnic table, and it is very close to the docks. We docked our boat for the week, and it was literally a hop,skip,and a jump from our camping spot.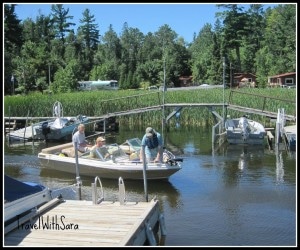 The fishing on Lake Kabetogama is fantastic!  
fishing
for Walleyes, Northern Pike, Small Mouth Bass, Jumbo Perch and Crappie. If you don't bring your own boat, there are boats available for rent.Arrowhead Lodge & Resort is located right next door to
Voyageurs National Park
, so once you take off out into Lake Kabetogama, you are in one of America's most beautiful national parks! The air is clean, the skies are blue, and the waters are just stunning. We docked the boat and explored one of the islands in Voyageurs National Park.  
This slideshow requires JavaScript.
        There is a
restaurant
on site, which does offer breakfast, lunch, and dinner. When you book your stay, you can opt for a daily meal plan or purchase a meal at a time, if you choose. Be sure to pack your favorite fish fry fixins, as you will want to fry up some of your freshly caught fish while staying at Arrowhead Lodge & Resort.     You will catch at least a fish while staying here!So, if you are wanting to venture into one of America's most scenic national parks,book a stay at Arrowhead Lodge & Resort.The fishing, hospitality, and scenery will have you hooked on Northern Minnesota! What are you waiting for? Book your summer vacation now, as you won't regret it! I'm thinking we need to venture back here, as it was a fun experience.