Remembering JFK in Fort Worth Texas: 50 Years Later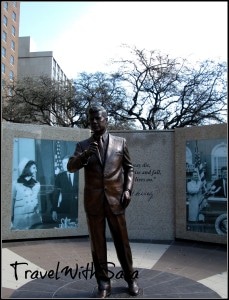 I had the pleasure of experiencing Cowboys and Culture in Fort Worth this past Spring. If you have never been to Fort Worth, Texas; this Fall offers the opportunity of a lifetime. The history buff will appreciate the activities that will be going on to commemorate the 50th Anniversary of JFK's fateful visit to Fort Worth.
Bob Schieffer (TCU alumnus and CBS Correspondent) will host a discussion with several journalists on September 11th at TCU on September 11, 2013 at 6:30 p.m. Tickets are complimentary, but must be reserved by calling 817-257-7425.
The Fort Worth Public Library is offering a free exhibit from September 19- December 6, 2013, in the gallery at the central library. This special exhibit recognizes the 50th Anniversary of the death of President John F. Kennedy. It document's Kennedy's visit to Fort Worth, Lee Harvey Oswald's connection to the city and the recently opened JFK Tribute.
The Hilton Hotel is where John F Kennedy spent his last night. It is located at 815 Main Street in Fort Worth. This hotel offers the amenities of the 21st Century, yet offers a lot of history on the inside.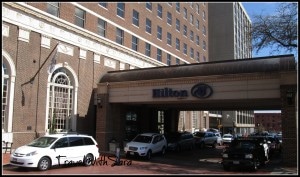 The walls on the inside offer numerous photos of John F. Kennedy, as well as historical information from that period of time. History buffs or those just wanting to reflect on the legacy of John F. Kennedy, will find that the Hilton in Fort Worth is definitely worth a visit. The hotel lobby is warm and inviting, yet offers a taste of history in the décor.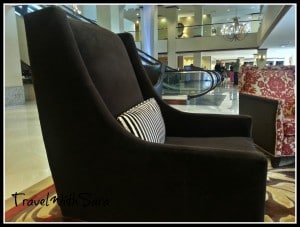 Plan to stay several nights, or walk through the doors that John F. Kennedy did. If you do venture to Fort Worth this Fall, I'd love to hear about your experience. Leave me a comment letting me know how it was, I'd love to hear about it. This will be an amazing, historical time in Fort Worth, Texas.
And while you are in Fort Worth, don't forget to swing into the Stockyards. Here you can meet an actual cowboy, experience a rodeo, and learn what makes a cowboy boot an actual boot! Families of all ages will enjoy a day out at the Fort Worth Zoo. And the food, let's just say, it is true….. Everything is bigger and better in Texas, it really is!
A special thank you to the Fort Worth CVB for inviting me to experience Fort Worth. The hospitality in the Fort Worth area was superb.
The following two tabs change content below.
SaraB
Sara is a travel enthusiast that resides in North Iowa. You can find her traveling where the plane, train, ship, or car will go. Are you looking to take a road trip? Sara has solutions for you!