Wildwood Inn: Estes Park, Colorado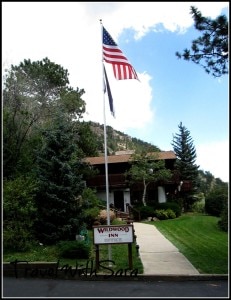 If you have not visited Estes Park, Colorado, may I suggest that you do? We have ventured to Estes Park several times and each time it seems to get better! We booked a really nice Suite (Sundance Suite) at the Wildwood Inn located at 2801 Fall River Road. Conveniently located a little more than 1/2 mile from the entrance to Rocky Mountain National Park and four miles from Estes Park. The view here was absolutely stunning! This is how each day ended while staying at the Wildwood Inn in Estes Park, Colorado. Our Sundance Suite was on the 2nd Floor in the South East Corner. We had stunning views off the deck, as well as the South and East Windows in the Suite.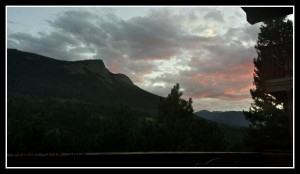 The deck offers stunning views, as well as a sturdy table and chairs to eat on. We enjoyed our meals outdoors and loved our views. I appreciated the morning and evening views.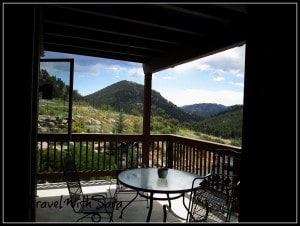 Our Sundance Suite included an in room hot tub, a full kitchen with a dishwasher, gas burning fireplace and a wall bed that made into a Queen Sleeper. Our 18 year old son loved his bed! We were able to put it right back in the wall, once he rolled out of it. This Suite had all the amenities to make cooking a breeze. A community gas grill was also right outside the door. We used it a couple times and it worked great!
I knew when I called to make our reservations our experience was going to be a fantastic one. The gentleman that took my reservation was very courteous and helpful. He explained all their policies in terms that I could easily understand. The Check-In Process was also a smooth one.
Keep in mind, if you are looking for a full service hotel setting, this is not a resort for you. If you like to have the ability to prepare meals while on vacation, you will really appreciate the Wildwood Inn in Estes Park, Colorado. Housekeeping services are available, but they do not come into your suite unless you request them.
Families will appreciate the playground on site, as well as a shelter house that is available for family gatherings.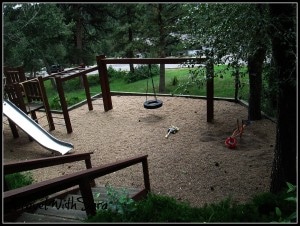 The Wildwood Inn in Estes Park, Colorado, is also home to many animals. You may see hummingbirds, elk, bear, deer, big horn sheep and even a moose. The location of this Inn was just fantastic for us. We loved that we were so close to the entrance to Rocky Mountain National Park. The Estes Park Shuttle also offers convenient service throughout the day. It's easy to hop on, right at the entrance to the Inn.
Plan a vacation or week-end get-a-way to Estes Park, Colorado. I can guarantee you that your stay in Estes Park will be one you will enjoy! The Wildwood Inn will provide you with top notch hospitality and offer you a comfy place to call home for a few nights. If you have stayed in the Estes Park area, I'd love to hear about your experience.
The following two tabs change content below.
SaraB
Sara is a travel enthusiast that resides in North Iowa. You can find her traveling where the plane, train, ship, or car will go. Are you looking to take a road trip? Sara has solutions for you!