Ramada Inn Wisconsin Dells: Affordable Lodging For Your Family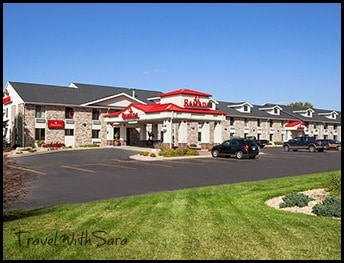 I recently spent one night in the Wisconsin Dells in Wisconsin. In case you are not familiar with the Wisconsin Dells, it is simply an area of the U.S. that is often referred to as The Waterpark Capital of the World®. With more than 200 water slides and several indoor and outdoor water parks, Wisconsin Dells has earned their claim to fame. Water parks are popular in the Wisconsin Dells, but also remember this is a nature lover's paradise. The world famous Duck Boat Tours are also located in the Wisconsin Dells.
The Ramada Inn Wisconsin Dells is located off of Exit 92 from the I-90/94 Exit. Upon arriving, I was greeted with a smile and found the inside of the Ramada Inn in the Wisconsin Dells to be top notch in appearance. I learned from one of the friendly employees that this particular property had went through a recent major renovation and it showed! As with any hotel, you can always find wear and tear, but this one- you had to look hard. My room was clean, the entryway was clean and the staff was very friendly. Anytime the staff is friendly to everyone while out and about, that says that the owners and employees care about their property.
As many of you know, one of the first things I visit after checking into a hotel is the business center.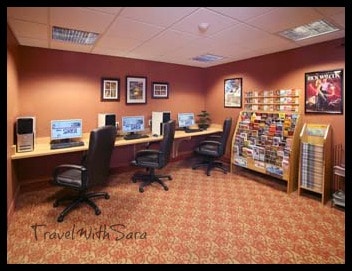 The Ramada Inn Wisconsin Dells offered a nice clean business center that was not crammed into a small area. There was also a nice selection of travel brochures within this area. I'd highly recommend checking them out, as there were discount coupons to many local attractions within this display.
The Ramada Inn Wisconsin Dells does have a nice indoor swimming pool with a hot tub.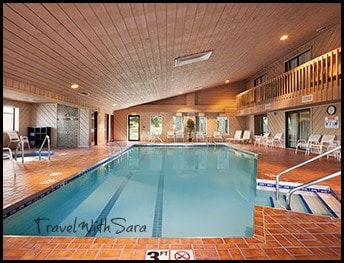 The Ramada Inn Wisconsin Dells does offer packages that do include passes to one of the water parks in the area. If you are traveling on a tight budget, I would highly recommend staying at the Ramada Inn in the Wisconsin Dells. You can save money, stay in a convenient location and enjoy quiet lodging while exploring the Wisconsin Dells.
All of the fun of the Wisconsin Dells is no more than a mile or two down the road. Several restaurants are nearby and as with many hotels in today's world, a hot breakfast featuring waffles is included in your stay. The Wisconsin Dells is a fun travel destination for families all across the United States. If you have been, I'd love to hear about your experience. There was something to do around every corner, everywhere I went.
* A special thank you to the Ramada Inn Wisconsin Dells for hosting me for one night and an thank you to the Wisconsin Dells Visitors Bureau for assisting with the arrangements.
The following two tabs change content below.
SaraB
Sara is a travel enthusiast that resides in North Iowa. You can find her traveling where the plane, train, ship, or car will go. Are you looking to take a road trip? Sara has solutions for you!