Oasis Deck And Restaurant: St. Augustine, Florida
When in the St. Augustine, Florida area we always make time for a meal at the World Famous Oasis Deck and Restaurant. The experience is fun and the food is also mighty tasty. Here was our view when we sat down. Pretty fun, huh? This is the table in the dining area on the lower level.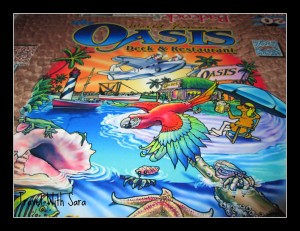 There is a full service bar, breakfast, lunch and dinner menus, live music, take out service and a fun atmosphere. And of course, there are televisions everywhere! If you are looking for a romantic place to dine, this is not your restaurant. This is a high energy, fun place to be.
With a gift shop, live music every Friday and Saturday nights, there is always something happening at the World Famous Oasis Restaurant in St. Augustine, Florida. With so many different places to sit, there is an area designed for your family. The bar area is ideal for couples and singles. The lower level dining area and upper deck area during the week are ideal for family dining. They do offer a kids menu and your server will work with you to meet any special dietary needs you may have.
Our family has always enjoyed sitting upstairs on the deck. The windows are wide open and the warm Florida sunshine air flows through.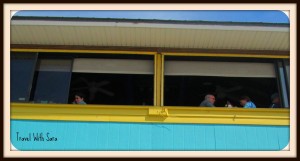 Parking is ample for cars, trucks and bikes. There is also a large parking lot right behind the gift shop and parking behind the main building.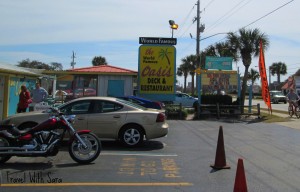 The menu offers chicken, fish, chips/salsa, burgers, baby back ribs, and about anything else you can imagine! We all opted for burgers on our visit this time and found the 4 oz. burger tasty and filling.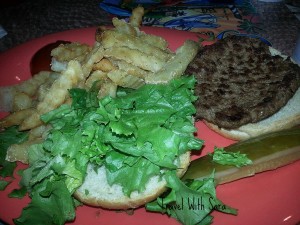 Be sure to ask your server for the daily specials, as they may be offering something you have had a hankering for. The World Famous Oasis Restaurant is easy to find. Hop on A1A South heading out of St. Augustine and you can't miss it!
So, the next time you are in St. Augustine, Florida, make it a point to dine at the Oasis Deck and Restaurant, your kids will talk about it for years! Our boys are now 17 and 22 and dined here for the first time more than ten years ago.
The following two tabs change content below.
SaraB
Sara is a travel enthusiast that resides in North Iowa. You can find her traveling where the plane, train, ship, or car will go. Are you looking to take a road trip? Sara has solutions for you!