The Magic Kingdom Without Kids In Tow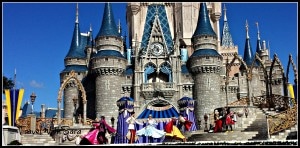 The Magic Kingdom at Walt Disney World offers fun for Moms and Dads, without kids in tow. We often think that this magical place is only a kid friendly destination. Having experienced the Magic Kingdom without kids in 1987 and again in 2013, I can tell you that it is just as fun without kids; as with them!
We visited the first week of November and it was an ideal time to visit. There were people, but not too many. I can recall the days when we took family photos around the Magic Kingdom without another person in them. Those days, in my opinion, are long gone. It's inevitable that you will have to do some photo editing when you get home to remove people from your photos.
The best thing about visiting the Magic Kingdom without kids in tow was the fact that we could pick and choose what we wanted to experience. We stumbled upon these singers/dancers on Main Street. Now, if we would have had kids in tow, trust me, we would have walked right on by!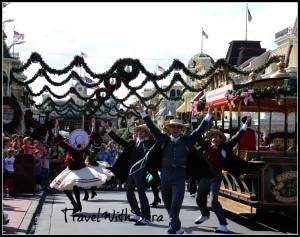 It had been several years since we took a spin on The Mad Tea Party! We approached this attraction and saw no line and immediately made the decision to hop on. My #1 tip when it comes to visiting the Magic Kingdom. If you see an attraction with no line, hop in line immediately. Chances are, once you leave the attraction it will have a line.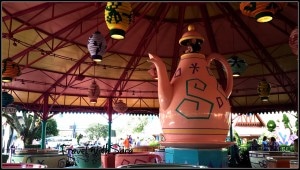 We, of course, took in Buzz Lightyear, Mickeys PhilharMagic (a must see 3-D flick), Splash Mountain, Big ThunderMountain Railroad, The Haunted Mansion and Pirates of the Caribbean. And I might add, we had fast passes in hand and never once actually utilized them at the Magic Kingdom. Pirates of the Caribbean is one attraction that you can usually hop on the first part of the day or late in the evening. This has often been the case when we have visited during Spring Break, as well. If you want to guarantee a shorter wait time, do take advantage of the fast pass system.
This, in all honesty, was the most magical part of our whole visit. I do think you will agree. Imagine yourself standing on Main Street in the Magic Kingdom with this view. It is truly magical!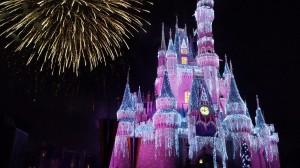 We took advantage of the Extra Magic Hours, as we stayed at Port Orleans French Quarter. I highly recommend staying on the property at the Walt Disney World Resort, as you are able to experience parts of the theme parks outside of the times the general public is able to.
The Magic Kingdom continues to excite me as much as it did from my first visit in January of 1972. And guess what? I still have park tickets from that first time visit. They are truly priceless and going nowhere!
Have you visited the Magic Kingdom without kids? I'd love to hear about your experience. We had a fantastic time and would go back tomorrow if the Mouse showed up at my door with tickets for my hubby and I.
The following two tabs change content below.
SaraB
Sara is a travel enthusiast that resides in North Iowa. You can find her traveling where the plane, train, ship, or car will go. Are you looking to take a road trip? Sara has solutions for you!