Don't Let A Little Bit Of Rain Keep You Away From Estes Park
Estes Park is simply one of the most beautiful communities you can visit in Colorado. From the wildlife, to cute, fun shops; this thriving community is one that will welcome you and your family with open arms. It is not unusual to see an elk, deer, or even a coyote while in the city limits of Estes Park. Mother Nature seems to have her own terms, and she often decides to rain on our visits to Estes Park.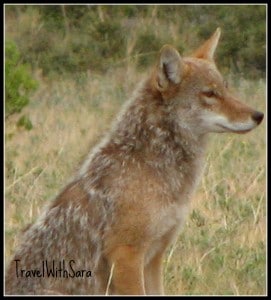 Estes Park has a lot to offer, even in the rain. When traveling to Estes Park, one of the most important items to toss into your suitcase, is your rain gear. It is not unusual to experience a passing shower or two while in the town of Estes Park. Provided you have packed accordingly, shopping in the stores on Main Street can be a great way to spend a rainy afternoon in Estes Park. The shop owners here are knowledgeable about their products and are interested in you! The shop owners of this store were enjoying our son, as he was trying to figure out which hat he should purchase!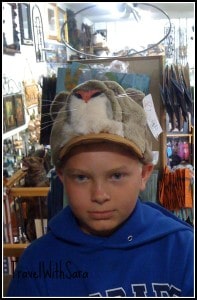 We have often been asked, "Where are you from?" "What have you seen so far?"
Another great way to spend a rainy afternoon is to head on over to the Estes Park Center YMCA. This family friendly facility serves as an all inclusive get-a-way for families, yet offers a variety of activities for day guests to experience. Day wristband passes are available for purchase. They are $15 for ages 6 and up; free for ages 5 and under and all YMCA members will receive a free Day Pass with proof of Y membership. This facility has a large number of daily activities for all participants to enjoy. From swimming to playing capture the flag, the Estes Park Center YMCA is guaranteed to entertain you and your family on a rainy day in Estes Park.
Ghost lovers will want to be sure to take a tour of the Stanley Hotel. Tours are available throughout the day. Depending on the ages of the members of your family, may determine what type of tour you opt to experience. The hotel itself is extraordinary and worth seeing.
Estes Park has a beautiful stream flowing through it, the city is clean, and it's very easy to navigate your way around. Parking can be a challenge at all times of the day. My advice, if there is a lot of traffic in town; take the first parking spot you find!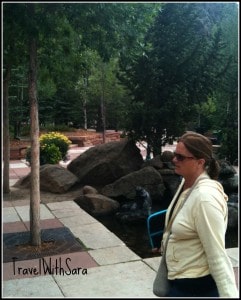 This is just a quick glimpse of what you can experience in the rain while visiting Estes Park. Another one of our favorite things is to find a restaurant with a view of a mountain peak and watch the clouds form and move along. I might add, the cloud formations here make for some outstanding photo opportunities. You may find rain for two hours and sunshine for the rest of the day. Do not let a little bit of rain dampen your vacation in Estes Park! There's a lot to see and experience. Make your vacation a fun, memorable one and trust me, you will want to return for a future visit. Estes Park has it all!
The following two tabs change content below.
SaraB
Sara is a travel enthusiast that resides in North Iowa. You can find her traveling where the plane, train, ship, or car will go. Are you looking to take a road trip? Sara has solutions for you!