Buffalo Bill Ranch State Historical Park: North Platte
We were guests of the North Platte CVB this past August and we loved our stay in North Platte. We did venture over to Buffalo Bill's Ranch for a couple hours and were delighted that we decided to visit. This is a State Historical Park and we did pay for a Nebraska State Park Day Pass, as well as our admission to this historical site. This is a state park well worth a visit!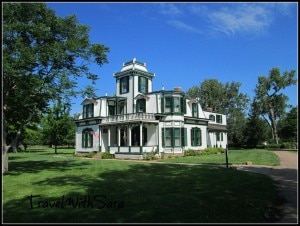 Outdoor enthusiasts, as well as history buffs will appreciate all that this amazing site has to offer. The grounds were meticulously kept, as were the buildings. Buffalo Bill ranch was home to William F. "Buffalo Bill" Cody. Buffalo Bill Ranch SHP (State Historical Park) showcases the life and career of this famed Pony Express Rider, Army Scout, and buffalo hunter turned showman.
Buffalo Bill became well known worldwide when he took his Wild West shows around the world. Buffalo Bill was full of adventure and literally changed the West in the 1800's. Here, in the barn at Scout's Ranch you will find memorabilia from the time period, as well as these stunning posters!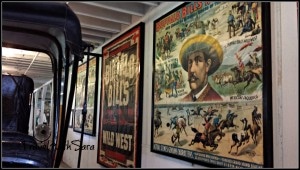 The barn here is absolutely stunning!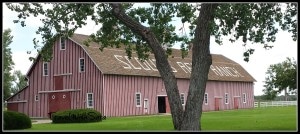 Inside the barn (built in 1887) you will find saddles, reigns, carriages, chains and lots of iron. The folks in Nebraska have done a fabulous job keeping all of this clean and in excellent repair, so that families like ours can take a step back in time. When walking in the open door, on the south side, this is your view. Look at these horse stalls, it's just as though a stallion should walk in at any given moment. These stalls are huge!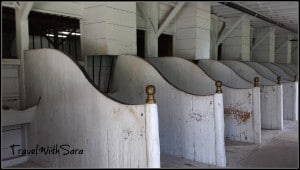 Cody, Frank, and Luther North were partners of Scout Ranch at one time. Here is the cabin they lived in. As you can tell, the inside looks like the 1800's and offers insight as to how folks lived in that time period.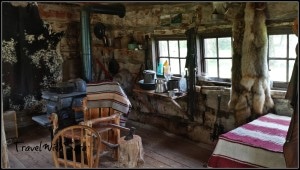 We loved our visit to the Buffalo Bill Ranch State Historical Park. It's very easy to get to, as you Exit at the North Platte interchange and head North on Highway 83 and then turn West on Highway 30. There is RV Parking, as well as auto, truck parking. The Buffalo Bill State Recreation Area is located next door, which is home to fishing, camping, and hiking trails.
Now, since our visit, the State of Nebraska has announced that they have intentions of closing this historical site from September 15- May 1st. We visited during August and I must say that the Christmas Display that I saw advertised in local media while in town was intriguing to me. North Platte is a fantastic place to stop while traveling I-80. If you have traveled I-80 in Nebraska, you know that a stop with adventure is welcomed along this route.
I hope that the folks in the state of Nebraska can find a way to keep these grounds open all year long. This is worth a visit and it is a great representation of how folks lived in the 1800's.
The following two tabs change content below.
SaraB
Sara is a travel enthusiast that resides in North Iowa. You can find her traveling where the plane, train, ship, or car will go. Are you looking to take a road trip? Sara has solutions for you!