Cedar Point, located in Sandusky, Ohio, is an amusement park that you need to put on your to do list. We just returned from a fun weekend of roller coasters, fun food, lake views, and even hitch hiking ghosts! Fall is a fantastic time of year to visit Cedar Point. Each weekend through October 27th, Spooktacular Weekends will be happening at Cedar Point.
The park is open from 6 p.m.- midnight on Fridays, 11 a.m. – midnight on Saturdays, and noon- 8 p.m. on Sundays. If you stay at at one of Cedar Point's resorts, you do have the opportunity to experience select rides an hour before the general public does. We stayed at Hotel Breakers, just a hop, skip, and a jump from the park entrance. The views here of Lake Erie are stunning and it's a great place to call it a night after a long day in the park.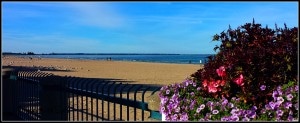 HalloWeekends at Cedar Point are really a fun time to visit. Daytime does offer the feel of Halloween with pumpkins, cornstalks, and even a family, friendly parade!
Night time brought ghosts everywhere! We found ourselves waiting in a long line to walk through Eternity Infirmary- worth every second of waiting! Another fun Haunted House was Zombie High School, which is new for 2013. It is important to read the warning signs in front of theses Haunted Houses. The descriptions of each Haunted House was spot on, in regards to age appropriateness and what to expect.
Families with young children will appreciate the variety of Halloween activities for young children. Trick or Treat with the Dinos at Dinosaurs alive is open on Saturdays and Sundays from noon to 6 p.m. (Separate admission is required)
Planet Spooky is filled with delightful Fall décor and offers attractions designed for young children. Monster Under My Bed at the Planet Spooky Stage will also delight your whole family.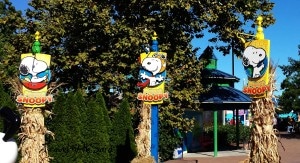 Cedar Point has taken Halloween Week-ends to a whole new level. While walking from one of the Haunted Houses to another one, we did have a hitch hiking ghost. This ghost followed my husband for quite some time before he realized he had a ghost in tow. Fun, memorable, and a little scary- all in good fun!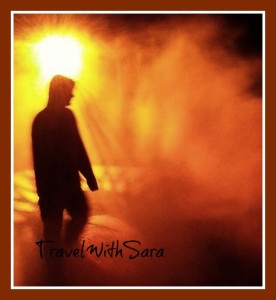 And, of course, the roller coasters were a sheer delight for our family! Plan now to visit Cedar Point this Fall for an exciting HalloWeekend! You will be glad you did, as your family will be planning their next visit before you hit the exit gates. Have you experienced hitch hiking ghosts while visiting Cedar Point? If so, I'd love to hear about it. Stay tuned… I've got much more information to share about Cedar Point!