The Best Things To Do In Mount Dora, Florida
Mount Dora, Florida, is one of the best kept Florida secrets with several things to do in this charming Florida town. I recently had the opportunity to road trip through Florida, and this was our first stop. With Melody of Wherever I May Roam behind the wheel of the car, I knew our road trip would be epic. Mount Dora is a short 30-minute drive north of Orlando. As you approach the city limits, the charm of this community will win you over. Shopping, outdoor adventures, art, and restaurants with tasty food. Here are highlights of what you can experience in one day in Mount Dora.
*Portions of this road trip were hosted through Visit Florida.*
Experience Mount Dora On A Segway
Glide Adventure Tours offers segway tours throughout the town. Your guide will help you discover hidden gems that you will be glad you found. Your guide will ensure that you know how to safely operate the segway before you head out to explore the area. If you are a bird enthusiast, you will love this tour.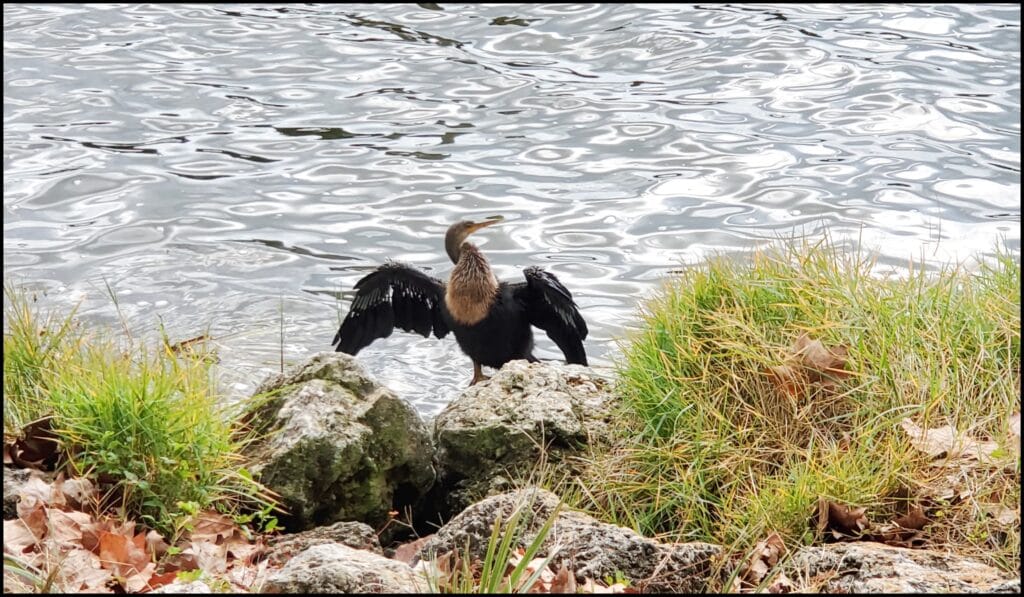 The opportunities to view birds are endless while on your segway tour. Have your phone ready to take a selfie at the 35 foot tall Mount Dora Lighthouse. A fun fact: The Mount Dora Lighthouse is the only registered inland freshwater lighthouse in Florida. A highlight of this tour is climbing Mount Dora, all 184 feet above sea level, on your segway.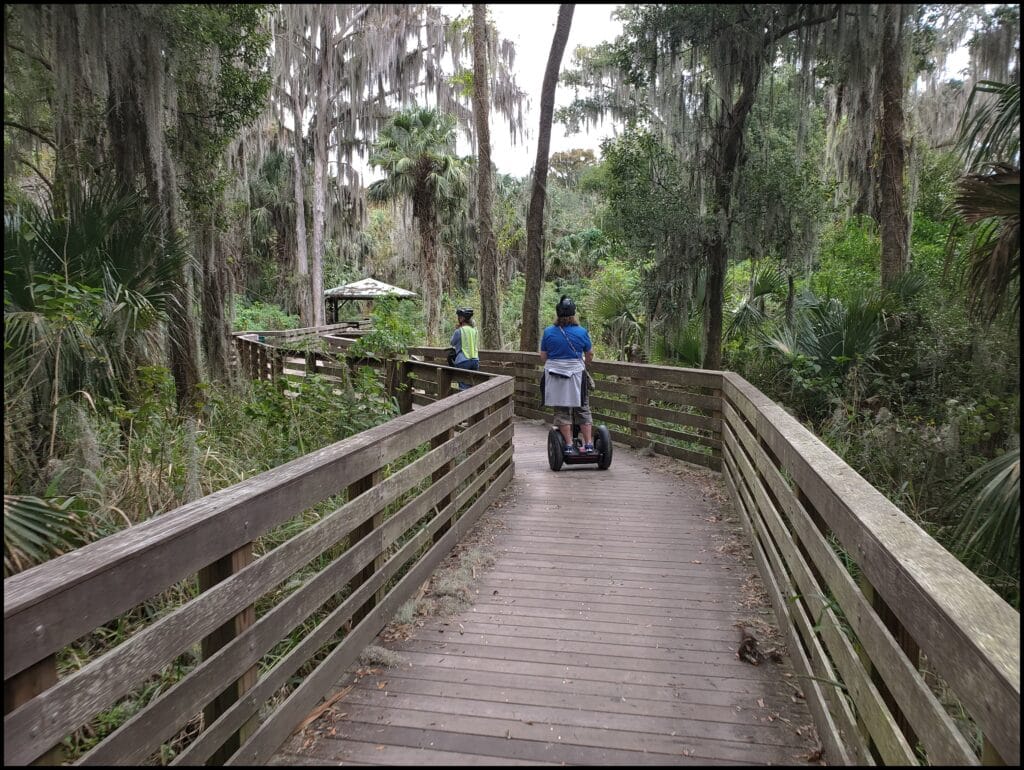 After exploring the natural areas along the lake, you will head into the historic downtown area. Your scenic lake views of Mount Dora are taken over by architecture that remains to be discovered by many. Look up, and you will see detail on many buildings that line the historic district. Each block in Mount Dora is home to unique views and experiences, so don't be afraid to return and explore. You will need to wear a helmet while riding the segway. Helmets are provided, but if you own one, you can bring it along. My favorite thing about riding a segway is that it's a great way to get an overview of an area. Your tour guide will share insider secrets, such as where to dine and historical areas that you would not otherwise come to know.
Book your segway tour here: Glide Adventure Tours
Report here for your experience: Mount Dora Boating Center & Marina
148 Charles Avenue
Mount Dora, Florida 32757
Call: 352 325 1442
Segway Tour In Tallahassee, Florida
Explore The Parks
I was surprised to learn that Mount Dora was home to numerous parks. Palm Island Park is an area that consists of 8 acres with a boardwalk. I was introduced to this park while on the Segway tour with Glide Adventure Tours. Benches, fishing pier, picnic tables, walking trails, and convenient parking make this an easy park for everyone to experience. The boardwalk is level, which makes it suitable for everyone to experience this park. Enjoy the beautiful lake views as you stroll through the area. Elizabeth Evans Park is another popular park that sits directly across from the lighthouse.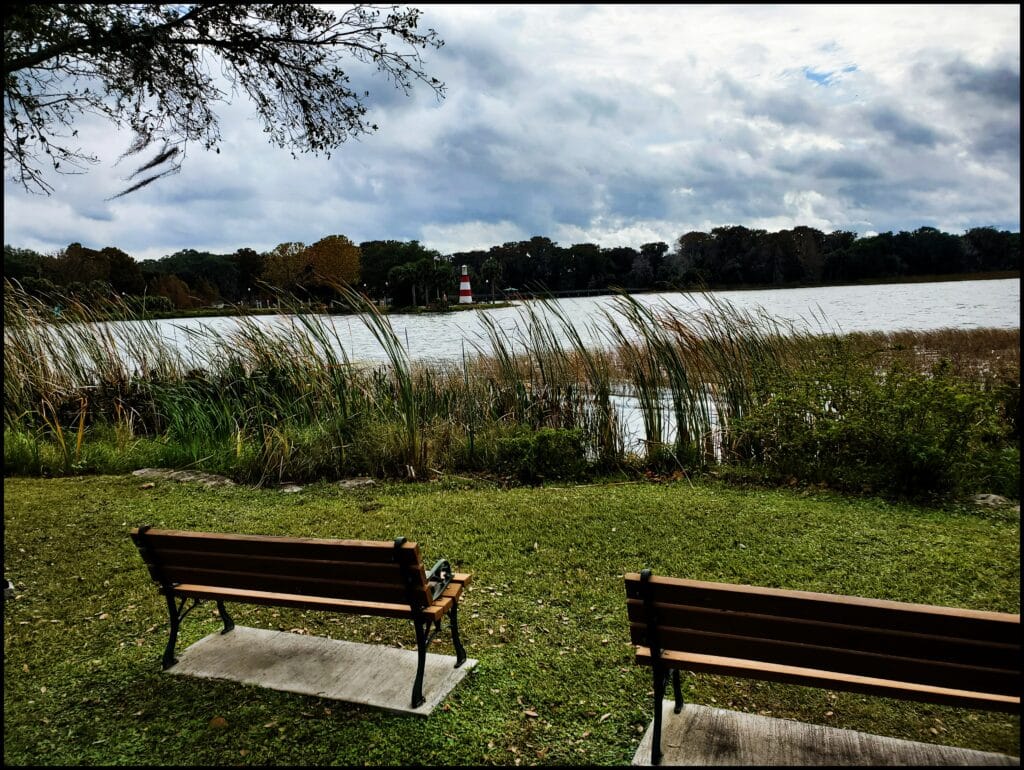 Elizabeth Evans Park is an incredible place to view the lake and enjoy a picnic lunch.
If pickleball is your thing, there are also parks with pickleball courts in Mount Dora. The outdoor nature experiences are endless in Mount Dora. Tip: Have bug spray, sunscreen, and your binoculars on hand when exploring the parks of Mount Dora.
Indulge In Desserts In Mount Dora
The Olive Branch offers chocolate lava cake that is to die for. If this doesn't make you hungry, I'm not sure anything will. They do offer a full-blown menu, as well. We dined on desserts and enjoyed every flavorful bite.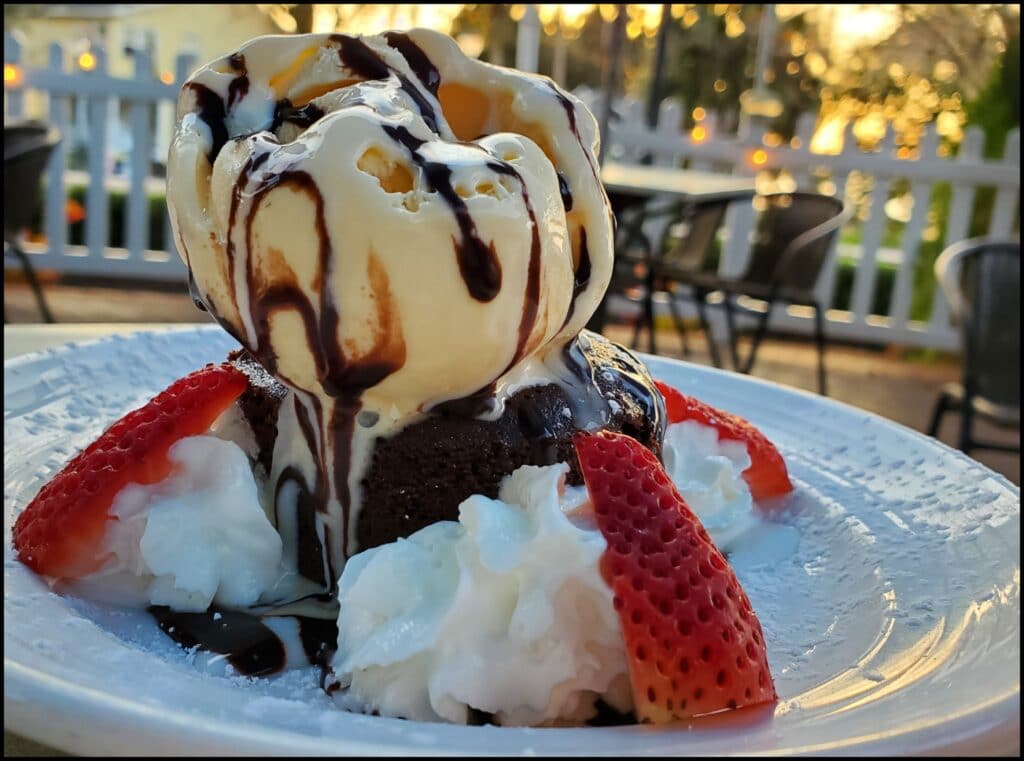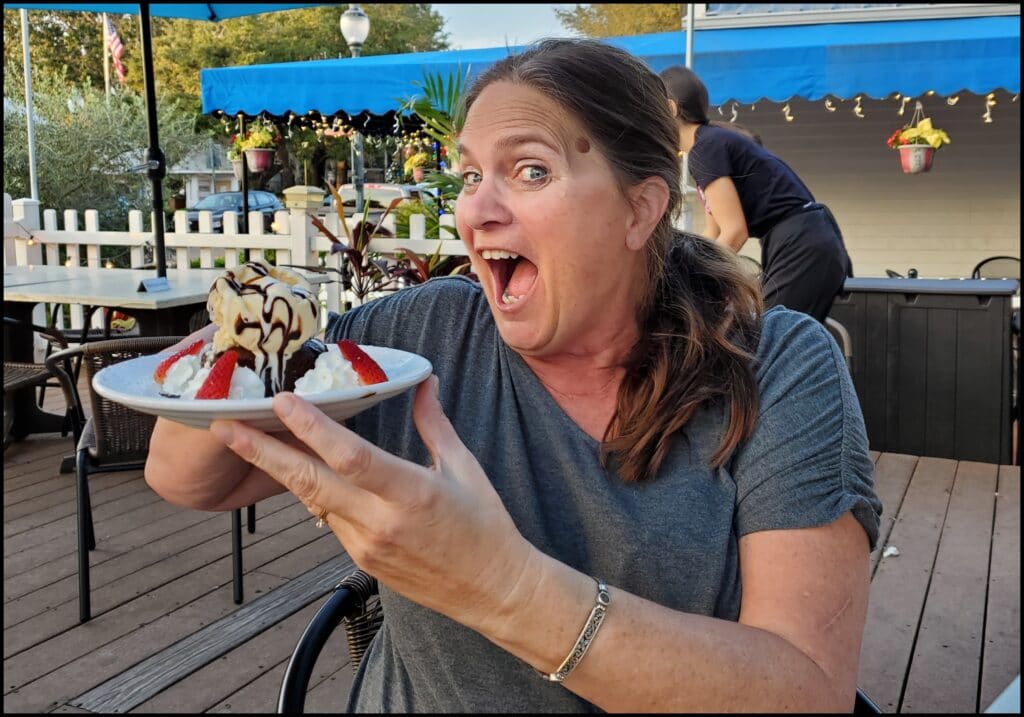 Best Day Trip In Southwest Florida
The One Flight Up Cafe in Historic Downtown Mount Dora is home to some amazing bread pudding. Tip: Ask to be seated on the outdoor balcony that overlooks the historic district.
Charming Shops In Mount Dora
When I set foot in Under The Cherry Blossoms, I knew that this charming shop was more than just a place to shop. A glance upward told me that this was going to be a fun stop. Several artisans showcase their merchandise in this fun shop. If you are looking for something unique to take home with you from Mount Dora, this is your shop.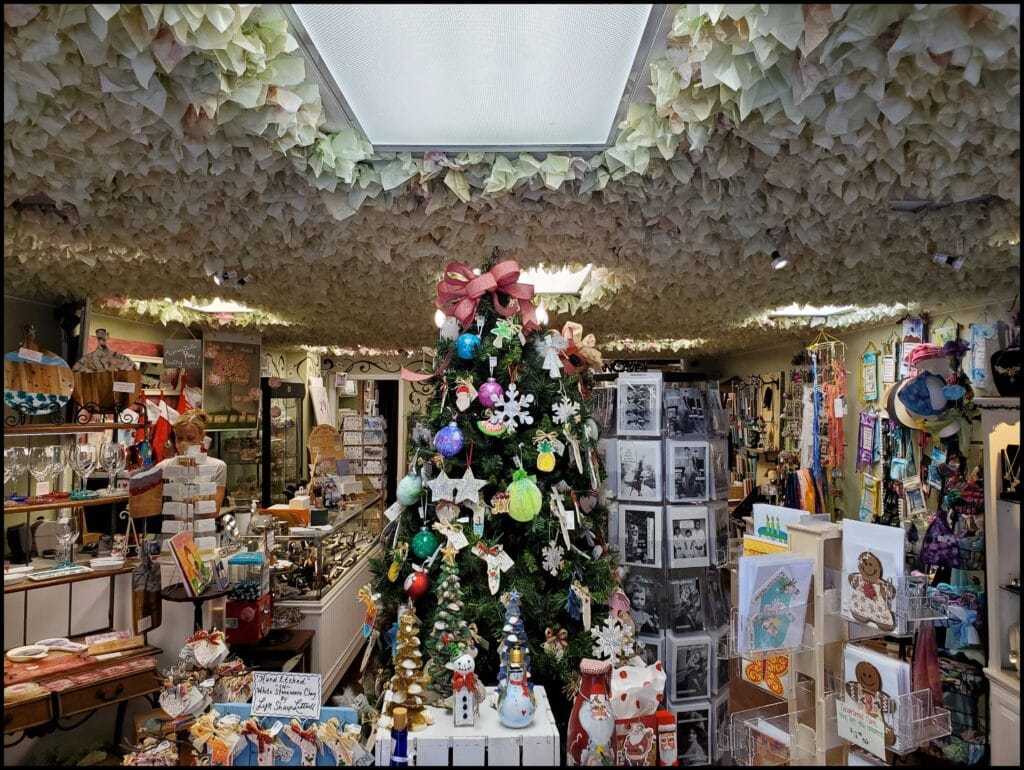 Lynn Wisniewski is the owner, and everything she showcases is all about positivity. From 28 Days of Thanks to Finding Your Happiness journals, this shop has it all. After all, who doesn't need a little happiness and positivity in their life?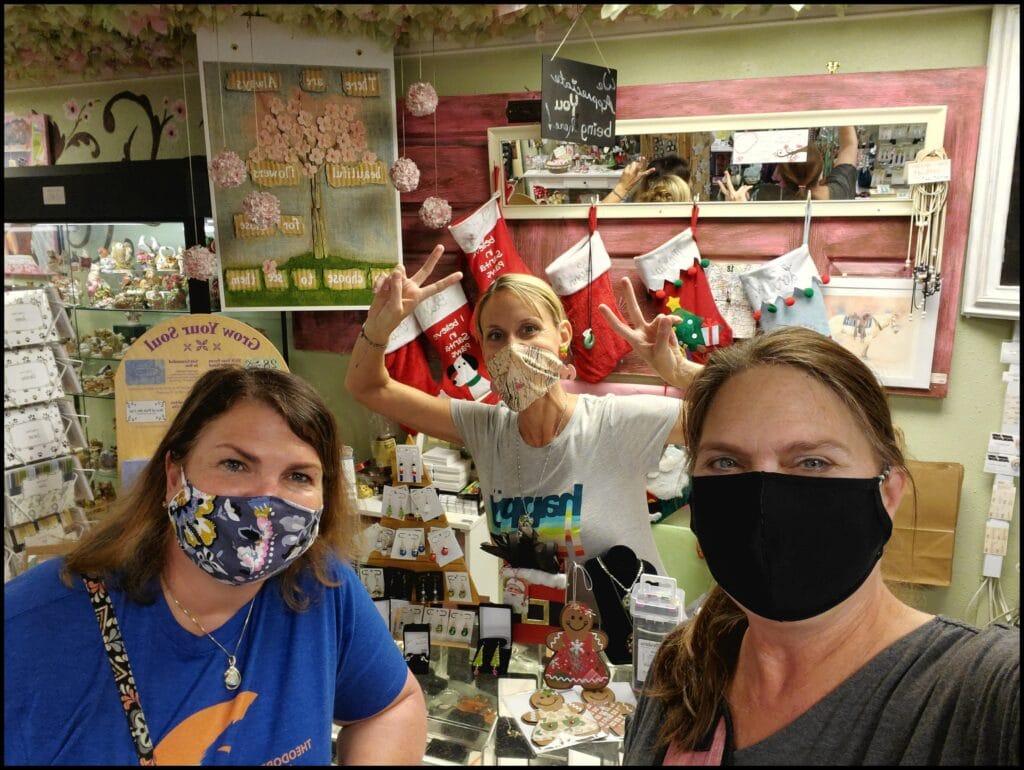 With several antique shops, apparel stores, gifts & specialty shops, you are sure to find an experience that will provide you with fun memories.
Stay In A Mansion
Heron Cay Lakeview Bed & Breakfast may be the "find" of this whole Floria road trip. This storybook Victorian Estate overlooks Lake Dora and offers a convenient location to the downtown area, four blocks.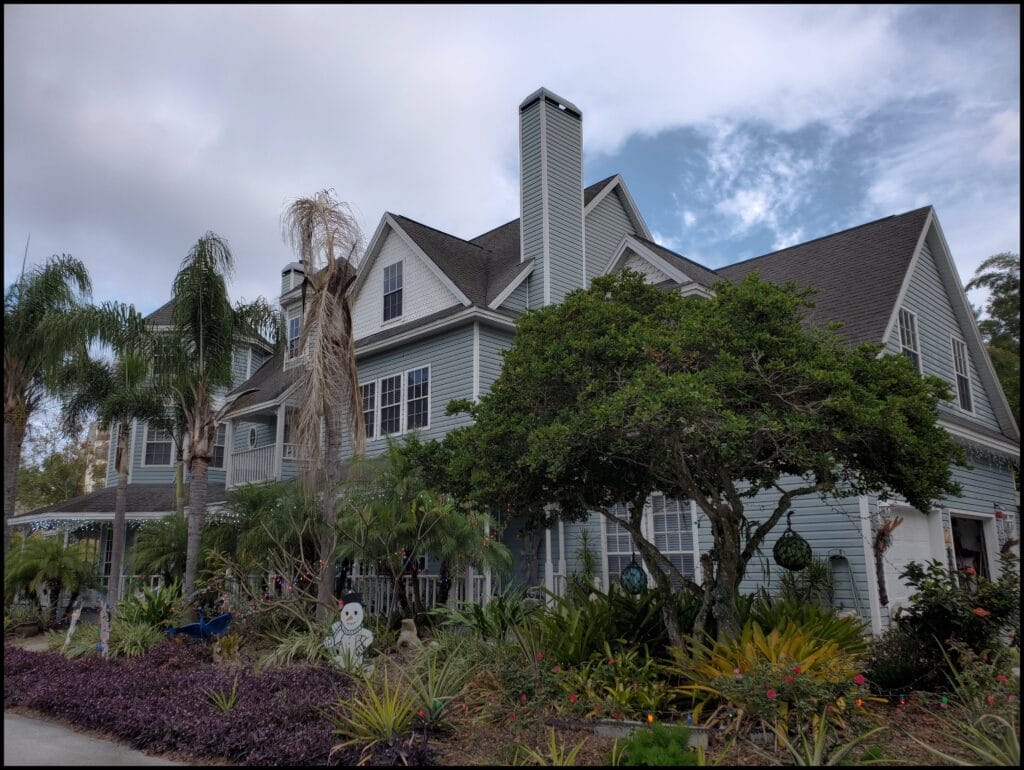 With 9200 square feet, you will be sure to find your corner of paradise in this mansion. We stayed in a unit named Heavenly, with 800 square feet to call home. A real fireplace and a large bathroom with a Jacuzzi Tub complete this large victorian themed room. A hot breakfast is served daily for each guest and not to be missed. Before breakfast, take some time to stroll the gardens and pool area. Begin your day wandering the grounds and then indulge in your fresh, hot breakfast. There are two rooms set aside to host guests with pets for people who travel with their pets. For current rates and availability, look here.
Visit In December
December brings a magical time of the year. Mount Dora is all decked out for Christmas. There are Christmas lights around every corner and it's as though you have stepped back into a fairy tale of sorts. From the Historic Downtown area to the marina, you can experience the magic of Christmas. The shops are all decorated for Christmas, as well. The biggest bonus of all, Mount Dora has shops that offer some of the BEST Christmas gifts around. You will find things that you will not find elsewhere. You will quickly be dazzled with the Christmas spirit when you see the 2 million lights in Donnelly Park.
Your next visit to the Sunshine State will be memorable when you plan a stop in Mount Dora. Plan to spend a few hours, a full day, or several days. There is something for everyone in this charming Florida town.
Happy Traveling~ Sara
The following two tabs change content below.
SaraB
Sara is a travel enthusiast that resides in North Iowa. You can find her traveling where the plane, train, ship, or car will go. Are you looking to take a road trip? Sara has solutions for you!