Winnipeg's Canadian Museum For Human Rights Is A Must Experience: A Place To Experience Empathy
Humbling, thought provoking and moving are words that describe the Canadian Museum For Human Rights in Winnipeg, Canada. I have been to a lot of museums and I can honestly say that my visit here will stick with me forever. It was definitely an eye opening experience and one that encourages visitors to do some soul searching. Winnipeg surprised me in many ways, and I had no idea that the Canadian Museum For Human Rights would have touched my soul the way that it did.
Upon entering the museum, visitors are greeted with this.
This was welcoming and immediately made me put on my thinking cap. The galleries are all unique and offer a stroll through a time capsule. From Canadian Journeys, Protecting Rights In Canada, to Rights Today; it's a moving experience.
I would encourage you to plan a minimum of four hours to visit this museum masterpiece. The interactive displays will pull you in and leave you asking questions and wanting to experience more. The one thing that I truly appreciated about this museum was the fact that it truly is about the people. Standing in a room with a view like this, will definitely make you think. If you don't leave this museum feeling a little more empathetic, I would question if you had visited the same museum that I had set foot in.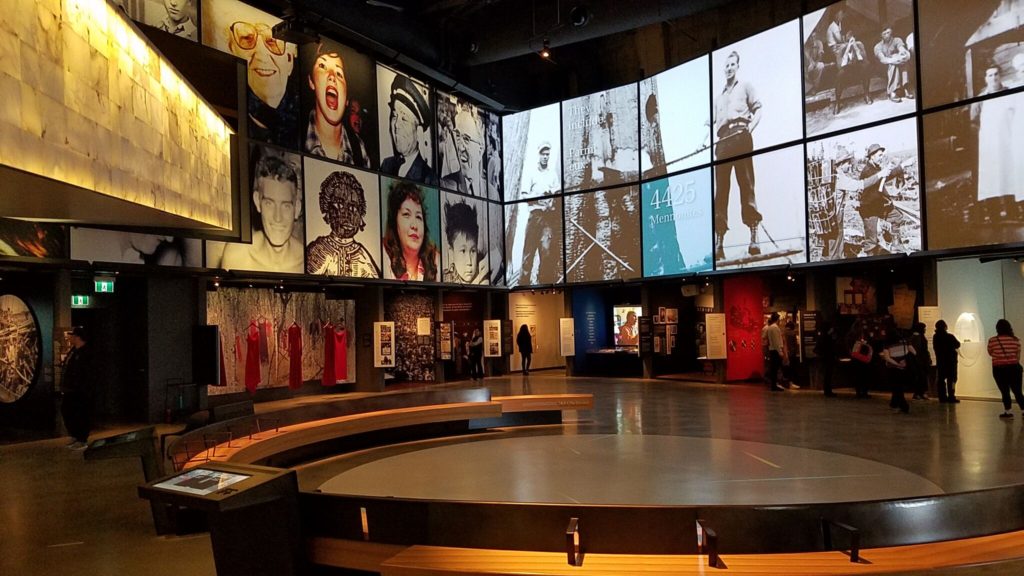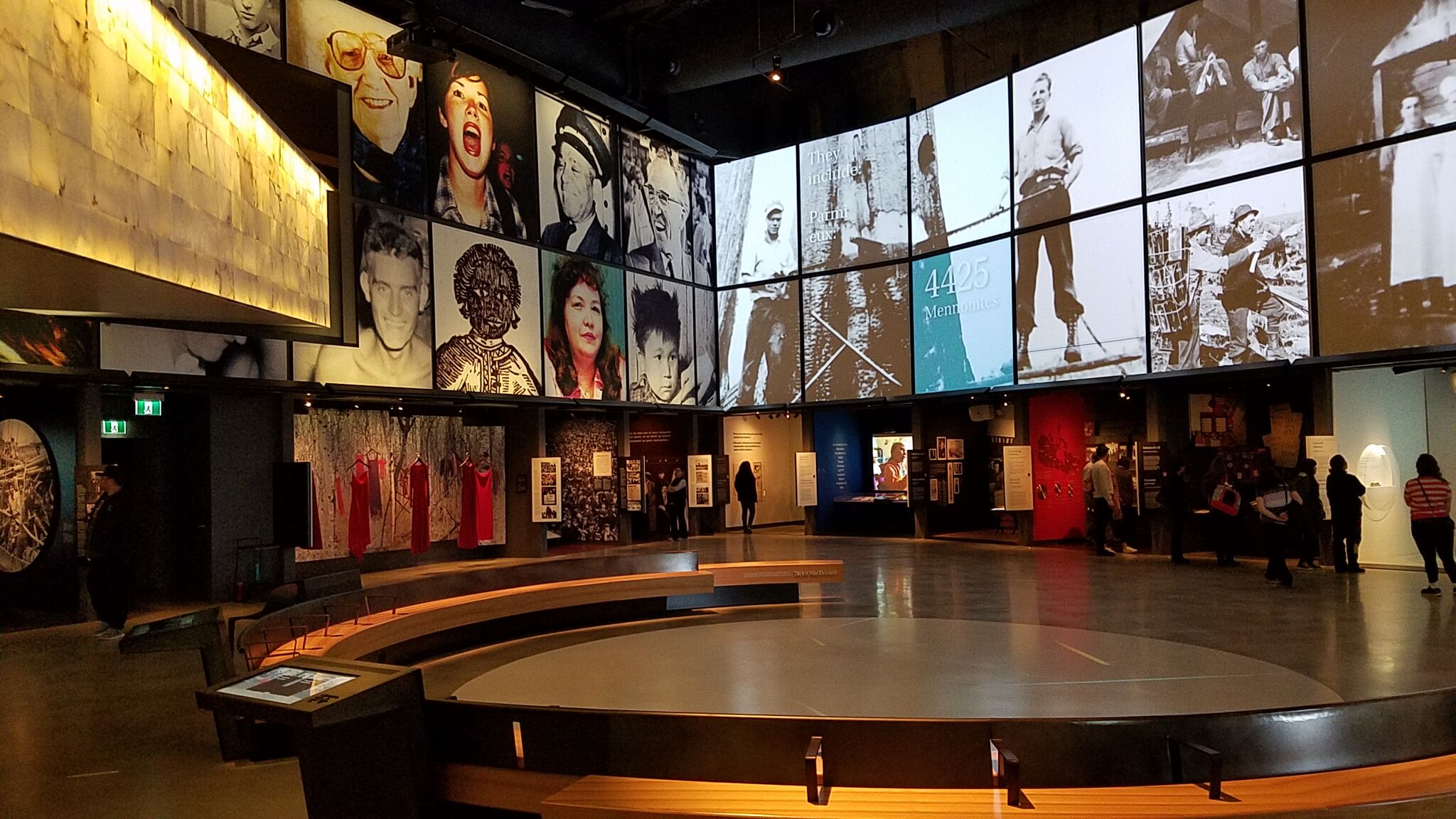 Examining the Holocaust can be a tough gallery for many. If you know that the history from this time period will strike a bad chord in your blood, it's ok to skip it. We all know that history has not always been pretty when it comes to human rights and the Holocaust is a reminder of how brutal history has been.
The museum is handicap accessible and I would encourage visitors to stroll through the concrete walkways that connect each floor and gallery. Strolling through these connecting corridors is all part of the experience itself.
Tip: There are several guided tours available and I would highly encourage you to participate in one. Here is our tour guide, showing us some of the ins and outs of the museum. She not only encouraged us to think, but she also showed us how to get the most out of our visit!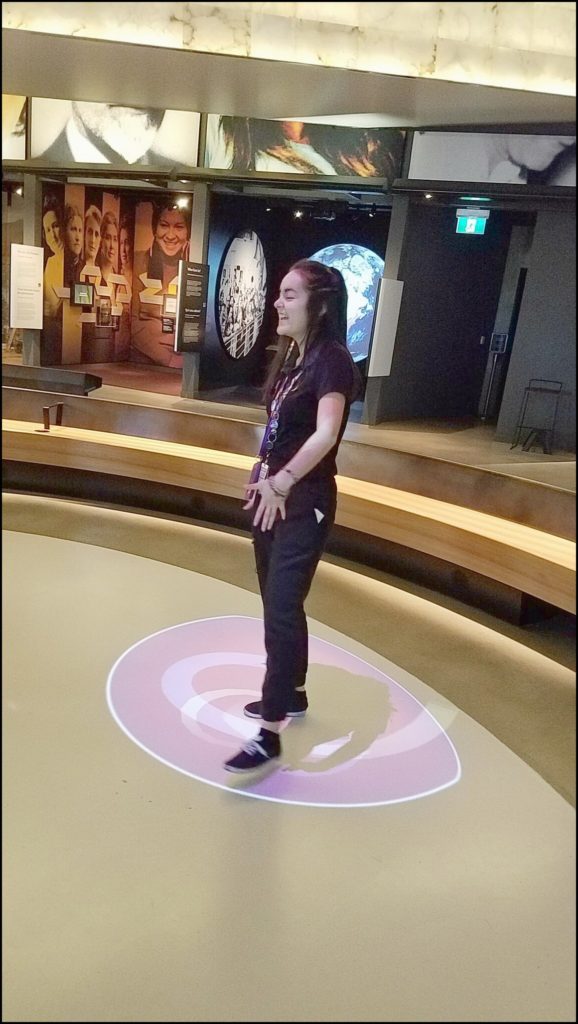 This is an opportunity to learn more about the history of the building, galleries, and the Canadian people.
The wall of conversation is a must see, as you wrap up your visit. All of these pieces of paper have a note on them. Some messages are in regards to using your imagination and others may refer to standing up to a bully. Visitors write down their dreams, which can be something as simple as, "I wish for world peace." So simple, yet so powerful. What message would you leave on this wall?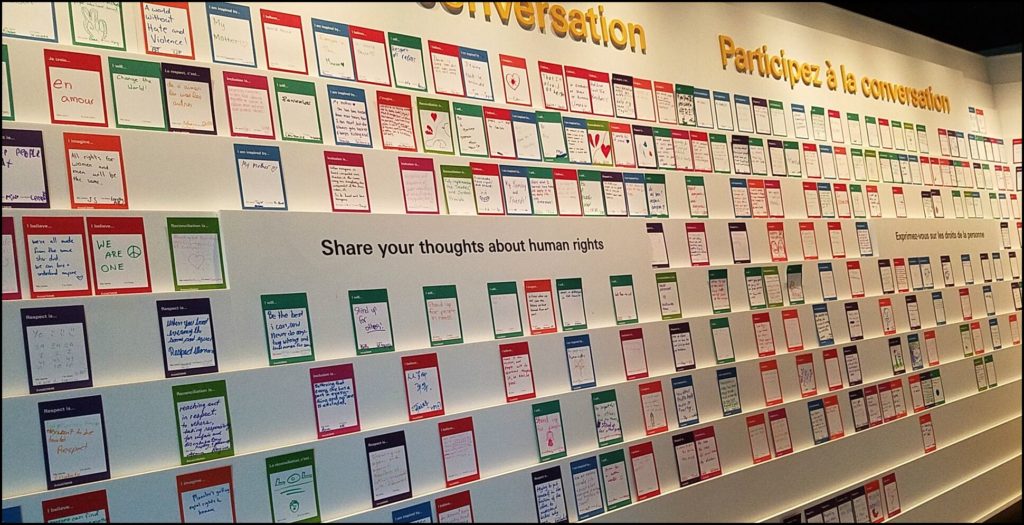 Located near The Forks, one of Winnipeg's most popular attractions, the Canadian Museum for Human Rights is fairly easy to get to. Union Station is also nearby, which makes this a fantastic place to visit while in this area of Winnipeg.
Have you experienced this museum while in Winnipeg? If so, I'd love to hear your thoughts on how you felt when you walked out the doors of the museum.
Stay connected with The Canadian Museum For Human Rights:
Website
Facebook
Twitter
Instagram
Hashtag: #AtCHMR
*A thank you to Travel Manitoba, Tourism Winnipeg and the Canadian Museum for Human Rights for hosting me. A special shout out for the fabulous tour, as it was worth every minute. As always, the opinions in this post are mine and nobody else's.
The following two tabs change content below.
SaraB
Sara is a travel enthusiast that resides in North Iowa. You can find her traveling where the plane, train, ship, or car will go. Are you looking to take a road trip? Sara has solutions for you!