Barn-N-Bunk Farm Market: Spend A Day On An Ohio Farm
The Barn-n- Bunk Farm Market in Trenton, Ohio offers fun for everyone. Fall is the time of year that I would highly recommend a visit. From pumpkins to apples, this award-winning Ohio attraction has something for everyone. After all, who doesn't like spending a day on the farm?
*Full Disclosure: Thank you to Butler County, Ohio for hosting me during my time in the area.
Silos Welcome Visitors at Barn-n-Bunk
I traveled to Butler County, Ohio with my friend Cindy of Traveling Adventures of a Farm Girl. When we pulled into the parking area of Barn-n- Bunk we both noticed the gorgeous silos on the property.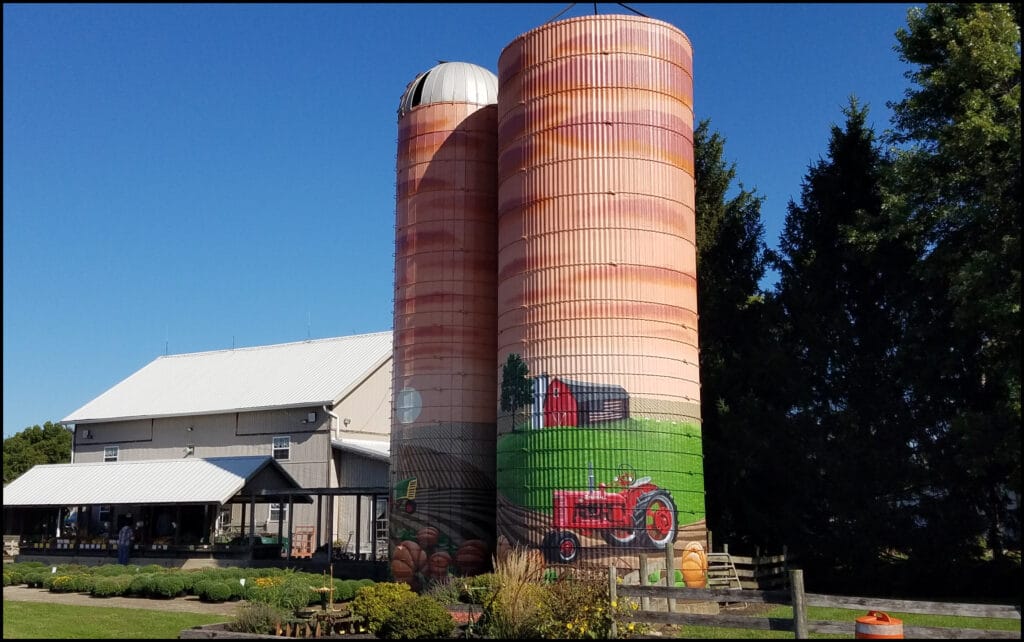 The fact that both of us were farm girls made this stop look more and more appealing. The tractors on these silos took our breath away. We knew that this was going to be a place that we would fall in love with. Imagine the looks on our faces when the owner, Tom Theobold said, "Oh, we have tractors, too."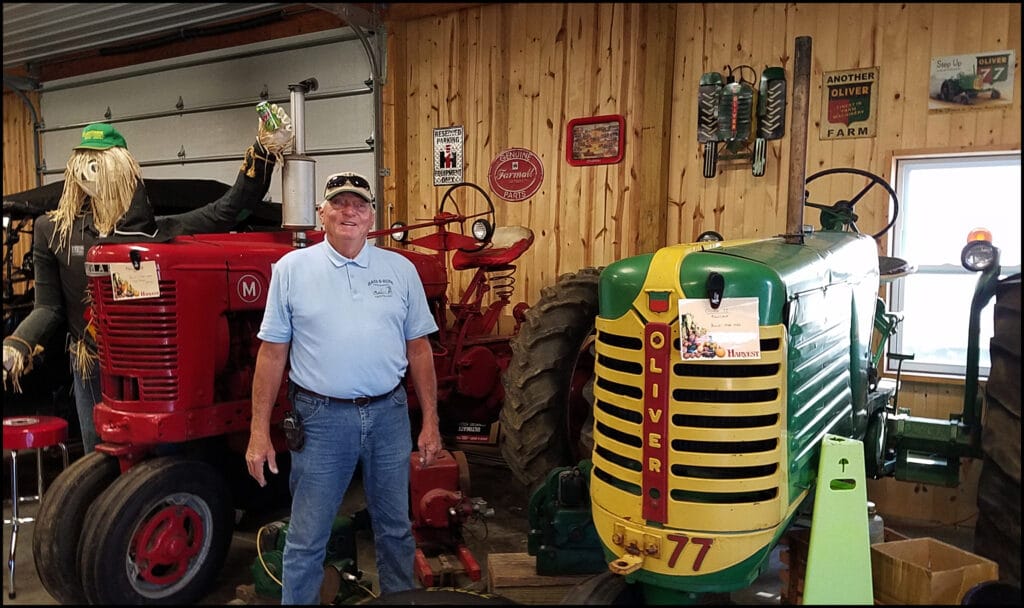 We had the opportunity to see family history in tractors, with Tom. Remember those silos that we raved about when we arrived? The Oliver tractor was his Dad's first new tractor and his Father-in-law had the Farmall M. We loved visiting with Tom and it was clear that he is very passionate about the family business. We had a fun time talking about tractors and we even talked about Charles City, Iowa. Fun Fact: Charles City is where the word tractor was coined.
The history of agriculture comes to life
This business was built upon a love of the farm and agriculture. It was in 1992 that Tom and his wife, Bev started the Bunk -n- Barn Farm Market. Tom's collectibles and other fine pieces could be seen as visitors strolled the grounds. It is no secret that agriculture is a challenging business and the Theobold's have taken that challenge and made things happen. Nostalgia and Coca-Cola make for a fun experience, don't you agree?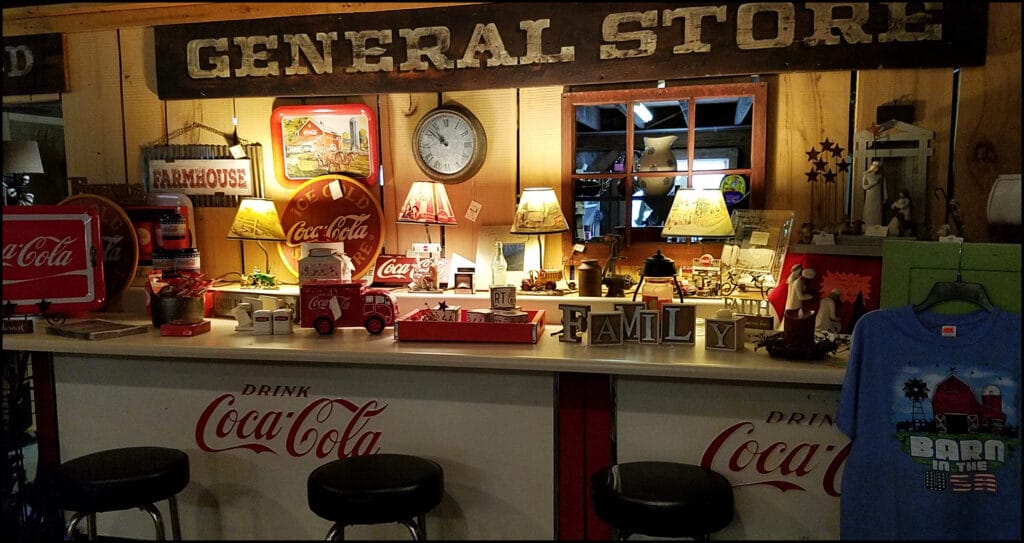 The barns on the property showcase agriculture, but they also offer a venue for folks to hold events. It was also interesting to learn that Mr. Theobold has also helped many people save barns across Ohio. He not only runs a successful business, but he also understands how important the history of agriculture is.
Tom and his family listen to their guests, as they are always holding new events. I firmly believe that Barn-n-Bunk is so successful in Butler County, Ohio because Tom is an entrepreneur. He listens to his customers and he's not afraid of helping others along the way.
Milk Parlor Pottery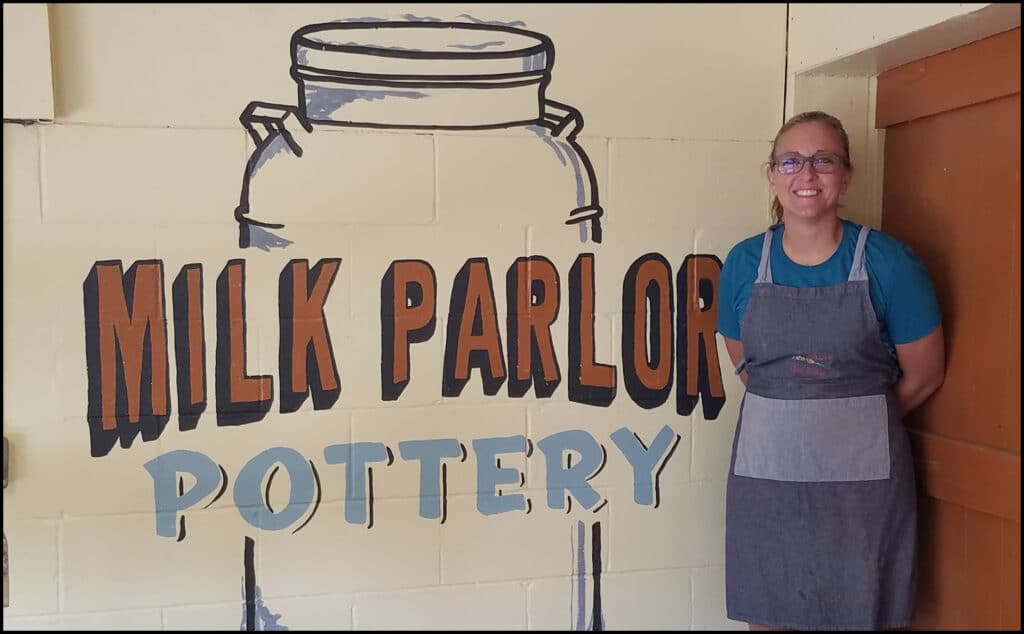 Homemade goods and other fun Ohio products are also available onsite. Would you like to try pottery? There's even a pottery shed in the old milk parlor. How's that for repurposing the farm? If you are near Trenton, Ohio you cannot miss this beautiful property. The barns stand out along the road.
Barn-n-Bunk Farm is located at 3677 Wayne Madison Road in Trenton, Ohio 45067. They are open daily April-December. Call 513-988-9211 for more information. The Theobold family will roll out the red carpet for you, as you experience a day on the farm.
The following two tabs change content below.
SaraB
Sara is a travel enthusiast that resides in North Iowa. You can find her traveling where the plane, train, ship, or car will go. Are you looking to take a road trip? Sara has solutions for you!