Camping In Ohio: Natural Springs Resort
Natural Springs Resort, in New Paris, Ohio, along the Ohio and Indiana border, is paradise. The campground provides hours of entertainment while camping in Ohio. This Ohio family-friendly camping resort is where you can reset and connect with nature. In fact, ways that you never knew were possible in the Midwest. The campground provides traditional camping experiences, as well as unique experiences. The shore-accessible freshwater dive site within the campgrounds, being the most notable. With different camp options, this resort will quickly win you over while camping in Ohio.
I was recently invited to stay at Natural Springs and experience all it has to offer. And as always, all opinions are mine and nobody else's. Start planning your camping trip in Ohio, as you won't regret staying at Natural Springs Resort.
Arriving At Natural Springs Resort
Natural Springs Resort in New Paris, Ohio, sits near the Indiana/Ohio border near Richmond, Indiana. This resort is literally minutes off of I-70, with a few short turns along the way. I arrived later than planned as I hit traffic along the way in the Indianapolis area. My delay led to a phone call to the resort to let them know I would be late and checked in at the office upon my arrival. The view when I arrived was all I needed to see.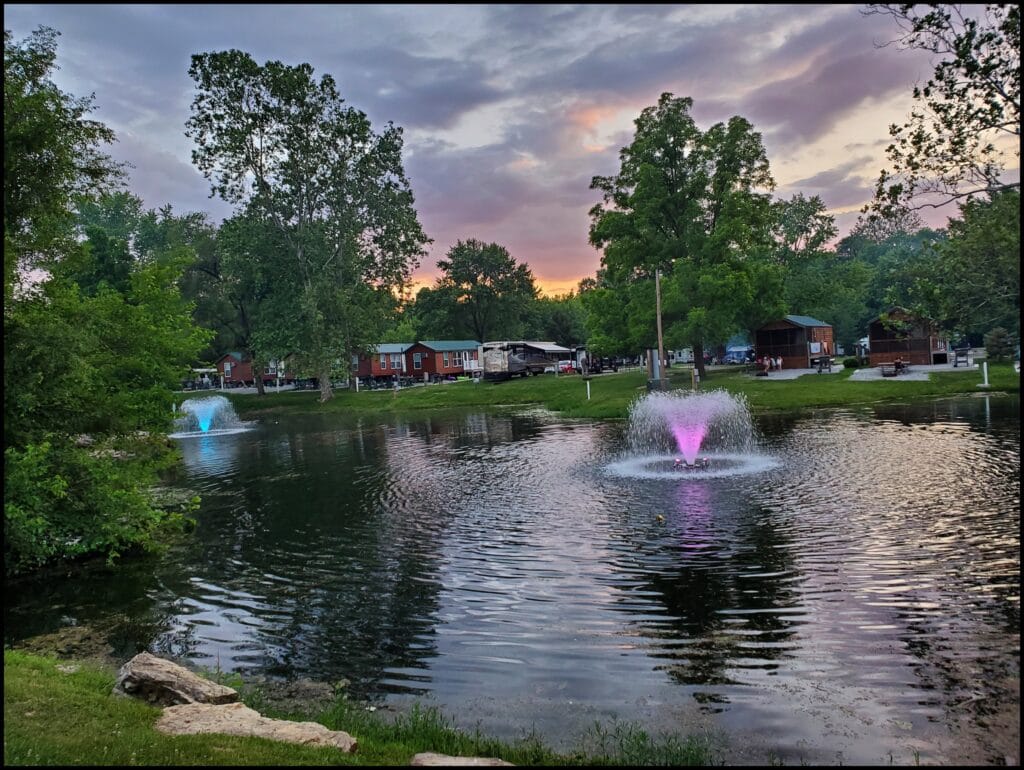 I knew that I was in for an incredible stay. I did not personally experience a "normal" check-in process, but campers came and went throughout my stay with no problems. The staff was cordial and eager to help me settle in.
More Outdoor Experiences In Ohio
Camping Options At Natural Springs Resort
There are several camping options available for you when you plan a visit to Natural Springs Resort. You can bring in your tent, travel trailer, motorhome, or whatever it is that you like to camp in. If you wish to book a stay in an on-site travel trailer, you can also do that. I chose not to tow our travel trailer on this visit, as I was on a lengthy road trip. I decided to stay in one of the cabins on site.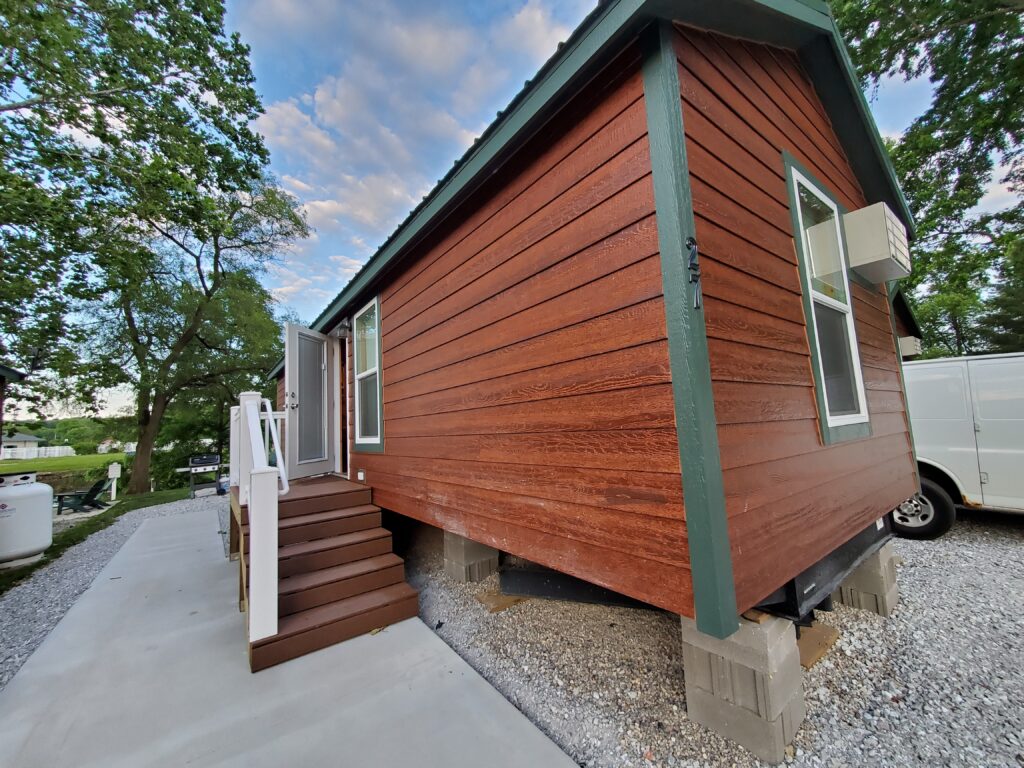 My living area was nothing short of cozy; it was as though I was at home.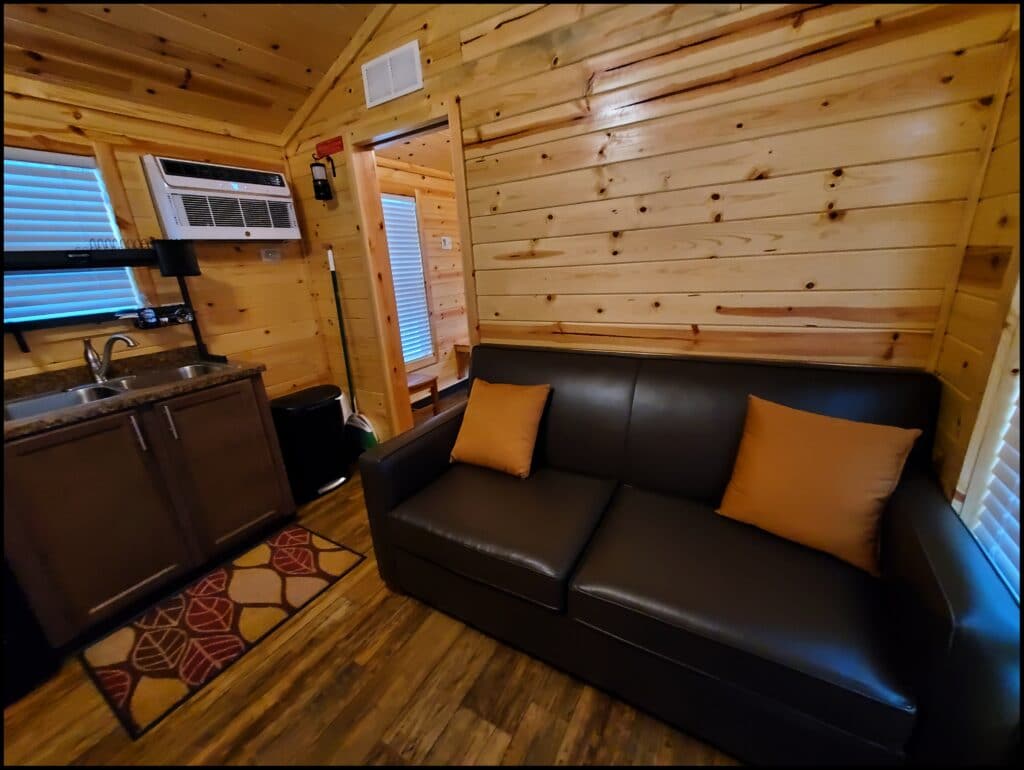 If you want to experience camping in an RV, you can rent one while staying at Natural Springs Resort. If you have been contemplating purchasing an RV, this is a great way to experience one. A rental option allows you to experience something before you dive in to make your purchase.
With many lodging options, you will find something that meets your needs and budget for a fun time camping in Ohio. All cabin and RV rentals include all of the amenities on-site. With 46 acres, your camping experience in New Paris, Ohio, will be a fun one.
Amenities Offered at Natural Springs Resort
You will not be bored when you decide to go camping in Ohio at the Natural Springs Resort. The amenities seem endless when you are camping in Ohio in New Paris. A heated swimming pool and newly opened splash pad will keep water lovers busy all day long.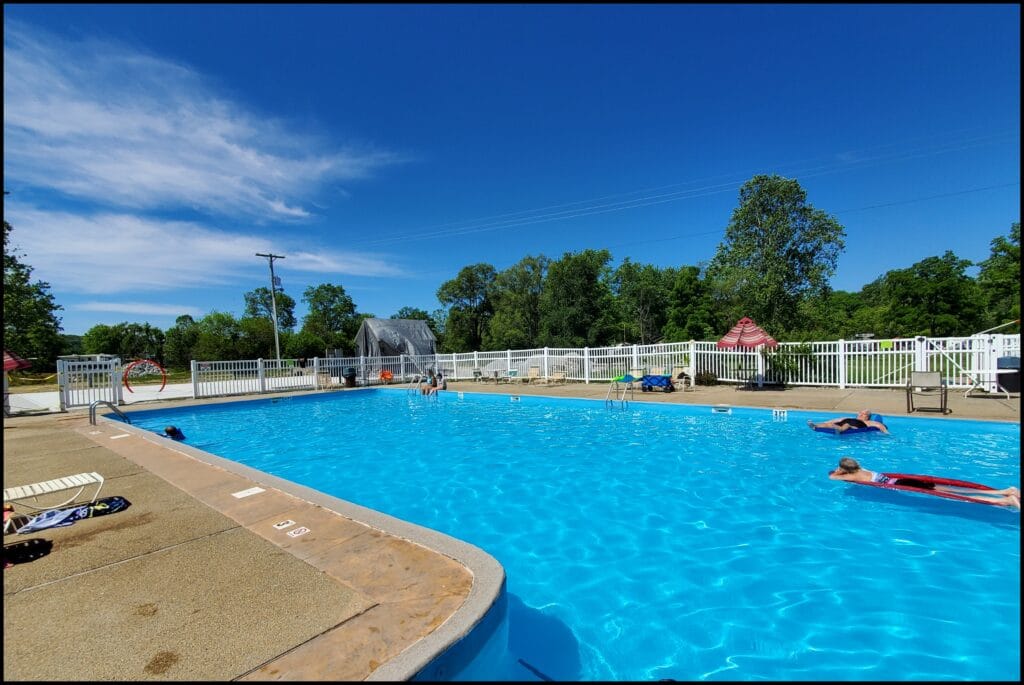 The sandy beach, catch & release fishing, spring-fed lake, watercraft rentals, scuba diving, playgrounds, basketball courts, colorful water fountains, and golf cart rentals are all available for your use. I spent some time on the water, on a hot summer day, in a paddleboat. It was relaxing and offered incredible views.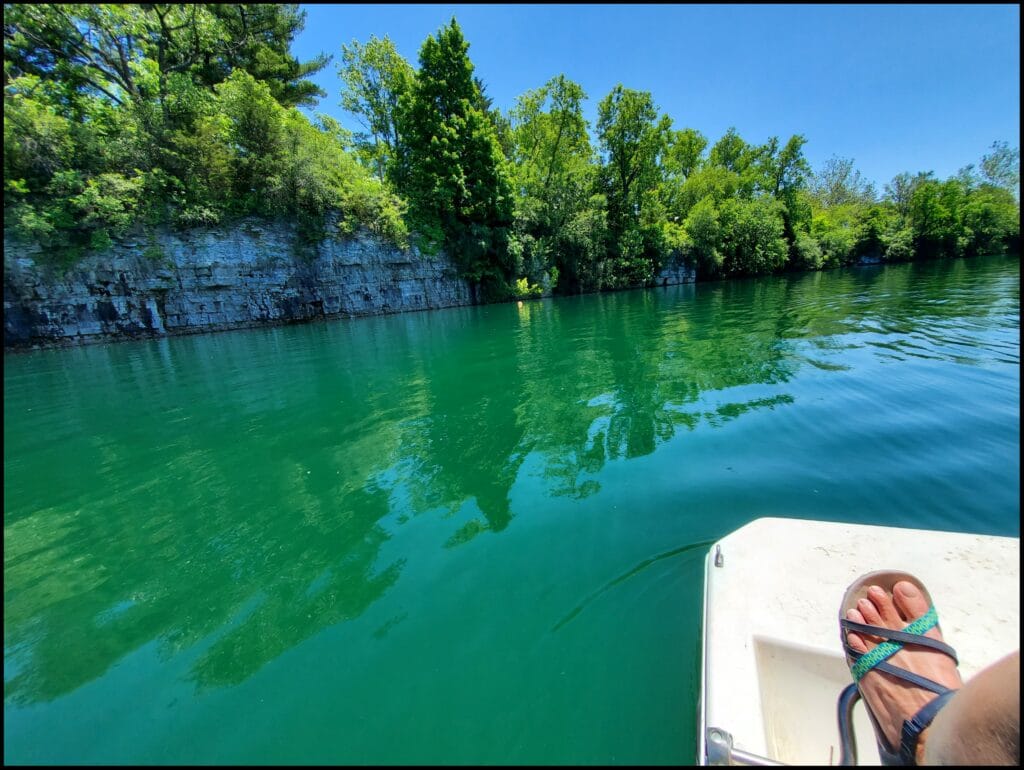 The Wibit Water Play area is popular for families. For a small fee, campers, seven years and older, can schedule a time to experience this water play area. This epic floating adventure water park offers swimming, diving, jumping, bouncing, climbing, and running. All participants need to sign a waiver in the office and need to wear lifejackets. Each paid session runs for an hour.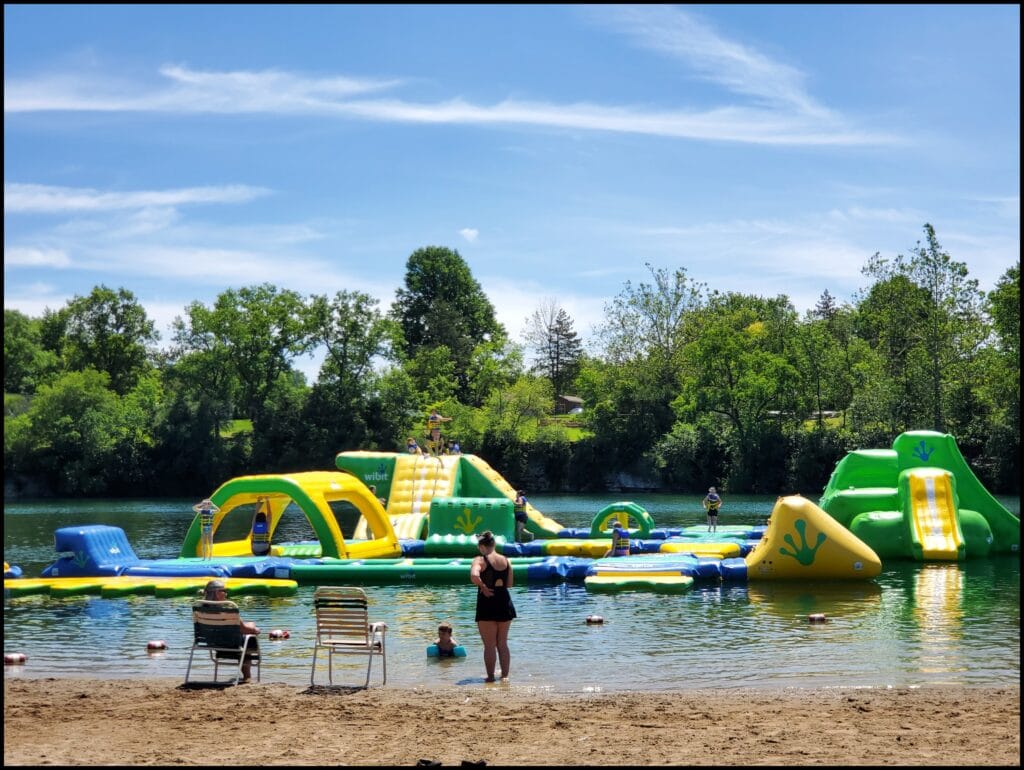 There is not a lifeguard on duty. Parents will want to stay close by monitor younger kids playing in this water play area. The families that I spoke to had children of all ages enjoying this water play area and commented that their kids loved the Wibit Water Play area.
Getting Around Natural Springs Resort
I was provided with a golf cart to use throughout my stay. These are available for rent for all guests. Inquire about them when you reserve your campsite, as they are a popular rental item. I would highly suggest renting one, as the campground is large and why not? Traveling around Natural Springs Resort while camping in Ohio can be more memorable when you drive a golf cart to your next activity.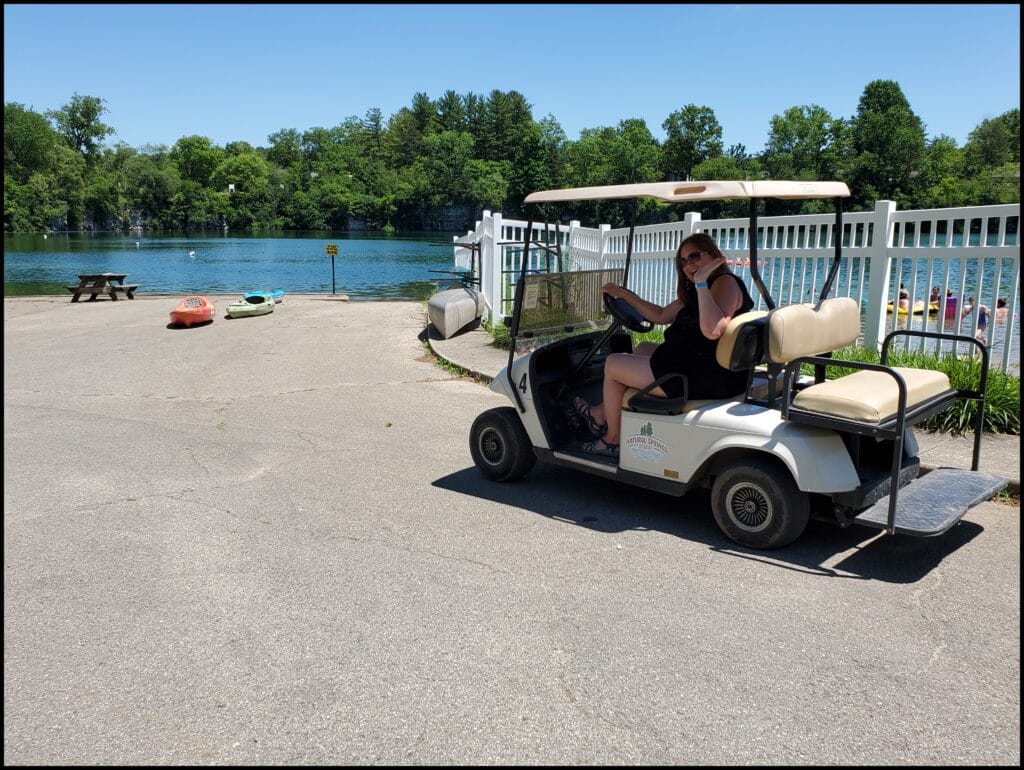 With so many things to see and do, a golf cart is an easy solution. If you prefer, walk to where you want to go. The campground is walkable, with incredible scenery all around. Through the years, I have learned that a golf cart is an easy solution to getting around any campground. Make the golf cart part of your experience, and it takes your camping trip to a new level; you've now leveled up.
Things To Do In The Area Of Natural Springs Resort
With many amenities to choose from, you may never want to leave the resort. If you do find that you are looking for something a little different to do. Hop on I-70 and travel to the Warm Glow Candle Company at Exit 145. This store is one of a kind, with an aroma you will want to take home with you. 100% hand-dipped candles in America are what the Warm Glow Candle Company is known for. On your way back to the resort, swing into the Richmond Rose Garden, located at 2514 East Main Street.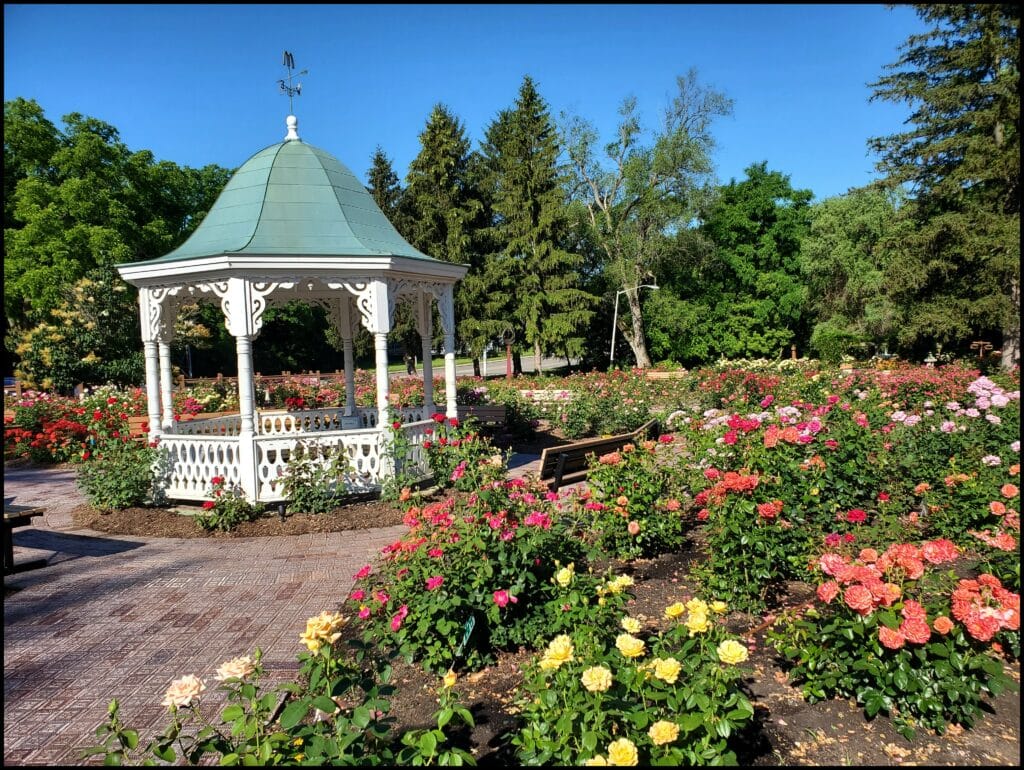 The gardens are open all year long and offer beauty each day of the year. If you enjoy historical sites, the Wayne County Historical Museum offers insight into the history of the area.
One thing I know for sure is the fact that you will find yourself planning a return visit to Natural Springs Resort before you leave. Camping in Ohio can be one of life's most rewarding experiences. The memories and fun you will have at Natural Springs Resort will stay with you all year long.
The following two tabs change content below.
SaraB
Sara is a travel enthusiast that resides in North Iowa. You can find her traveling where the plane, train, ship, or car will go. Are you looking to take a road trip? Sara has solutions for you!