Unique Places To Overnight In South Central Kansas That Are Not Chain Hotels
Is a road trip through South Central Kansas on your horizon? Make unique lodging in South Central Kansas part of your experience. I found some of the best places to stay in South Central Kansas. This area of Kansas is home to rolling hills, prairies, incredible scenic byways, delicious meals, and lodging that you will fall in love with.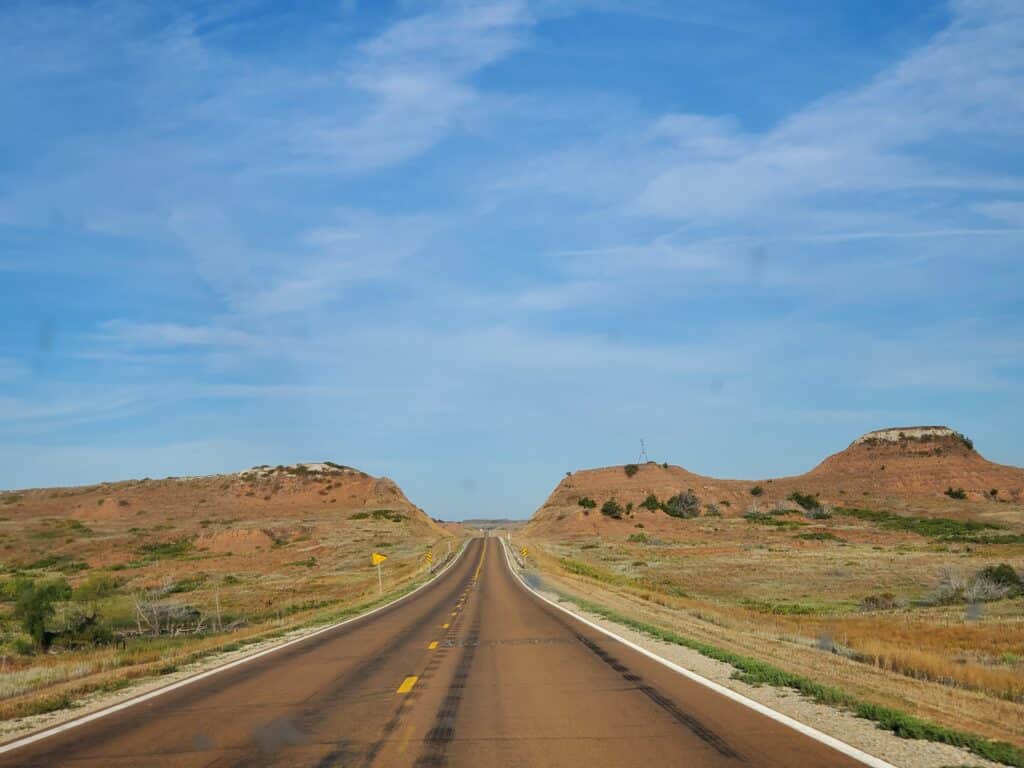 On a recent road trip through South Central Kansas, I had the opportunity to experience several different type of lodging. Unique lodging in South Central Kansas seemed to be around every corner, here's what I found.
Things To Do In McPherson, Kansas
*Thank you to South Central Kansas Tourism For Hosting Me
Gyp Hills Guest Ranch- Medicine Lodge, Kansas
3393 SW Woodward Road

Gyp Hills Guest Ranch offers a magnificent Kansas sunset that I will never forget. The view of the sun setting was literally outside of my door. I opened the door and BOOM… a beautiful Kansas sunset was on the horizon.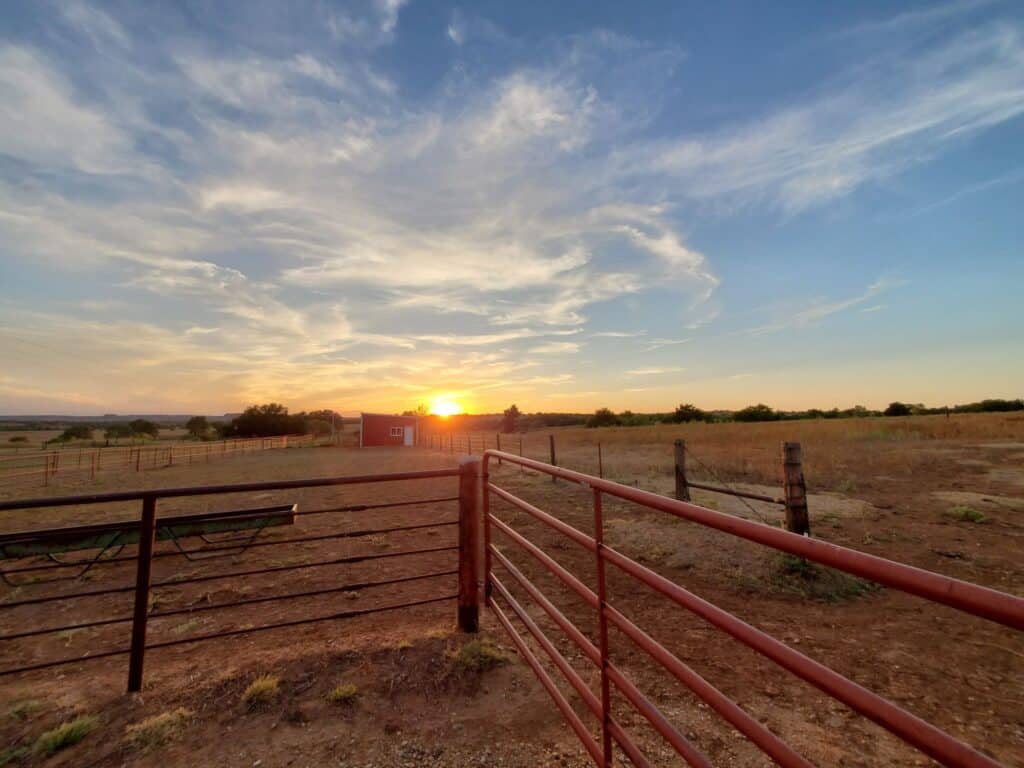 The family dog greeted me and hung out with me during my stay.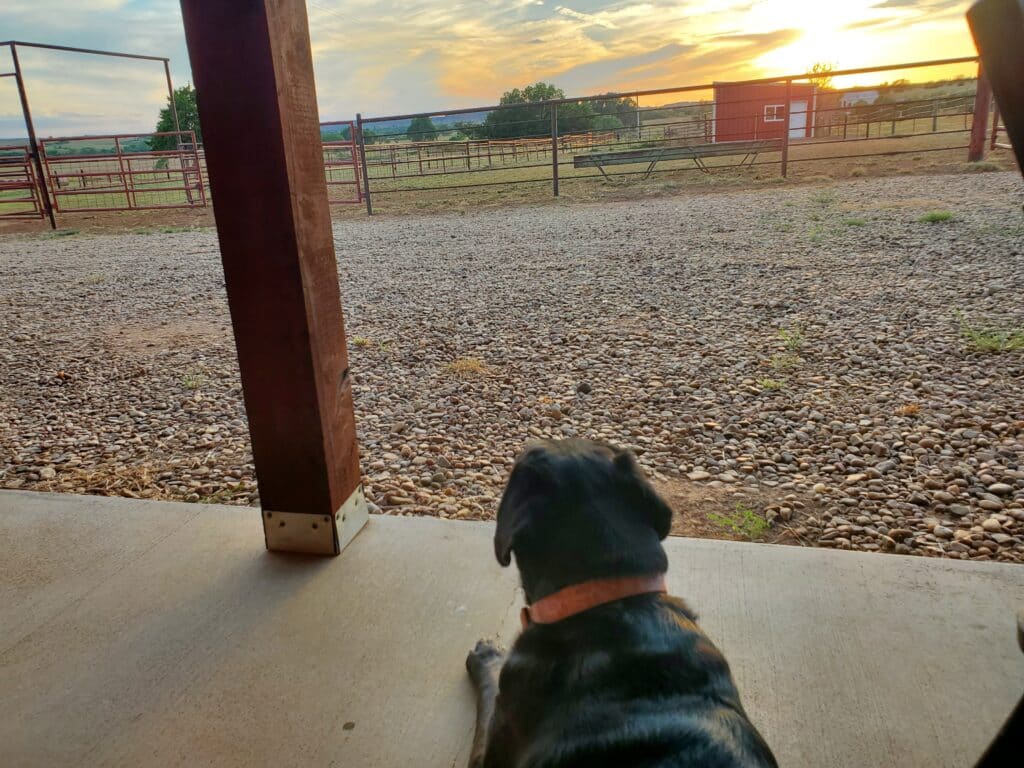 It was not hard to hear an occasional "moo" as a herd of cattle also live on the property. My unit was cozy and offered a quiet place to call home for the night. Gyp Hills Guest Ranch is also a venue for weddings, corporate events, and the like.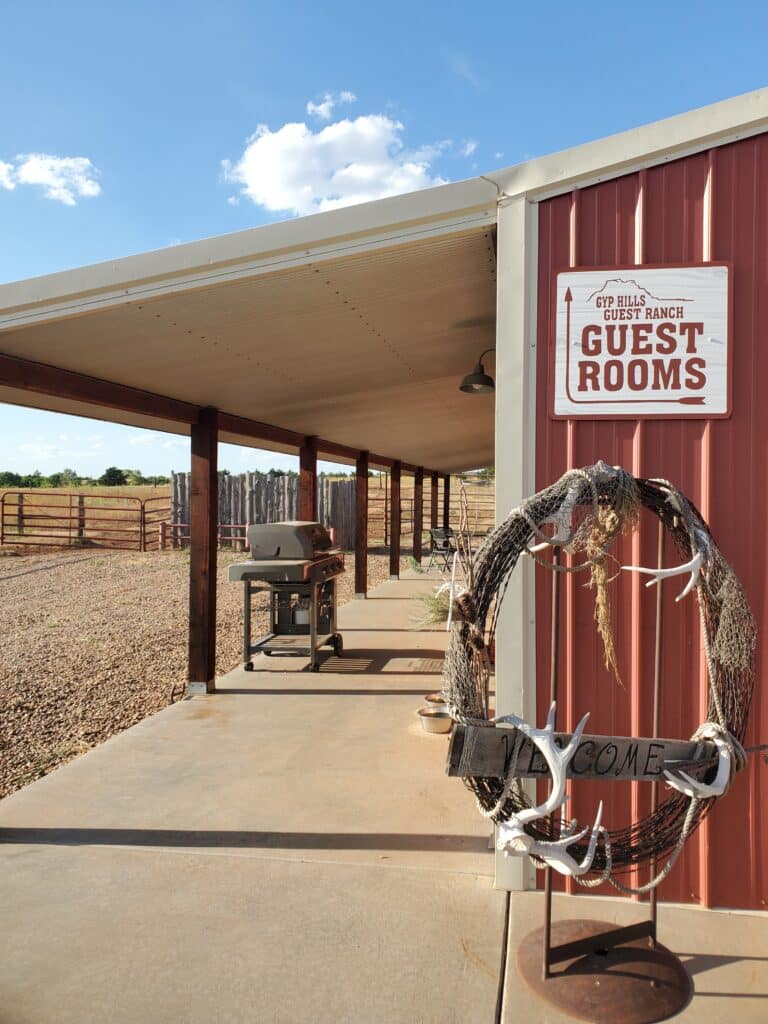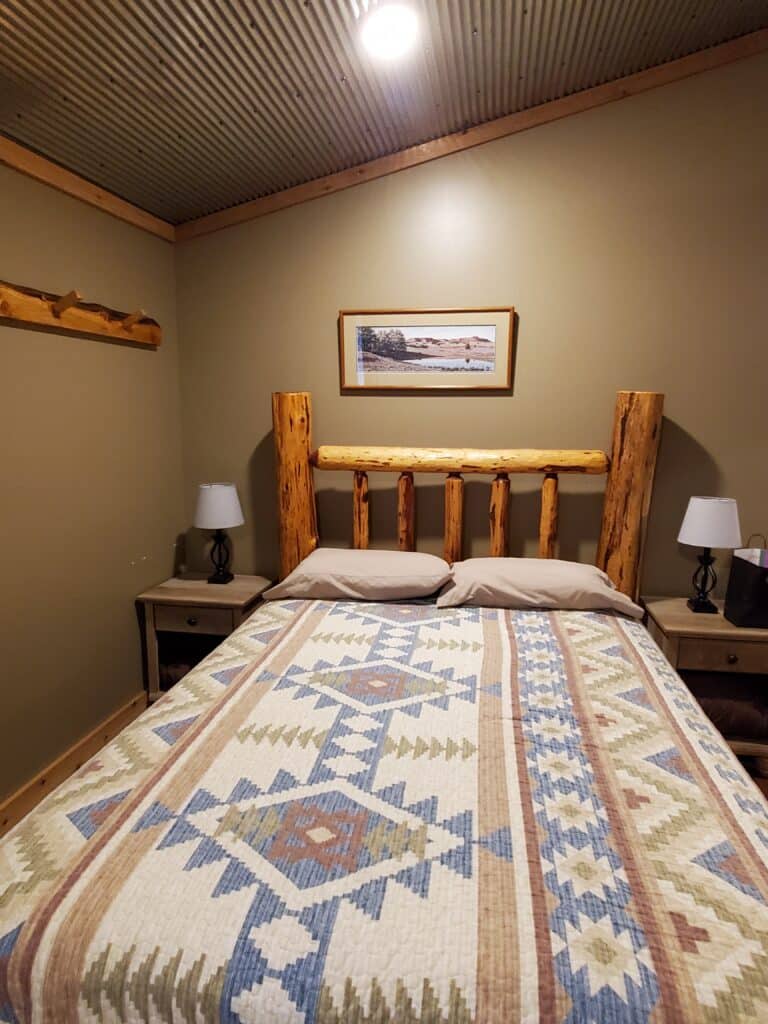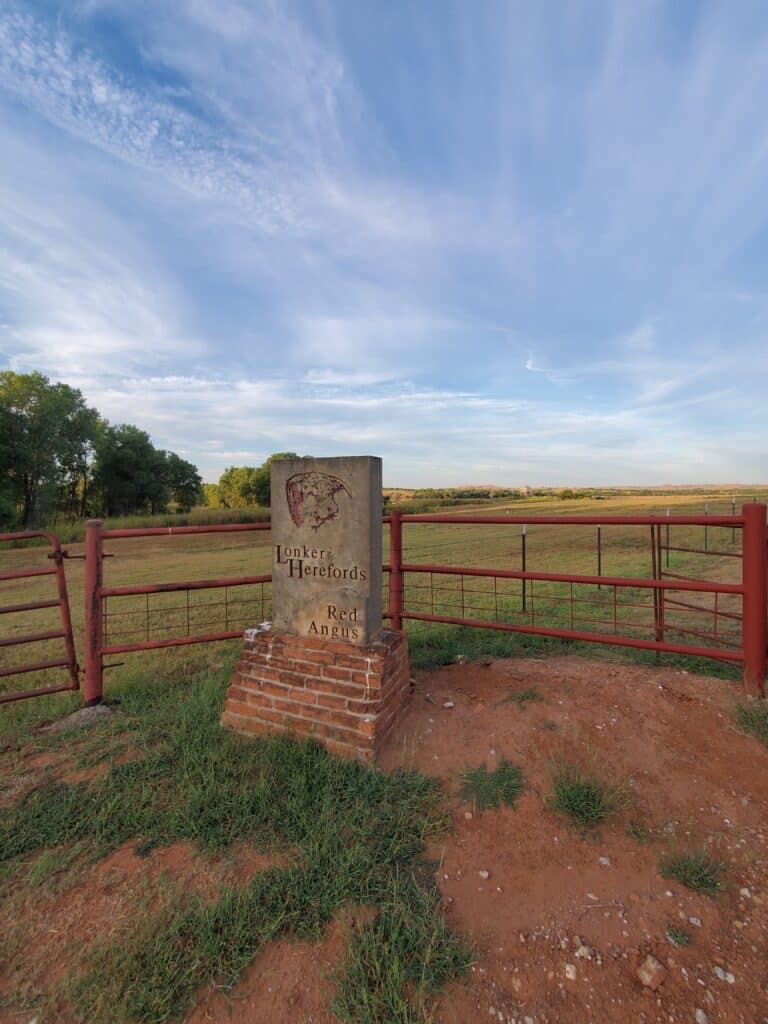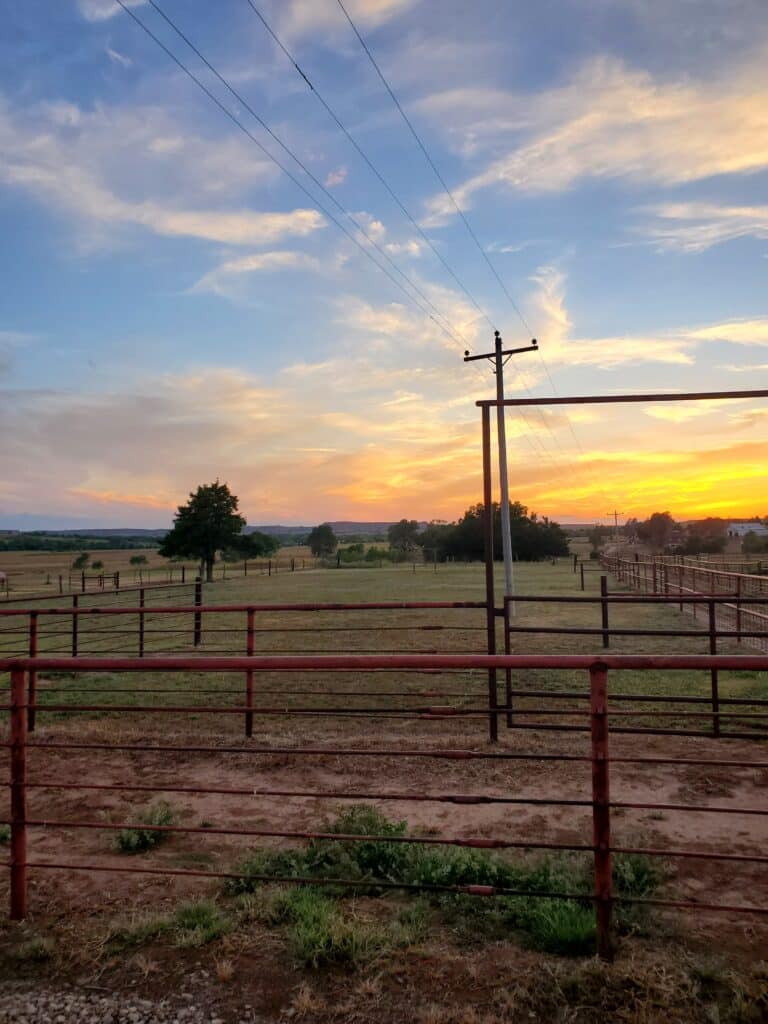 With a few campsites with water and electric hookups, this ranch would make for a great destination for a family reunion. If you want a quiet place to connect with nature and enjoy the Kansas skies, Gyp Hills Guest Ranch is calling your name.
North Central Kansas Unique Lodging Experiences
Creekside Craftsman Bungalow – Newton, Kansas
114 14th Street

Creekside Craftsman Bungalow, is in a residential setting that provides easy access to everything in Newton.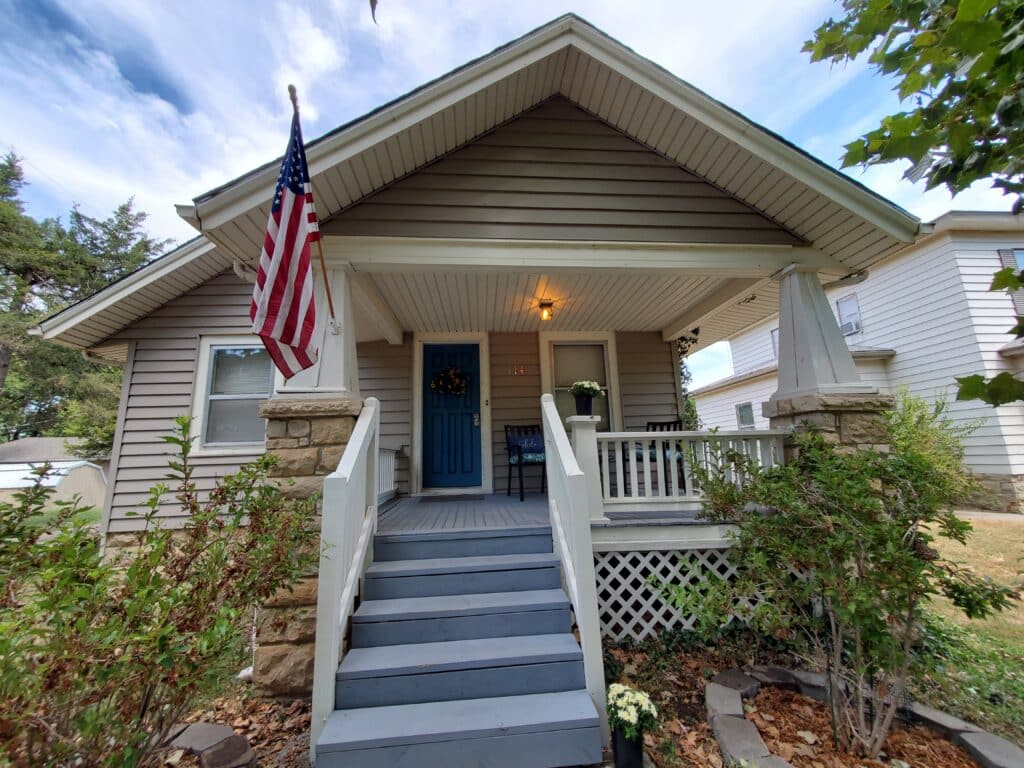 The shade trees will welcome you, as you park in front of this bungalow. I was impressed with how the owner had tied in the town of Newton into the décor of the bungalow.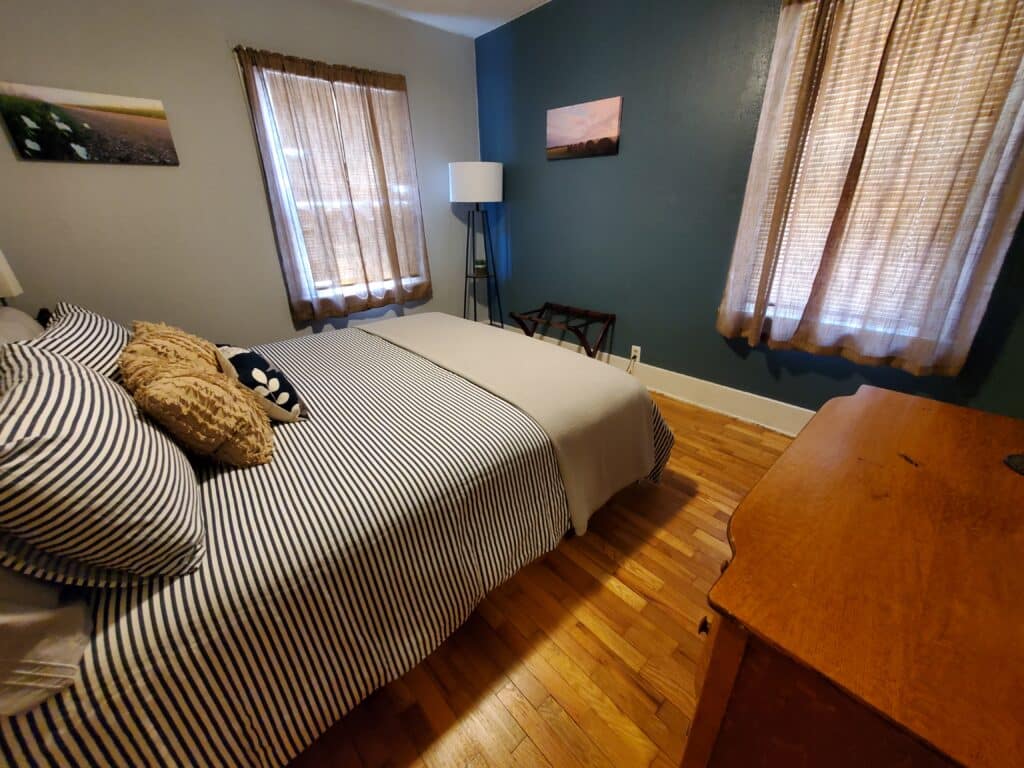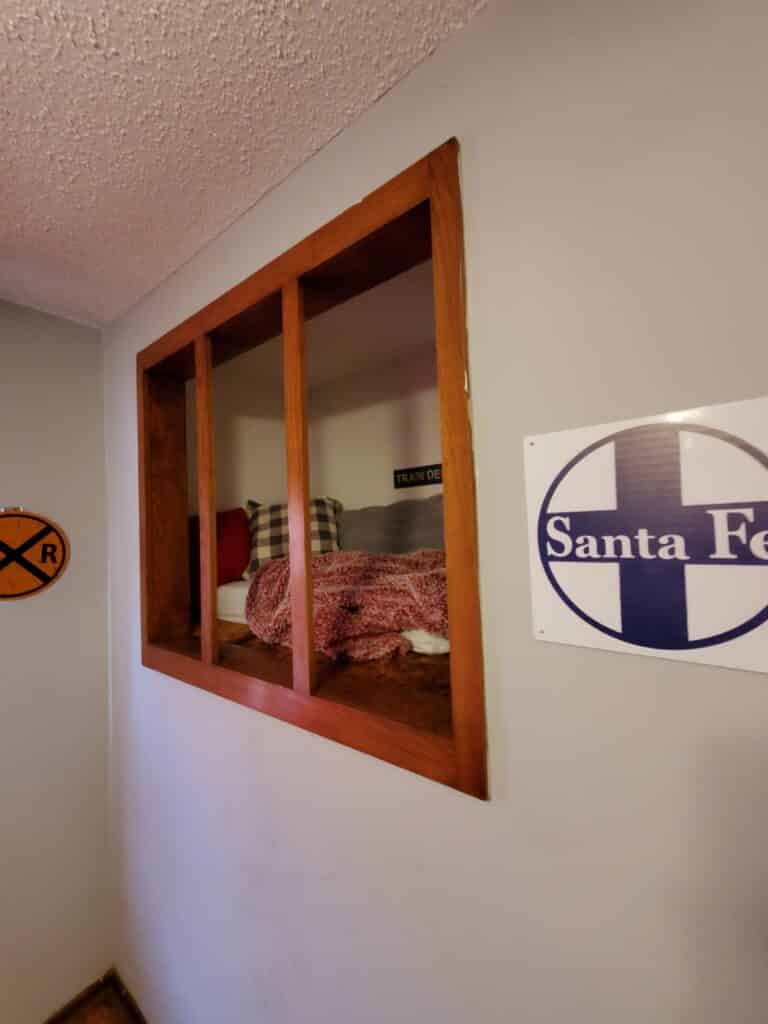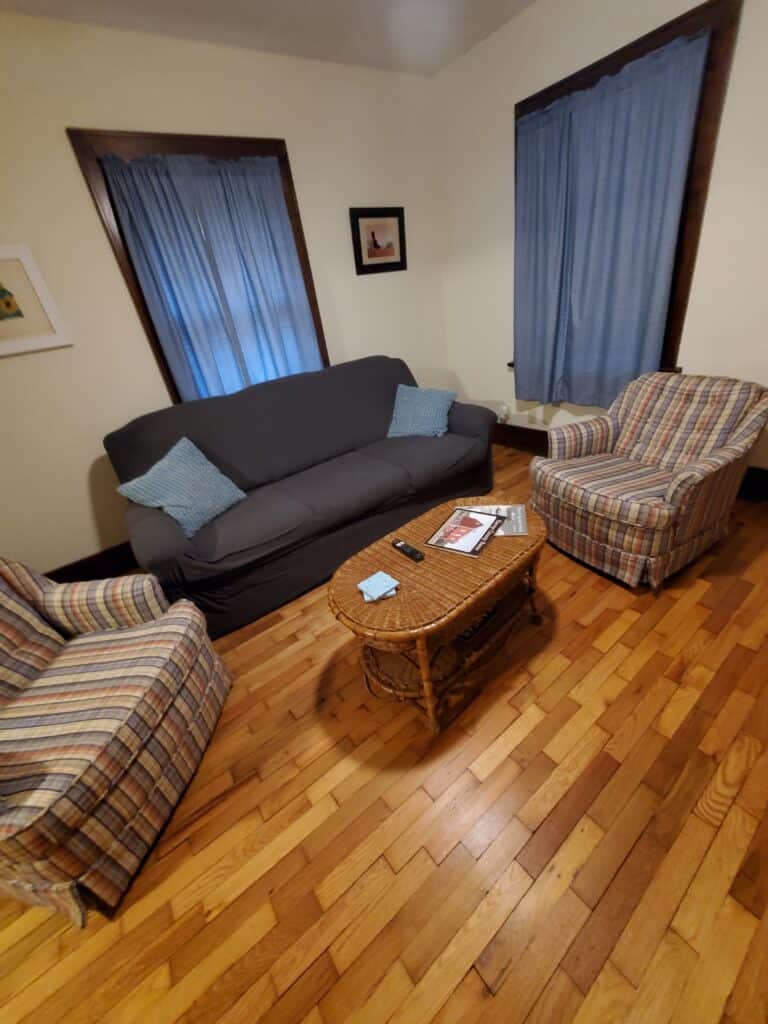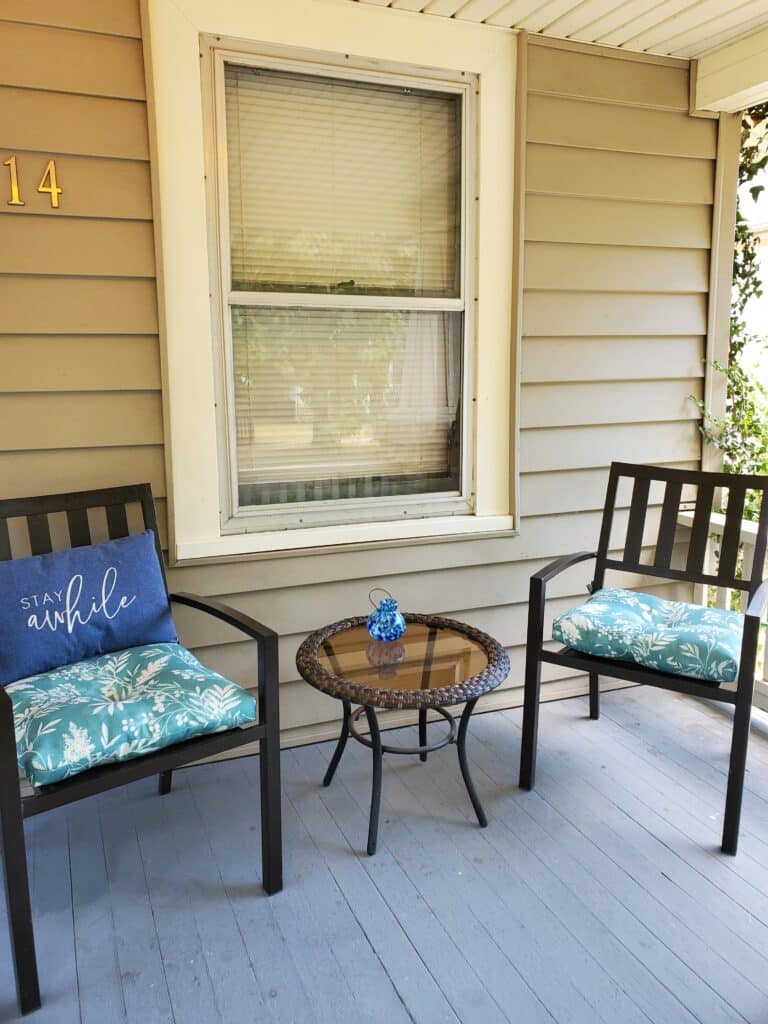 Newton is known for its trains and the fun train theme throughout the home brought smiles to my face. I could guarantee that my 2 1/2 year old grandson would have loved sleeping in the little caboose, in one of the bedrooms.
The living room, dining room, kitchen, and bathroom were all clean and offered space to do anything I needed to do. A washer and dryer on site, which give you the opportunity to was your clothing, if needed. If I would have had more time, I would have spent a lot of time sitting on the porch, relaxing.
Places To Stay Along Kansas US Highway 36
Tradhuset – Lindsborg, Kansas
110 1/2 N. Main Street

Tradhuset is a luxury studio apartment, shaded by large trees, that rests above a carriage house. The town of Lindsborg, Kansas, is literally at your fingertips when you stay here.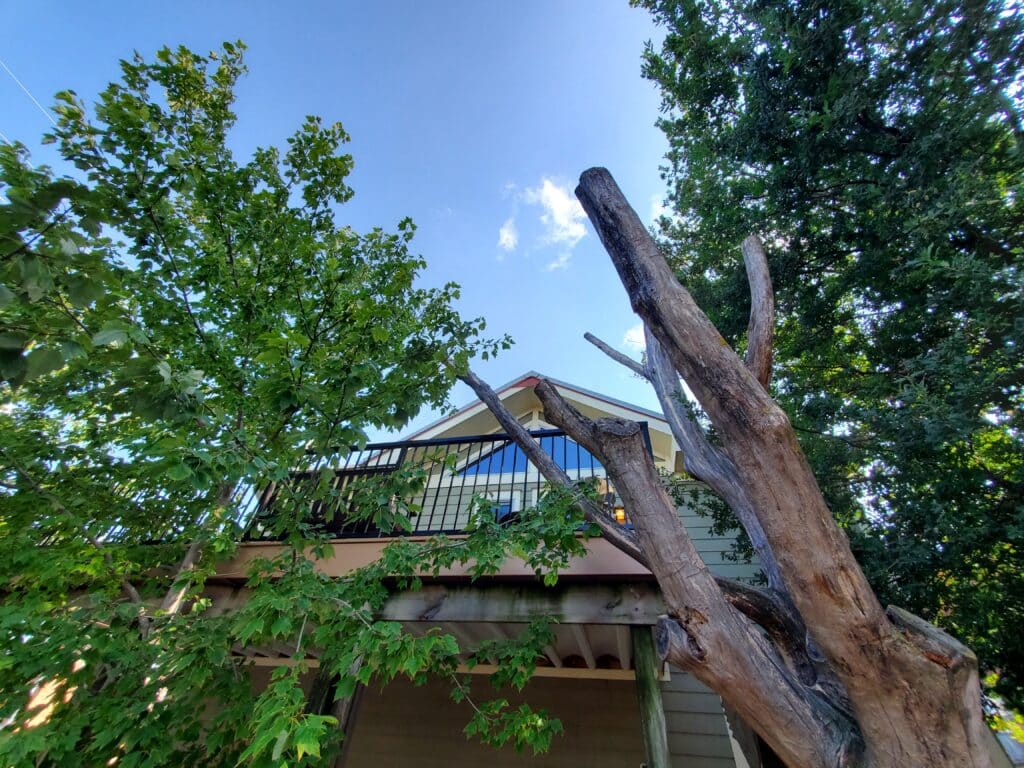 Swedish for "the treehouse", is centrally located to everything that Lindsborg has to offer. This unit is top-notch, with all of the comforts of home.
Unusual Things To Do In Lindsborg, Kansas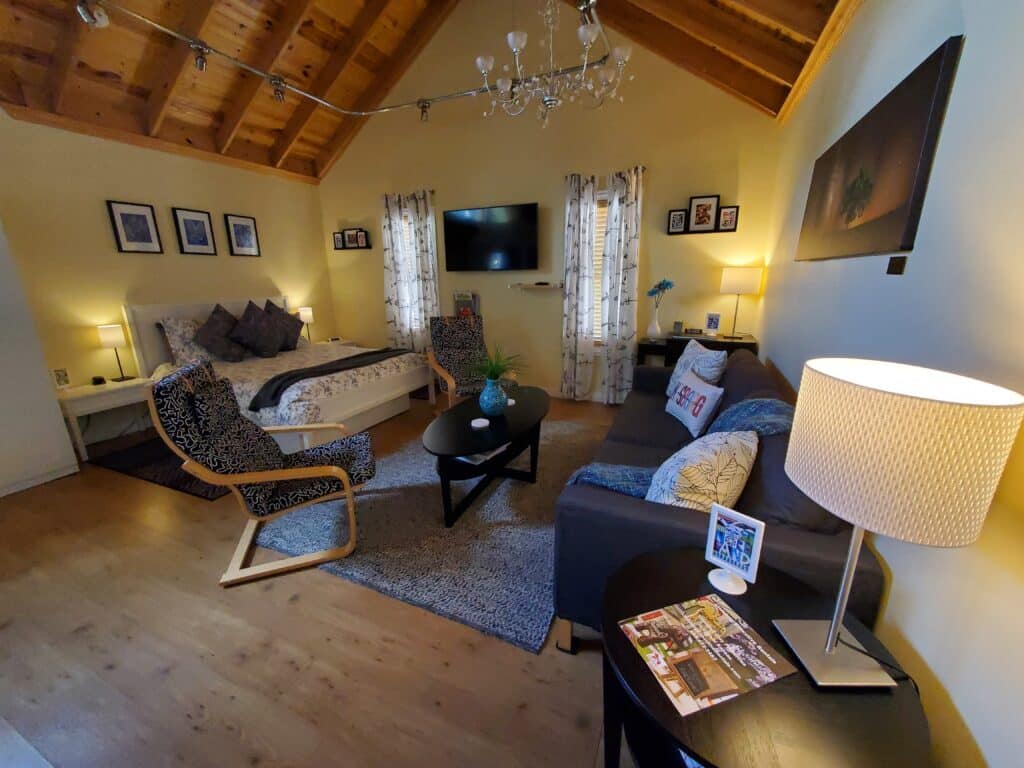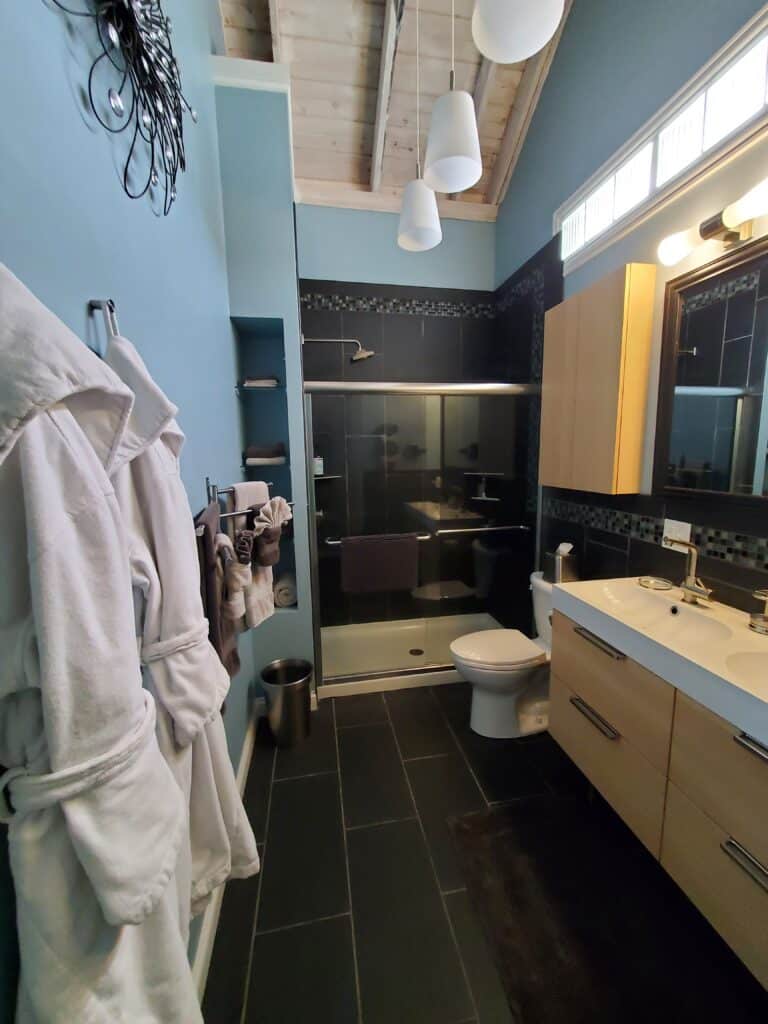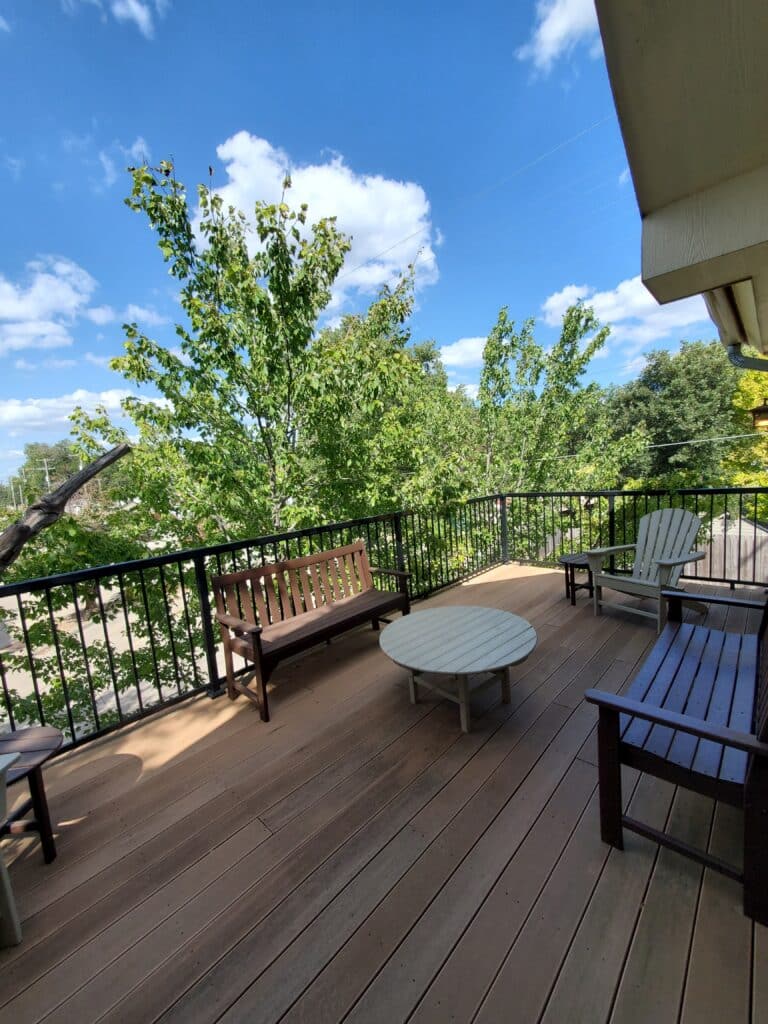 You can park your car, unpack, and walk to everything in the charming town of Lindsborg. 50 steps and you will find yourself on Main Street, in the midst of the "Little Sweden of America." You will find yourself talking about this quite often, as it's one of the best places to stay in South Central Kansas.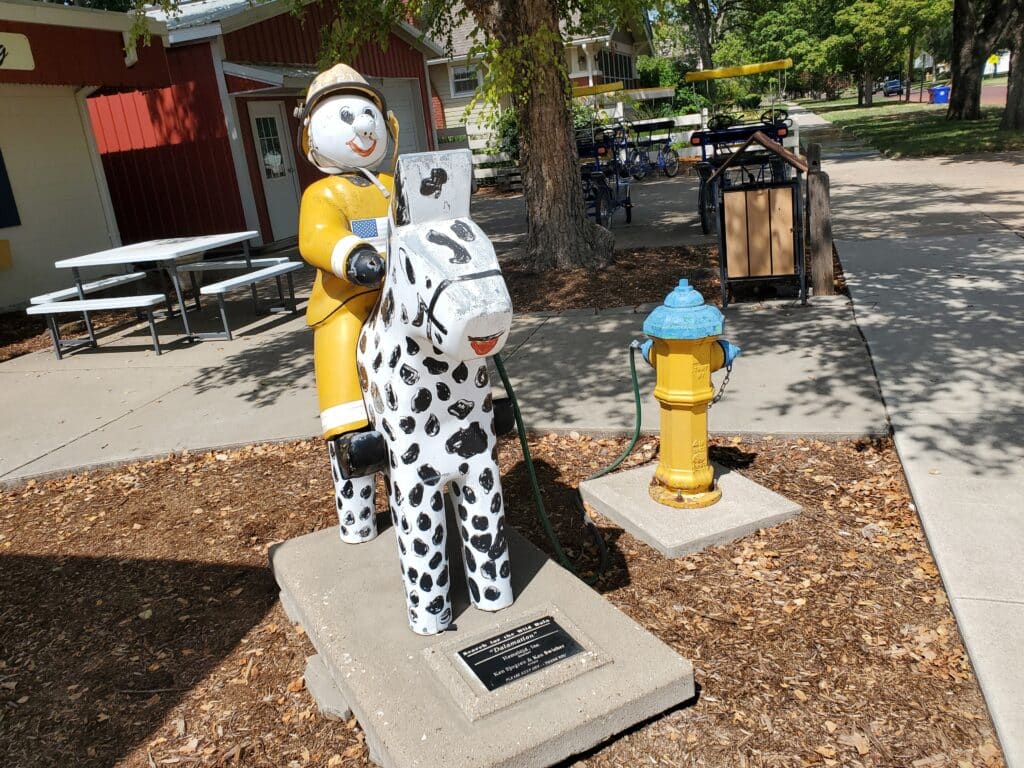 Preston House- Marquette, Kansas
102 Lincoln Street

As soon as I arrived in Marquette, Kansas, I knew that I was in for a treat. The people in Marquette made me laugh and smile the whole time I was in town.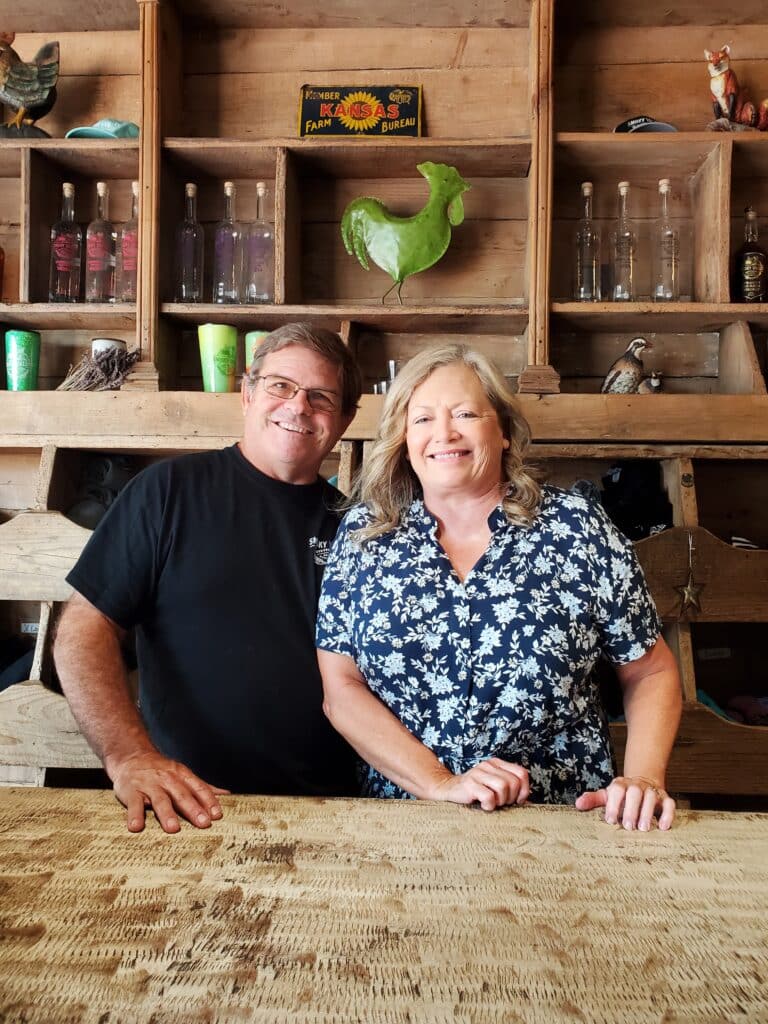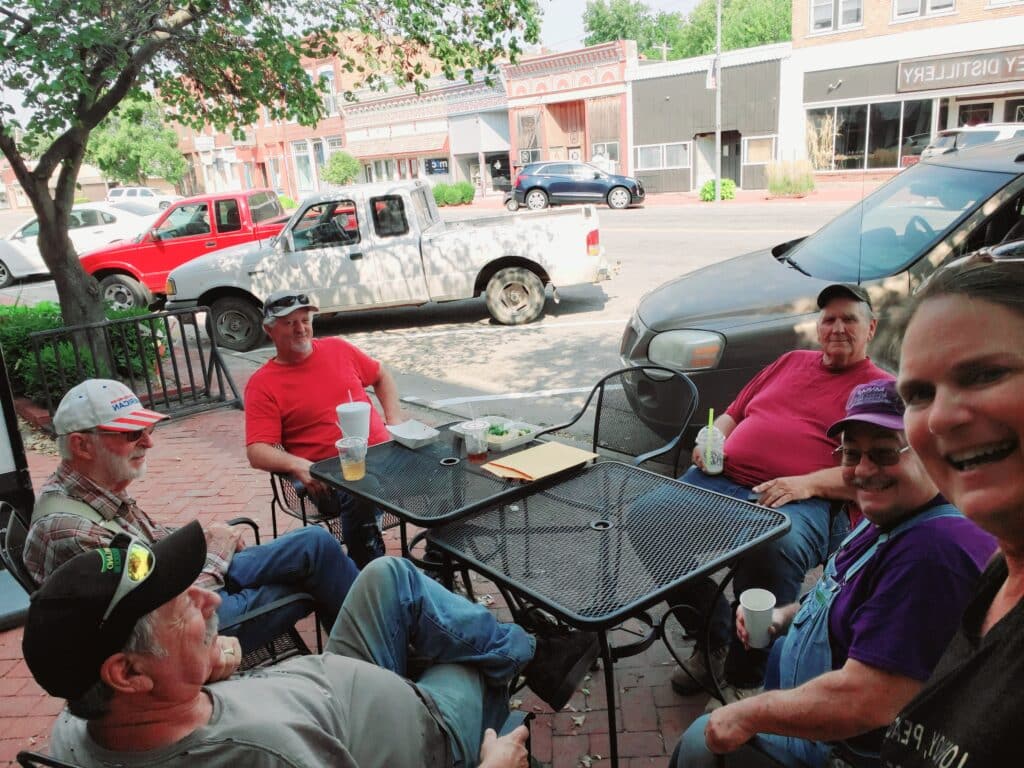 The Preston House is located within walking distance of all of the attractions in Marquette, including a nationally recognized motorcycle museum, The Kansas Motorcycle Museum.
When I parked in front of the Preston House, I noticed the charm that this 1905 home had. The outside was welcoming and I knew that this home was going to be a great place to call home for the night.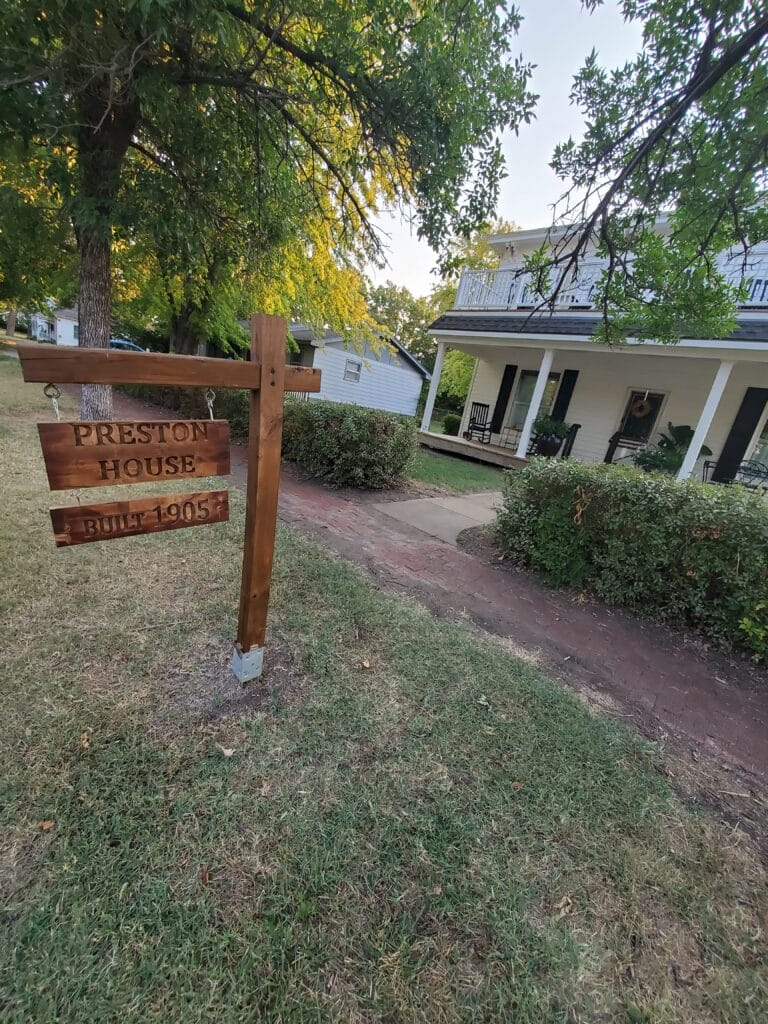 With 5 bedrooms and 2 bathrooms, and a beautiful kitchen, this home makes the ideal place for an extended family get together. The house sleeps a total of 10 adults, perfect for many family gatherings.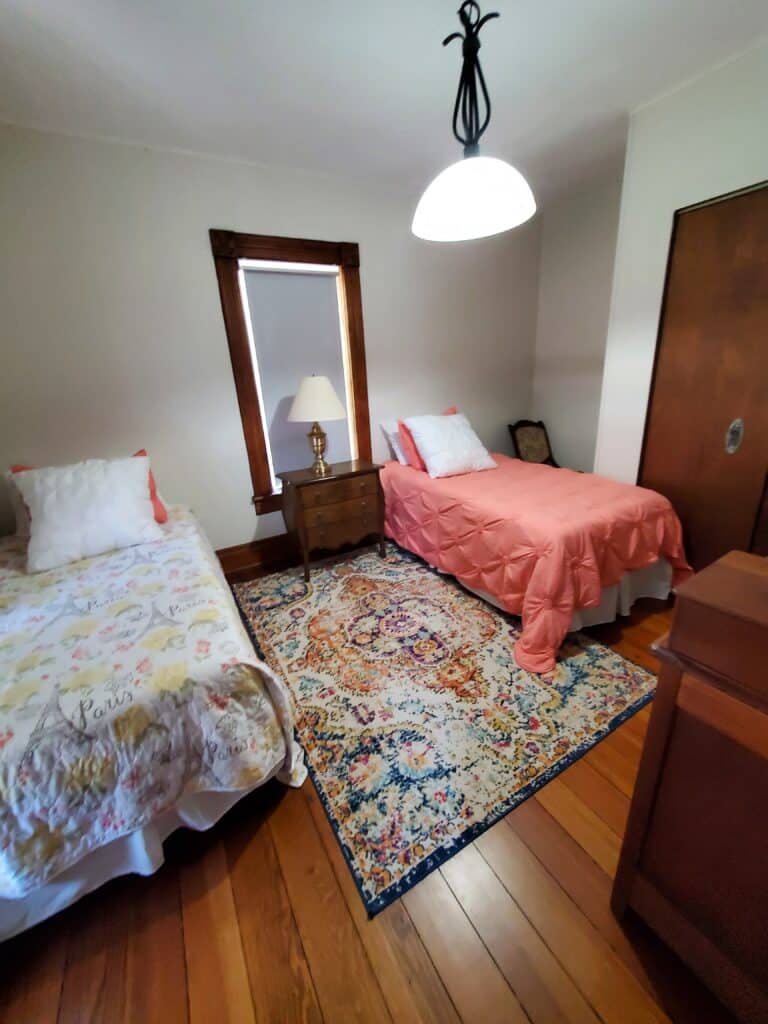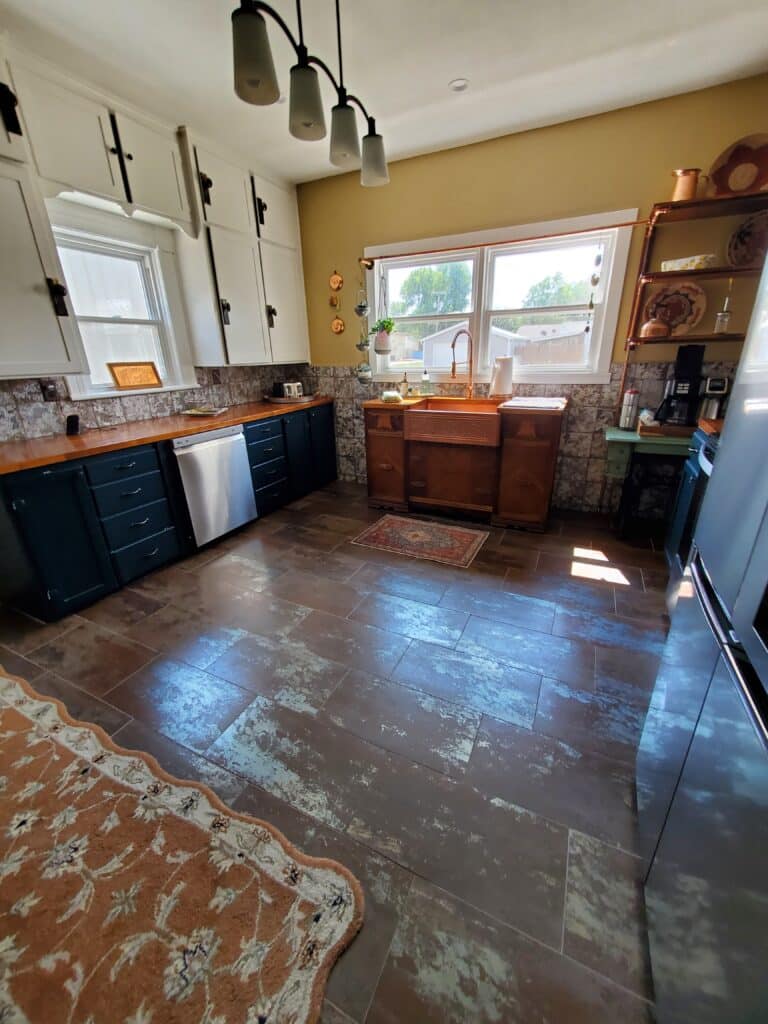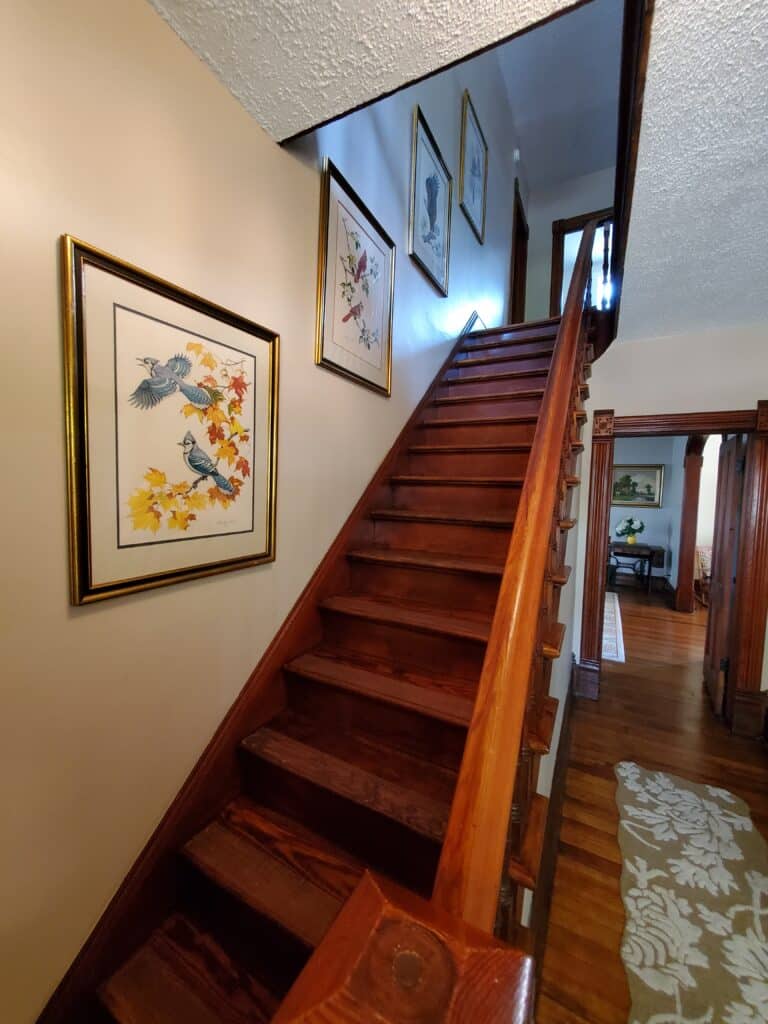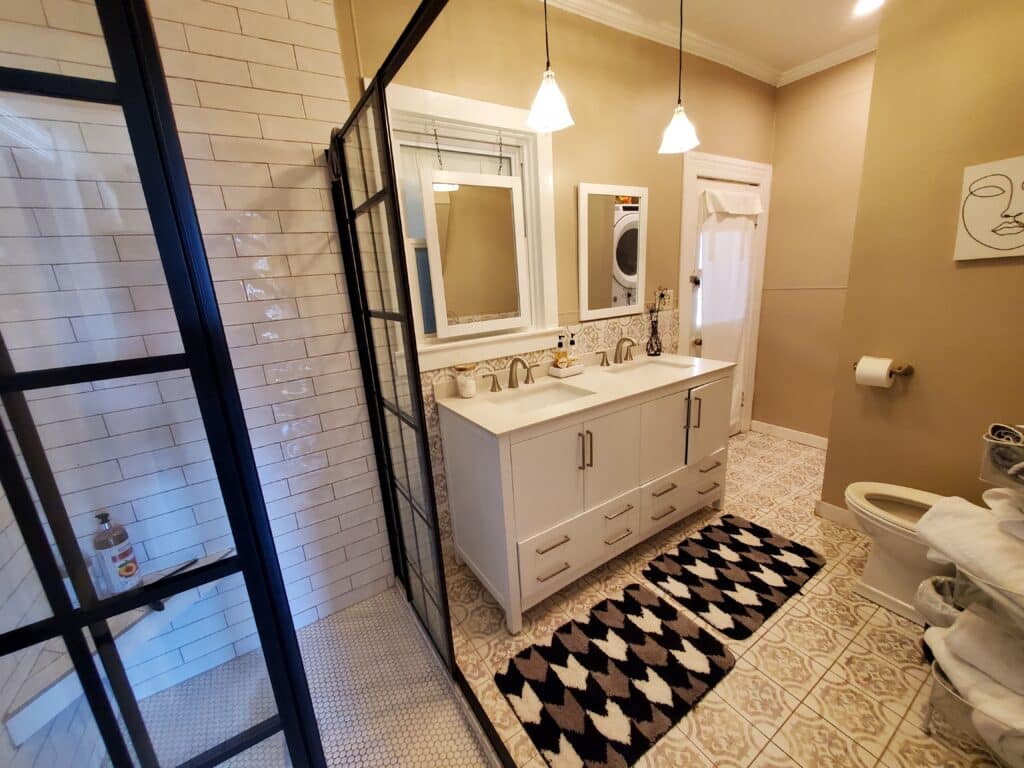 Lyons Inn- Lyons, Kansas
817 West Main Street

The Lyons Inn is one of the cleanest non-chain hotels that I have stayed at in a long time. If you are looking for family, friendly lodging, the Lyons Inn in Lyons, Kansas, will not disappoint you.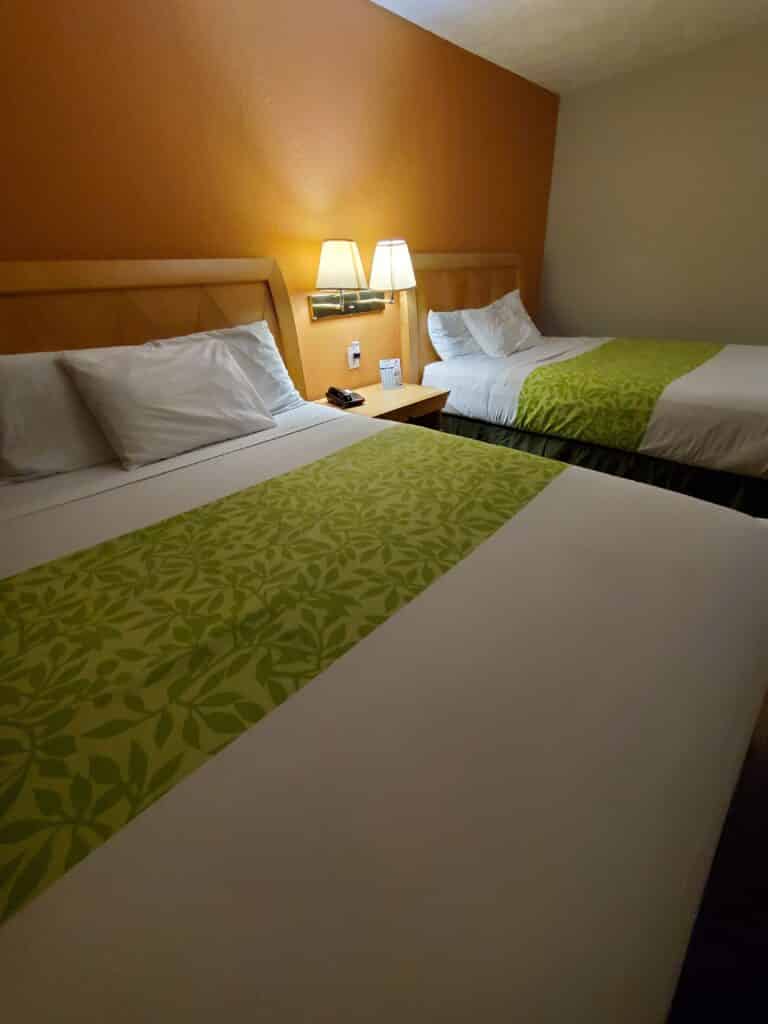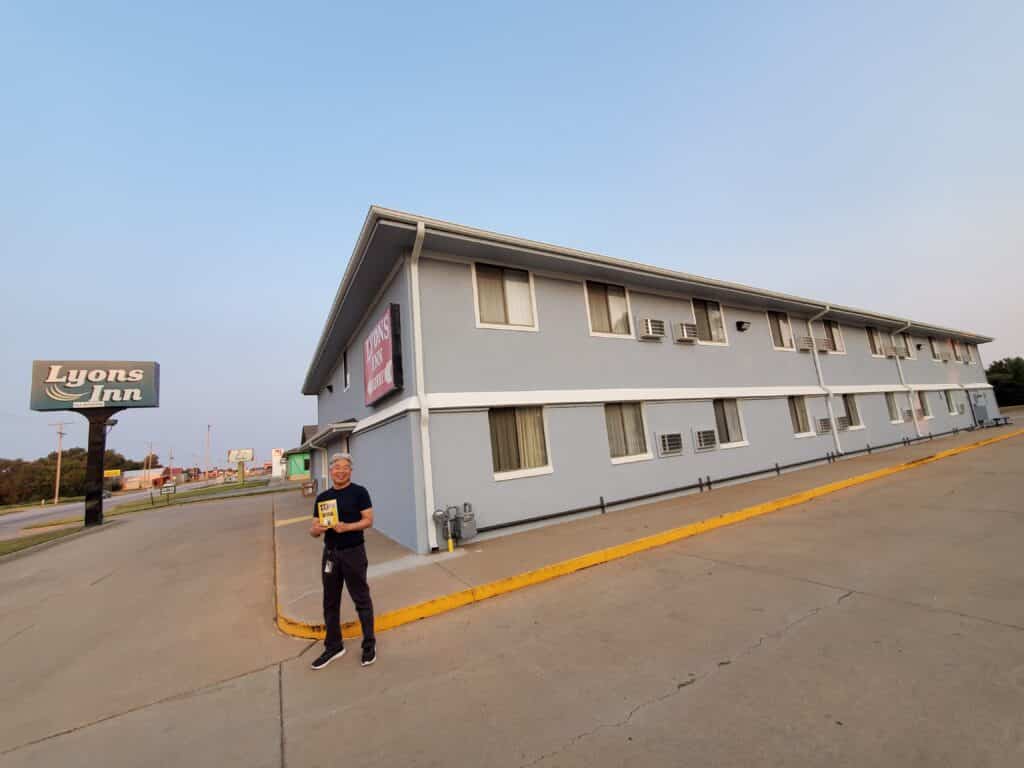 As soon as you step into the lobby, you will be welcomed by a relaxing atmosphere. The owners of the Lyons Inn will welcome you with a smile and help you in any way possible. I say it all the time, "The people that you meet when you travel, will change how you travel." Lyons, Kansas, is now at the top of my list, as the owners of the Lyons Inn were incredibly helpful and understand customer service.
West Side Loft
Sterling, Kansas
West Side Loft is located on Main Street in Sterling and overlooks the town. This trendy styled loft was exactly what I needed after exploring Rice County and Sterling.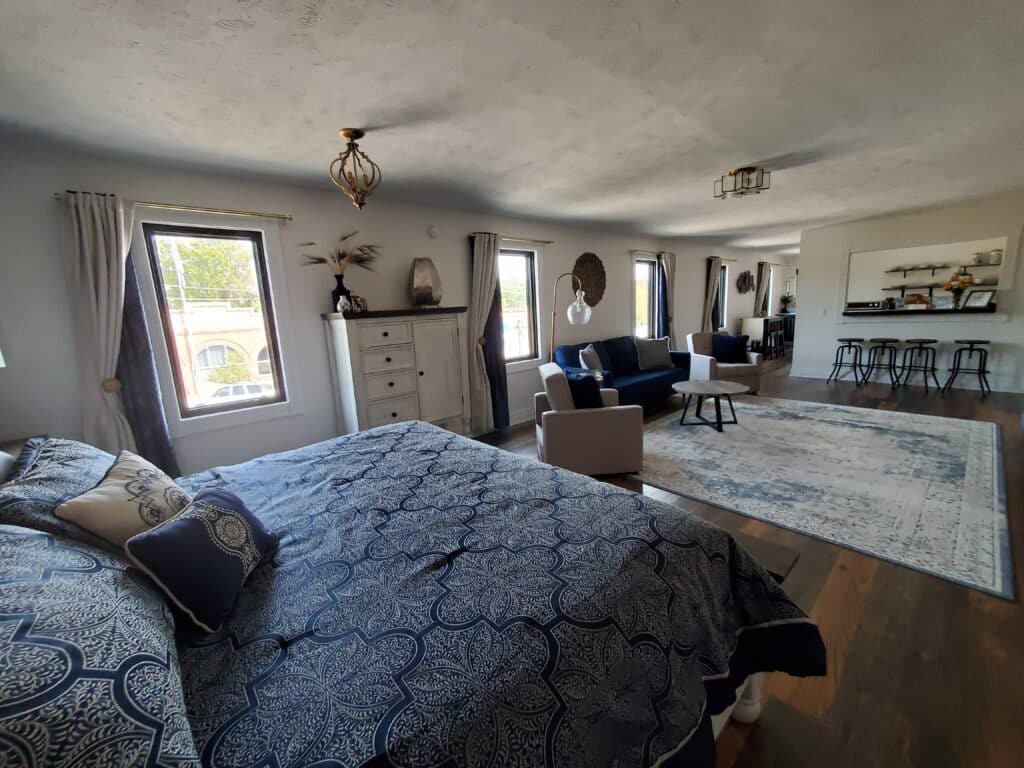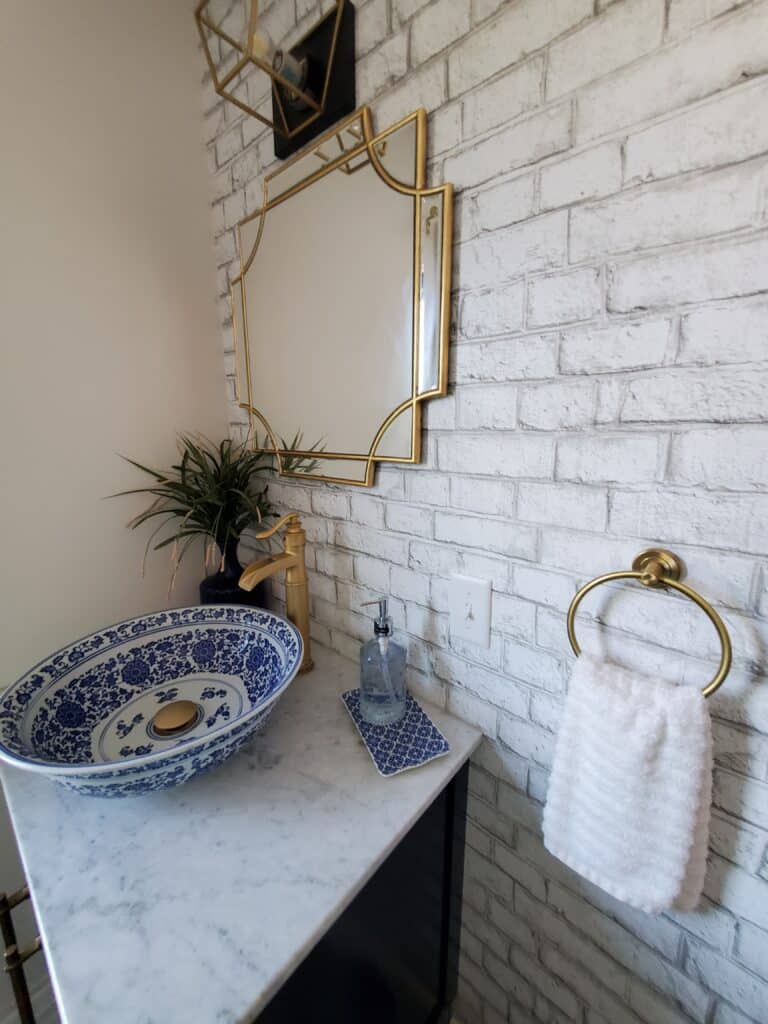 Parking is conveniently located in a parking lot behind the loft. Once you are parked and all settled in, you can walk to several places to eat and explore in Sterling. You will not want to miss stepping on the grounds of Sterling College. The grounds are incredibly beautiful and worth a stroll. Tip: Stock up on locally grown produce in Little River at the Garden of Eden, Heavenly Meats & Groceries.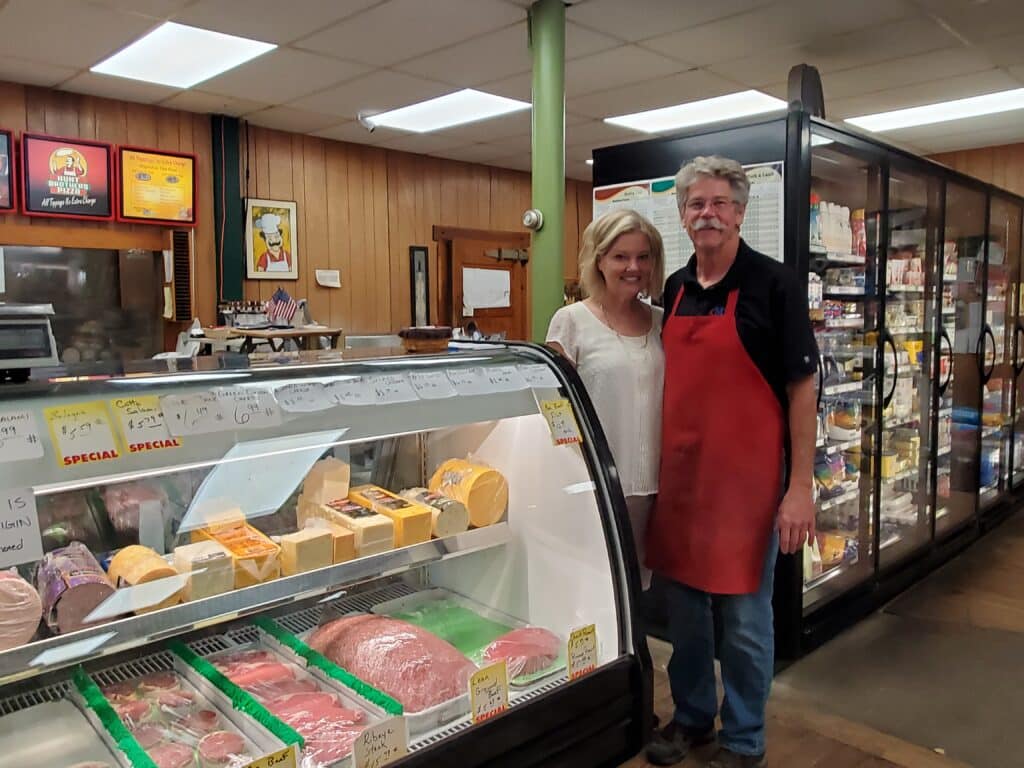 Stone Barn Cabins – Dexter Kansas
20428 KS-15 Highway

The Stone Barn Cabins are located in the southern area of the Flint Hills. If you are coming from Arkansas City, plan about 30 minutes and you will find yourself all cozy in your cabin for the night.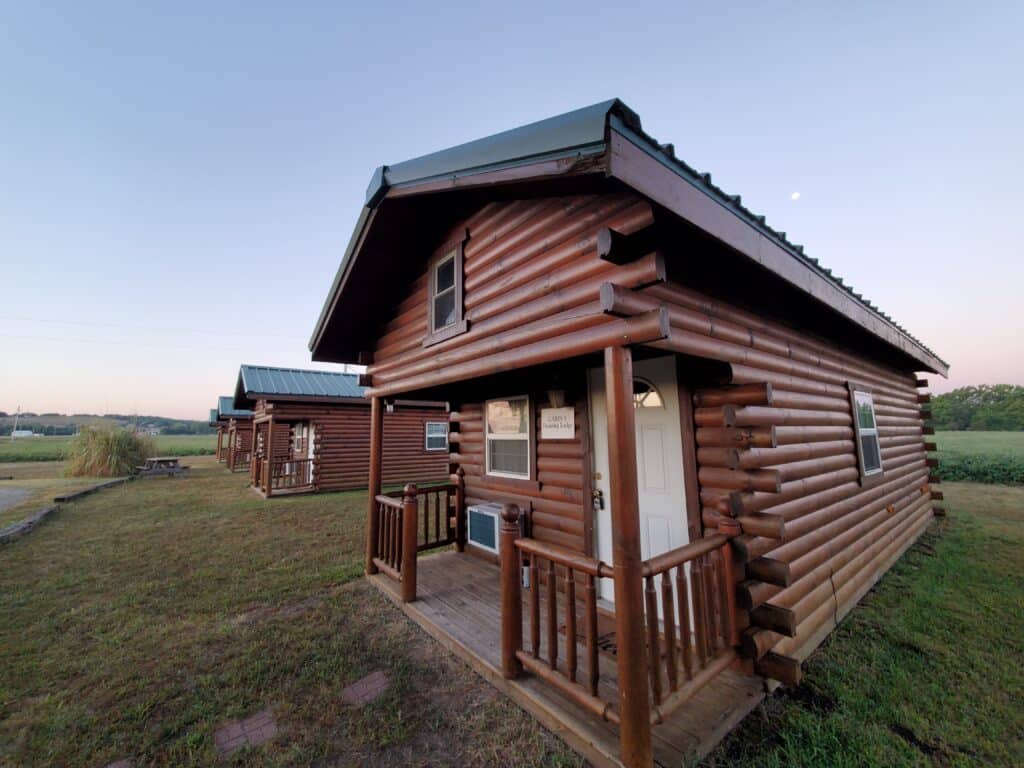 My cabin was an ideal place to stay in the quiet of these world-famous hills. These cabins offer the luxuries of home in the heart of Rural America.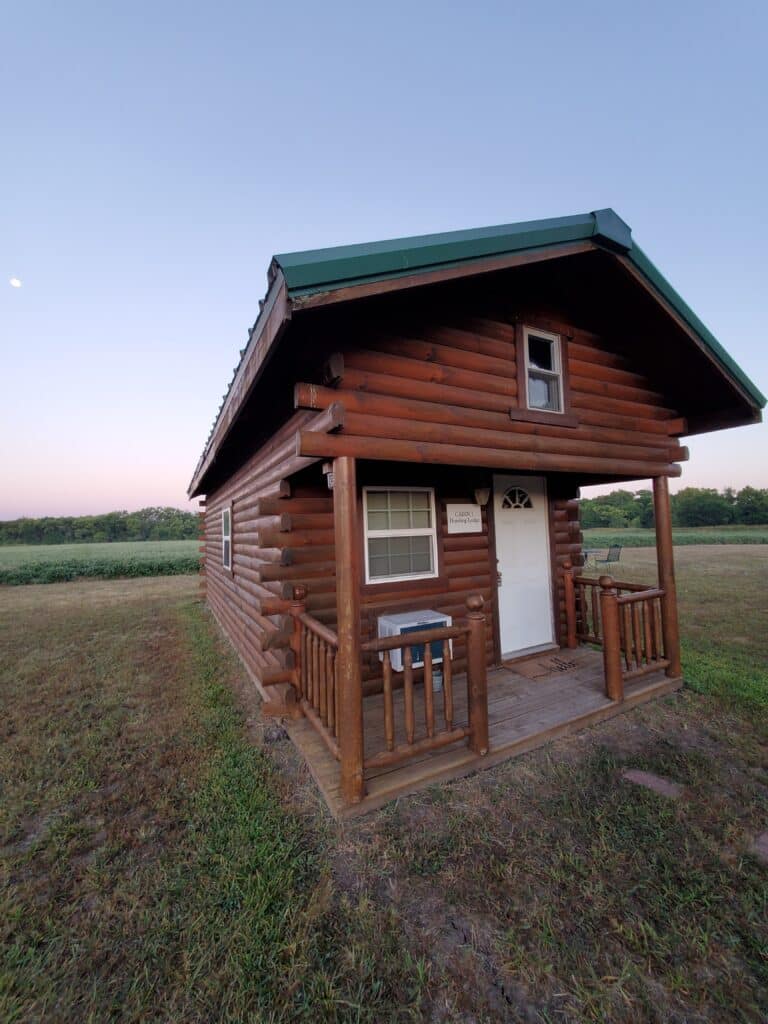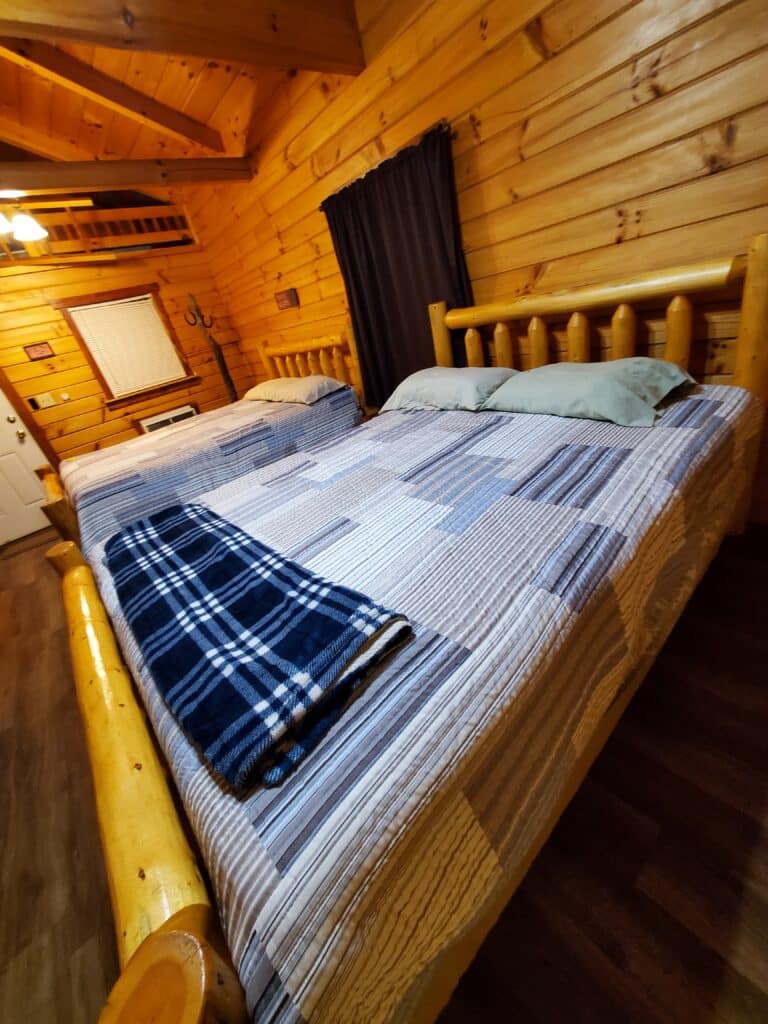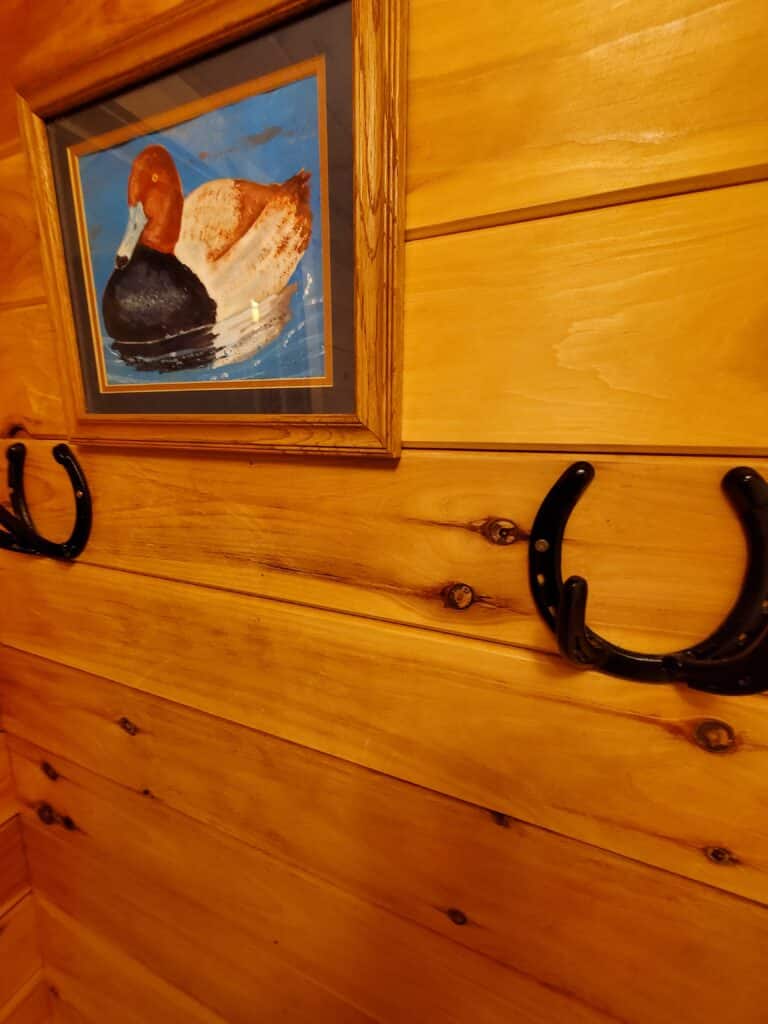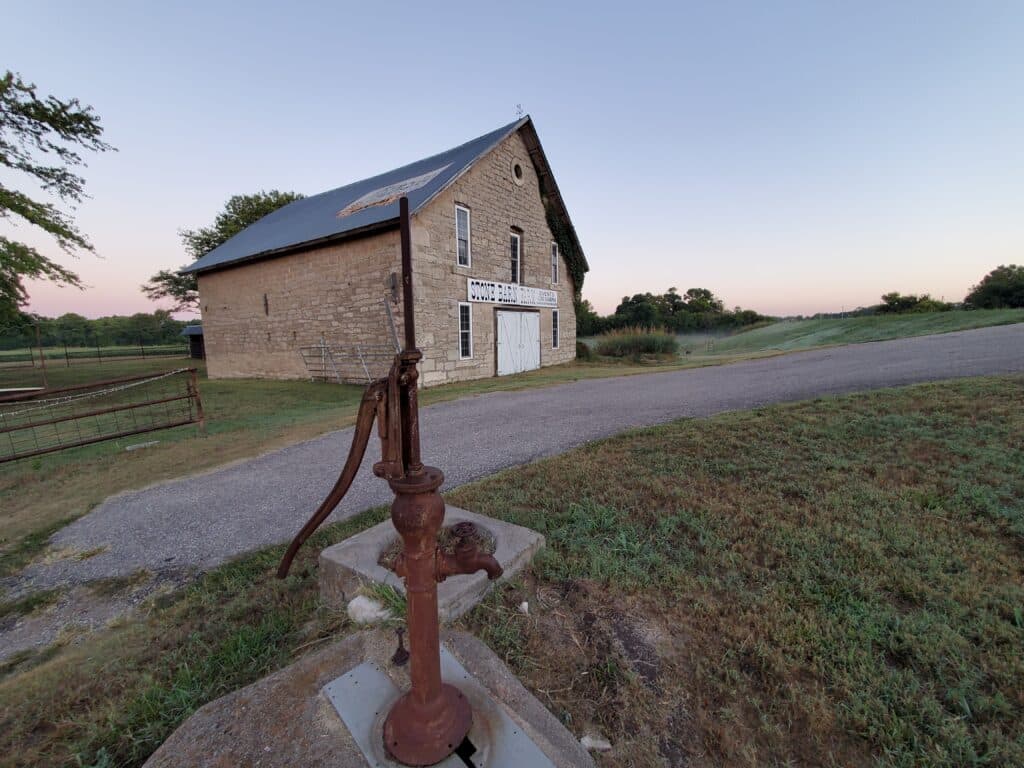 I arrived after dark and at sunrise I saw the incredible views of the Flint Hills as the sun came up. If you want a quiet place where you can reconnect with nature, these cabins are ideal for you. If you open your cabin door near sunrise, this is your view.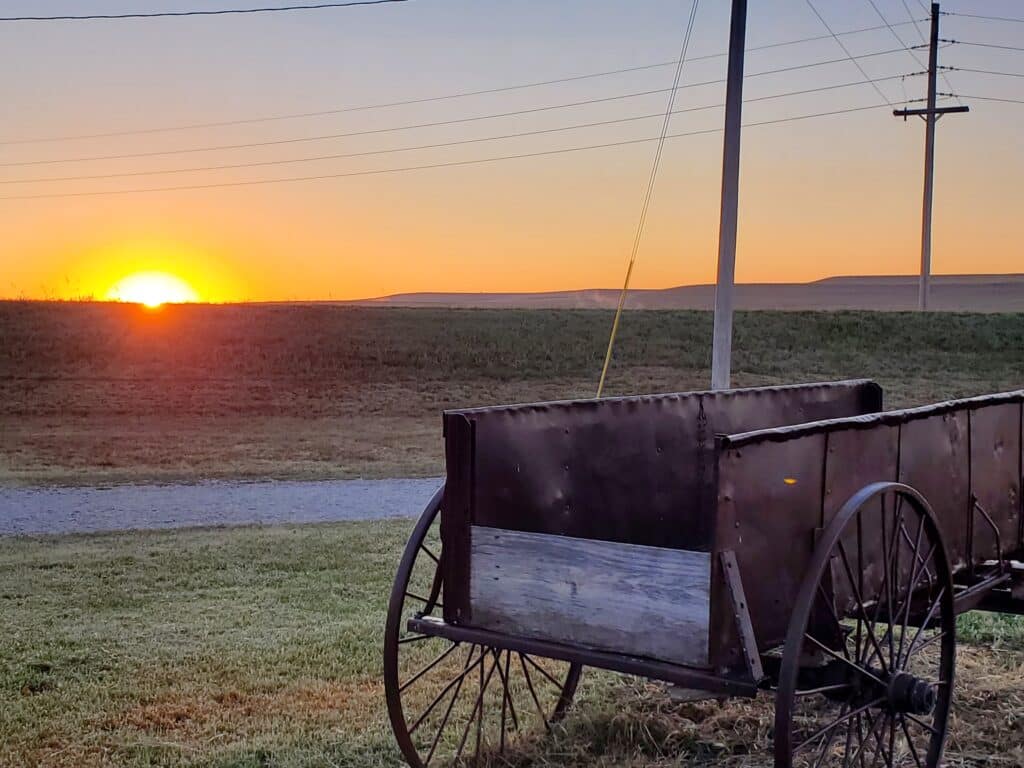 The Guest House – Winfield, Kansas

Sarah is the host of The Guest House in Winfield, Kansas. Wow! Sarah understands hospitality. As soon as I stepped into my home for the night in Winfield, I knew that this was where I belonged. This 400 square foot guest house offers all of the amenities that you would expect, with a gracious host. Sarah will take care of you from the moment you make your reservation.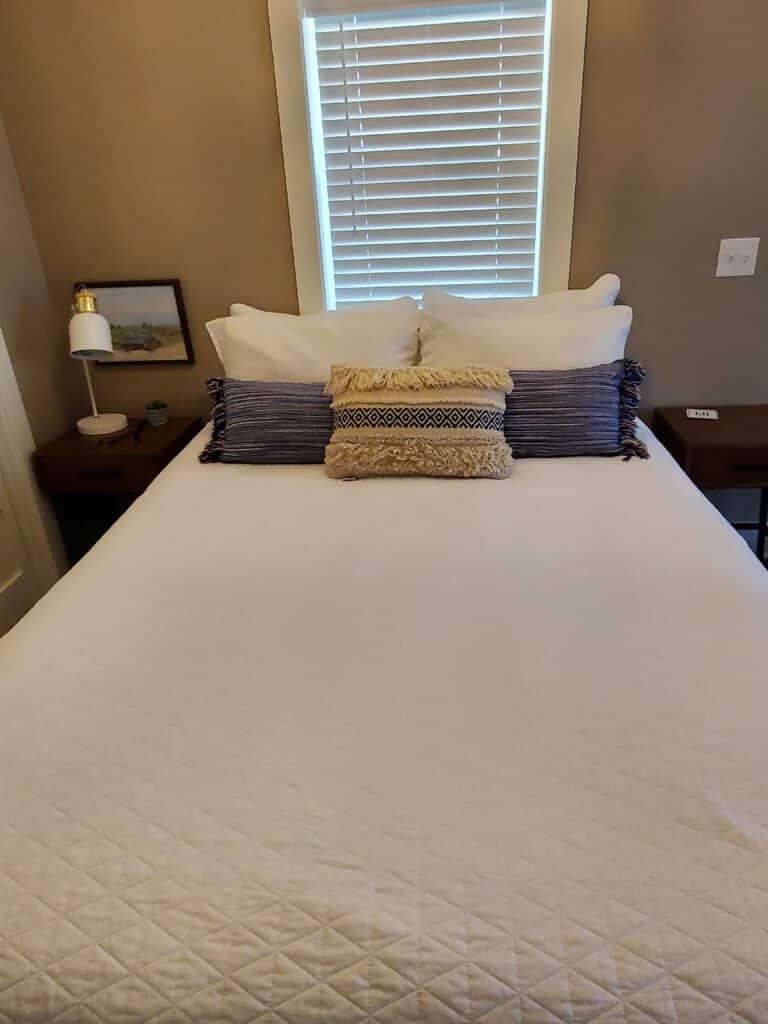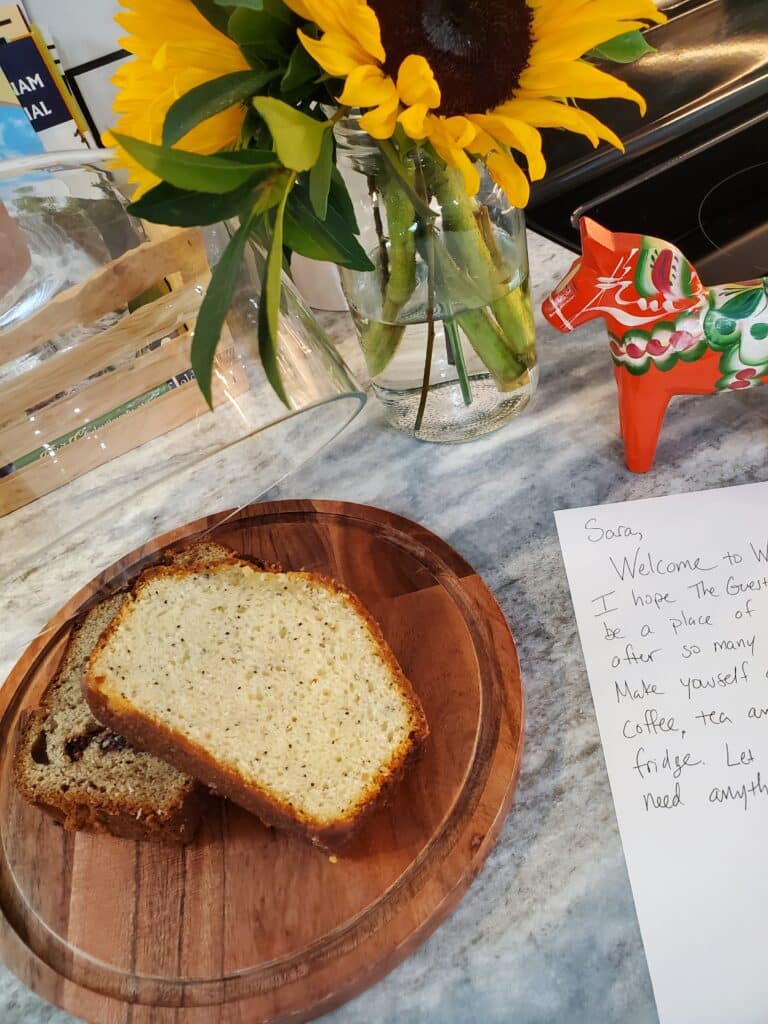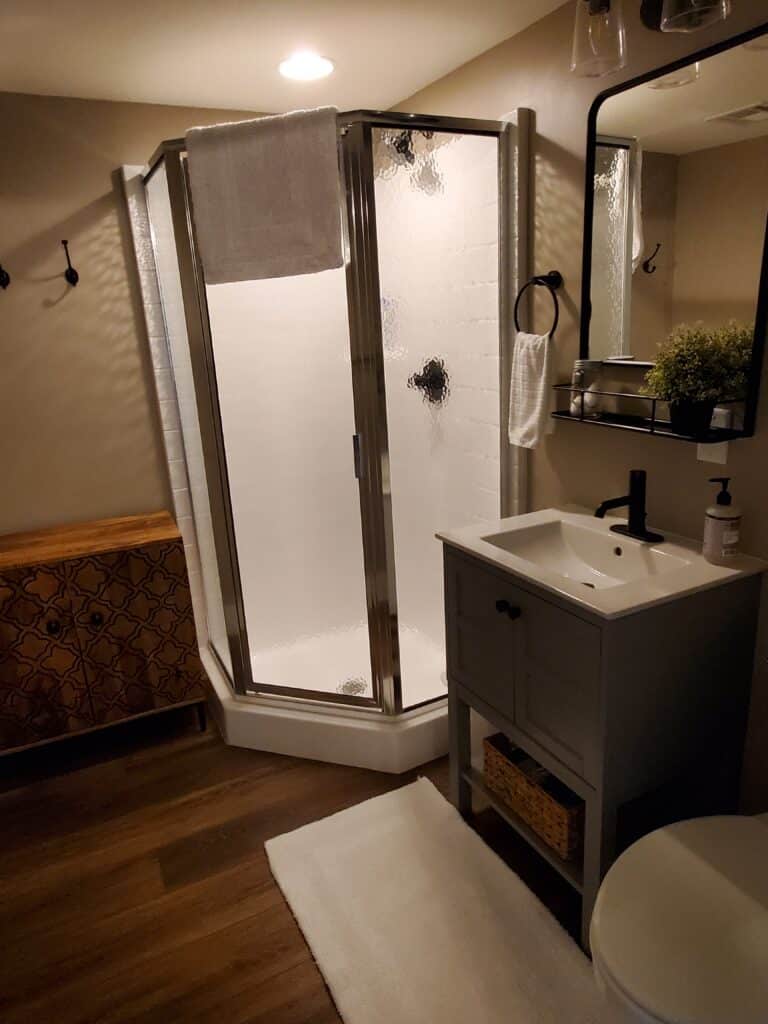 After all, the outdoor temperature was hovering around 95 degrees and the air conditioned guest house felt comfortable. A bonus to staying here, is the fact that you are a short walk or drive from College Hill Coffee. I ate breakfast at College Hill Coffee and had the best quiche that I have ever had- superb!
Plan To Visit Winfield, Kansas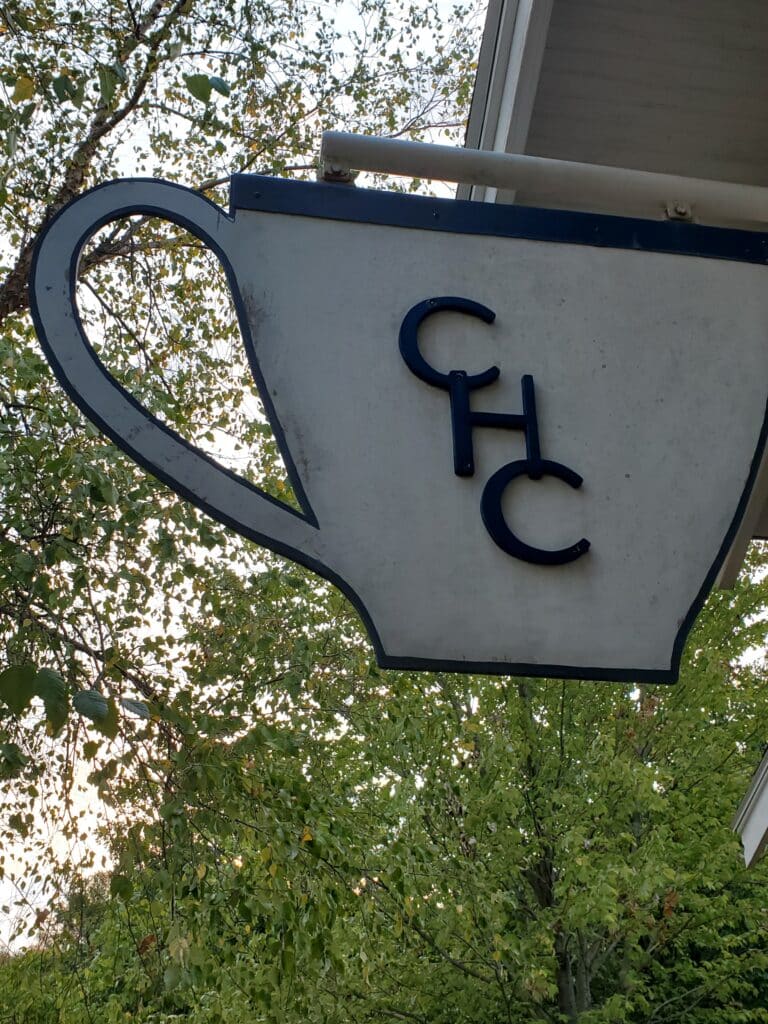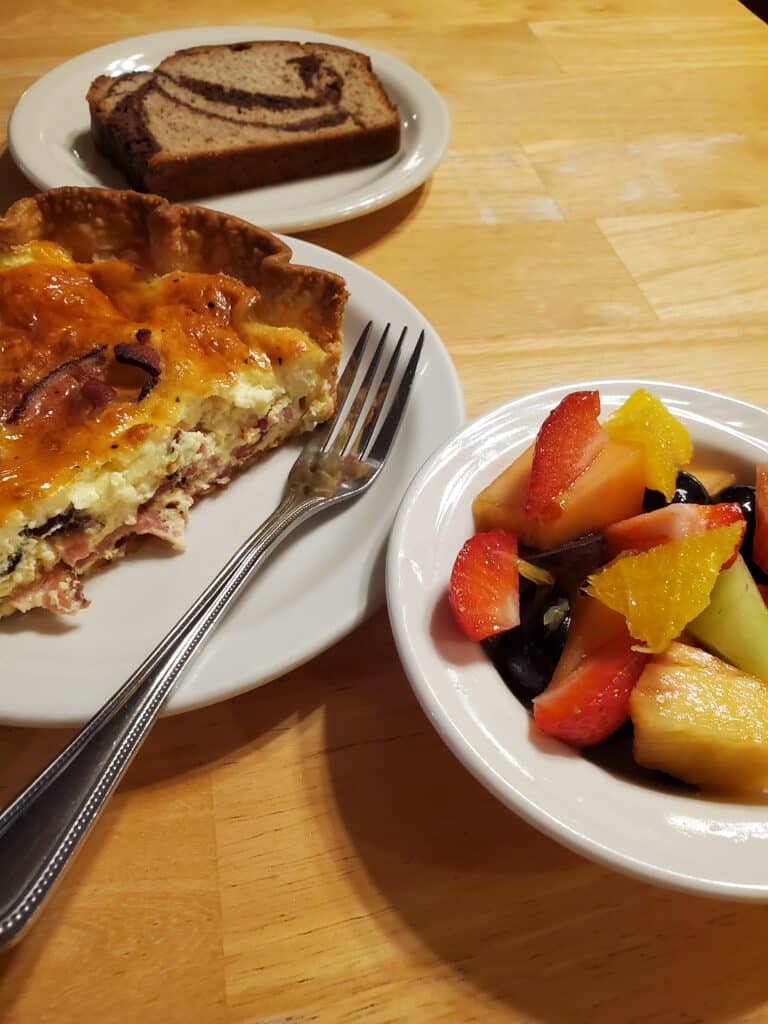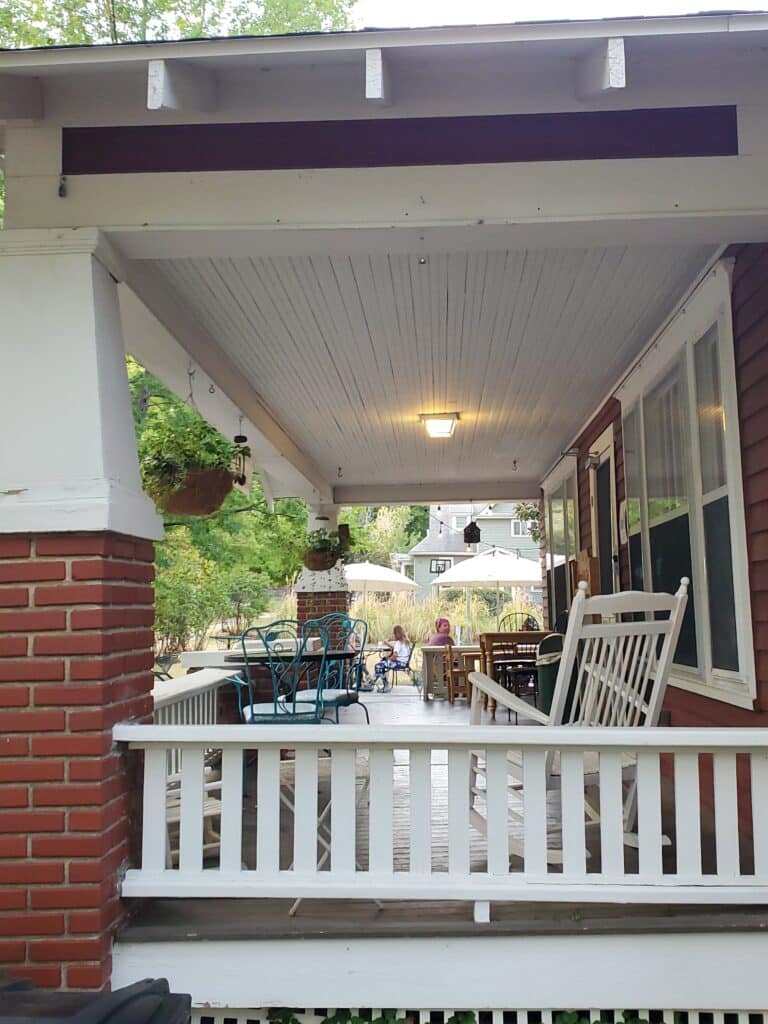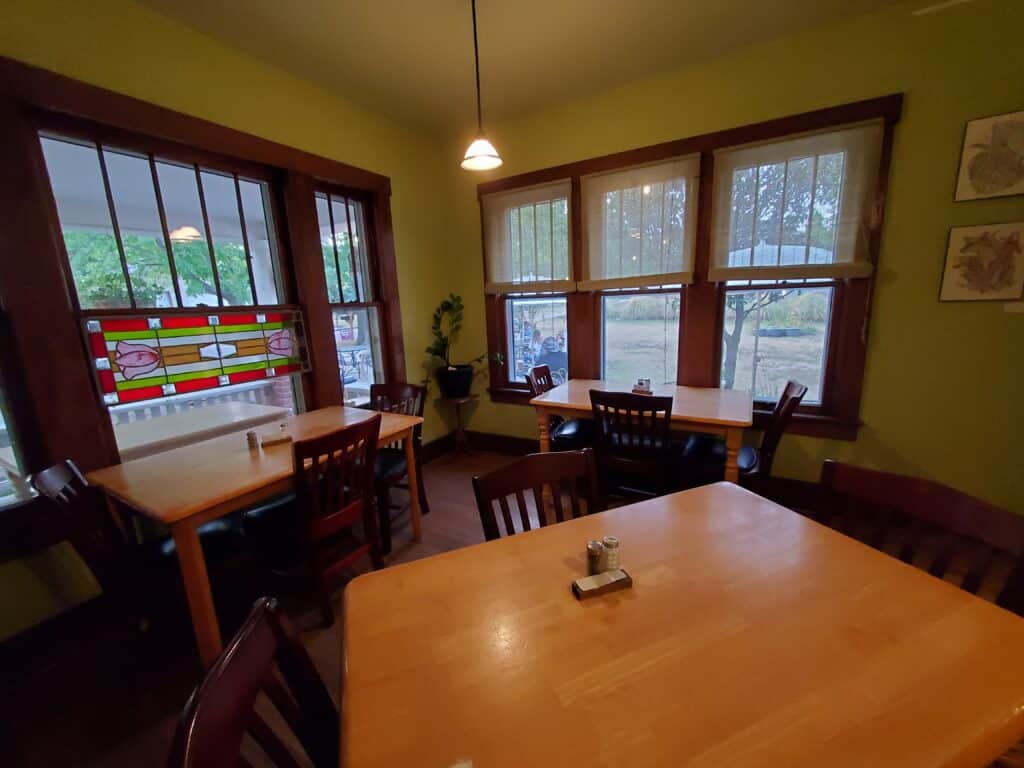 Each of these lodging properties in South Central Kansas offer something different. Kansans understand hospitality and they will take care of you. When you book a stay at any of these lodging properties, you can be assured that they will be clean and Travel With Sara approved.

The following two tabs change content below.
SaraB
Sara is a travel enthusiast that resides in North Iowa. You can find her traveling where the plane, train, ship, or car will go. Are you looking to take a road trip? Sara has solutions for you!