A Colorful Kite Festival In The Mid-West: Clear Lake, Iowa
Clear Lake, Iowa, is home to many unique festivals and events throughout the year. With a lake that offers enjoyment 365 days of the year, there is always something going on. February 15, 2014, proved no different. The Mid-West's largest, colorful kite festival took place at the sea wall in Clear Lake. And yes, there was snow and wind! But hey, that did not stop participants or spectators alike.
The lake has a sturdy sheet of ice across it, which made this an ideal setting for a kite festival in February. When we approached the sea wall, we could see the kites in the air from a couple blocks away. Snow was falling at around 1-2″ per hour, a fairly heavy rate with a nice steady wind. The winds made for a terrific day to fly a kite. These five kite flying participants were controlling several kites from their positions. And as you can tell, participants were dressed for the weather.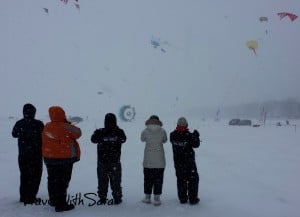 Color The Wind Kite Festival is a free event and offers great family entertainment on a cold, winter's day. There were hundreds of families down near the sea wall and you could see many smiles on a lot of faces.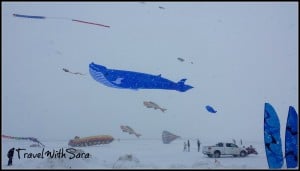 This 60 foot blue whale kite was a new edition to the 2014 kite festival and it proved to be a huge hit with everyone in attendance. This one could be seen from quite a distance.
Winter is a season that Iowans have learned to embrace. They venture out to support their local community events in all types of weather. A little snow and wind did not keep many folks home while the Color The Wind Kites Festival took place in Clear Lake, Iowa.
Here's a glimpse of what it was like down near the kite flying area.  Chances are pretty good that you will be viewing this without a few layers of clothing on, so go ahead, embrace the colorful kites and get a feel of what winter is like in Iowa.