Holiday Preview On November 3 in Clear Lake, Iowa
Clear Lake, Iowa is home to four seasons of fun. With the upcoming holidays, Thursday, November 3rd is sure to be an evening to remember. Select retailers will be dressed for the upcoming holiday season and everyone is invited to take a look. From 5 p.m. to 8 p.m., retailers will usher in the season with their holiday preview. Customers will get first glance at the latest in holiday gift giving and decorations. Some retailers will be offering customers special discounts, as well as complimentary refreshments. If you cannot attend in person, you will want to follow along at Travel With Sara, as I'll be coming to you live from Clear Lake during this event through my Facebook Page.
Many of you know that I enjoy Clear Lake, Iowa, as it's located where I live; in the heart of North Iowa.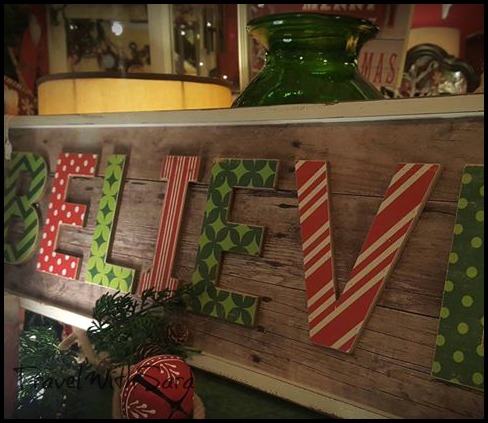 "The Holiday Preview Open House is the time when we extend our hours and start to enjoy the spirit of the upcoming holidays," says Dean Wright , owner of The Red Geranium in downtown Clear Lake. Be sure to follow The Red Geranium on Facebook for up to date happenings this holiday season.
The evening will be filled with lights, music, and food. I don't know about you, but anytime there's food and the holidays, I'm there! Some stores will offer discounts or special promotions. Participating retailers include: The Red Geranium, Lake Lifestyles, Larson Mercantile, Weathered Elements, Cloud Nine, Unique Boutique, Emerson's By The Lake and The Clear Lake Arts Center.
If you find you are still not in the holiday spirit after visiting the shops, be sure to swing into the Clear Lake Arts Center. Here you will find an 8′ Christmas tree filled with a treasure trove of one-of-a-kind, artist made ornaments. Keep in mind that all ornaments in the collection are for sale and are perfect for gift giving and holiday decorating.
Don't forget to pick up your Holiday Preview Game Card!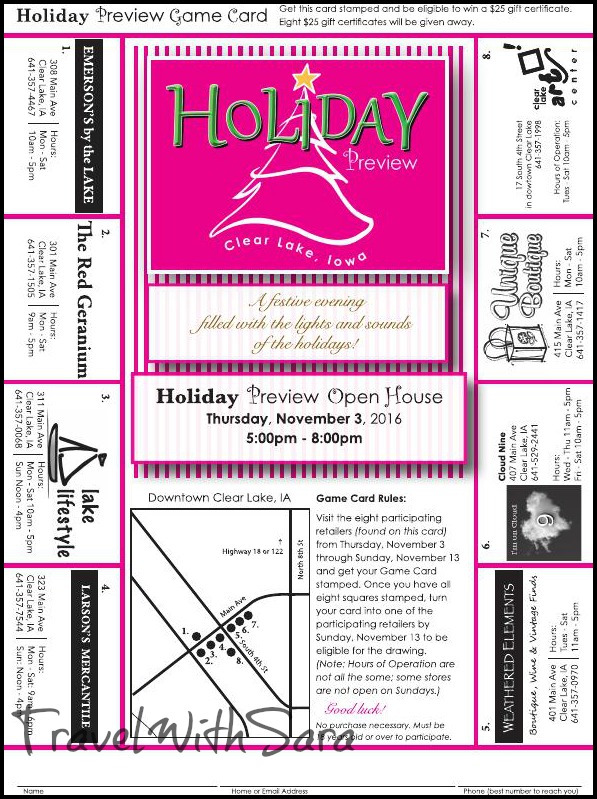 The holiday fun will not end on this evening, as there's a chance to win a $25 Gift Certificate from one of the participating stores. Simply pick up a Holiday Preview Game Card at one of the eight participating retailers. Visit all eight stores from Thursday November 3 through Sunday, November 13 for a chance to win. Once all eight squares on the card are stamped, turn it in to one of the participating retailers by Sunday, November 13 for a chance to win. No purchase necessary. Keep in mind- store hours vary; some stores are not open on Sundays.
The following two tabs change content below.
SaraB
Sara is a travel enthusiast that resides in North Iowa. You can find her traveling where the plane, train, ship, or car will go. Are you looking to take a road trip? Sara has solutions for you!