Take Flight Over Ottumwa At The Airpower Museum
Take Flight In Ottumwa At The Airpower Museum
Take flight at the Airpower Museum on Antique Airfield, a hidden gem in Iowa. The folks of the Ottumwa Convention & Visitors Bureau recently introduced me to the Airpower Museum. This fun museum is located outside of Ottumwa in SouthEast Iowa. I do not consider myself to be an aviation enthusiast, but for some reason, I fell in love with this museum. This year has been a year of aviation for me. In July, I also had the opportunity to meet aerobatic superstar Julie Clark in Atchison, Kansas.
*Thank you to the Ottumwa, Iowa Convention & Visitors Bureau for hosting me for a few days in October. As always, the opinions here are mine and nobody else's.
When To Visit The Airpower Museum
Visitors can enjoy the exhibits on the following days:
Monday-Friday 9 am- 5 pm
Saturday 10 am- 5 pm
Sunday 1 pm- 5 pm
Admission is free, but visitors are encouraged to make a donation.
Directions To The Museum
The address of the Airpower Museum is 22001 Bluegrass Raod Ottumwa, Iowa 52501. From Highway 34 either west from Ottumwa or east from Albia, turn south onto Monroe Wapello Road towards Blakesburg, Iowa. Upon entering Blakesburg, turn left (east) onto Bluegrass Road. The Airpower Museum is about 4 miles from the town of Blakesburg. Telephone number: (641) 938-2773
Visitors will have the opportunity to be up close with several airplanes. Anyone with an interest in technical drawings in the aviation industry will be intrigued by their visit. There are also aircraft on display that champion pilots have flown, as well as planes that will bring a smile to your face.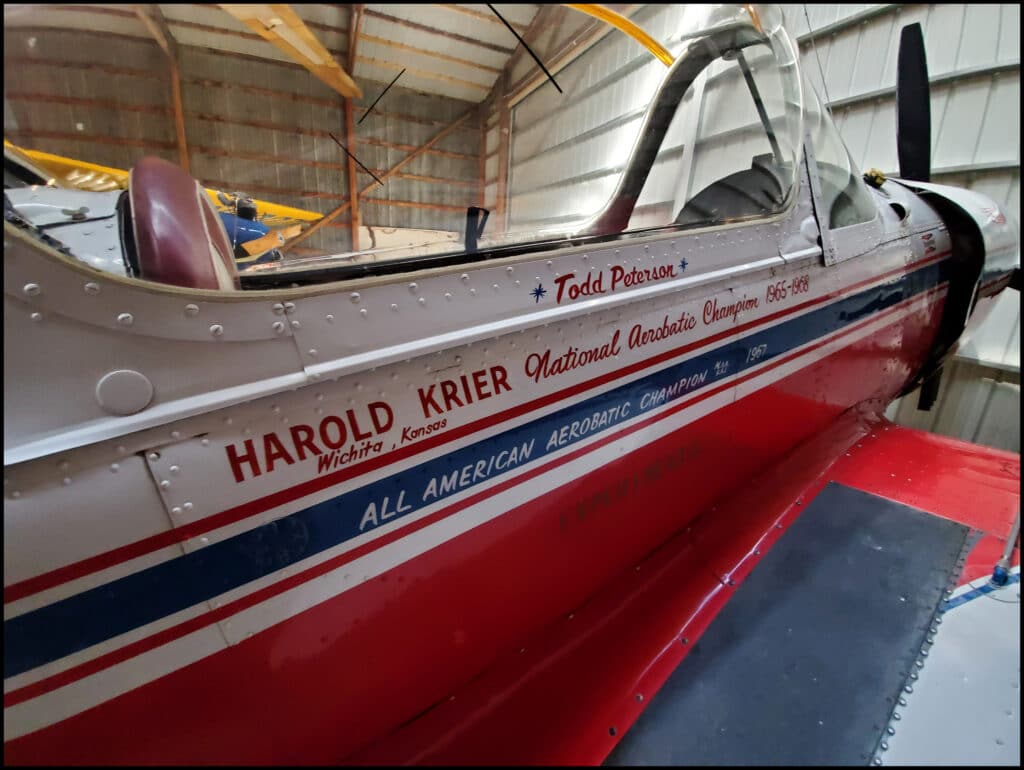 Stroll through the room that showcases the champions and their winnings. There are many pilots that have flown into Antique Airfield, in the heart of America.
Historic Airfield Rally to the Antique Airfield Homecoming
Each Labor Day weekend, a special fly-in is held. All participants need to register ahead of time, but hundreds of airplanes gather on the airfield, near the Airpower Museum. In fact, if you plan on flying in for the event, here are the details of the event. If you need accommodations while in the area, I'd highly recommend Hotel Ottumwa. A stay here places you in the heart of a thriving downtown. In fact, there's a major renaissance happening in the downtown area, which will surprise everyone who visits.
Take flight with a pilot on the field and enjoy what Iowa has to offer.
I also had the opportunity to meet Ben, who you will most likely meet on your visit.
Plan a visit to Ottumwa, Iowa and visit the Airpower Museum. Don't forget to visit Canteen Alley. This is where you can enjoy one of the world-famous Canteen sandwiches. You will be grateful that you took the time to check out this hidden Iowa gem.
More tips to help you with your visit to Ottumwa, Iowa:
The following two tabs change content below.
SaraB
Sara is a travel enthusiast that resides in North Iowa. You can find her traveling where the plane, train, ship, or car will go. Are you looking to take a road trip? Sara has solutions for you!