A Road Trip In The Fall Brings All Sorts of Surprises
Have you ever taken a road trip in the fall? If not, I'd highly recommend planning one. The crowds are gone and the weather, for the most part, is still fabulous. My husband and I recently embarked on a two week road trip in September, and it was a road trip that we will never forget. We saw a lot of beautiful places and here are a few of the surprises we found along the way.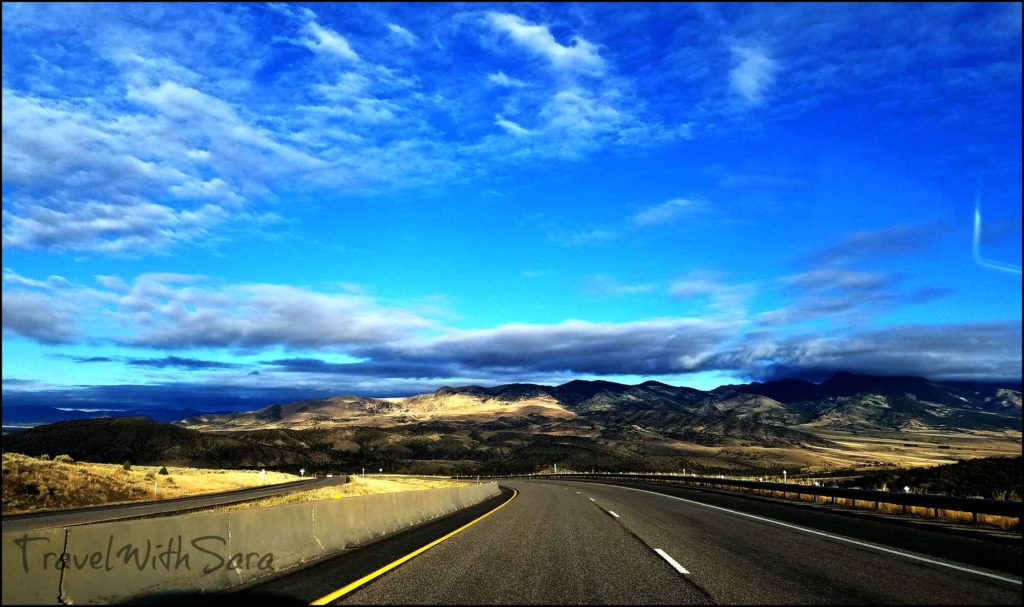 If you have followed my travels for a while, you know that I adore Rocky Mountain National Park. We, of course, had to swing into Moraine Park Basin to see how the colors of fall had taken over. Well, it was early September and the color was not a whole lot different from what it had looked like towards the end of July. The colors along the road near Rainbow Curve were changing with a beautiful touch of subtle fall color.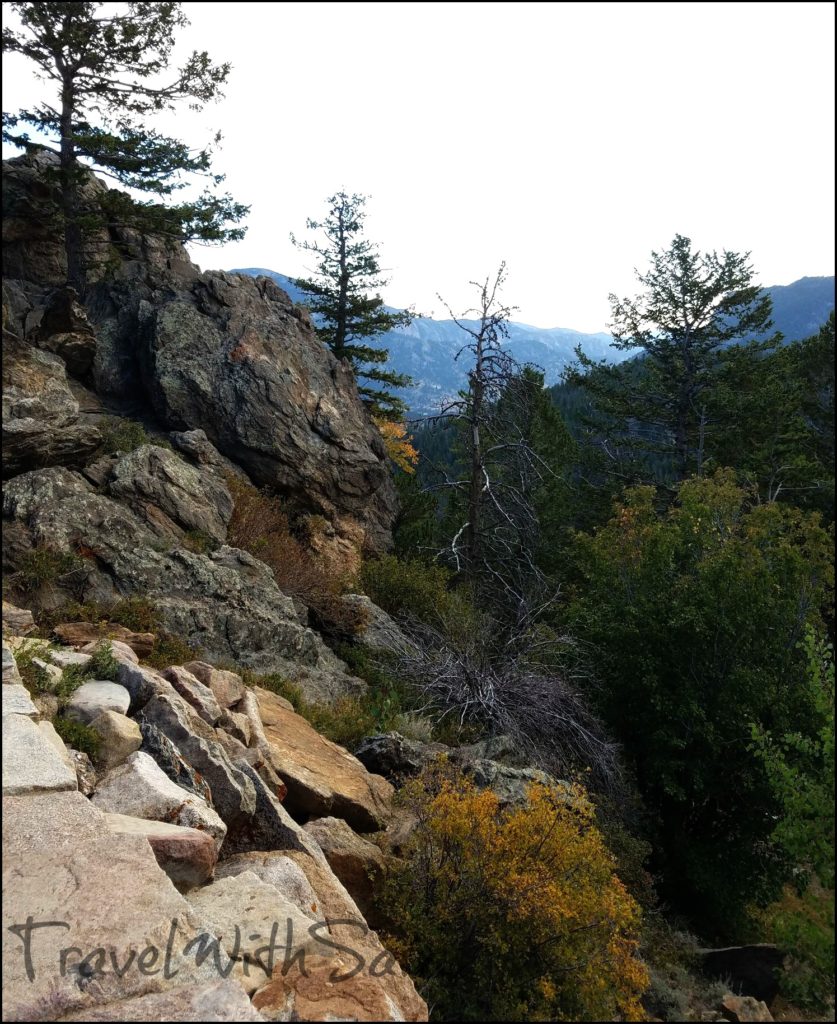 We ventured up to Grand Teton & Yellowstone National Parks. As we neared Dubois, Wyoming we came across a flashing highway sign with an alert. We adjusted our radio to the local radio station playing the alert to learn that the south entrance to Yellowstone National Park was closed due to fire. We stopped in Dubois, Wyoming for the evening and did not know what our road trip would look like the following day.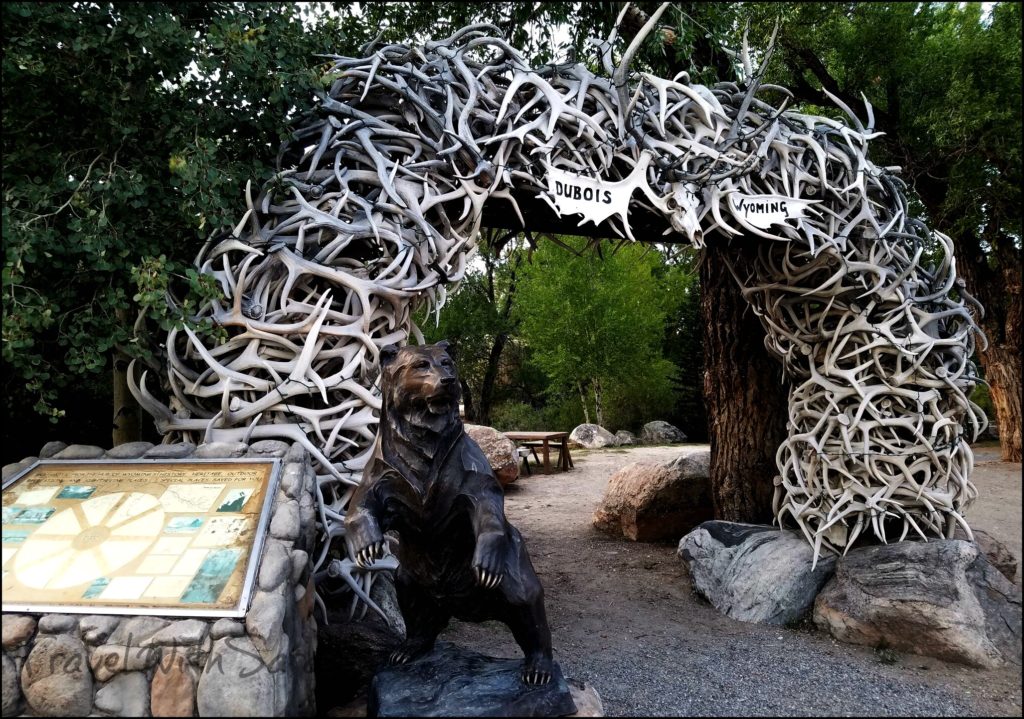 We continued west towards Grand Teton National Park. For whatever reason, Grand Teton National Park has always had a haze over it during my visit.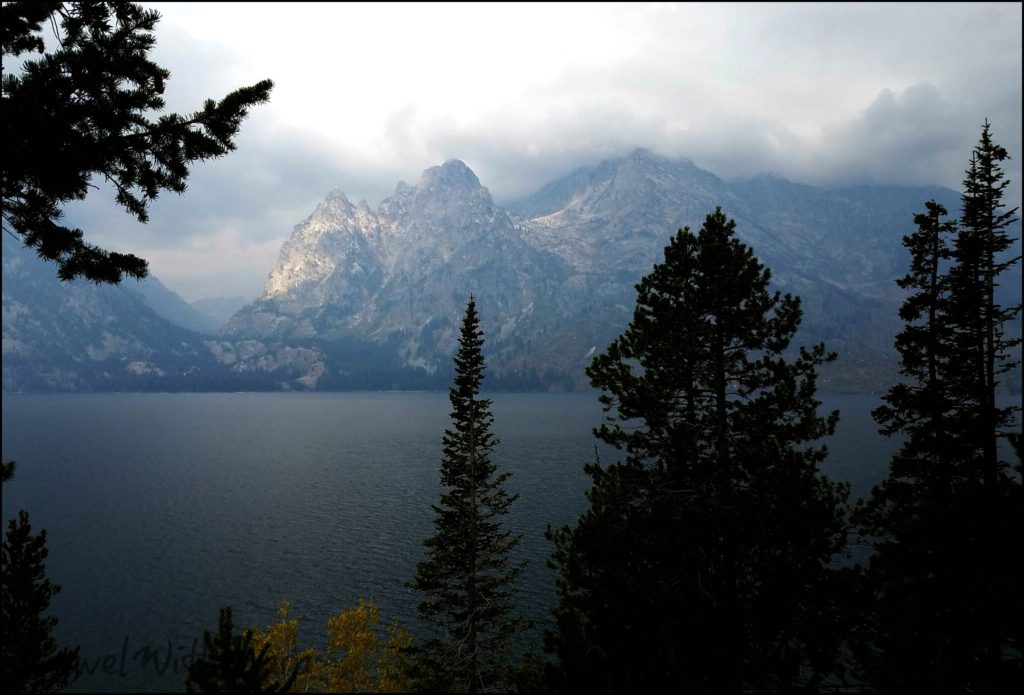 This time was no exception, with smoke from the fires from Yellowstone hovering.
We then debated if we should swing into Yellowstone National Park and opted to enter through West Yellowstone, as that entrance was still open. As we neared the entrance we saw a flurry, a nice white fluffy, snow flurry. We continued towards Yellowstone National Park and the snow began to come down in full force.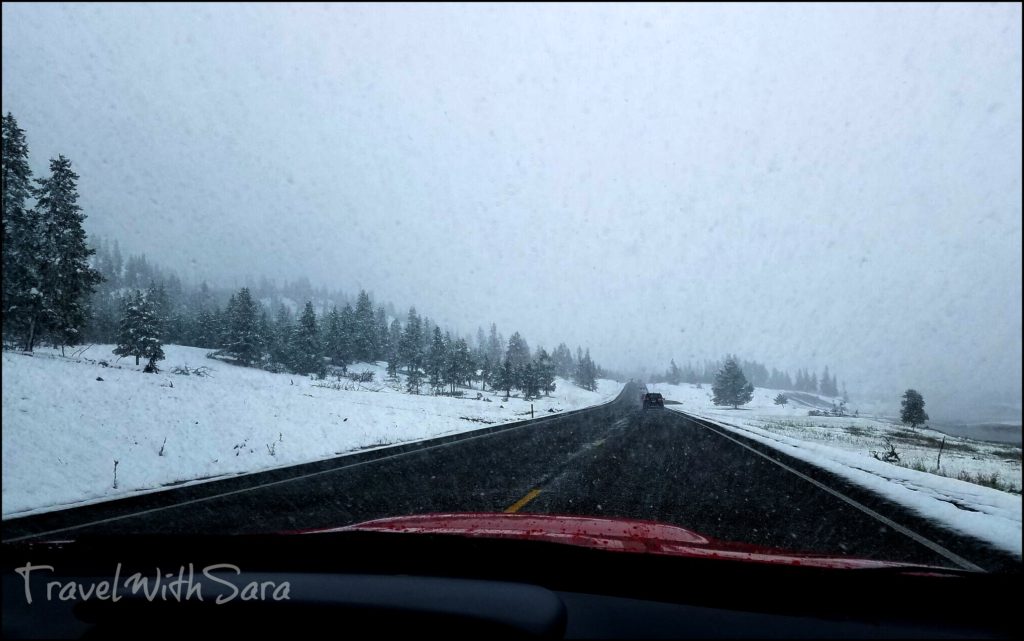 Our goal was to see Old Faithful. As we drove into the parking lot, we saw people standing around the geyser. We both knew at that time that it was due to go off soon. My tennis shoes were buried in the trunk of the car, so I found myself sporting flip flops outdoors in 3″ of snow, on September 12, 2016; watching Old Faithful do her thing!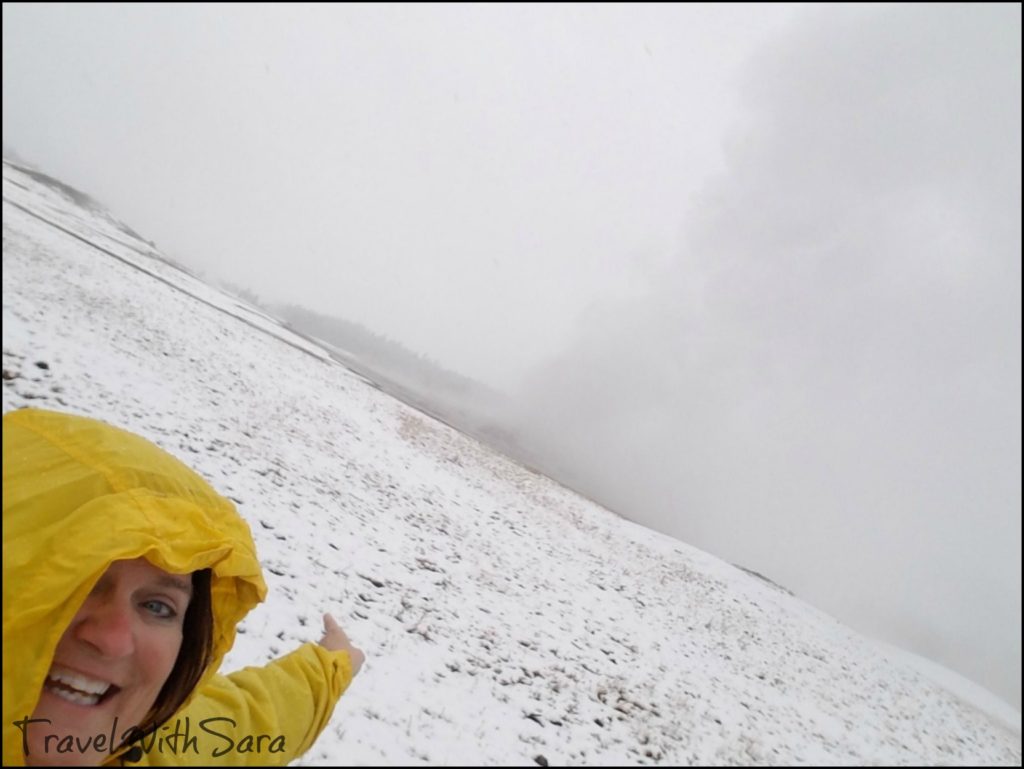 After swinging into the lodge to thaw out, we planned our route out of the park. The north entrance looked like a good route, until we came upon the sign, "North Entrance Closed Due To Fire." So… we had officially dodged fires and snow for half of a day in Yellowstone National Park. As we officially exited the West Entrance to the park, the snow flurries ended and we reflected on how we stood at Old Faithful in 3″ of snow, which was the first snowfall of the fall 2016 season.
To Glacier National Park we went. The skies had cleared off and we hopped on the stunning Going To The Sun Road. When we got up to the Weeping Wall traffic came to a halt.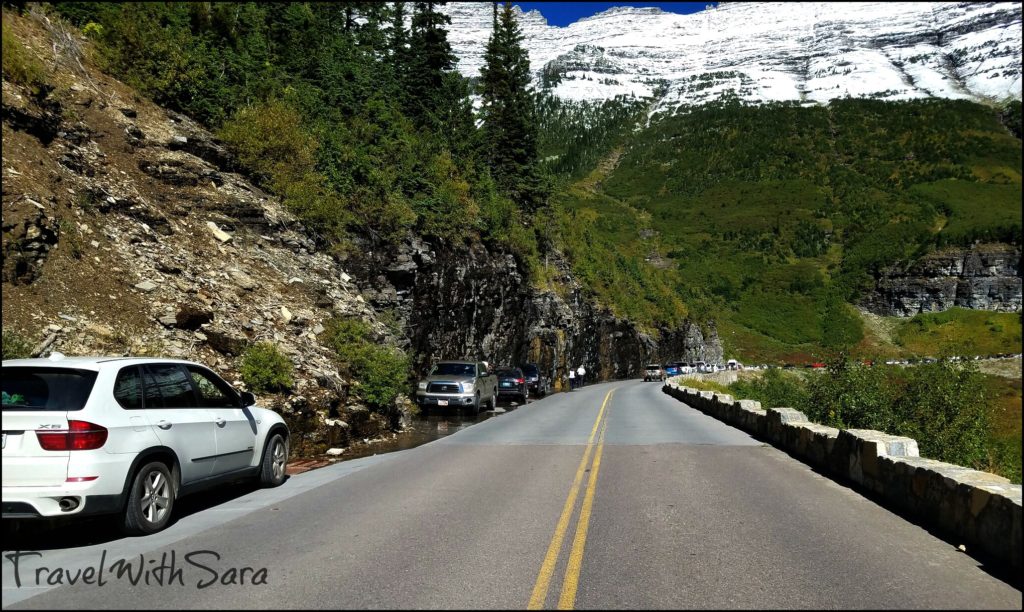 We crept along and spoke with a park ranger who informed us that the road was closed due to ice. They were hoping that the ice would melt (it was 3 p.m.) and cars would be allowed at some point during the day. We opted to wait with several other vehicles, in what had became a parking lot on the Going To The Sun Road.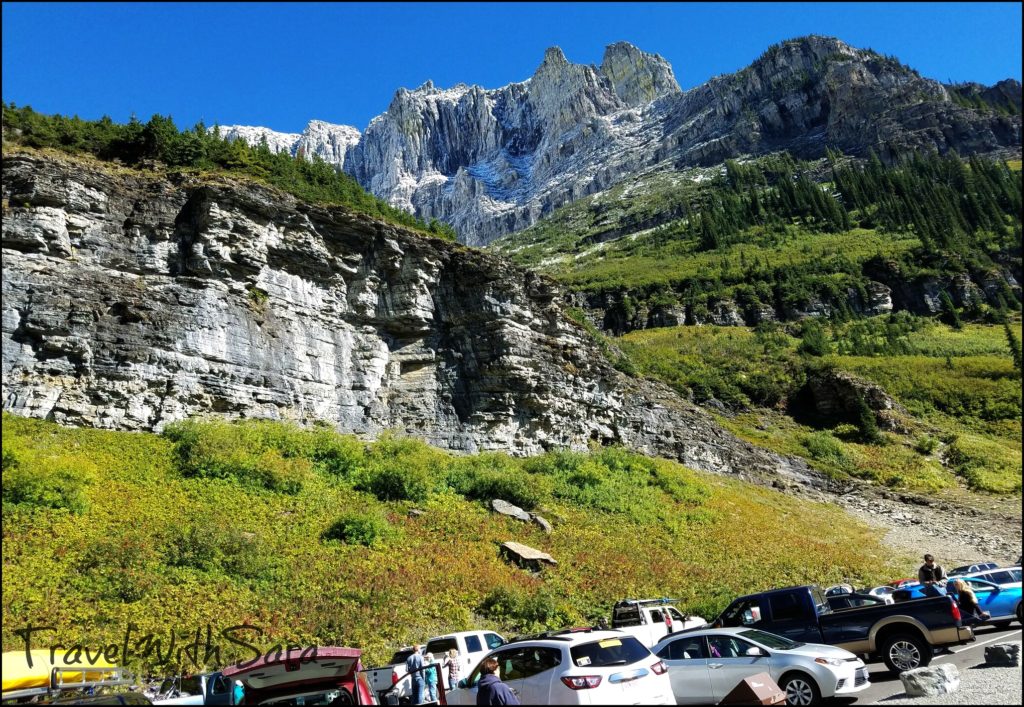 Within 30 minutes of our arrival it was announced that the road was not going to open for the day. Thankfully we had another full day to spend in the park and would experience all of it the following day.
This is just one area of the country that offers great fall travel opportunities in the fall. Do you need more inspiration when it comes to fall travel? I challenge you to take this quiz to find out where you need to start planning for fall 2017! Are you a fan of red, orange or yellow? I'm curious if the quiz surprised you or if you were spot on.
Fall road trips can bring snow, ice, fires, rain, fog, thunderstorms and sunshine! Thankfully we had packed for all four seasons and had the trip of a lifetime. Stay tuned.. I've got so much more to share on this road trip. We ventured through Iowa, Nebraska, Colorado, Wyoming, Montana, Idaho, Washington, Oregon, California, Nevada and Utah. Each state offered us beauty that is truly indescribable. Have you taken a fall road trip and what types of challenges did you experience?
The following two tabs change content below.
SaraB
Sara is a travel enthusiast that resides in North Iowa. You can find her traveling where the plane, train, ship, or car will go. Are you looking to take a road trip? Sara has solutions for you!