An Adult Getaway In Door County, Wisconsin: Country House Resort
The Country House Resort in Door County awaits you and your significant other. When is the last time you took time for relaxation and a time to explore nature and all its beauty? A view like this can be found while on a short hike from your room at the award-winning Country House Resort in Door County.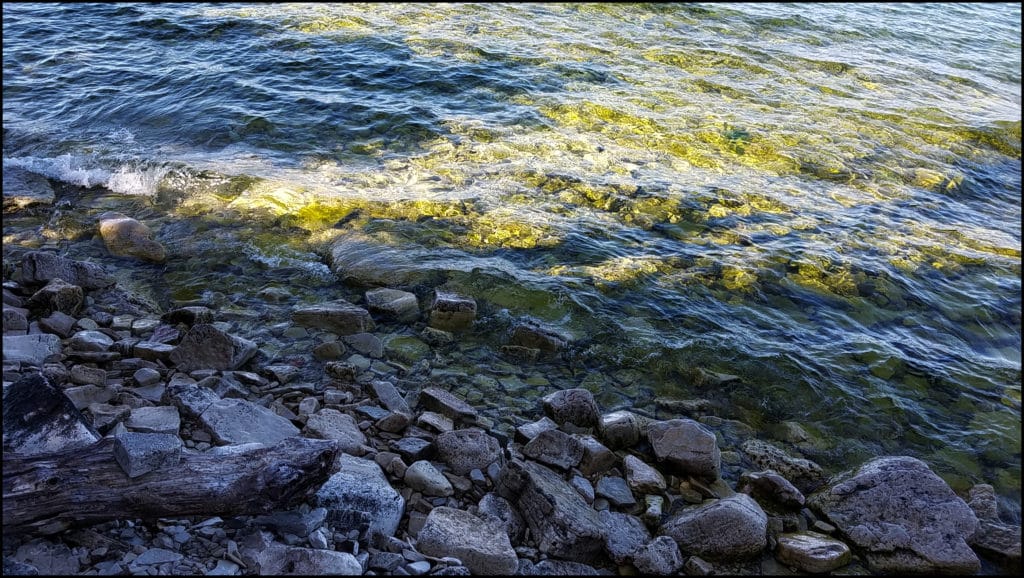 If it has been a while, I recently found the perfect solution for you. My husband and I were recently invited to experience the top-notch hospitality that Country House Resort offered and loved our stay.  Located in the world famous Door County, an experience of a lifetime awaits you in Sister Bay, Wisconsin.
Most of you know that I'm all about supporting family owned businesses and this resort is one to add to your list. Warren greeted my husband and me upon check-in and went over everything we could possibly ask for.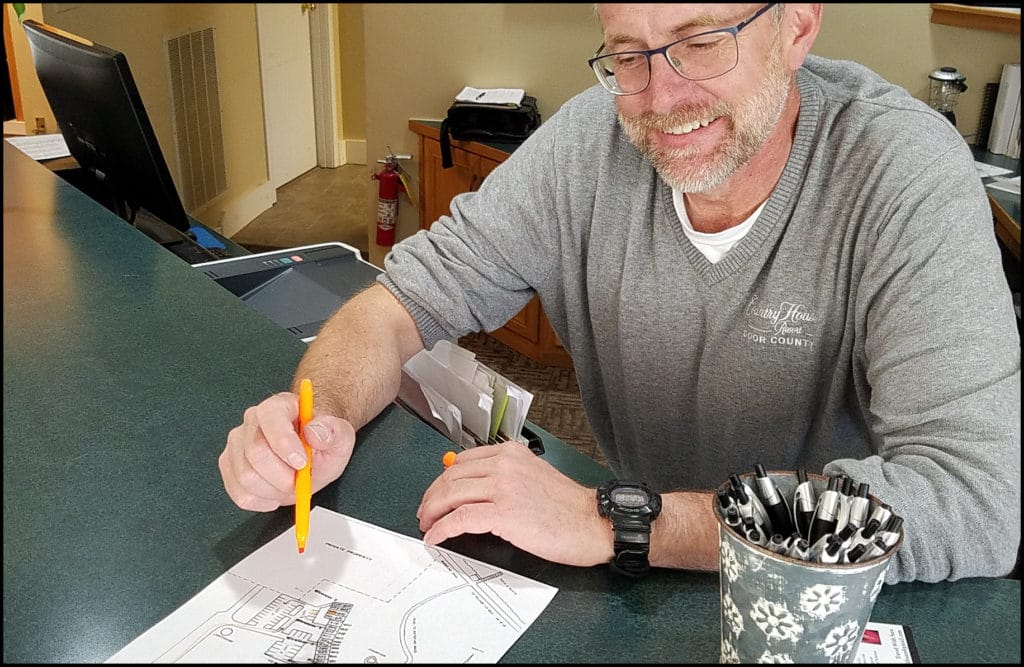 It was quite evident that Warren is very proud of the fact that he and his family have owned this resort for several decades. He also made some excellent recommendations when it came to where to dine in the area and I might add, I have yet to eat a bad meal in Door County. A hot, light breakfast is served at the resort, in case you don't have a hankering for the cherry slathered waffles that are very popular in the area. Anytime I can experience breakfast with a view, I'm there!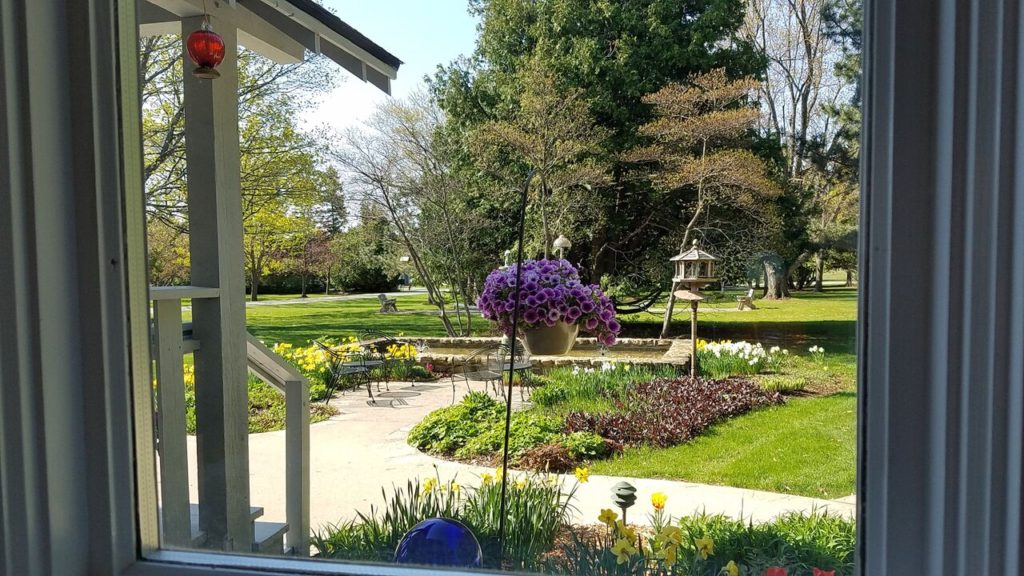 GUESTS MUST BE 13+ YEARS OR OLDER
One thing to make note of is the fact that all guests must be 13 years of age or older at this resort. There's nothing more disappointing for guests to arrive to check in to find out they cannot stay with kids in tow. Out of respect for all guests, this age requirement is strictly enforced. You will not experience children running at this resort. Nature, beautiful views and quiet await you.
QUIET GROUNDS
One thing that my husband and I really appreciated was the level of quiet we observed while sitting outdoors on our deck to watch the bald eagles and the deer from near and afar. The wildlife is abundant here, and I'm sure the quietness of the area is an attraction for the wildlife. The view of the bay area is not too shabby either.
If there is one tip that I would give you, it is to pack a good pair of binoculars when you stay here. You know how I know this? We forgot ours at home this time!
AMENITIES TO KEEP YOU ACTIVE
Should you opt to stay active while on your getaway with your significant other, you will find plenty to keep you busy all day long without leaving the property. From swimming in the pool (in season), soaking in the outdoor hot tub, hiking down to the lake, bird watching, wildlife viewing, kayaking, biking, shuffleboard, horseshoes and everything else I forgot to mention.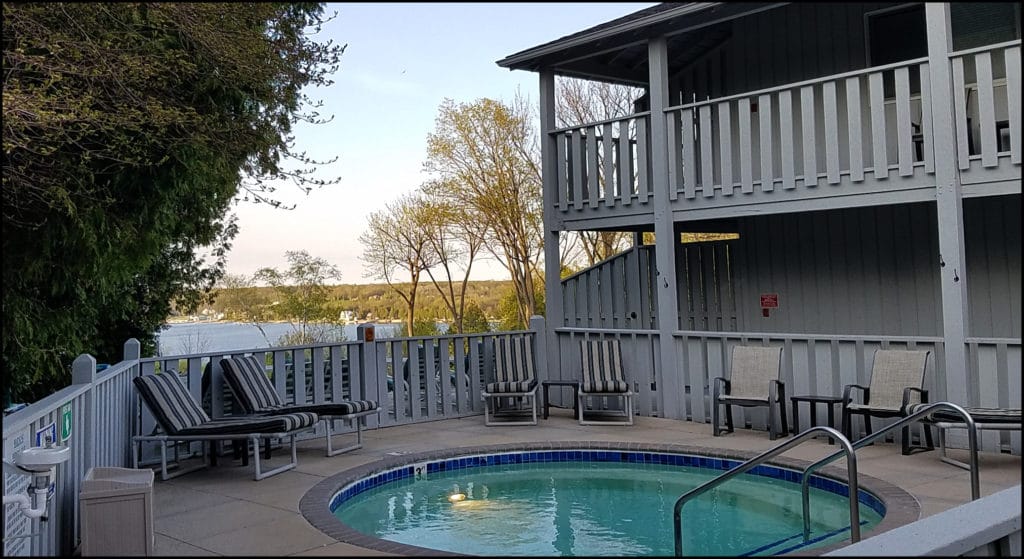 A couple things that I would highly recommend that you experience while in Door County is to explore the lighthouses and visit Washington Island. Each lighthouse is unique and has its own story to tell. The ferry ride is an experience in itself and be sure to visit Schoolhouse Beach while on the island.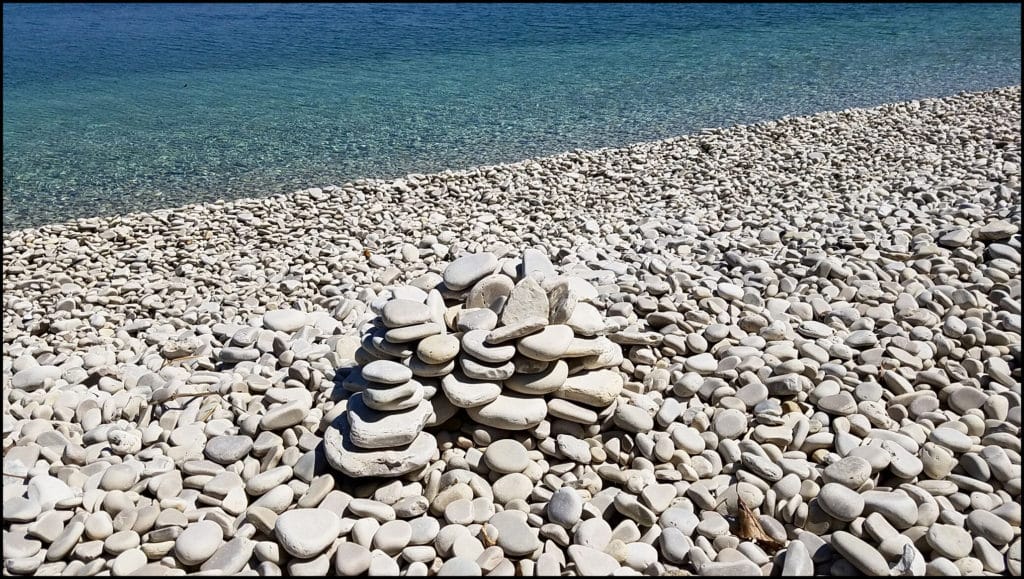 Most importantly, do not remove any rocks from the beach as there is a hefty fine attached to removing those beautiful rocks.  If the lavender is in full bloom, you are lucky! If not, swing into the lavender shops as they are a destination in themselves.
Door County is truly one of those destinations that says, "Come Back!" My husband and I had a wonderful visit and found springtime to be as charming as any other time of year. We had previously visited in the fall, which is traditionally a time of year when folks flock to this area of the country. Springtime offered a sense of newness and an opportunity to see wildlife unlike we had seen before.
Follow Country House Resort on Social Media:
Facebook: https://www.facebook.com/CountryHouseResort/
Twitter: https://twitter.com/CountryHouseDC
Pinterest: https://www.pinterest.com/CountryHouseDC/
Instagram: https://www.instagram.com/countryhouseresort/
Website: https://countryhouseresort.com/
*Thank you to Country House Resort for hosting Travel With Sara