Tanganyika Wildlife Park Offers Memorable Experiences
When I learned I had the opportunity to visit Tanganyika Wildlife Park in Wichita I had to do a quick Google search. I had never heard of this park and quickly learned that this was going to be a fun experience. After all, a family owned zoo in Wichita had to be a fun way to spend a day, right?
TANGANYIKA WILDLIFE PARK COMES TO FRUITION OUT OF A LOVE OF ANIMALS
In 2008, Tanganyika Wildlife Park came to fruition. It is owned by the Fouts family, and I had the pleasure of meeting Matt on the day that I visited. His family has a passion for sharing their love of exotic animals with all visitors.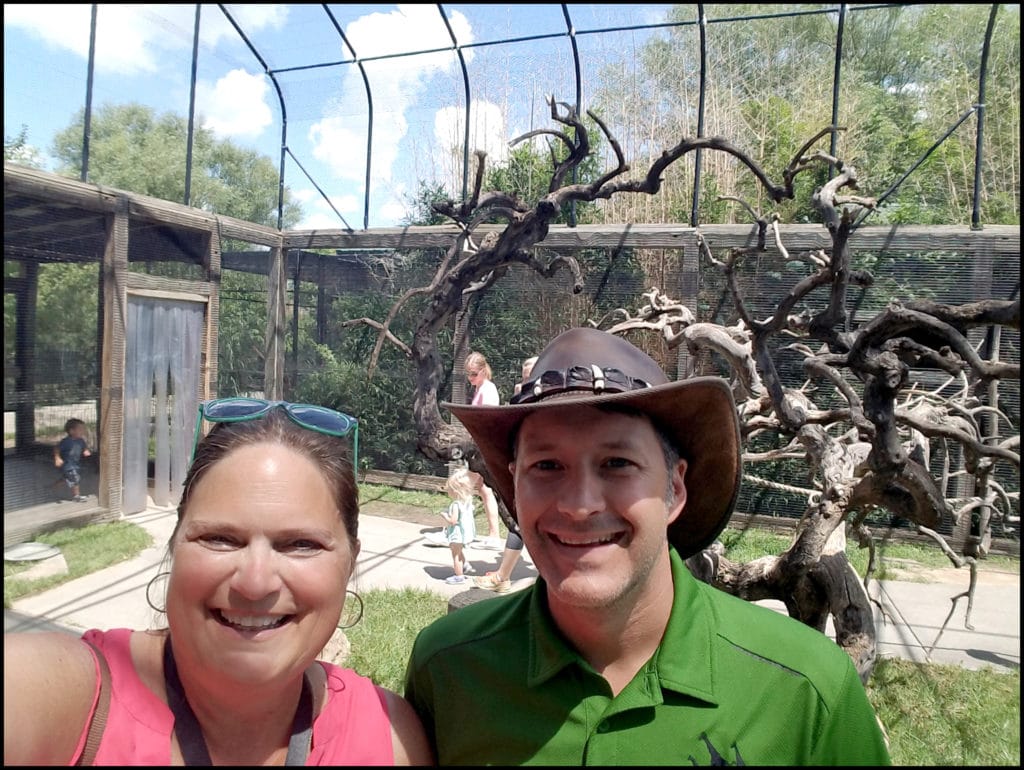 The passion that he and his family have for every visitor was quite evident. It was quite clear that the Fouts family had taken some notes from Walt Disney World, as there was not a speck of trash to be found.
FAMILY OWNED WILDLIFE PARK
Tanganyika Wildlife Park was founded by Jim Fouts, who developed a love of zoos as a child. His son Matt currently runs the family-owned wildlife park. Jim was heavily involved in exotic animal and big cat breeding before starting the zoo in 2008. Matt is passionate and wants to be sure that all animals thrive and continue to live amongst us. Matt stated that his children are often the best eyes for things happening throughout the wildlife park. If his children are interested in something, chances are millions more are.
ANIMAL ENTHUSIASTS EMBRACE TANGANYIKA WILDLIFE PARK
The educational opportunities, as well as animal encounters, provide a lifetime of memories. After my visit, I'd highly suggest purchasing a Season Pass with the Frequent Feeder Pass. When you visit, you will get 5 interactions for each Frequent Feeder pass added to the household. This is a fun way to get the most out of your visits throughout the season. I had the opportunity to experience an animal encounter with the sloth. Penguins and Okapi also offer a similar experience. An additional fee is needed, but well worth it if you want to splurge a little during your visit.
SLOTH: ANIMAL ENCOUNTER
The sloth was an amazing animal encounter, and what an amazing, lazy animal. This exhibit happens to be the most popular, so if it's on your radar, visit early in the day.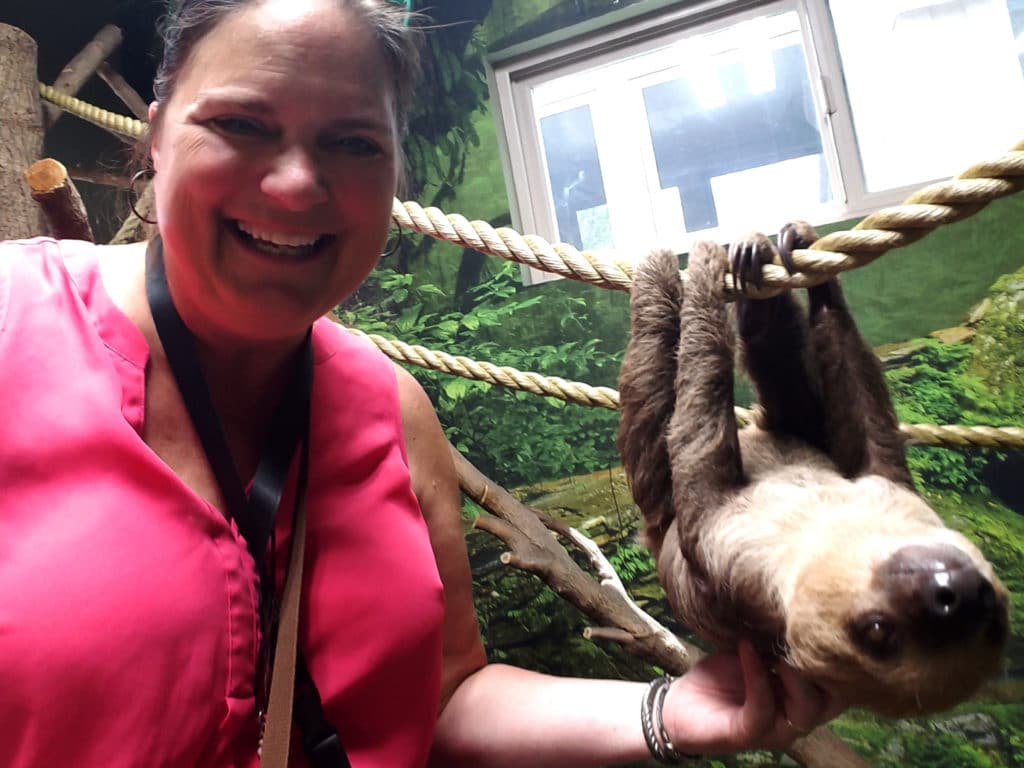 These sloth hang around on their favorite tree limb, as guests line up to feed them. I learned that sloths do have a personality. The look they gave, as they grabbed food from participants, was memorable.
GIRAFFE: FEEDING AT TANGANYIKA
I'm a huge fan of giraffes. There's something about their long legs and their necks that seem to turn circles. When it came time to feed the giraffes, I was curious as to how gentle they would really be.
Giraffes are often referred to as gentle giants, which makes sense. But that tongue! They have a long tongue and it's fair to say that they do slobber. What a fun way to experience an encounter with a giraffe.
INDIAN RHINO: FEEDING AT TANGANYIKA
It's fair to say that Stacks, all 4000 pounds of him, was super fun! He had character and personality that none of the other animals had. He was big! His teeth (the few he had) were huge, which is typical of Indian Rhinos. I could not stop thinking about what would happen if he decided to come out of his "pen" at Tanganyika, as he was a big animal.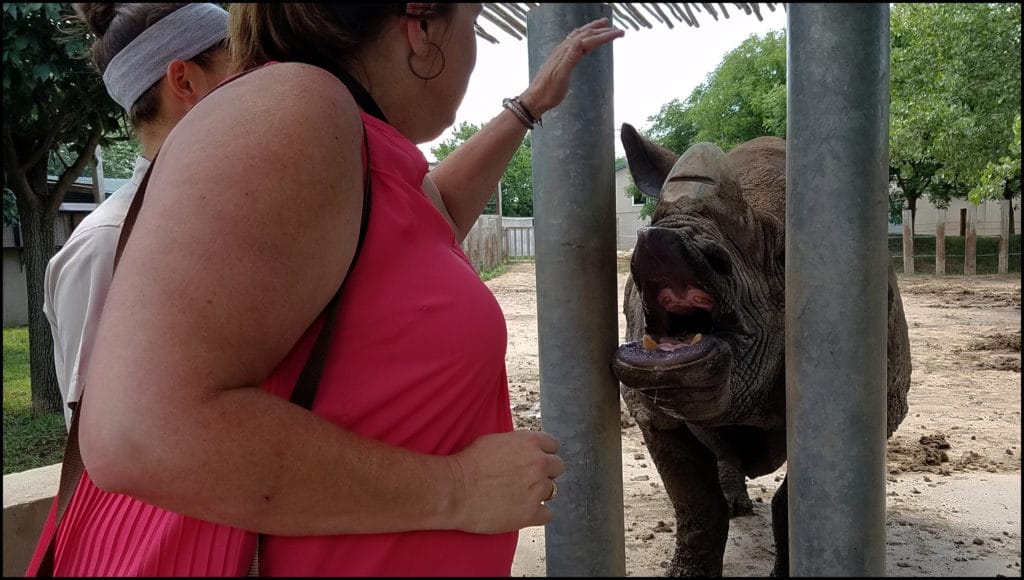 Once you arrive at the entrance to Tanganyika, take the time to look at all of the experiences offered. The animal encounters are well worth the extra money, but not necessarily every time you visit.
The Frequent Feeder Pass includes interactions with the following animals:
Ring-tail Lemur Feeding
Giraffe Feeding
Pygmy Hippo Feeding
Indian Rhino Feeding
Lori Feeding
Bunny Feeding
African Tortoise Feeding
Guinea Pig Feeding
Camel Rides
Enjoy your day at Tanganyika Wildlife Park, as it's an experience to remember!
If you are new to Wichita, may I suggest a visit to Tanganyika and then spend some time at the Wichita Art Museum? You will also find family, friendly diners, as well as brewpubs; to entertain your taste buds while in town. If you need lodging, here are a couple options: Marriott's Spring Hill Suites by the airport or ALoft.
*Thank you to Tanganyika Wildlife Park & Visit Wichita for hosting me.
The following two tabs change content below.
SaraB
Sara is a travel enthusiast that resides in North Iowa. You can find her traveling where the plane, train, ship, or car will go. Are you looking to take a road trip? Sara has solutions for you!