Make Kansas I-70 An Adventure To Remember
High adventure awaits travelers as they cross Kansas on I-70. Most people think that Kansas is all flat. That is not the case, as there are rolling hills and stunning rock formations throughout the state. It was in June of 1956, that President Dwight D. Eisenhower signed the Federal-Aid Highway Act. This bill created the miles of roads that we refer to, as the Interstate Highways.
Abilene, Kansas- Art For The Win
While travelers trek along Kansas I-70, they need to be sure to stop in Abilene. Ironically, here is where you can learn more about how and why our Interstate Highways were born, thanks to our 34th President, Dwight D. Eisenhower.
Full Disclosure: I was compensated to travel with the Kansas I-70
Association in June/July of 2019. Melody of Wherever I May Roam Blog traveled with me.
Traveling from East to West the landscape changes, which brings new high adventure opportunities along the route. Here are my favorite high adventure activities along Kansas I-70. I hope you will take the time to explore and find your "high" in Kansas!
SHAWNEE, KANSAS
You may be wondering, "What is there to fly high on in Shawnee, Kansas?" You will find one of the most charming greenhouses on the planet, Family Tree Nursery. Located in a busy area of town, it's home to some of the most beautiful plants, flowers, and yard decor that you will ever find. And while you are there, grab your cup of choice at Cafe Equinox.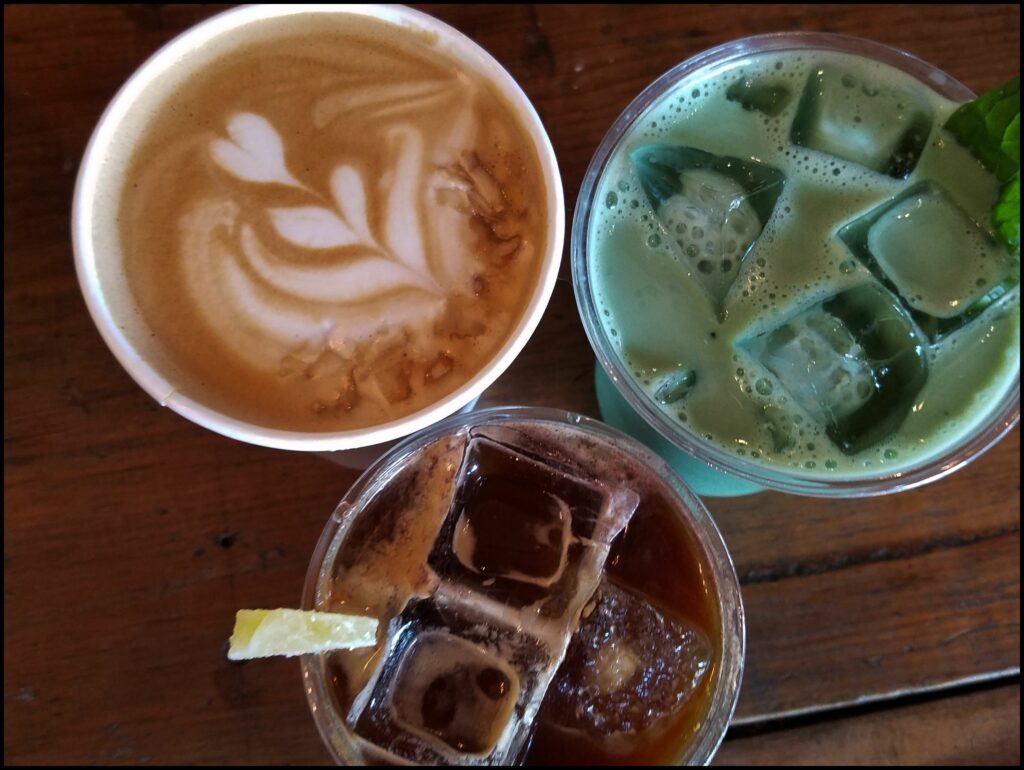 BBQ LIVES IN KANSAS CITY
Kansas City, Kansas is home to BBQ! There's nothing like meeting up with a fellow traveler, 10 days after you meet up with them at Slap's BBQ and then again, in Hays, Kansas. This must mean that we all have good taste in finding great food! We took on a BBQ Crawl in Kansas City. I learned that my perfect BBQ meal would consist of meat from Joe's Kansas City Bar-B-Que and baked beans from Slap's BBQ.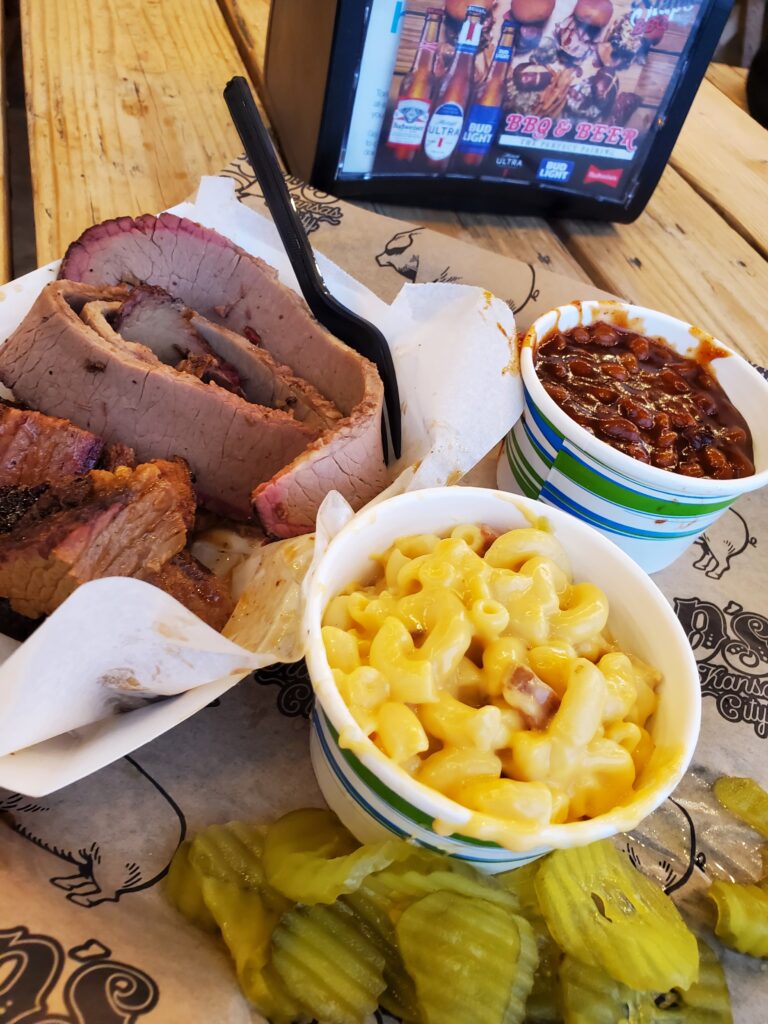 The fact of the matter is this, one can never go wrong with BBQ in Kansas City, Kansas.
BONNER SPRINGS, KANSAS
Marble fans from all around the globe flock to the Moon Marble Company in Bonner Springs. If your timing is right, you can view marbles being made over an open flame.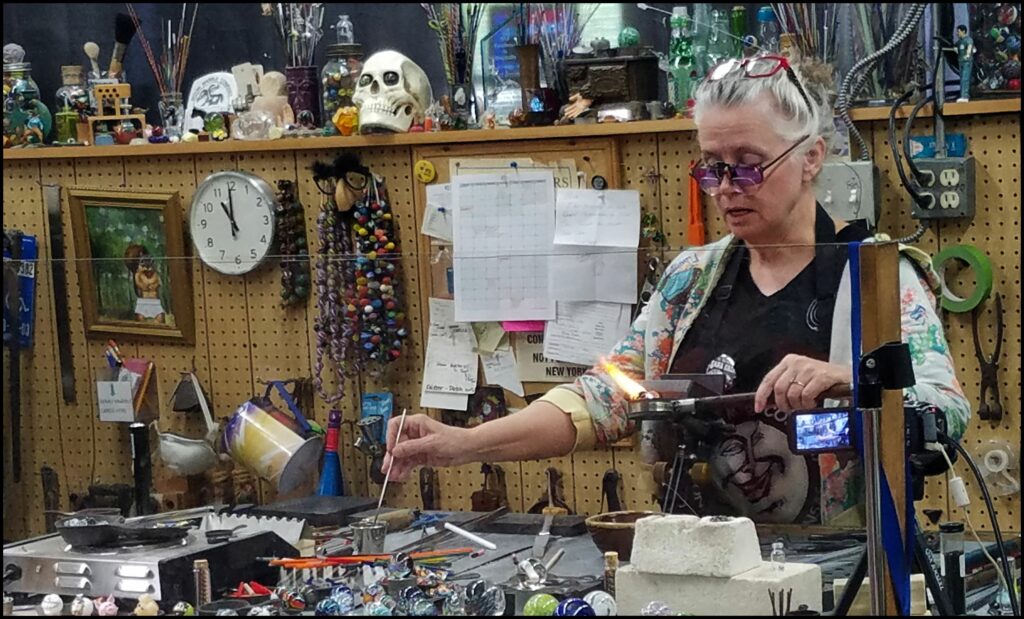 Board games, toys from the past, and marbles will take you to a high that you have not been on, in quite some time. Pace yourself accordingly, as time will fly by quickly. Located at the intersection of K-32 & Hwy in Bonner Springs, just a hop, skip, and a jump off of Kansas I-70.
Click Here To Learn How I Fell In Love With Kansas
LEAVENWORTH, KANSAS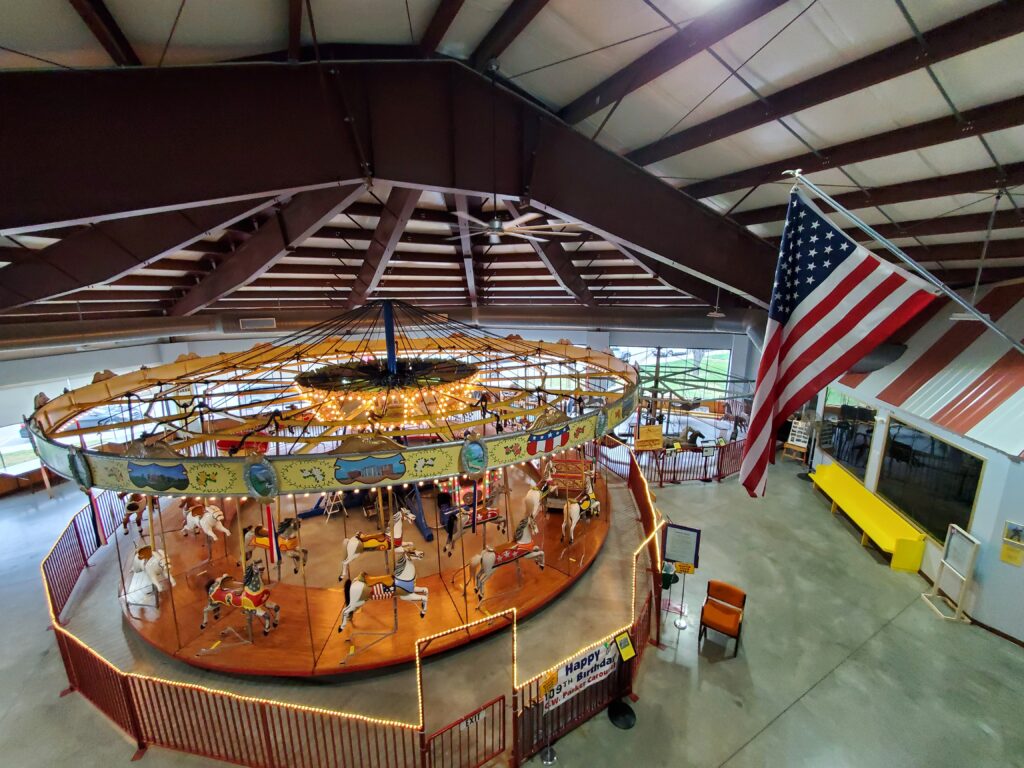 Leavenworth, Kansas, is home to the C.W. Parker Carousel Museum. Several restored carousel horses are on display and if you are brave, hop on the carousel and go for a spin. The history is fascinating, as is Leavenworth, the first city in Kansas.
LECOMPTON, KANSAS
The town where slavery began to die, is Lecompton. Here is where you can relive history and be a part of the story. Daily reenactments take place, and visitors become part of the story. It's really quite a feeling to experience, as visitors take themselves back in time.
LAWRENCE, KANSAS
I have visited lavender farms in other states before but in the offseason. What a treat it was to see lavender in full bloom at the Washington Creek Lavender Farm. Be sure to visit their website before you set out to visit, as they do have seasonal hours.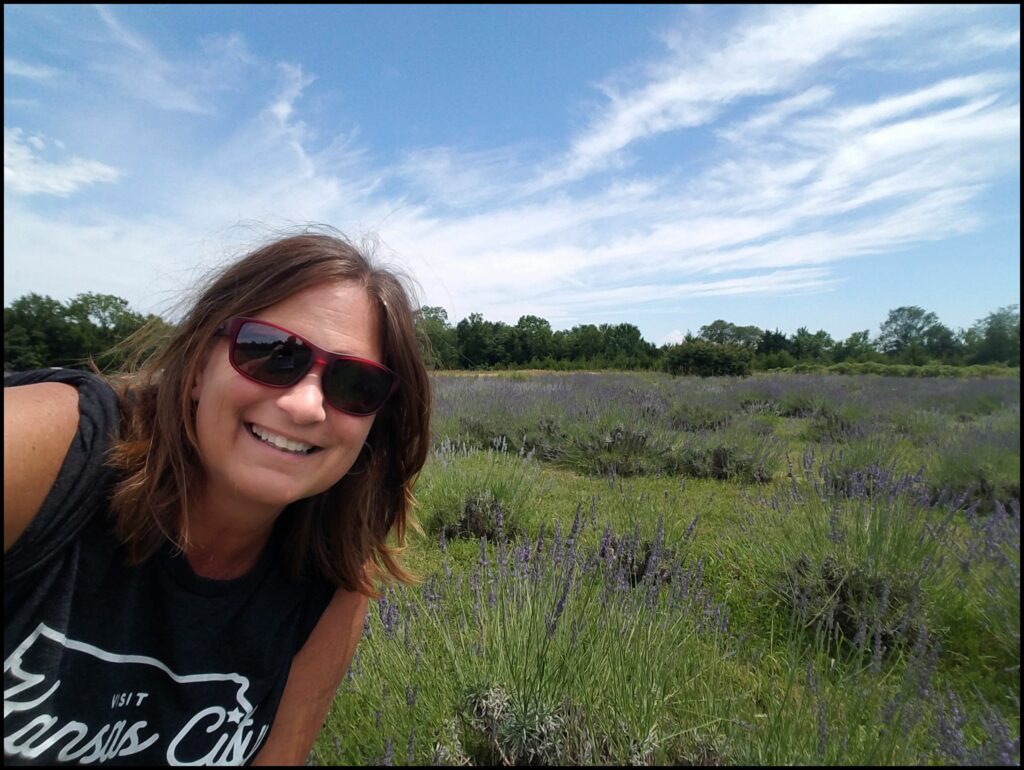 Talk about a visit to remember! The sight and smell of these fields are sure to enlighten your day.
MANHATTAN, KANSAS
If you find yourself needing to get out of the car while traveling Kansas I-70. Manhattan is a great place to stop. I was extremely impressed with the Wildwood Adventure Park in Manhattan.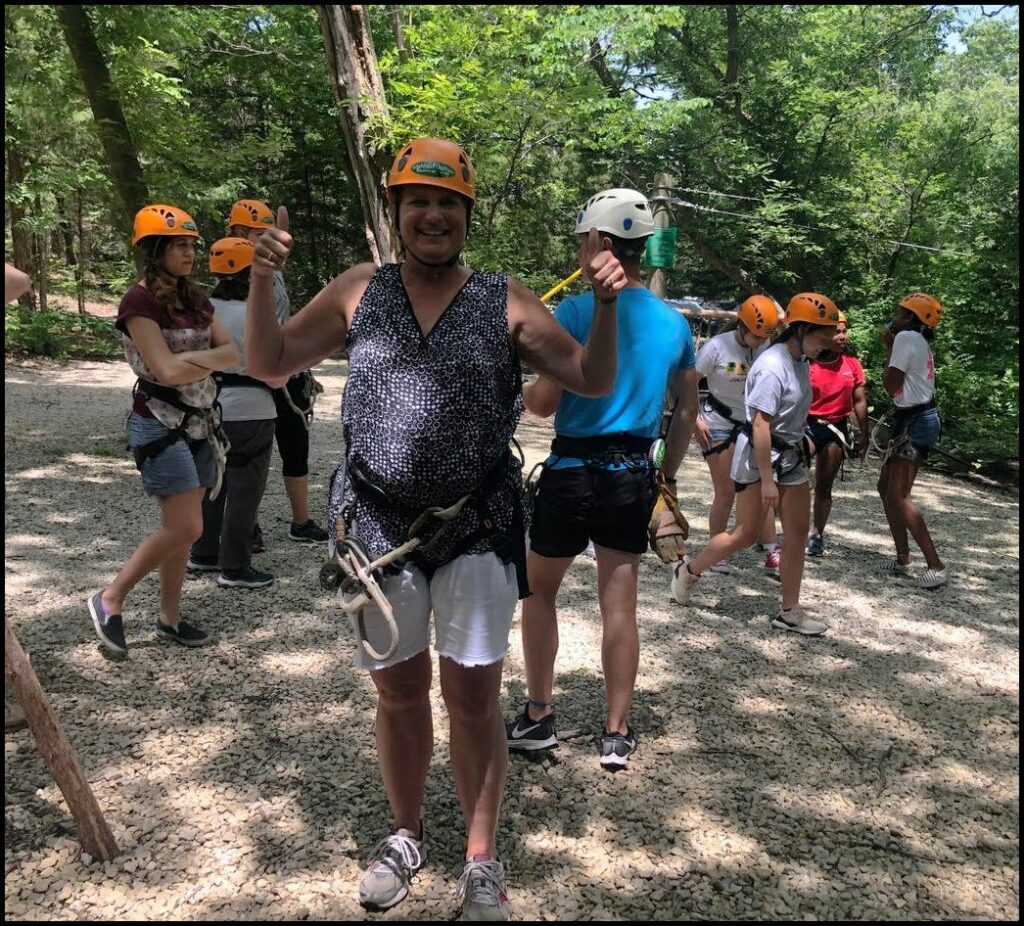 With seven breathtaking zips in the Flint Hills, this zipline course is a winner. I was with a group of first-time zipliners and the staff was outstanding, as they were patient and very friendly. I'm excited to go back and zip through all seven lines. If ziplining is something you have been wanting to try, I'd highly recommend flying high on this one.
JUNCTION CITY, KANSAS
I absolutely love a good steak! I found a very good one at Munson's Prime. Unfortunately, Munson's Prime had a fire and the restaurant was destroyed. But, you can travel a few miles down the road in Abilene and enjoy a Munson steak with chicken. Legacy Kansas is now open serving customers steak and broasted chicken.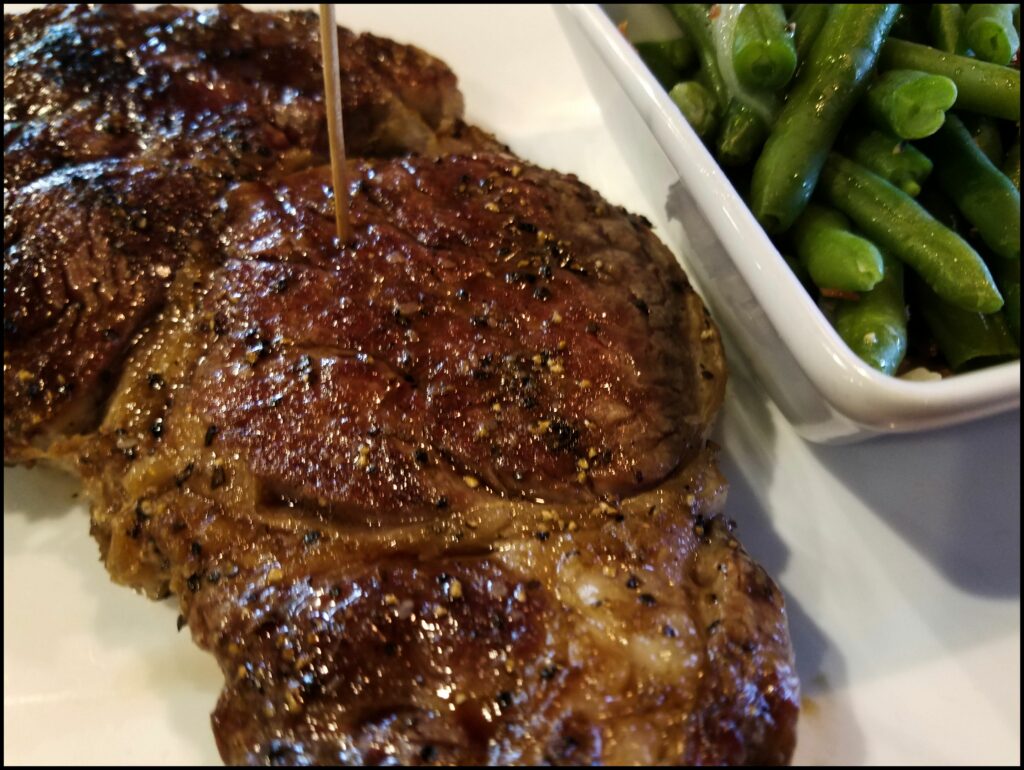 The Munson family guarantees that you will have an award-winning steak at every meal. After all, they have been growing beef since 1924.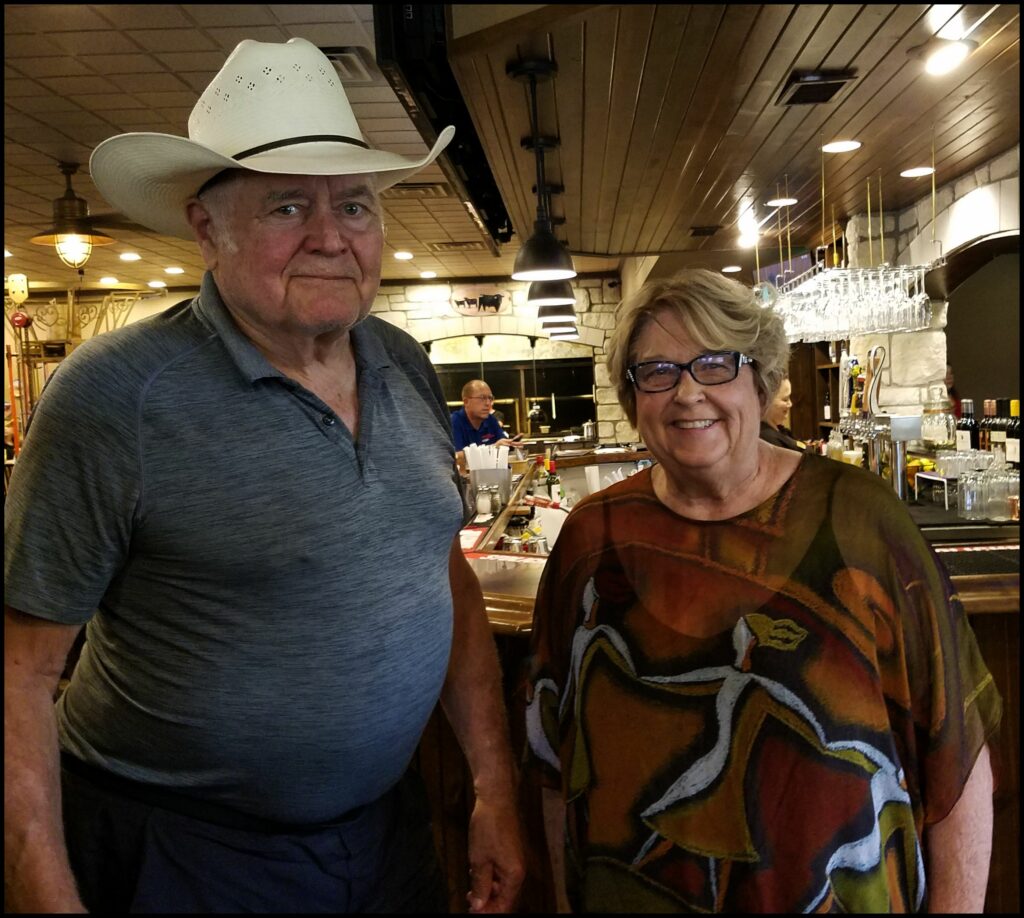 ABILENE, KANSAS
Abilene is home to America's 34th President, Dwight Eisenhower. Upon arriving in Abilene, you will quickly realize that the town is proud to like Ike! Community pride shines in Abilene and you will quickly be flying high alongside the locals.
I had been to Abilene before, but I had yet to experience the Abilene Smoky Valley Railroad. We climbed on board for the 10:00 a.m. excursion train ride. It was "All Aboard" and time to view the wide-open skies with the beautiful wheat fields flowing across the prairie.
SALINA, KANSAS
There's something about a natural high at any zoo. The Rolling Hills Zoo in Salina, Kansas did not disappoint. Located 2 miles south of Exit 244 on Kansas I-70, it makes for an easy stop while traveling. You will want to wear comfortable walking shoes, as you will stroll up and down, as you take in the adventure that this zoo has to offer.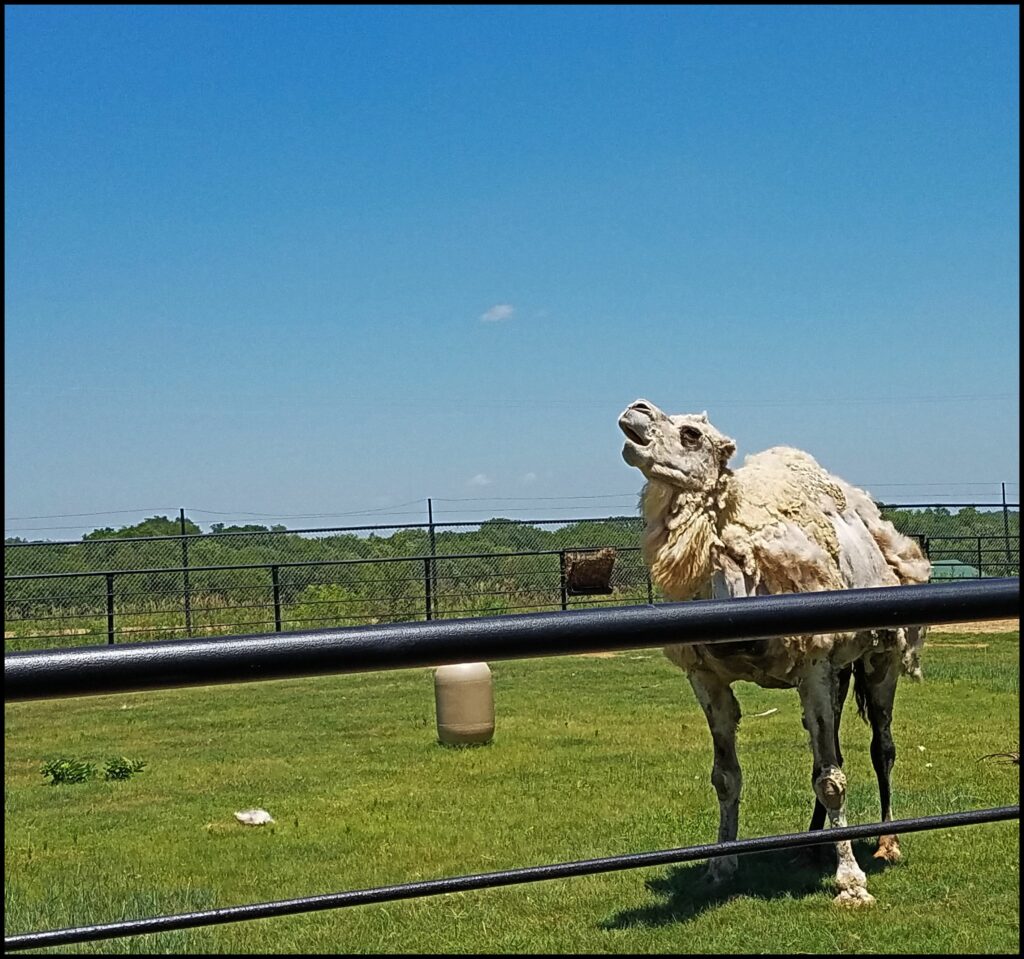 The museum is included in your entry fee, which makes for a great place to cool off after strolling the zoo grounds.
LUCAS, KANSAS
Lucas is often referred to as the Grassroots Capital of Kansas, as it is home to the world-famous Garden of Eden, Bowl Plaza, and other art attractions.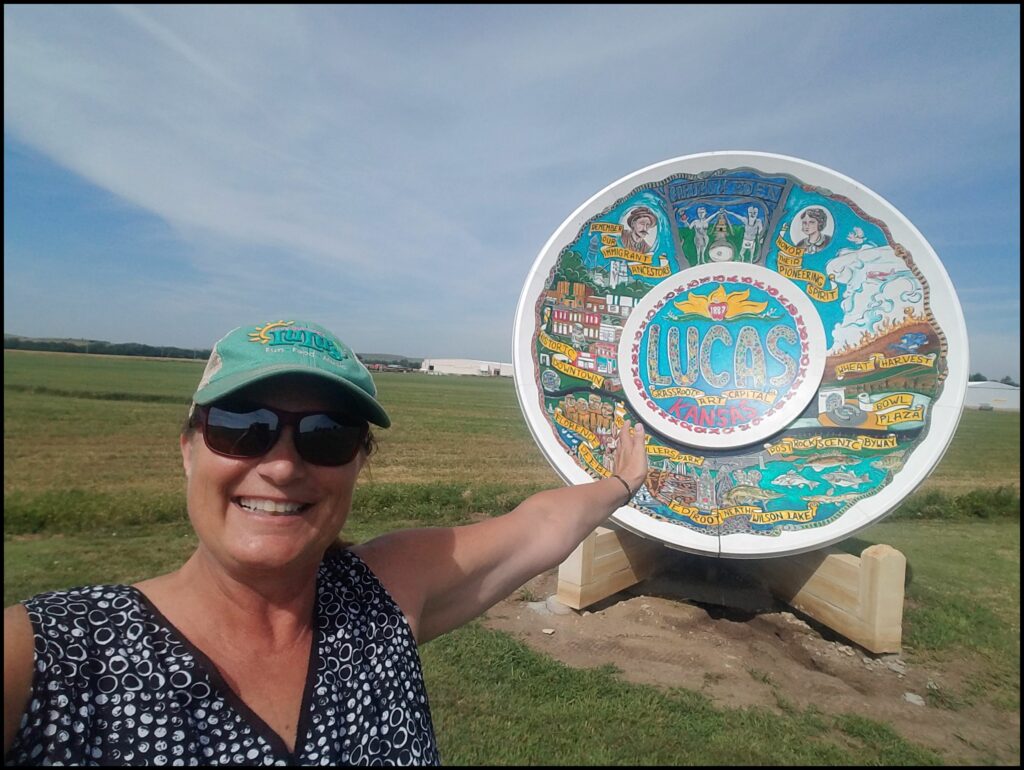 The town itself is a high, unlike any other. This is a town located off of Exit 2016 on Kansas I-70. Bowl plaza won second place in 2014, as the best public restroom in America. His and Hers restrooms are very decorative and worth a visit. At the Garden of Eden visitors can view S. P. Dinsmoor's body in a glass-topped coffin in the mausoleum.
His wishes were kept alive, as he had left instructions to be mummified like an Egyptian. Melody and I did see his body, and it's fair to say that it was quite an experience. Keep in mind, there is no photography allowed.
HAYS, KANSAS
Hays, Kansas is where ag tourism lit a fire with Melody and I. We visited during the season of wheat harvesting. What a high! As an Iowa farm girl, I have combined corn, but have never even ridden in a combine when wheat is being harvested.
This is one experience that I will carry with me for a long time. The skies were wide open, as the beautiful amber waves of grain flowed across the landscape. This is your reminder- Thank a farmer for all that they do! These wheat fields were heading to King Arthur Flour and will be consumed by people like you and me.
Read More Here: Hays Kansas~ Small Town Playing Big For The Win!
WAKEENEY, KANSAS
Cedar Bluff State Park is a must-stop when in Wakeeney. Gas your car up in Wakeeney before you head south at Exit 127 on I-70. Another tip I would give you is to pick up a county map to have with you. Visitors can request a map and visitors guide through their website. You can also pick up a county map at local businesses. Inquire about any road closures and a general update on the road conditions.
Plan to spend a couple of hours at this state park, as you will want to take it all in. The views are tremendous and will leave you on a high that will last a while.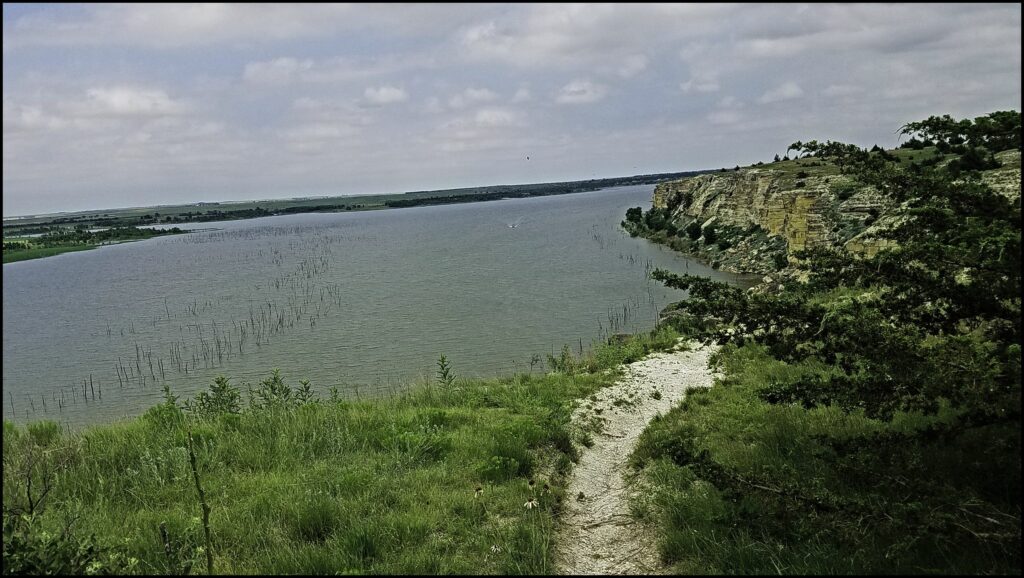 OAKLEY, KANSAS
Oakley is home to Monument Rocks. Take Exit 76 off of I-70, into Oakley and head south to this hidden gem in Kansas. The drive there is all beauty in itself, as the lush, green countryside was peppered with cows. When we departed Monument Rocks, we came upon a cow in the road.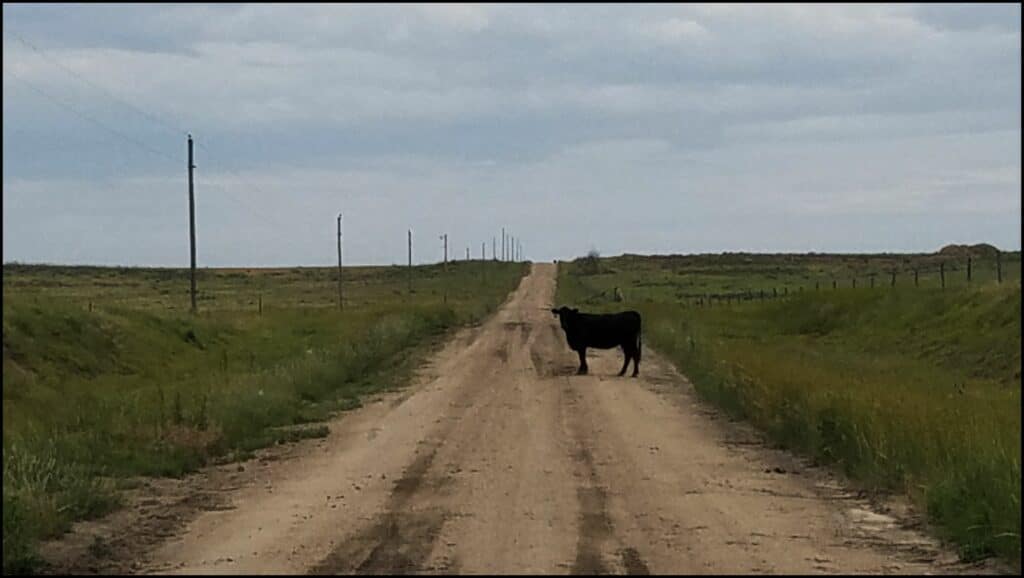 This is how you know that you are in Rural Kansas. It was here that Melody and I met up with International travelers, who were mesmerized with Monument Rocks.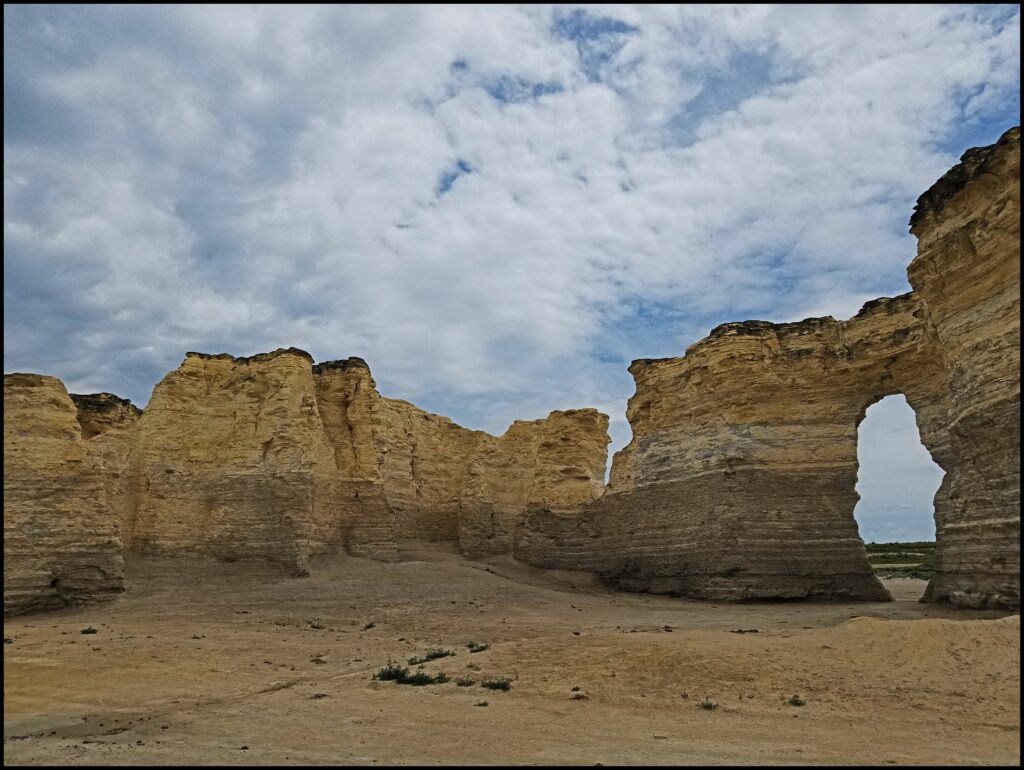 COLBY, KANSAS
When you visit Colby, you must stop at the Welcome Center located right off of I-70 at Exit 53. Here is where you will meet Ralph, who is a wealth of knowledge.
And boy, did I get a high when the good folks at City Limits baked up some bread pudding! So many days had passed since I had indulged in bread pudding that I had forgotten about the find in Leavenworth.
GOODLAND, KANSAS
Goodland is home to the Giant Vincent Van Gogh Painting. Take Exit 19 and follow the signs into town. You will see this masterpiece from a distance. Stop here, take a selfie (if you wish) and soak it all in. The high that you will get from this stunning artwork will travel with you, as you hop back on Kansas I-70.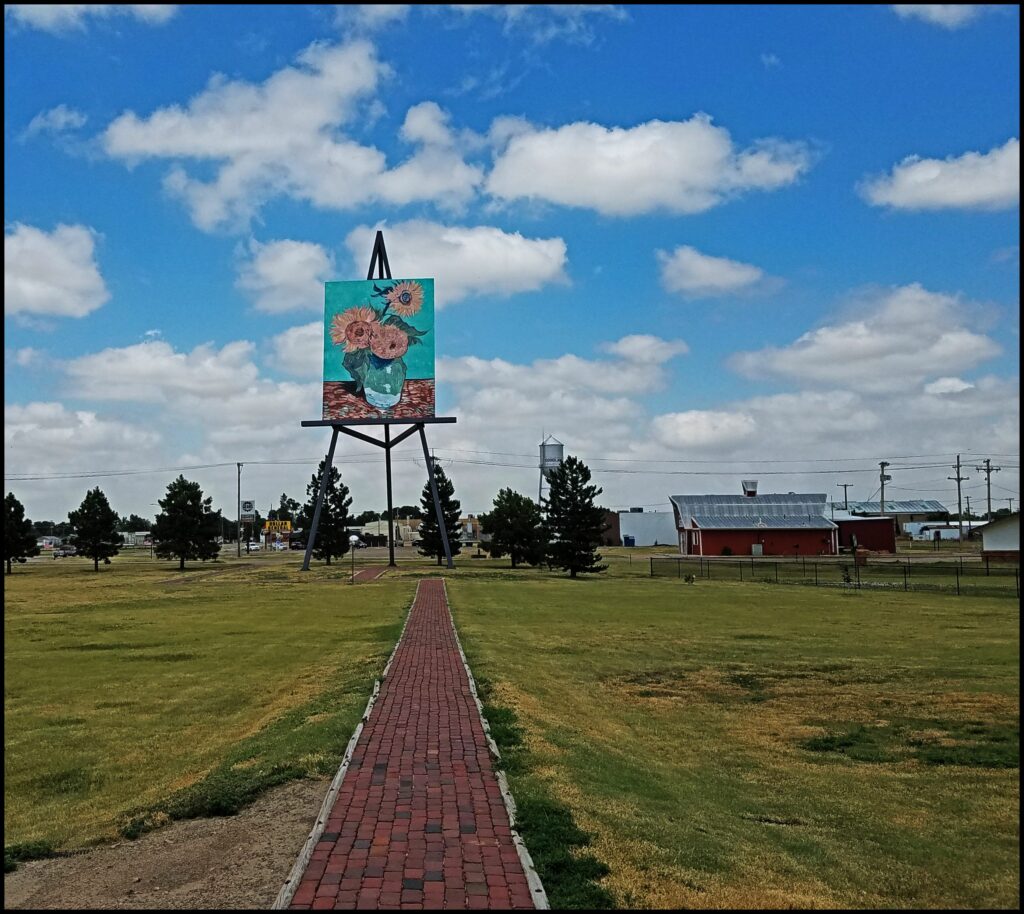 Before you leave town, swing into Crazy R's for a meal. The prices are fair, food is excellent with great customer service.
Read Here: Goodland, Kansas= Small Town With Big Attractions
Kansas offers much more than flatlands. The landscape is as diverse as are the experiences. You will find something along Kansas I-70 that will light your fire. I'm personally still blown away by Monument Rocks and the ziplining course in Manhattan. It's fair to say that every town left me flying high and wanting to return to experience all that I missed out on.
Here's the best tip I can give you~ Travel With Friends!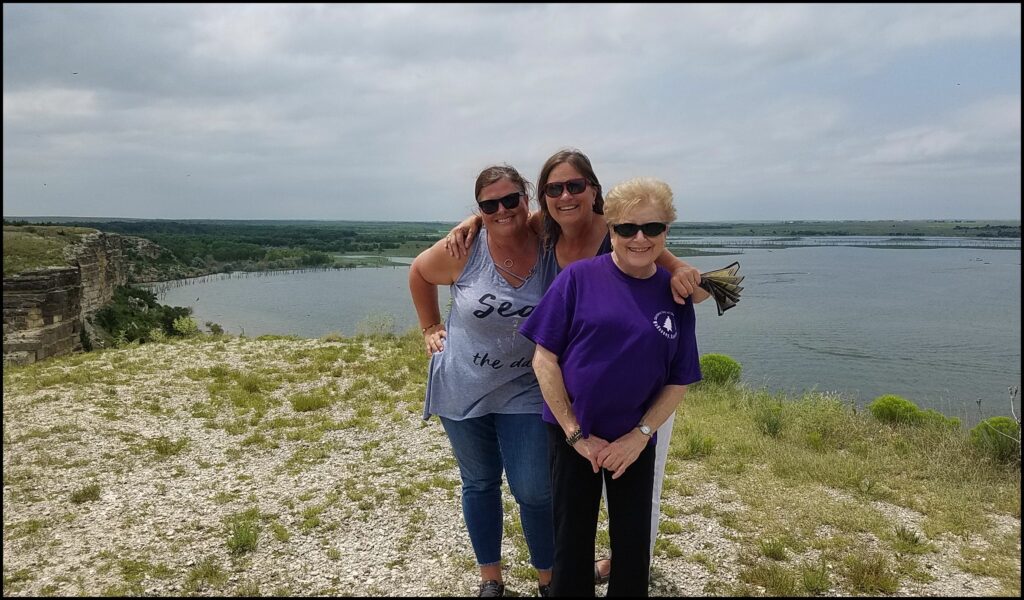 When planning your Kansas I-70 Road Trip, be sure to check out the road conditions before you leave home. It's not uncommon to experience all four seasons in one road trip during Fall and Spring. Make some time to get out of the car and explore when traveling I-70 in Kansas, as you will be glad you took the time to make new memories.
More Kansas articles:
Hays Kansas= Small Town That Is Playing Big For The Win
I Fell In Love With Kansas On The Big Kansas Road Trip
Tanganyika Wildlife Park Offers Memorable Experiences
Amelia Earhart Adventures in Atchison, Kansas
Celebrating American Agriculture At The National Agriculture Center and Hall of Fame: Kansas City, Kansas
Happy Traveling~ Sara
*Thank you to the Kansas I-70 Association for hosting us and welcoming us into your communities.
The following two tabs change content below.
SaraB
Sara is a travel enthusiast that resides in North Iowa. You can find her traveling where the plane, train, ship, or car will go. Are you looking to take a road trip? Sara has solutions for you!