Put-in-Bay, Ohio: Enjoy Island Life In The Midwest
Put-in- Bay in Ohio is a top vacation spot in the Midwest. This island offers visitors an opportunity to connect with nature in the Midwest. When is the last time you thought of booking an outdoor, island experience in Ohio? My guess is that you have never considered doing so. This island is one of America's most beautiful, adventure-filled vacation destinations. Once you hop off of Miller Ferry, you head on over to grab your golf cart and you are off for the day!
*A thank you to family-owned business, Miller Ferry Company for providing us with transportation to and from Put – In- Bay.
TOP VACATION SPOT IN THE MIDWEST OFFERS GOLF CARTS FOR TOURING
When you set foot on Put-in-Bay, you will climb a hill and on your right, you will find golf cart rentals at E's Put-In-Bay Golf Carts. On this particular visit, it was raining when we left the mainland, so my friend Cindy and I took our car over on the ferry. Next time, we will rent a golf cart and cruise the island. From shopping, beautiful views, beach activities, boating, hiking trails, and historic sites, this island has it all.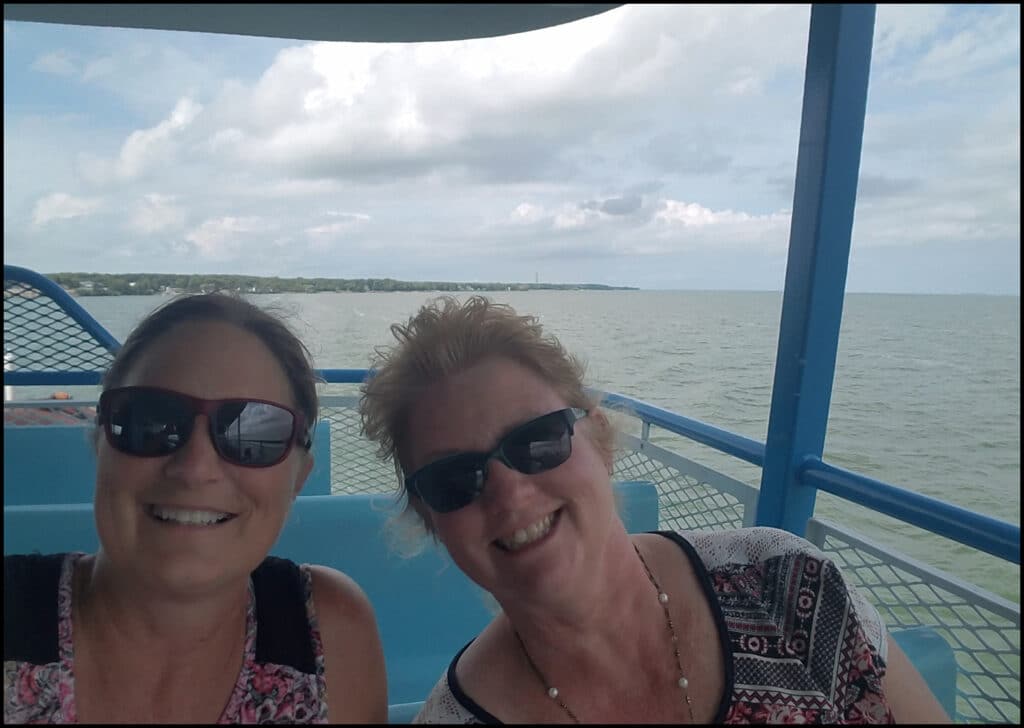 The return trip offered clearing skies and a seat out on the deck of the ferry.
PACK YOUR NATIONAL PARK PASS
Perry's Victory and International Peace Memorial is the only international peace symbol within the National Park system in the United States. In fact, visitors are 12 feet higher than the Statue of Liberty with a stunning view of the area. There is no fee to stroll the grounds, but there is a fee to take the elevator to the observation deck.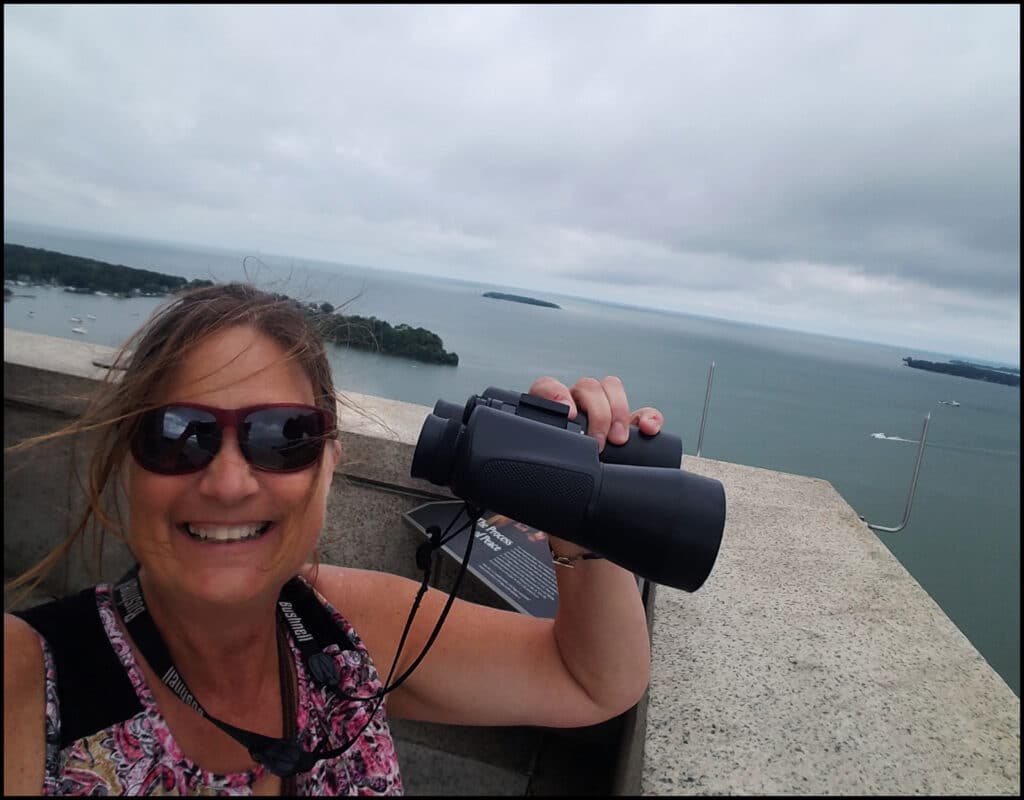 Tip: There are binoculars to borrow at the top. It's important to note that your Annual National Park pass does cover your entrance fee. Cindy and I met a young man, a park ranger on the observation deck, who was a wealth of information. Once you arrive at the top, there is park personnel to answer all of your questions. The International Peace Gardens in North Dakota offer something very similar.
A fun highlight on the island is Crystal Cave. This cave was discovered way back in 1897 when workers were digging a well for Heineman's Winery, which sits above.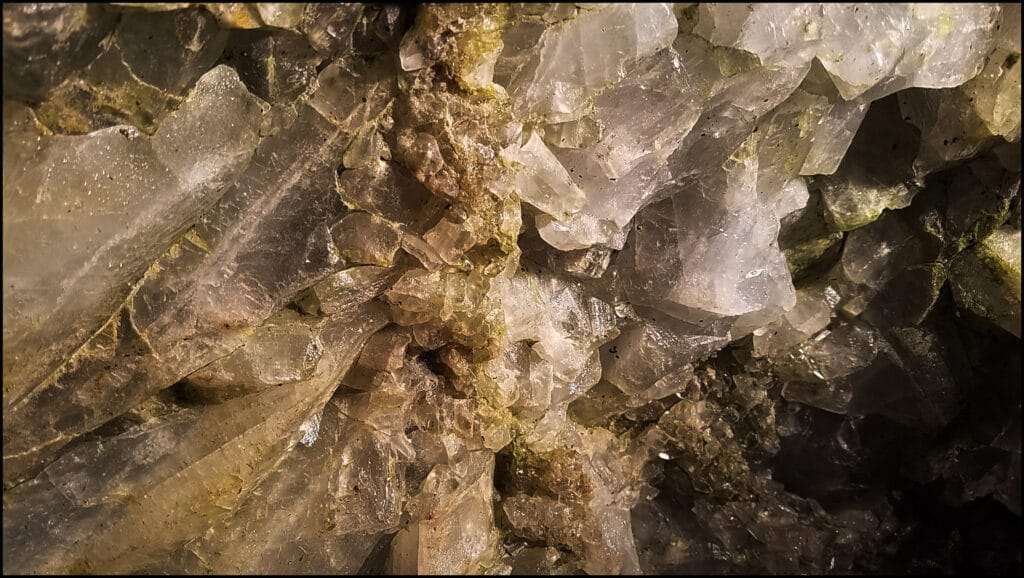 Keep in mind, this is not a large cave. It is unique and truly a one of a kind experience. Fun fact: According to our tour guide, Crystal Cave is the world's largest geode. The best part about visiting this cave is the fact that it's a great place to cool off on a hot summer day. And after your cave tour, enjoy a sweet wine from Ohio's oldest family-owned and operated winery, since 1888. The tour of the cave is a combo ticket, which includes the winery. Did I mention award-winning wines?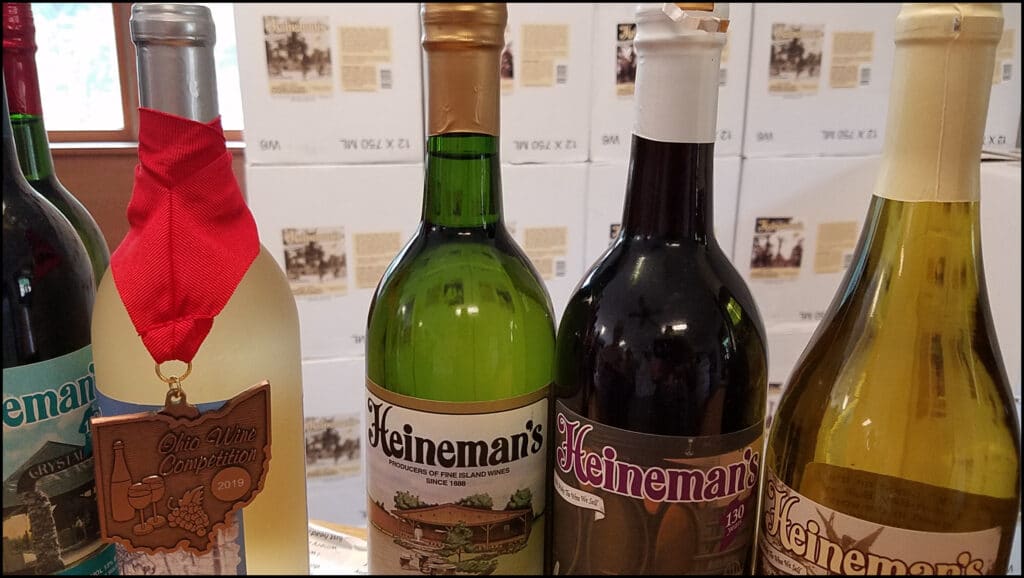 Park your car or golf cart and plan to spend a couple of hours in a beautiful setting, while enjoying award-winning wine.
BRING YOUR WALKING SHOES
With several nature trails, you will be glad you have a good pair of walking shoes along. Several nature trails offer views that you can only find in Ohio. And as always, pay attention to the signage, as there are snakes around in some of the shore areas. The trails are groomed well and offer sites that you cannot find anywhere else.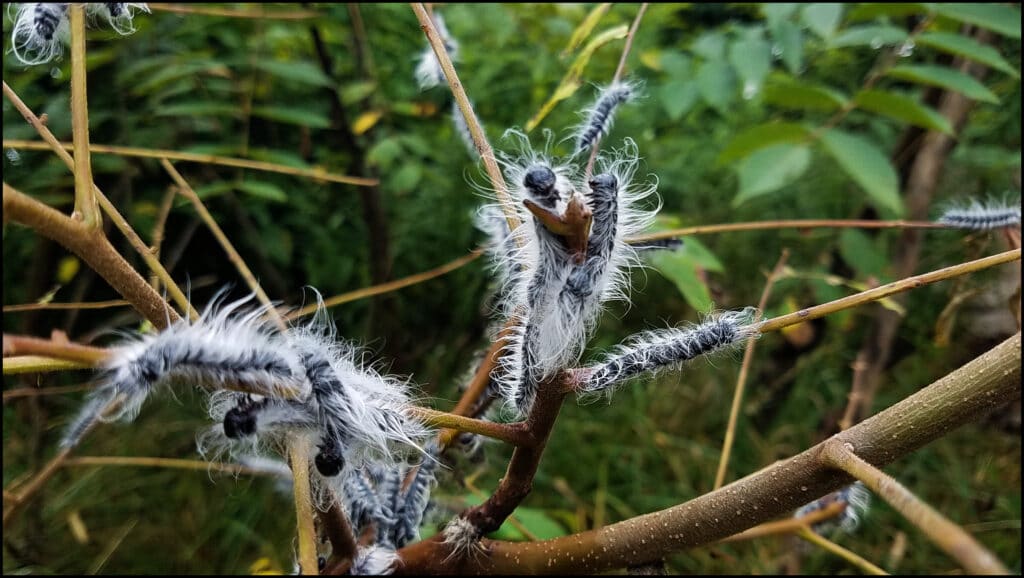 So long, until next time!
I loved my time in Put-in-Bay, Ohio. It's truly a top vacation spot in the Midwest. There is lodging on the island, should you plan to stay a night or two. Staying on the island is an experience that I would like to do, as I do enjoy a good sunset! Now is the perfect time to start planning your next summer adventure. Book your lodging and let the fun planning begin, as Put-In-Bay awaits your visit.
To stay in the know, follow the following on Facebook:
Ohio's Lake Erie Shores and Islands
The following two tabs change content below.
SaraB
Sara is a travel enthusiast that resides in North Iowa. You can find her traveling where the plane, train, ship, or car will go. Are you looking to take a road trip? Sara has solutions for you!