How To Get The Most Out Of Your Visit To The Dwight D. Eisenhower Presidential Library & Museum In Abilene, Kansas
A recently renovated presidential museum is open in Abilene, Kansas. The Dwight D. Eisenhower Presidential Library & Museum is now open to all visitors. I have had the opportunity to visit this beautiful museum a couple of times since it reopened in the summer of 2019. I visited with my parents on a hot summer day and returned in winter for a visit with my husband. With more than 25,000 square feet to explore, it's good to have a plan in place before you visit. Here are some helpful tips to help you get the most out of your visit.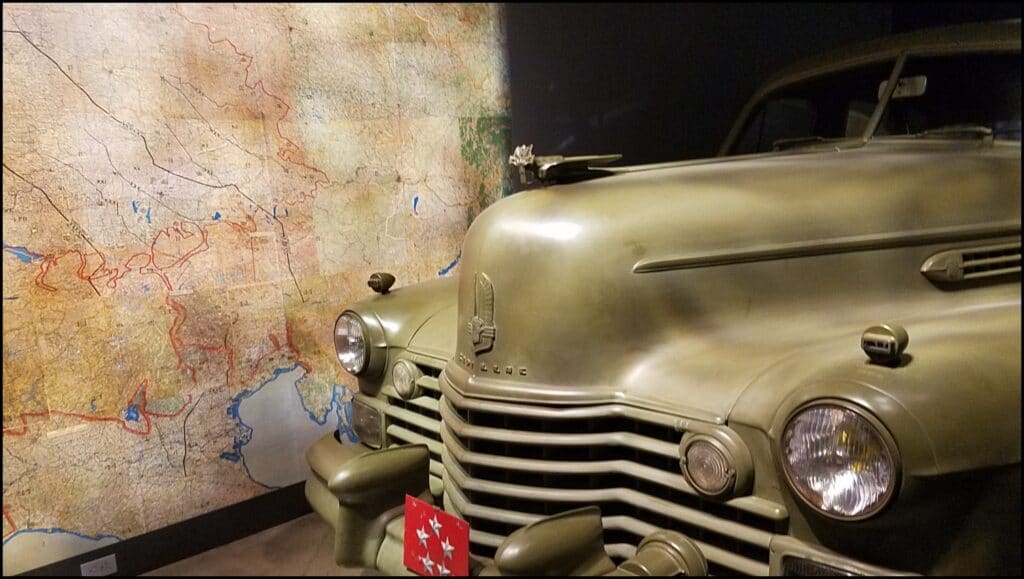 Dwight D. Eisenhower Presidential Library & Museum Hours of Operation
This attraction is open in June & July from 8 am- 5:45 pm. During the months of August-May, the hours are 9 am- 4:45 pm. I would suggest planning a minimum of four hours to visit, as there is a lot to see and do. If you arrive within an hour of closing, find a place to stay, and return first thing in the morning. This museum is closed on Thanksgiving, Christmas, and New Years Days. This recently renovated presidential museum is worth every hour of your time.
Admission Fees
This presidential library and museum do have an admission fee. As of 2020, admission for adults is $15 for the museum, $7 to visit the home, or a combo ticket of $20. For those guests 62+, the museum is $12 with a visit to the home at $7, or a combo ticket of $17. Student pricing (K-12/College with ID) is available with $10 admission to the museum and $7 to the home, with a combo ticket available for $15. If you enjoy seeing historical homes, I would encourage you to visit the home. The tour is informative, fun to see, and it offers insight into what life was like when Dwight D. Eisenhower lived in Abilene.
If you are traveling with a group of 20 or more call 785-263-6700 for reduced adult-rate admission. K-12 field trips are also available, you can visit the Eisenhower Foundation's website for information on how to plan your visit.
Handicap Accessibility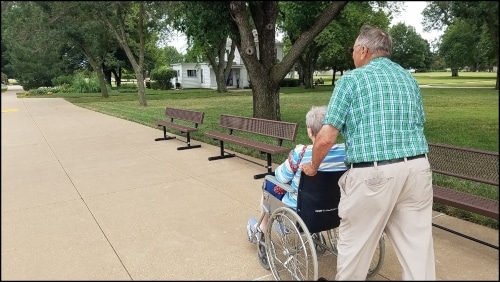 My mother does not have very good balance, so it was reassuring to find a wheelchair at the entrance in the visitor center. Wheelchairs are available, at no charge, for visitors that need them. The new Presidential Library & Museum is designed so that wheelchairs navigate through easily.
We were thankful that we found a wheelchair, as there are 22 acres on the campus in Abilene.
Presidential Museum
When strolling through the recently renovated presidential museum, take the time to read and learn about each exhibit. Many exhibits feature quotes from Dwight D. Eisenhower and film from the time period. On the visit with my parents, I learned something about my father that I had not known. While viewing a film featuring World War II, the room was quiet as everyone was into the moment on the screen.
As World War II came to an end and the film ended, dead silence was in the room. It was at this time that my father told me how he recalled his mother telling his father that she had heard on the radio that the war had ended. My father would have been six years old at the time. Many visitors in that room on this day were clearly moved from the video. It is fair to say that I left with a "lump" in my throat. The museum showcases all that Dwight D. Eisenhower accomplished during his lifetime.
You will quickly realize that he was not a lazy man. In fact, we all drive on Interstate Highways today, because of a vision that came to fruition from him. A war hero, an admired President, and a believer in the American people is what I walked away with during my visits.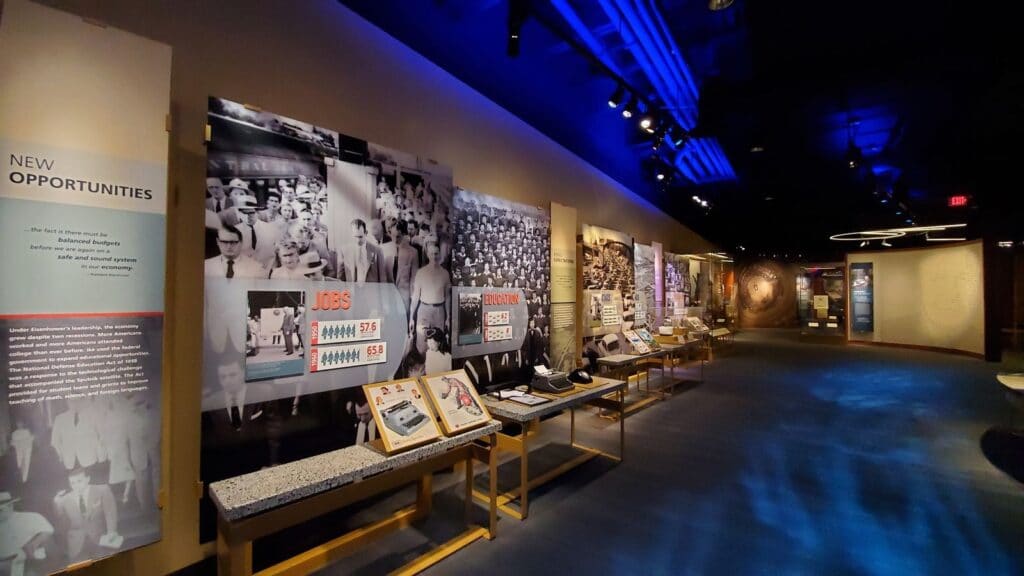 Presidential Library
The Presidential Library is on the grounds of the museum and offers another unique experience. This is where you can research genealogy, work on book projects, and the like. In fact, there are 26 million pages of the archives available for users of this library. All researchers need to sign in at the front desk before you proceed to begin your work. The second floor is home to gallery space that showcases many temporary displays. And why not pose with Ike? He's available on the 2nd floor in the presidential library.

Boyhood Home of Dwight D. Eisenhower
In 1947 this home was opened for the first time to the general public for tours. The home is furnished in the time frame of the 1940s. Some of the furnishings have been moved throughout the home to accommodate visitors but remain true to the time period.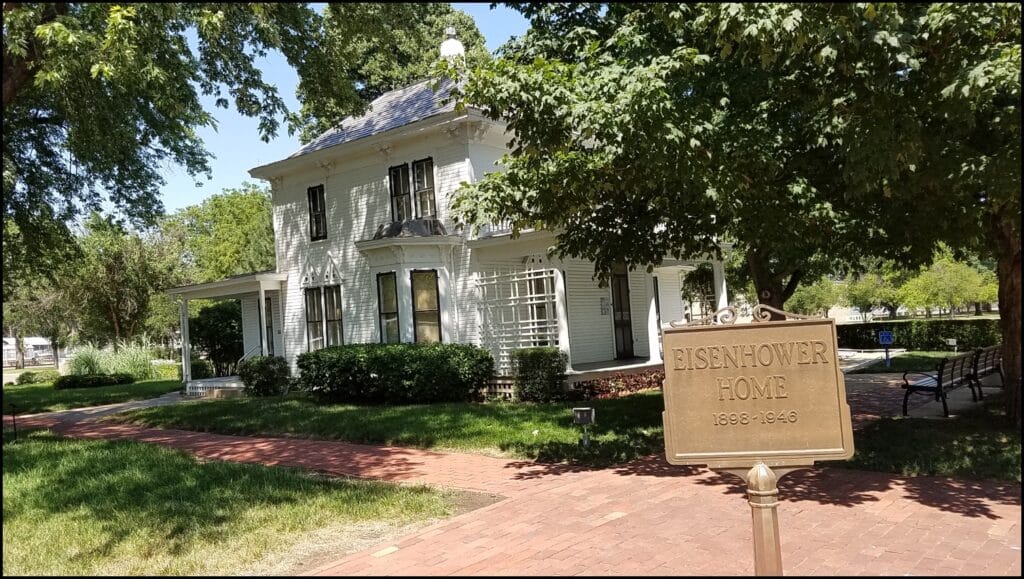 The wallpapers int the two parlors, dining room, and hallway are identical to the wallpaper that was in the home in 1946. The tour through this home is relatively short and if the line outside appears long, it will move rather rapidly. This is one of several stunning historical homes in Abilene, which includes the world-famous Seelye Mansion.
The Eisenhower Statue
Upon your arrival, on the grounds of the Dwight D. Eisenhower Presidential Library & Museum, you will see a bronze statue of America's 34th President; Dwight D. Eisenhower. He was a large part of our military for several years, which included Chief of Staff in the United States Army. His Presidential term ran from January of 1953 to January of 1961. Take your photo here and share through social media using the hashtags #StandLikeIke and #IkeLife. This is a good place to stop on your way from the recently renovated presidential museum to the library.
Pylon Plaques
The Pylons caught my attention on my visit this winter. The Kansas Society of the Daughters of the American Revolution are responsible for these. Each plaque says something a little different. One of them says, "From the modest home built on these acres came one destined to lead in battle the mightiest array of fighting forces ever to wage war in freedom's cause. The victory secure, as President he led the effort to ensure a continuing peace for all the world." It's definitely a time of reflection for everyone who visits.
Place of Meditation
A place where visitors can reflect upon our nation and all that it has to offer is what Dwight D. Eisenhower envisioned his burial place.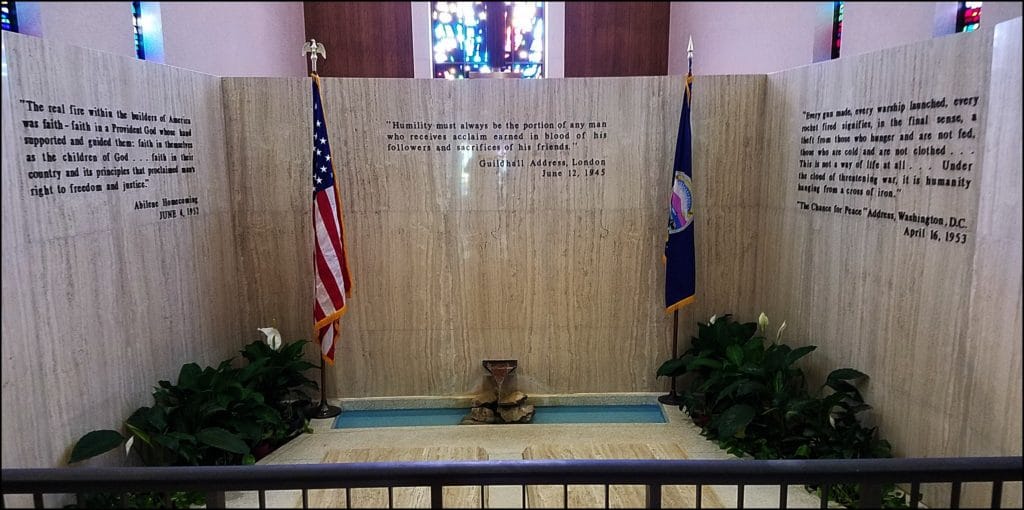 The Place of Meditation is where the President, First Lady, and their first-born son, Doud are resting today. Upon entering, you will realize that this is a place for reflection and peace. You may find yourself here for 5-20 minutes, so you will want to plan your visit accordingly. During the warmer months of the year, there is a beautiful water fountain that sits right outside this beautiful building.
There is an orientation film in the visitor center and I would highly suggest watching it if you are a first-time visitor. It runs approximately 20 minutes and introduces you to the Eisenhower family and insight into America's 34th President. If you do not have time, plan on watching it on your next visit. If you find that you run out of time, your admission ticket will be honored on the next day. Enjoy Abilene and all it has to offer. This is just one of several attractions that you will want to visit while in town. If you are like me, you will be inspired and appreciate all that Dwight D. Eisenhower did for our country. Abilene is lucky to be home to this must-see recently renovated presidential museum.
Happy Traveling ~ Sara
The following two tabs change content below.
SaraB
Sara is a travel enthusiast that resides in North Iowa. You can find her traveling where the plane, train, ship, or car will go. Are you looking to take a road trip? Sara has solutions for you!