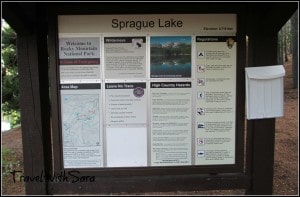 Rocky Mountain National Park is home to numerous stunning lakes. Sprague Lake is no exception. Sprague Lake is easy for everyone to see while visiting Rocky Mountain National Park. The Sprague Lake trail is accessible to strollers, wheelchairs, scooters, as well as a set of feet.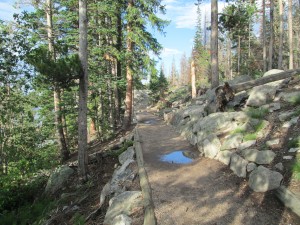 Follow Bear Lake Road from the Highway 36 turn-off for a little more than five miles and you will see signs to Sprague Lake. Follow the signs and you will come to a large parking area that offers handicap parking, restrooms, fire pits/grills, and picnic tables; all within a few steps of Sprague Lake.
The cool thing about Sprague Lake is the fact that the views here are beautiful and it's accessible to everyone while visiting Rocky Mountain National Park. We were fly fishing down at Moraine Park Basin during the day and a fellow fly fisherman mentioned the fish were biting between 6-9 p.m. up at Sprague Lake. So, you can guess where we headed during that time frame! Yep, Sprague Lake it was. We had visited Sprague Lake during the day in the past, never in the evening. We were skunked with the fly fishing, but the views here made our little fly fishing trip a fun one.
Sprague Lake makes a great destination when you first arrive in the Estes Park area. You want to allow yourself time for your body to acclimate to the high altitude in Rocky Mountain National Park. Hiking around Sprague Lake is not strenuous, it is very easy. Sprague Lake gives you a taste of what Rocky Mountain National Park has to offer. Just think? If this much beauty can lie here where many people have access, can you imagine what the back country is like?
Sprague Lake is full of splendor and breath taking views that will inspire you to see more. Here's a glimpse of what you will see when you visit Sprague Lake in Rocky Mountain National Park.