The Carnival Sunshine: What's A Little Rain?
Cruising on the Carnival Sunshine is always a fantastic experience, even when the rain begins to fall from the sky. Cruising is unique in that a little rain will not limit you from fun! On our last Carnival Cruise on the Sunshine, we had some days of sun and others we experienced rain.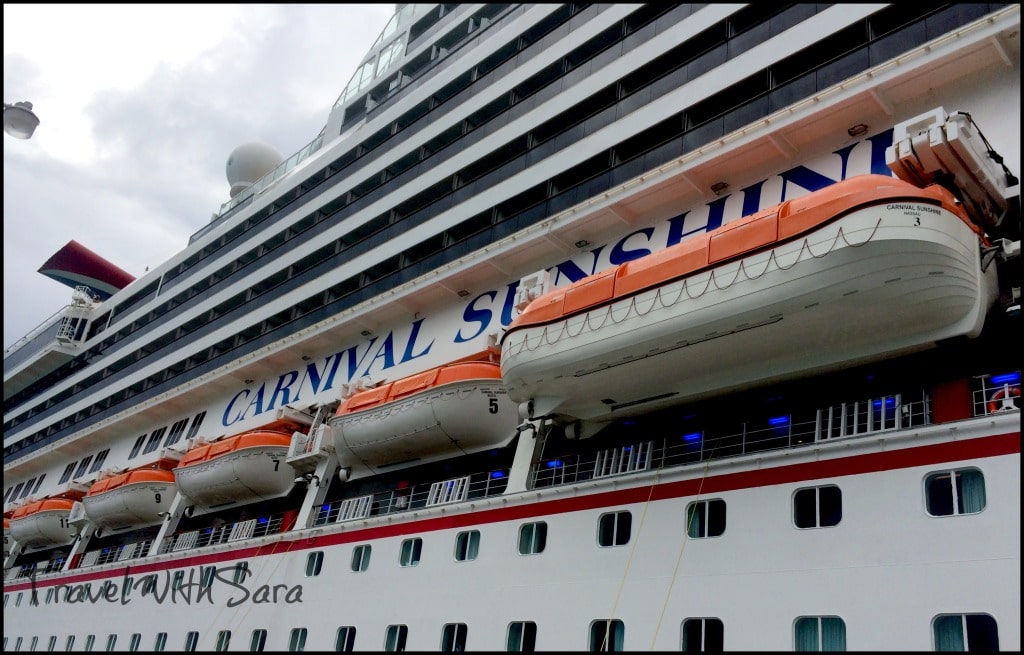 When people think of cruising they often think of sunshine and the beach. Yes, cruises are often made up of those things, but a little rain makes things a little more interesting. Cruise Director, Jaime Dee, made sure that everyone had somewhere to go, with something to do around the clock. If you can't find something to do on the Carnival Sunshine, you are not going to find anything to do anywhere during your travels.
LIVE MUSIC
The Carnival Sunshine has live music playing in several areas of the ship. From country to rock 'n roll, you will find a style of music that fits you. The friendly servers will gladly sell you the "drink" of the day, as well as a drink of your choice. If dancing is your thing, there will be an opportunity to try out some of your grooves. Rain or shine, the music plays on.
SHORE EXCURSIONS
Depending on your port of call, your shore excursion may or may not go on. By booking your shore excursion through Carnival Cruise Lines, you will know when your excursion is cancelled and what your other options may be. We arrived in St. Thomas on a very rainy day. Several cruisers had their excursions cancelled and spent the afternoon in the port area. We had planned on checking out St. Thomas by foot, so we had not booked an excursion.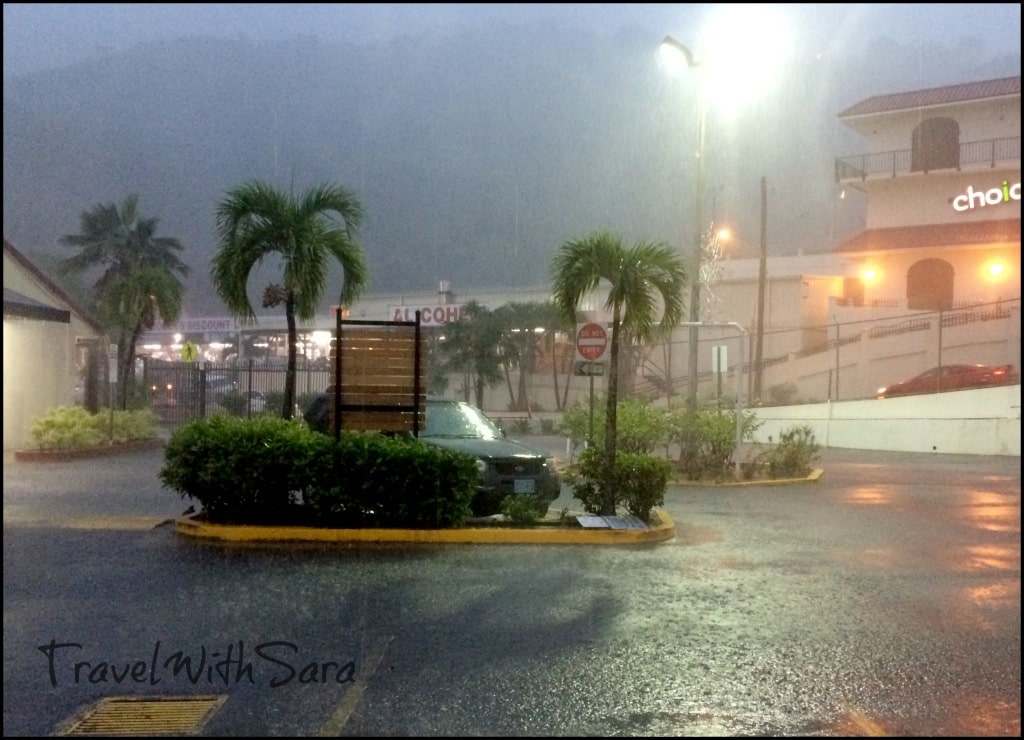 However, we did get caught in a heavy downpour and were pleasantly greeted with warm towels upon returning to the Carnival Sunshine!
FINE DINING
Several options await you in regards to fine dining. If you find you are looking for that extra fun, due to the rain- go ahead, book that fine dining experience! Your spirits will quickly be lifted. I would highly recommend the Fahrenheit 555 Steakhouse and then head right across the hall to get ready for some fun in the Piano Bar.
PIZZA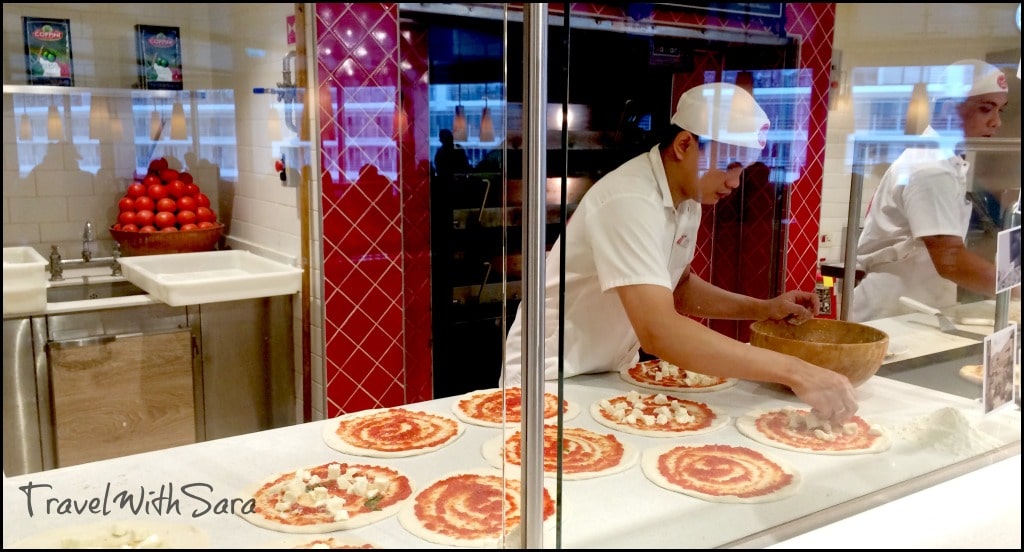 Pizza lovers will love the fact that pizza is available from 11 am- 11 pm. Rain or shine, you can always count on a hot slice of pizza.
GAME ROOM
The Kids Club and Game Room will keep kids entertained for hours on end. Take advantage of this opportunity while cruising, as your kids will have a blast. The Carnival Sunshine is not only an adult friendly ship, but also one of the best family oriented ships in the fleet.
Do you love taking photos? Cruising on the Carnival Sunshine, in any type of weather, offers amazing photo opportunities.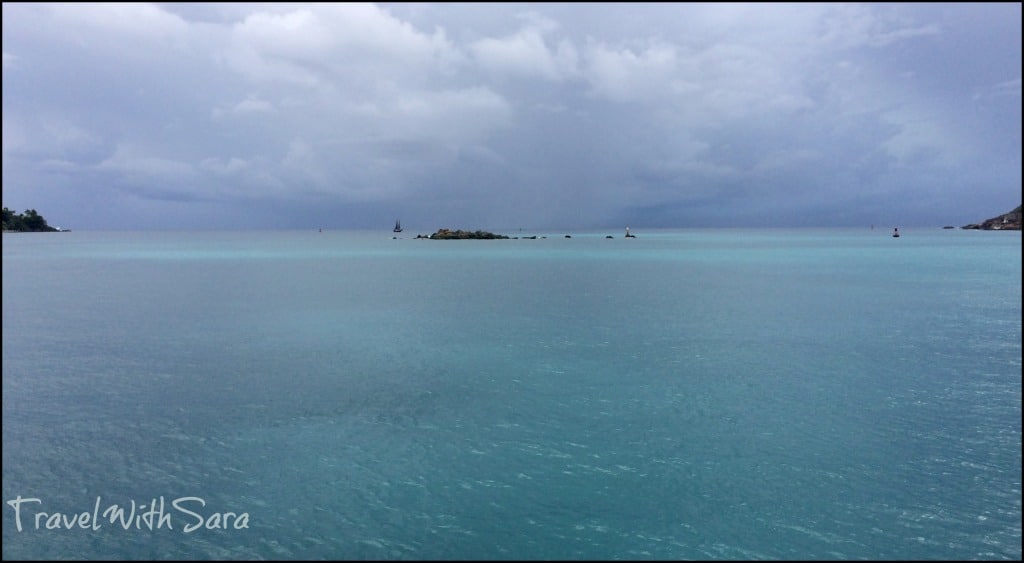 A little Caribbean Sunshine, as well as a little rain can make for some amazing photos. So, tell me…. Have you experienced a cruise in the rain? If so, I'd love to hear about your experience.
*We paid for our own cruise. A thank you to Carnival Cruise Lines for providing wi-fi so we could stay connected.
The following two tabs change content below.
SaraB
Sara is a travel enthusiast that resides in North Iowa. You can find her traveling where the plane, train, ship, or car will go. Are you looking to take a road trip? Sara has solutions for you!