The Hot Shop In Orange Beach: Adventure In The Arts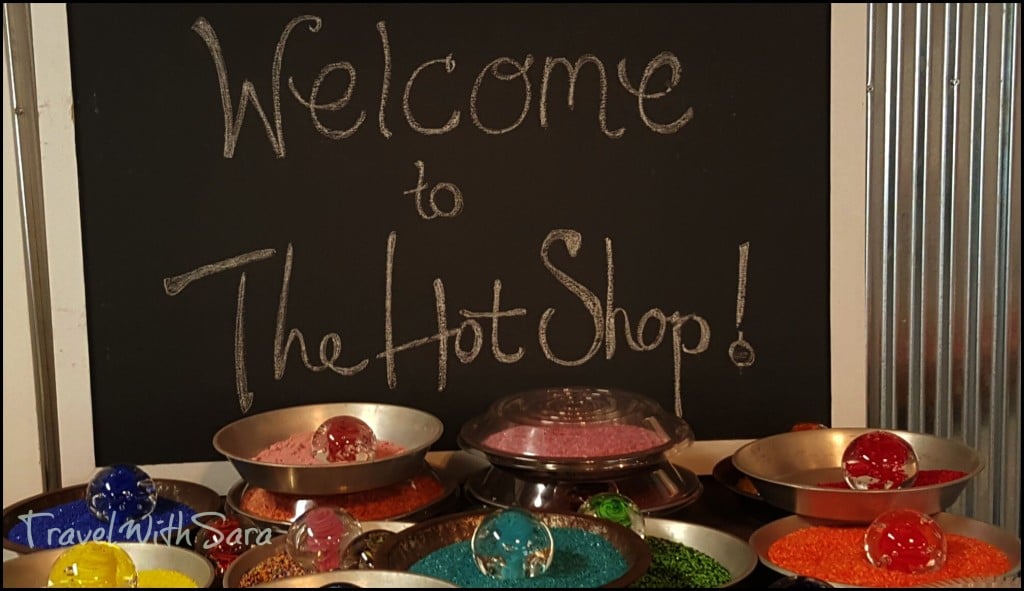 I'm all about adventure when it comes to travel with a beach nearby. I recently had the opportunity to visit The Hot Shop located in Orange Beach, Alabama and quickly learned that glass blowing is an adventure in itself. I don't consider myself to be a real artsy person, but I can tell you that I enjoyed my experience at The Hot Shop.
I made a paperweight while visiting The Hot Shop. A flower was another option that I had, but knowing my luck while traveling, that poor flower would have struggled to make it home in one piece. I am so glad that I chose to make the paperweight.
Adam and Kerry were amazing! This team of glass artists literally blew me away. It was clear, upon arrival that they knew what they were doing. They were patient with me and really worked to make my experience a pleasant one.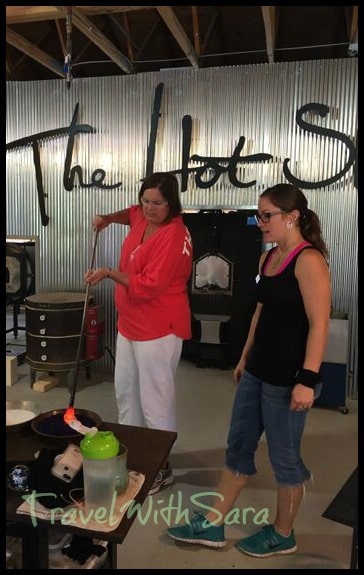 I chose my colors from the pan of beads and the interesting thing was that once the glass was heated up, the colors were not what I had chosen. 24 hours later when I picked it up, guess what? My paperweight had embraced the colors that I had chosen!
When you show up to fuse or blow glass, be sure you have on closed toed shoes. Sandals are not an option when it comes to working around hot ovens and glass. It's also recommended that you do not wear any type of synthetic clothing, cotton is the best.
Be sure to check out all the amazing works of art that are for sale in the studio. I can guarantee that you will appreciate these works all the more, after you have completed your glass project in The Hot Shop.
And here's my finished product!

I happen to be very, very proud of my paperweight. It made it home safely in one piece and sits on a shelf near my desk.
Make your reservations today, so you are not disappointed, call 251-981-2787.
Do you have any art work that you completed while traveling? If so, I'd love to hear about it and if you took up a new hobby from your experience.
Thank you to the Hot Shop for hosting me, it was truly a wonderful experience.
Follow The Hot Shop on Facebook to stay up to date with the latest happening
The following two tabs change content below.
SaraB
Sara is a travel enthusiast that resides in North Iowa. You can find her traveling where the plane, train, ship, or car will go. Are you looking to take a road trip? Sara has solutions for you!