Five Activities To Keep Your Family Busy In Chicago
Chicago is one of those cities that I love to visit, so Expedia.com asked me to share my favorite family-friendly activities in this great city. It's easy to fly into O'Hare and then take the train to the heart of the city, as Air Choice One services my local airport.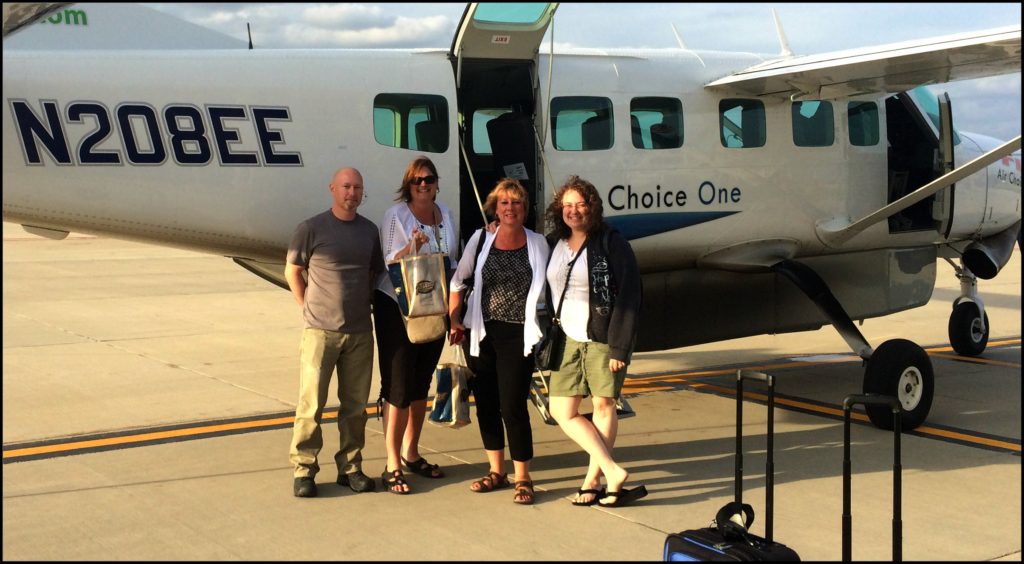 The best thing about flying out of my local airport is that there is free parking. How often do you hear of that? Chicago is a city of fun for all ages and a perfect getaway for families. Not sure where to settle in for your Chicago getaway? Check out the many Chicago hotel options at Expedia.com.
DEEP DISH PIZZA
Pizza is a staple in Chicago and not to be missed. Lou Malnati's is a favorite of mine.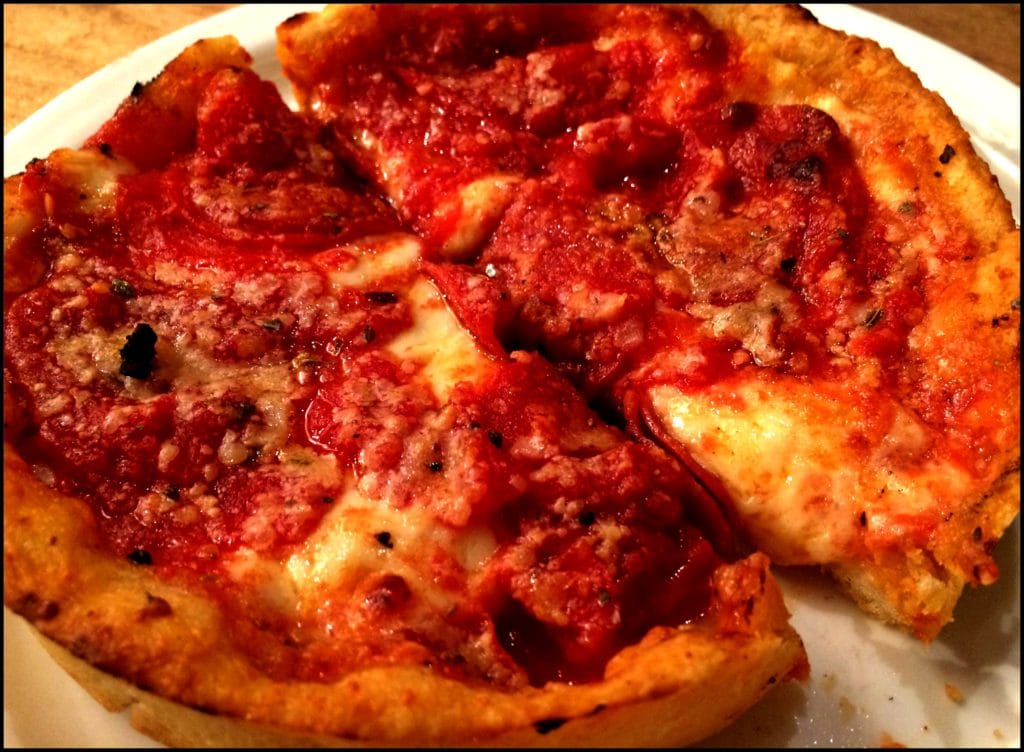 I have yet to see a kid of any age not indulge when digging into this deep dish favorite. The best thing about falling in love with Lou Malnati's is that you can order it online and have it shipped to your home.
MUSEUMS
The Field Museum and the Museum of Science and Industry are our family favorites. The Children's Museum and the Shedd Aquarium are also family favorites. You will have the opportunity to be inspired through all types of art and learn a few things along the way.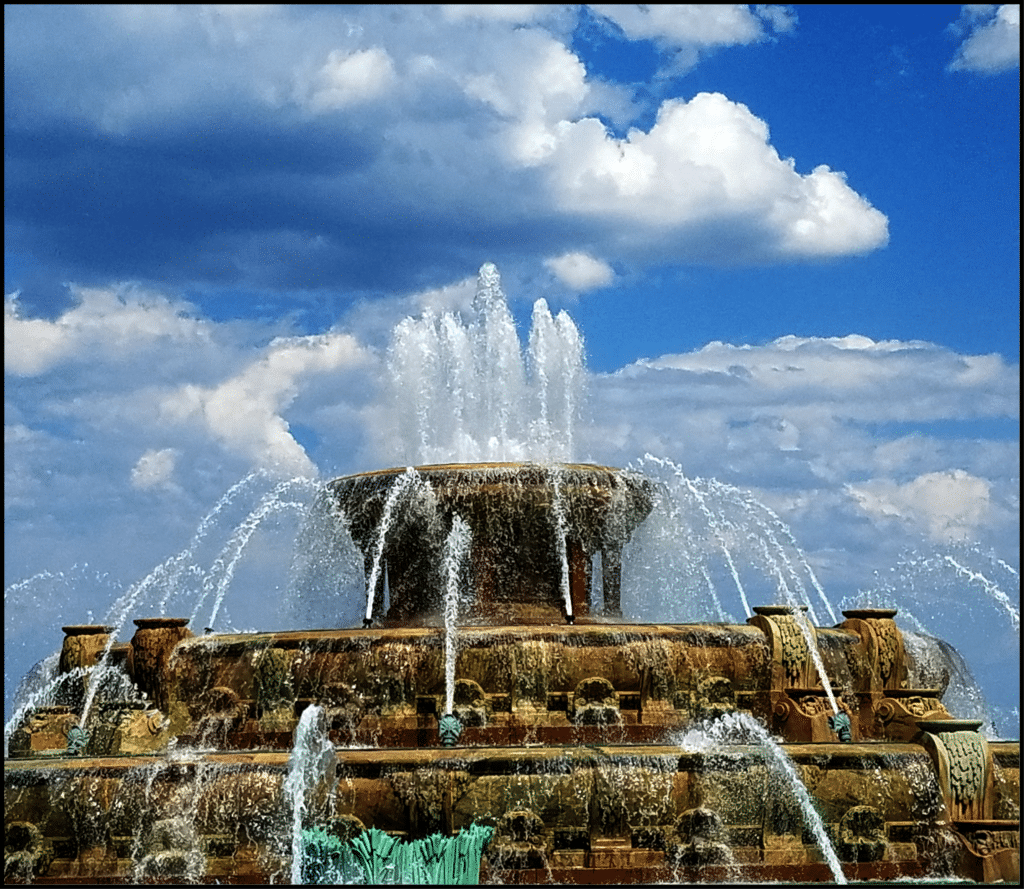 Depending on your time constraints, be sure to explore the beautiful outdoor areas which surround many of these museums. From lake front views, beautiful water fountains and sculptures to catch your attention, the museums will pull you in. A sculpture not to be missed is the world famous "Bean."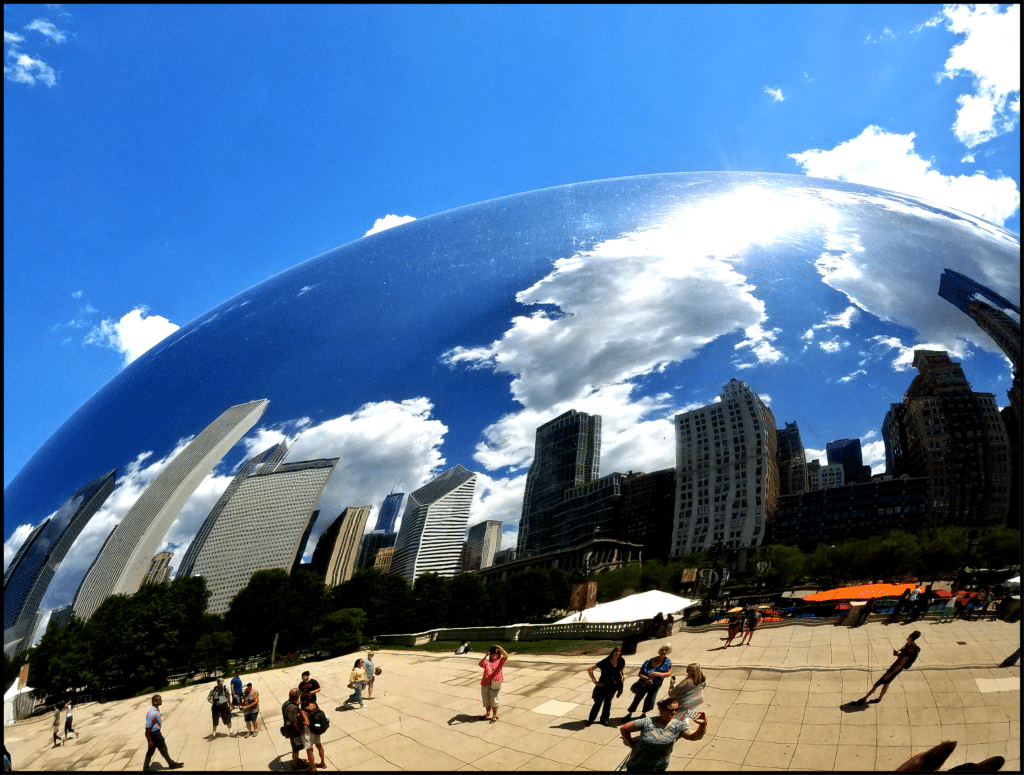 FAMILY BOAT RIDE WITH A PIRATE
Book a family boating experience on a tall ship with a pirate on board. Tall Ship Windy is located on the world famous Navy Pier. Reserve your seat ahead of time, so everyone is not disappointed. These sailings do sell out as they are memorable and are a unique way to explore Lake Michigan while in Chicago. This is a family, friendly cruise that involves all guests. The best tip I can give you is to look behind you as you sail, the views from all angles will wow you.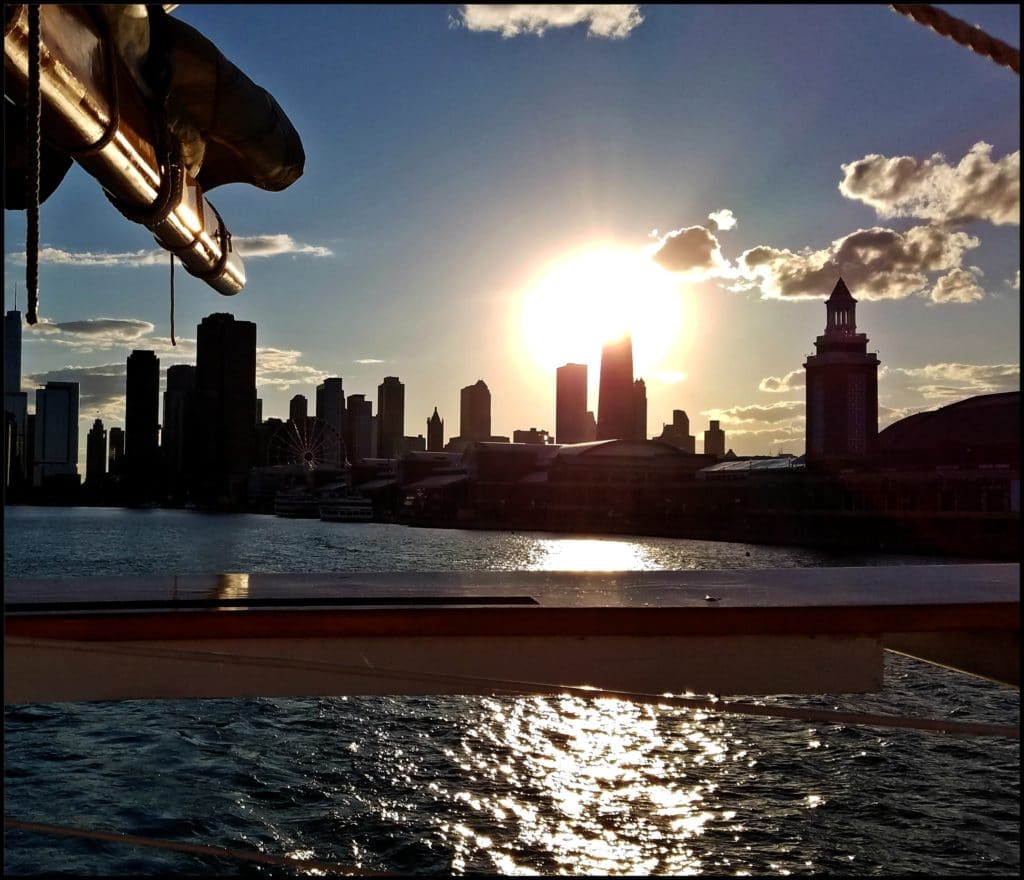 The Chicago skyline is beautiful anytime of day. If you book a sailing near sunset you get an extra bonus as the colors of the sky reflect upon the water.
RIDE THE GIANT WHEEL
The Centennial Wheel is located on Navy Pier. The new wheel offers enclosed seating which includes speakers, air conditioning, heat and a beautiful view of the Chicago lakefront and skyline. I appreciate a water view from above and this is an affordable way to see what Chicago looks like from new heights. Each gondola holds up to eight people.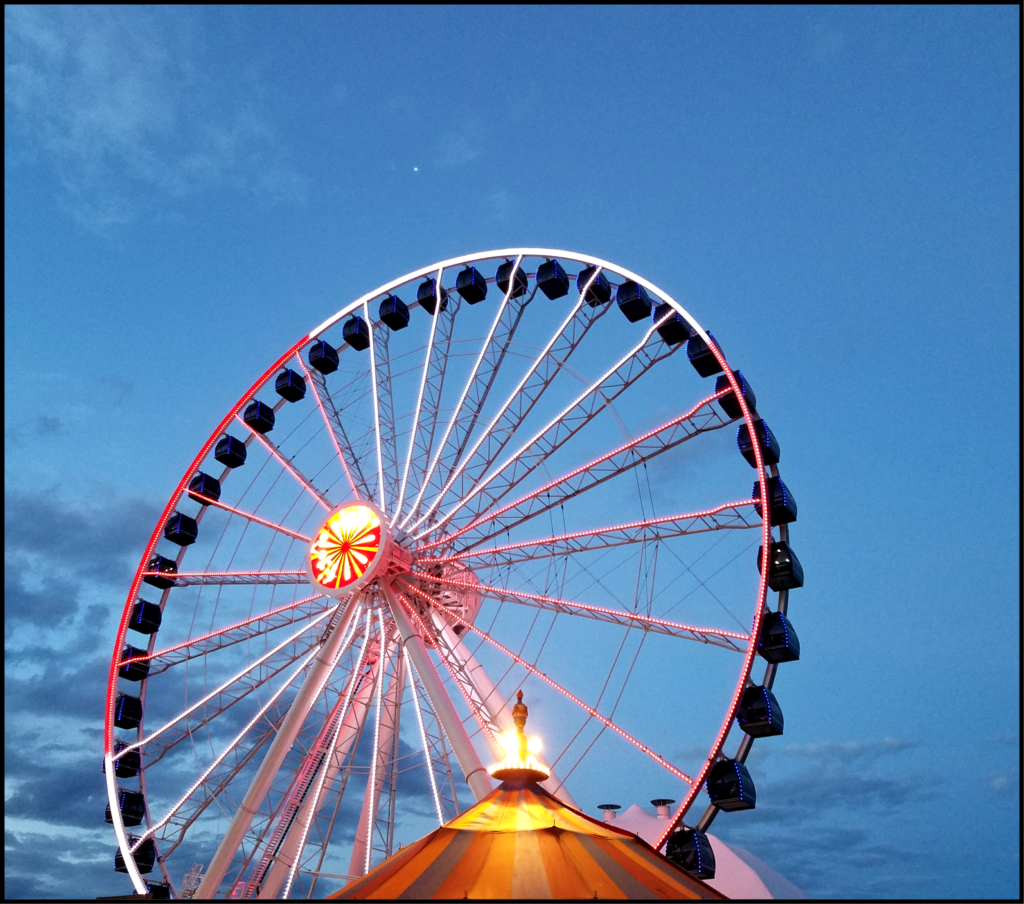 If you and your family want a car to claim as yours, you will need to pay a premium. Riders are all enticed in the views around them, not necessarily who is sitting near them in the gondola. Hop on and take in a memorable view as you ride the giant wheel in the Windy City.
ARCHITECTURAL BOAT TOUR
Families with teens will enjoy the architectural boat tour that travels through the city. Frank Lloyd Wright does have a presence in Chicago, as do several other well known architects.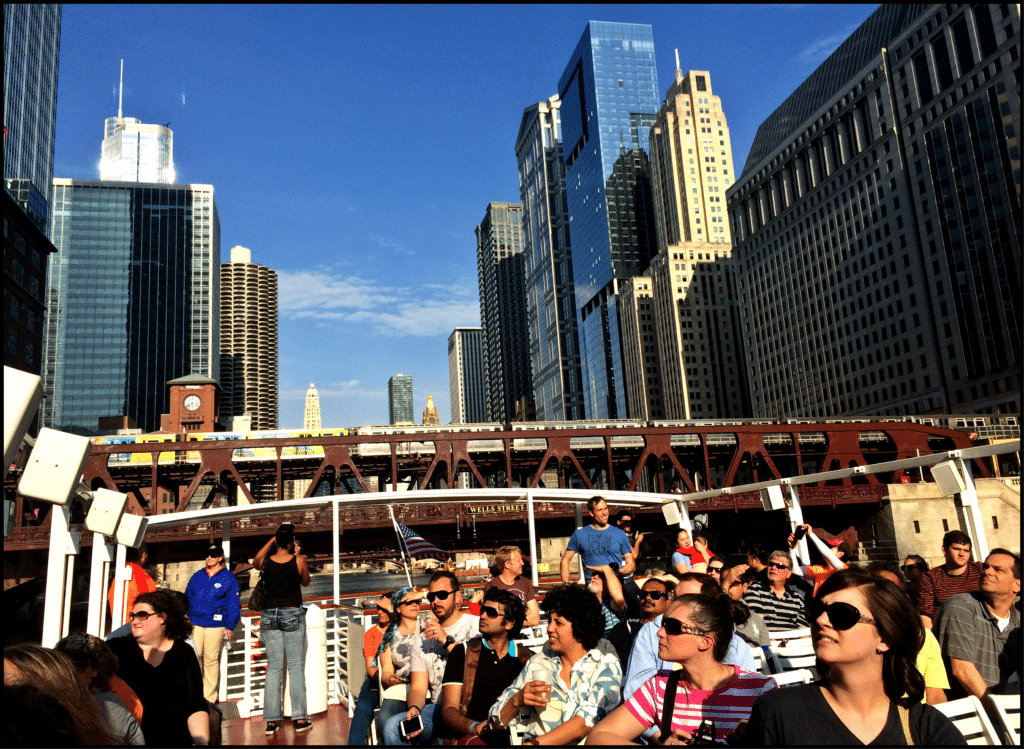 I personally pay close attention when the name Frank Lloyd Wright comes up, as my home town of Mason City, Iowa, is home to the last known hotel in the world that he designed, the Park Inn Hotel. If you time this tour right, the sun can provide some outstanding photo opps, as the reflections of the buildings provide stunning water views. If you don't think architecture interests you I challenge you to take this tour, as I do believe you will fall in love with it while on this guided boat tour through the city.
Chicago is waiting for you and your family. Now is the time to plan your visit, as I can guarantee you that it won't disappoint.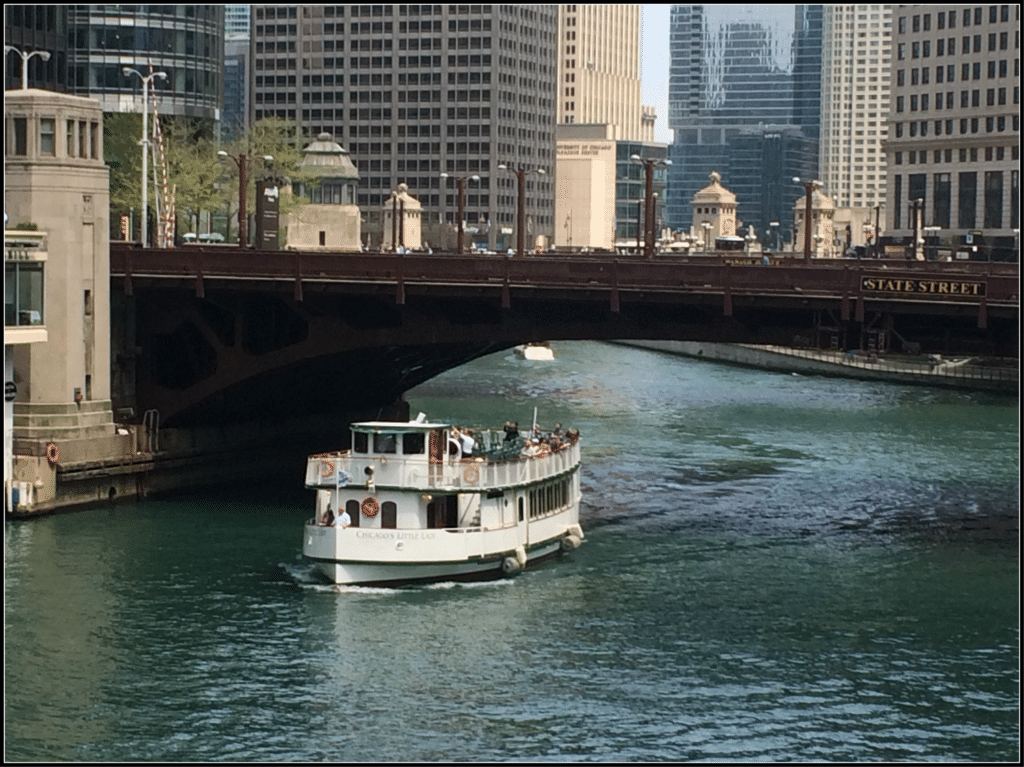 With so many things to see and do, you will never be bored while visiting this fun city in the midwest.
The following two tabs change content below.
SaraB
Sara is a travel enthusiast that resides in North Iowa. You can find her traveling where the plane, train, ship, or car will go. Are you looking to take a road trip? Sara has solutions for you!