Five Iowa Adventures That Will Make You Say Wow
Iowa adventures can be exhilarating, as well as reminiscing. You can decide what type of adventure you would like to take. From caving to musical adventures, here are five Iowa adventures that you need to take.
Five Iowa Restaurants You Need To Know About
Exploring Maquoketa Caves State Park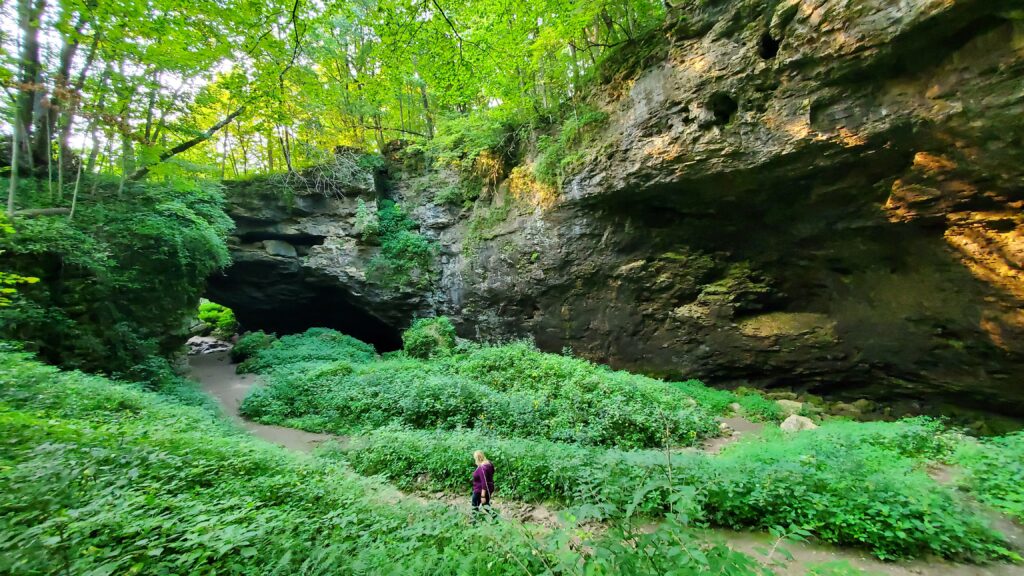 Maquoketa Caves State Park is nestled in the heart of the Hawkeye State. The book 100 Things To Do In Iowa Before You Die features Maquoketa Caves State Park at #55. Nature lovers and thrill seekers will appreciate all that Maquoketa Caves State Park has to offer. From exploring the dark and mysterious caves to hiking the scenic trails, there's no shortage of things to do at Maquoketa Cave State Park.
With more than 16 caves to explore, this state park is home to more than 16 caves. The novice and experienced caver will have a good time. Wear clothing that is ready for mud, water, and an adventure. You will be ready to crawl on your belly and take a deep dive into one of the "narrower" caves.
Dancehall Cave, features a large, open area perfect for family gatherings and picnics. If you enjoy hiking, Maquoketa Caves State Park offers several miles of hiking trails for all abilities. The 6.2 mile hiking trail winds through the park's hills and valleys, and a chance to view wildlife. Reserve a campsite at the Maquoketa Caves State Park Campground, for a night under the stars and relaxation. If you want an adventure, Maquoketa Caves State Park will deliver.
Board The Fenelon Place Elevator
Fenelon Place Elevator, known as the world's steepest, shortest incline. Fenelon Place Elevator offers breathtaking views of Dubuque, where Iowa started. The ride is short, sweet, and thrilling.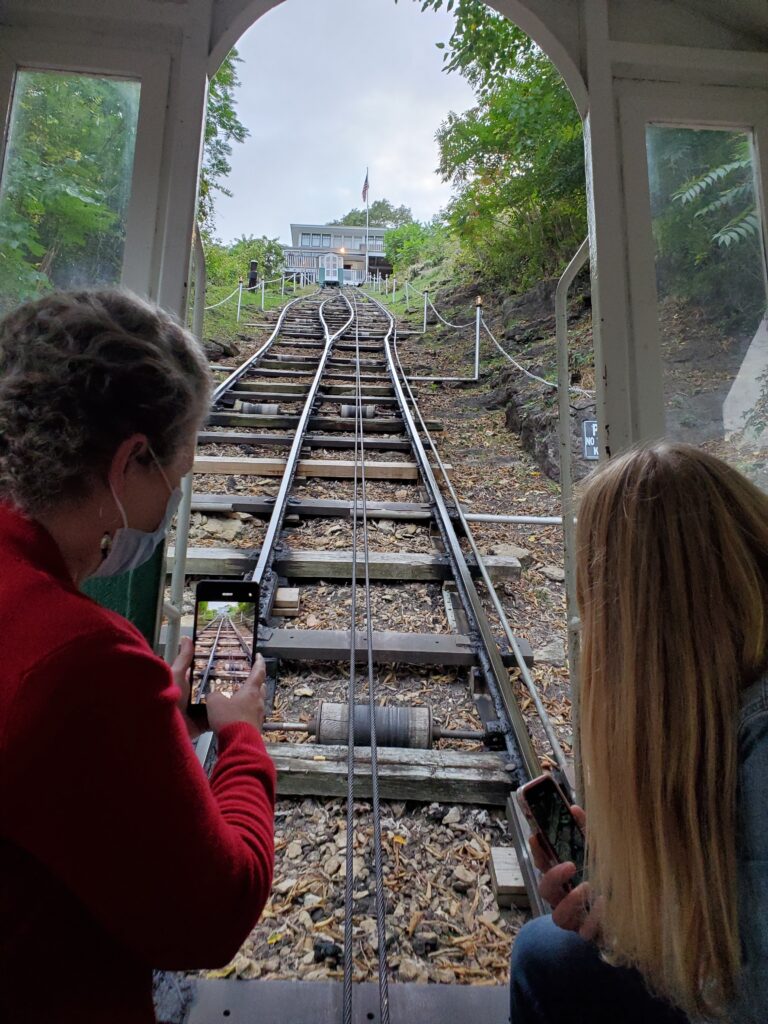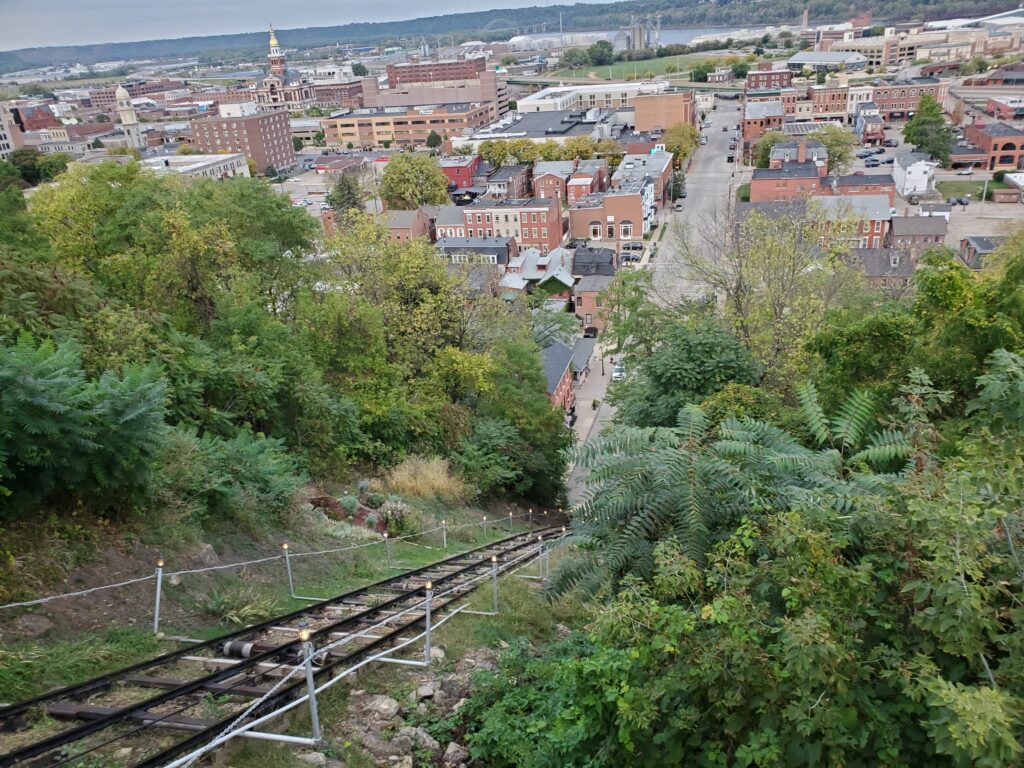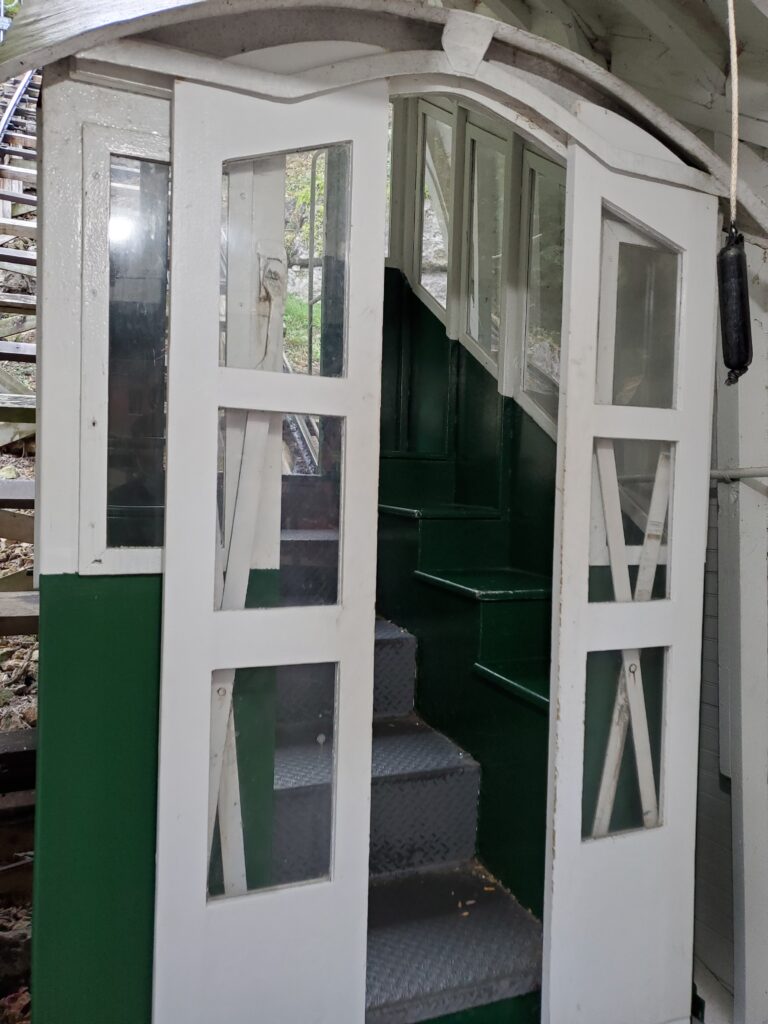 Riding the Fenelon Place Elevator is an experience unlike any other. As you board, you will notice that you do not pay at the bottom of the incline, you pay after you arrive at the top of the bluff. It's not uncommon for locals to purchase a one way ticket, and tourists purchase a round trip ticket. The Fenelon Place Elevator serves as transportation for locals. At the top you'll be rewarded with stunning panoramic views of the surrounding landscape. Fall is my favorite time of year to board the Fenelon Place Elevator, as the trees are bursting with color.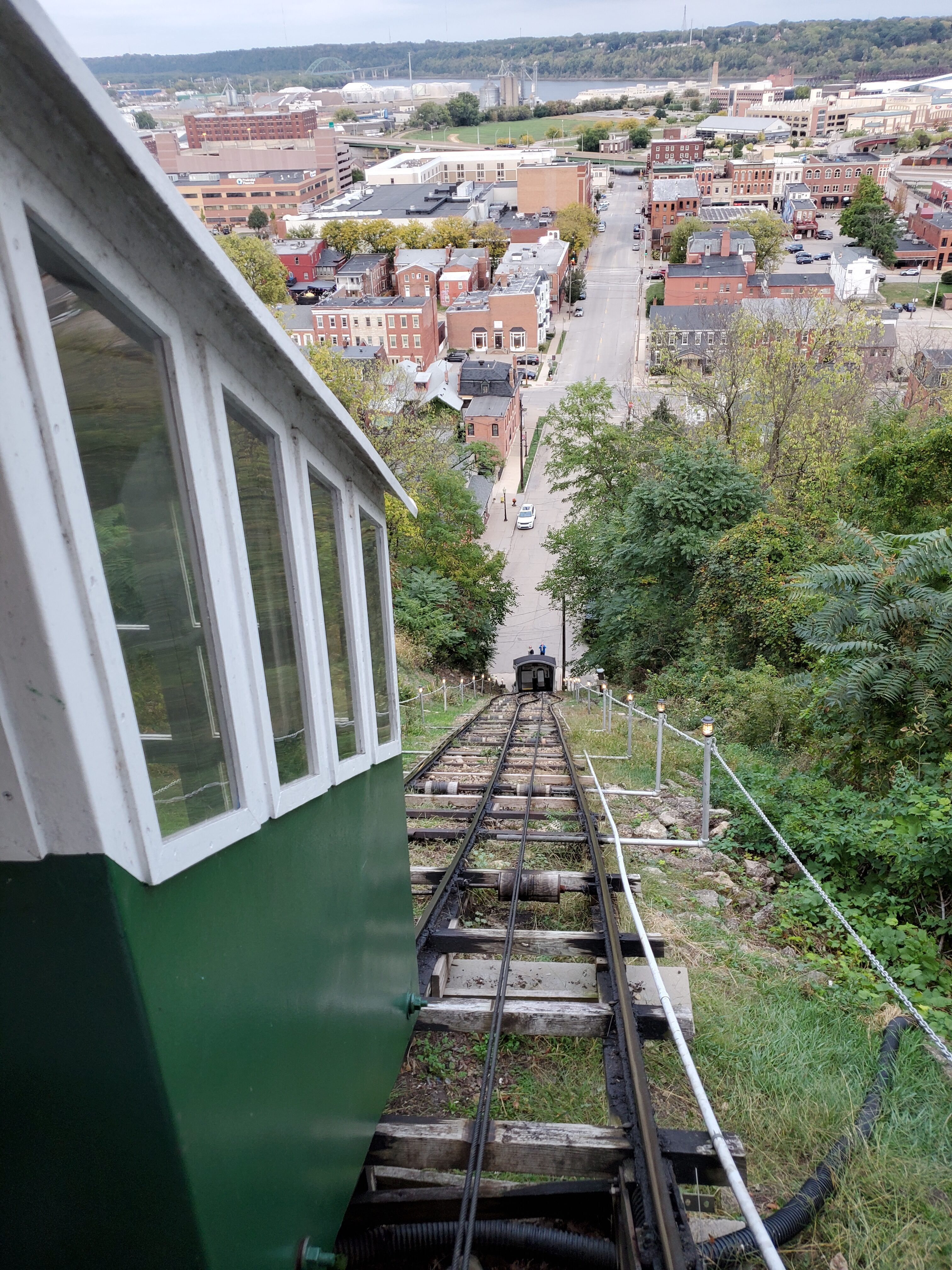 Fenelon Place Elevator ascends 189 feet with a steep angle of 70 degrees, making it a memorable adventure. You will be talking about this adventure for years on end. Whether you're a history buff, a nature lover, or simply looking for an exciting new experience, the Fenelon Place Elevator is a destination that won't disappoint. So what are you waiting for? Head to Dubuque and board Fenelon Place Elevator and take a little journey to view Dubuque, where Iowa started. Tip: Ride the Fenelon Place Elevator and check off #47 of 100 Things To Do In Iowa Before You Die.
Explore Clear Lake- Where The Music Lives
Clear Lake, Iowa, is the ultimate destination if you are looking for a perfect getaway with a blend of history, culture, and entertainment. With its stunning natural beauty, charming small-town vibe, and many attractions, Clear Lake, Iowa, has something for everyone. One of the must-visit attractions in Clear Lake, Iowa is the Surf Ballroom and Museum, a legendary music venue hosting some of the biggest names in the music industry.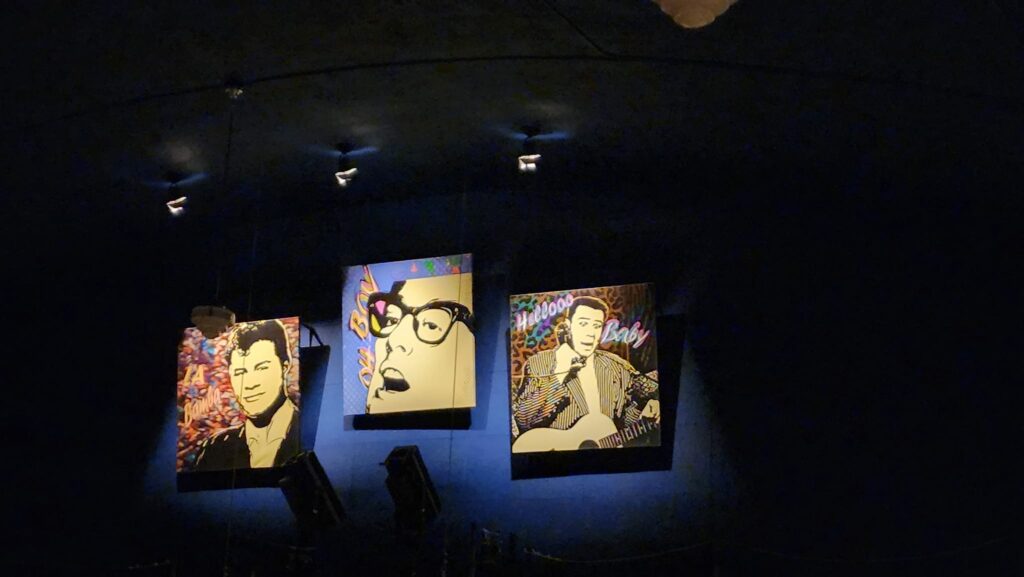 The Surf Ballroom & Museum has been a hub for music lovers from Buddy Holly to the Beach Boys for decades. From Buddy Holly to the Beach Boys, the Surf Ballroom has been a hub for music lovers for decades
The legendary Surf Ballroom & Museum is on the National Register of Historic Places. Musical history has taken place for many years at this legendary site. Approximately five miles north of Clear Lake is the Buddy Holly Crash Site.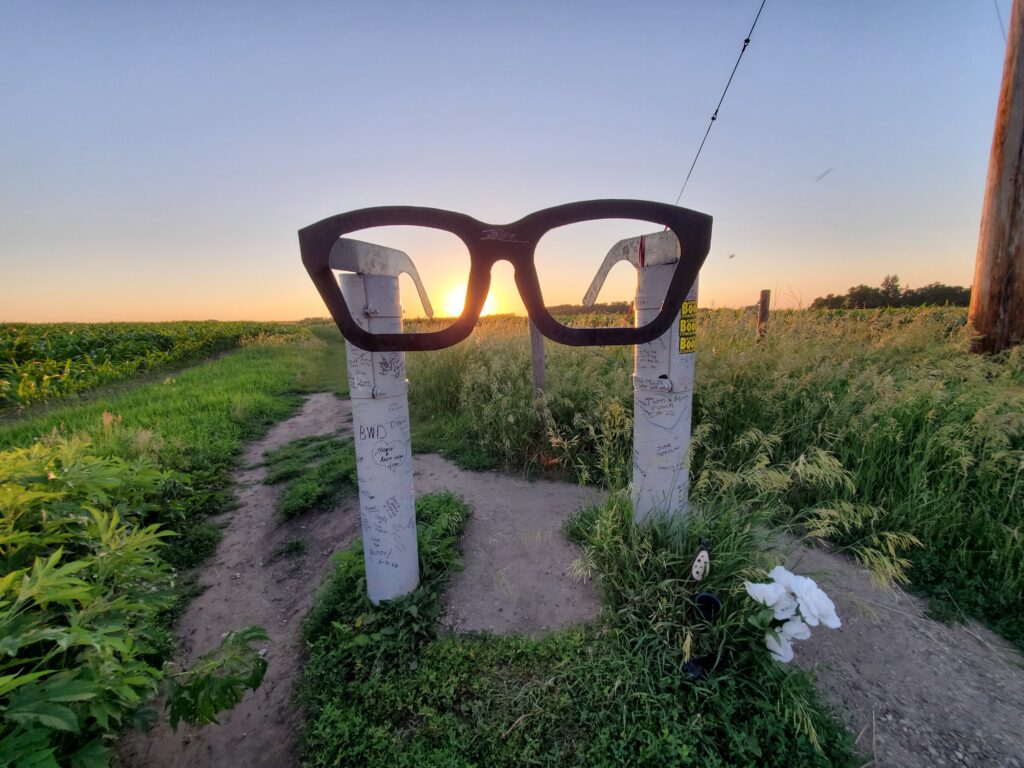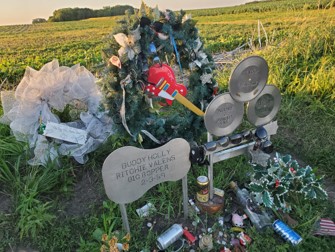 Sara's tip: Dress appropriately, as Iowa has four distinct seasons. The site marks the location where the famous singer, along with Ritchie Valens and J.P. Richardson, tragically lost their lives in a plane crash in 1959. Visitors can pay their respects to the legendary musicians and learn about their legacy at the nearby memorial. Each time I visit, there are license plates from all across the country parked in the parking lot and on the road.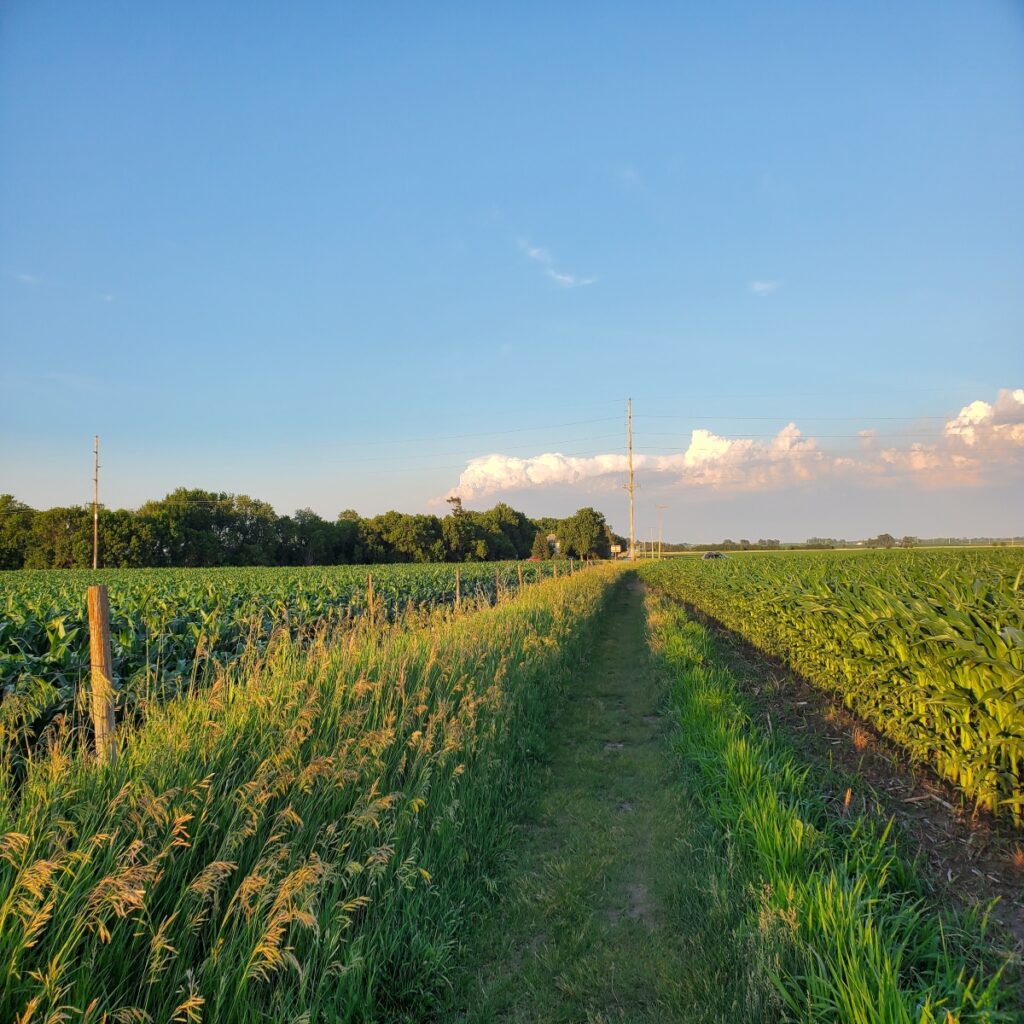 Clear Lake is home to numerous festivals, including the Winter Dance Party & The Kite Festival. When you take part in the Winter Dance Party ( #51 in the book 100 Things To Do In Iowa Before You Die) and the Color The Wind Kite Festival ( #42 in the book 100 Things To Do In Iowa Before You Die); you will check off two adventures of this popular book.
Take An Adventure in O'Brien County
If you're looking for an adventurous trip down memory lane, Yesterday's Memories and Truck Museum in O'Brien County is the perfect destination. This museum is a treasure trove of vintage cars and trucks that will take you back to a bygone era. Sara's tip: Plan to spend three hours in this museum. As soon as you step inside, you'll be transported to a time when automobiles were more than just a mode of transportation; they symbolized freedom and adventure.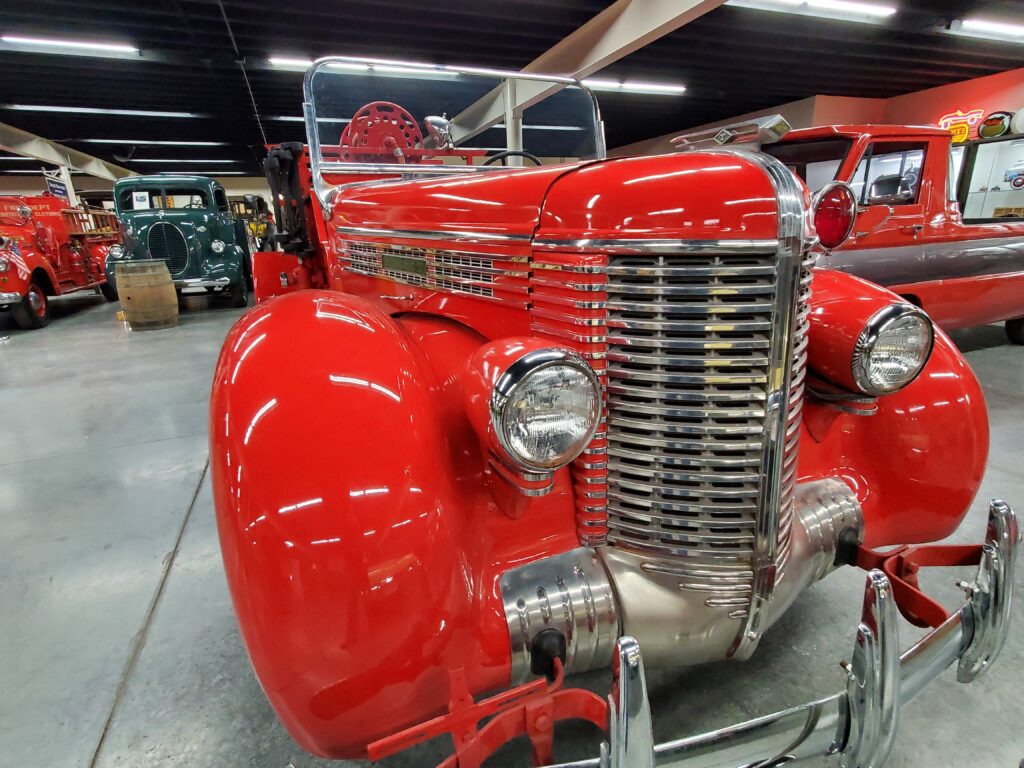 Things To Do In O'Brien County
Visitors to Yesterday's Memories Car and Truck Museum will be treated to a vast collection of classic vehicles, ranging from Model Ts to muscle cars. A surprise find of mine was a garbage truck from my hometown of Mason City, Iowa. I challenge you to find something from an area of Iowa you are connected with. The museum also features a variety of trucks and farm equipment, showcasing the evolution of transportation technology over the years.
John Deere Tractor & Engine Museum
The exhibits are meticulously curated, with each vehicle lovingly restored to its original condition, with period-correct accessories and details. Ask questions, as the highly knowledgeable staff will inspire you to appreciate cars and trucks from days gone by.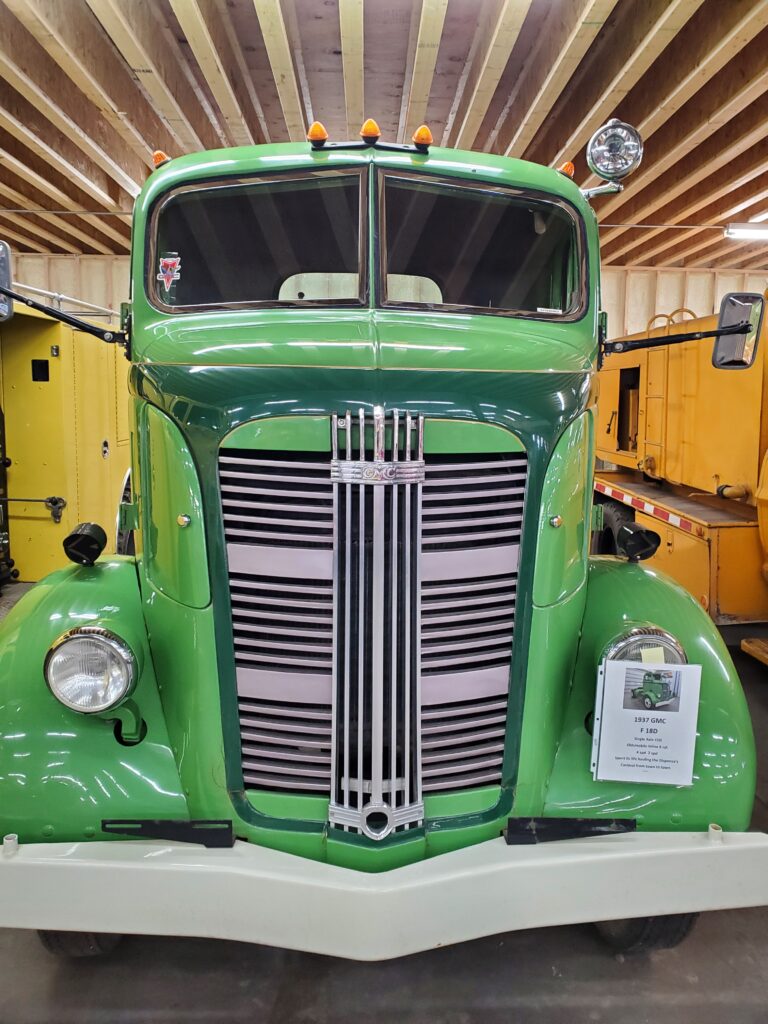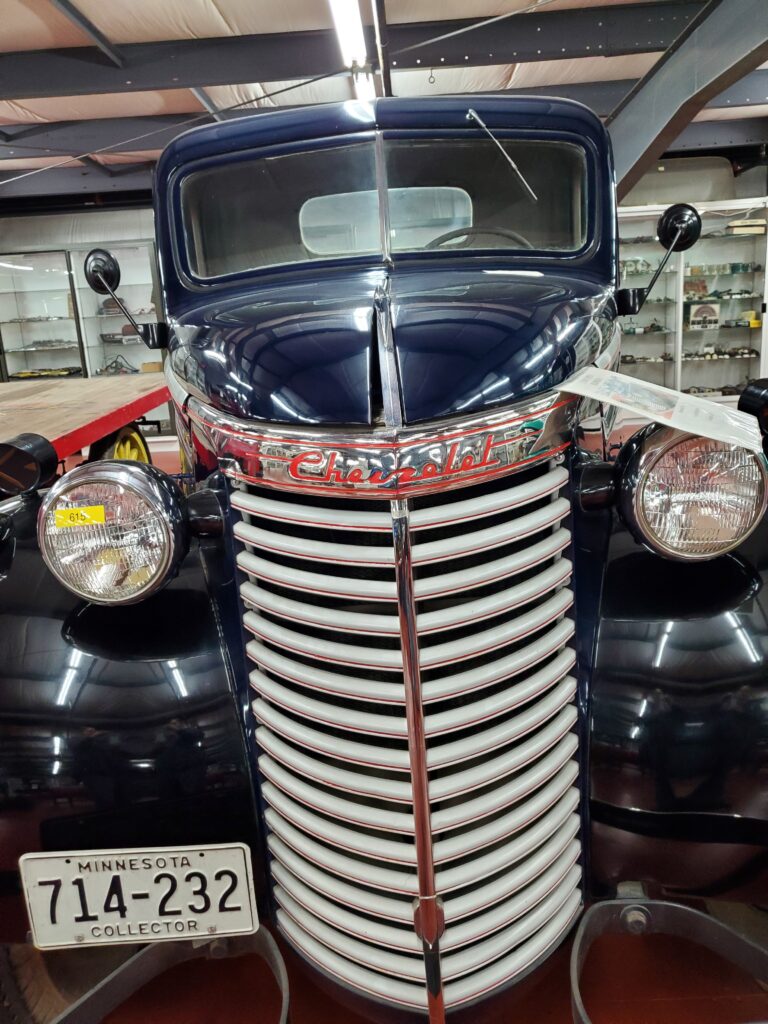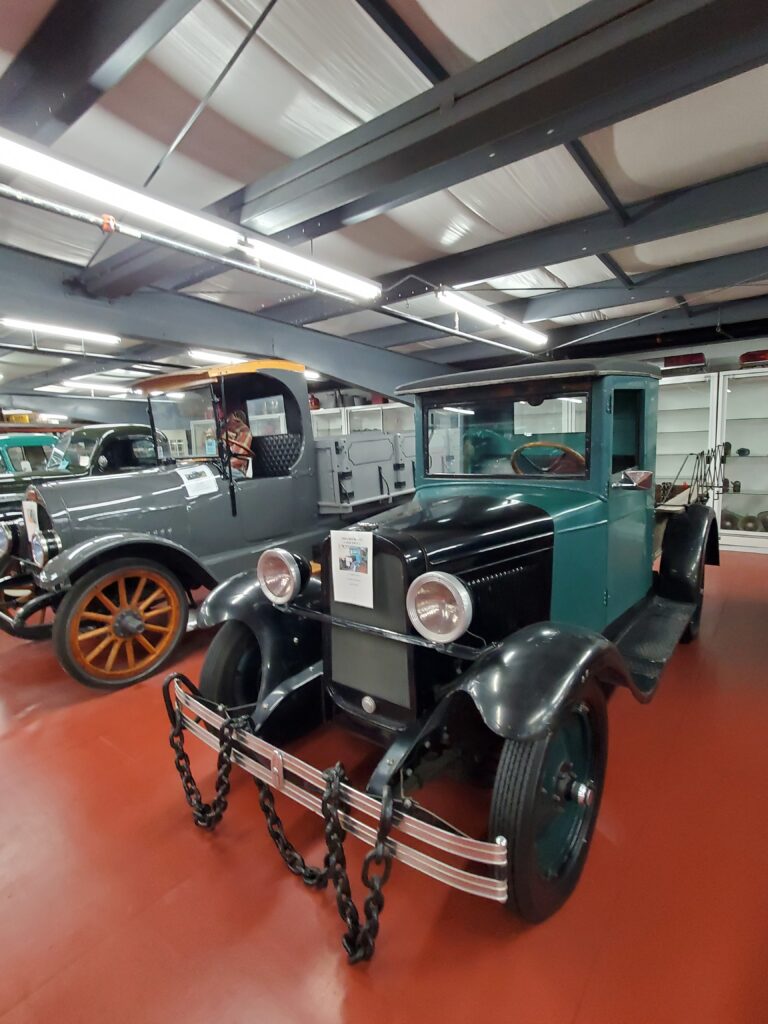 In addition to the impressive collection of vehicles, visitors can also enjoy interactive displays and exhibits that provide historical context and insight into the automotive industry. The museum offers guided tours and educational programs for visitors of all ages, making it the perfect destination for families, car enthusiasts, and history buffs.
Bike The Trout Run Trail
Are you ready to bike the breathtaking Trout Run Trail in Decorah, Iowa? I hope you are, and I am sharing my tips on how you can learn to love this trail as I do. The Trout Run Bike Trail has become my favorite Iowa biking trail. The High Trestle Trail is the most recognized Iowa bike trail, with the Trout Run Trail being recognized by many. This scenic 11-mile trail is a must-visit for any biking enthusiast.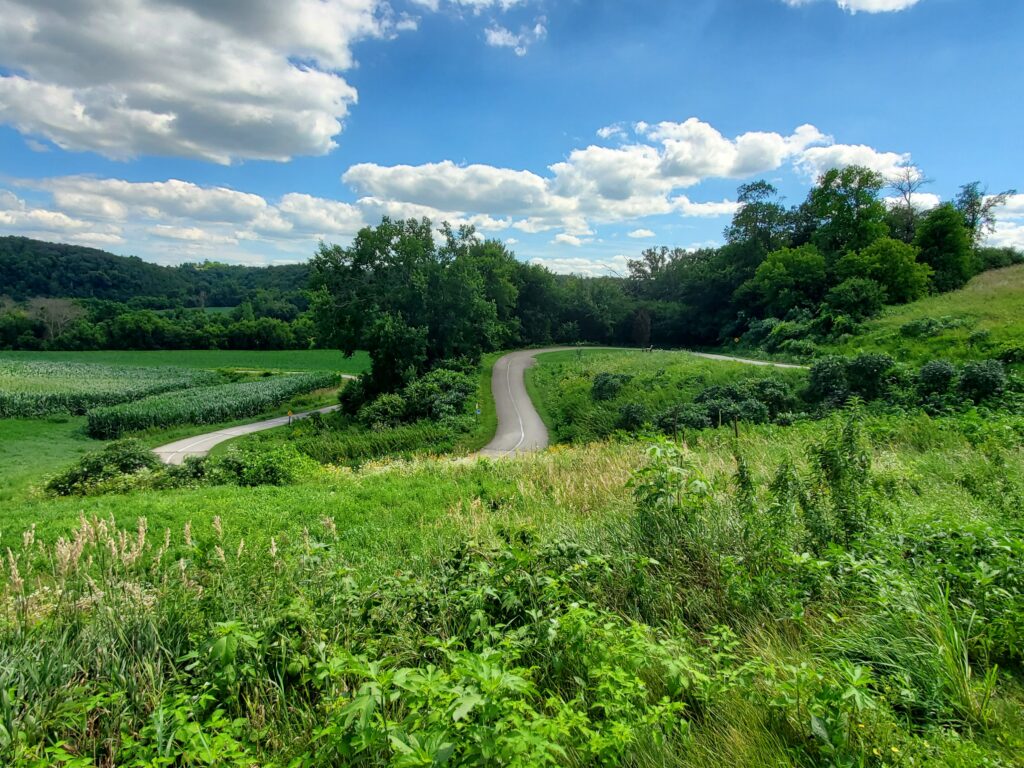 Before you hit the trail, here are some tips to improve your biking trip. First, ensure your bike is in good condition and you have a bicycle helmet. Iowa law does not require helmets, but I suggest you wear one.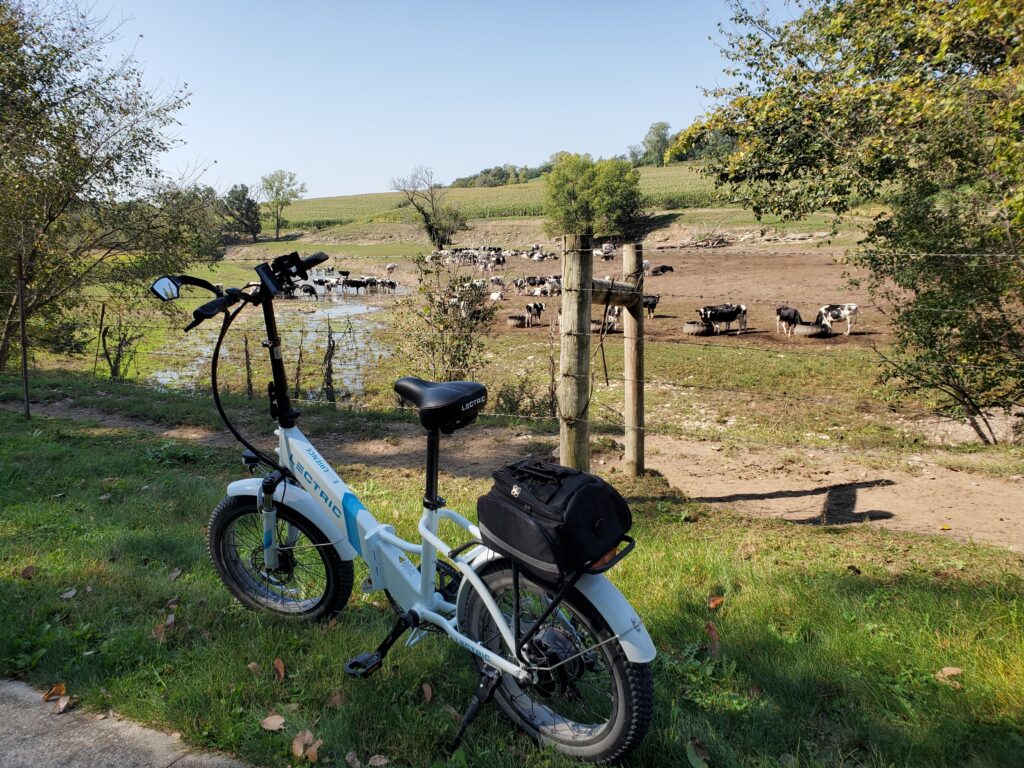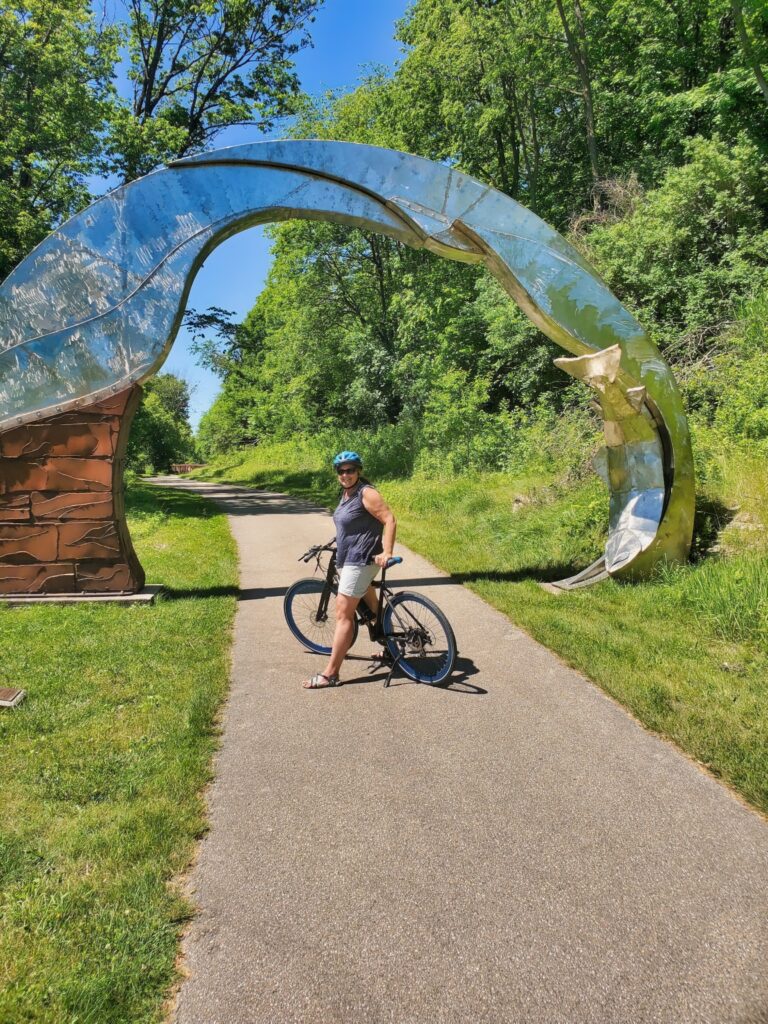 There are several places to park. My husband and I park at the Decorah Walmart Parking lot and hop on the trail from there. Once you start biking, take your time to enjoy the beautiful scenery around you. The trail is surrounded by lush greenery, stunning bluffs, and river views. You will climb numerous hills as you ride through the prairie and farms. My Lectric Ebike is my go-to choice for a bike. It makes hill climbing easy!
Be respectful of other bikers and hikers on the trail. Follow trail etiquette and stay on the right side of the path. End your bike ride with a meal at Toppling Goliath Brewing Co. and check off #26 in the book 100 Things To Do In Iowa Before You Die. With these tips, you can tackle the Trout Run Trail in Decorah and enjoy another Iowa adventure.
Iowa has many more adventures awaiting you. Come, visit and explore! These are five Iowa adventures to get your adrenaline flowing.
The following two tabs change content below.
SaraB
Sara is a travel enthusiast that resides in North Iowa. You can find her traveling where the plane, train, ship, or car will go. Are you looking to take a road trip? Sara has solutions for you!