Extended Family Vacation In Gulf Shores: Lucky Bird Vacation Rentals To The Rescue
On a recent visit to Gulf Shores, Alabama I found myself parked at Jus Jammin'. It's fair to say that I fell in love once I arrived, as this cottage was warm and inviting. This was the first time I had actually stayed at a cottage with several floors throughout. I noticed right away that the swimming pool was literally a few steps from my cottage, and the beach was two minutes away.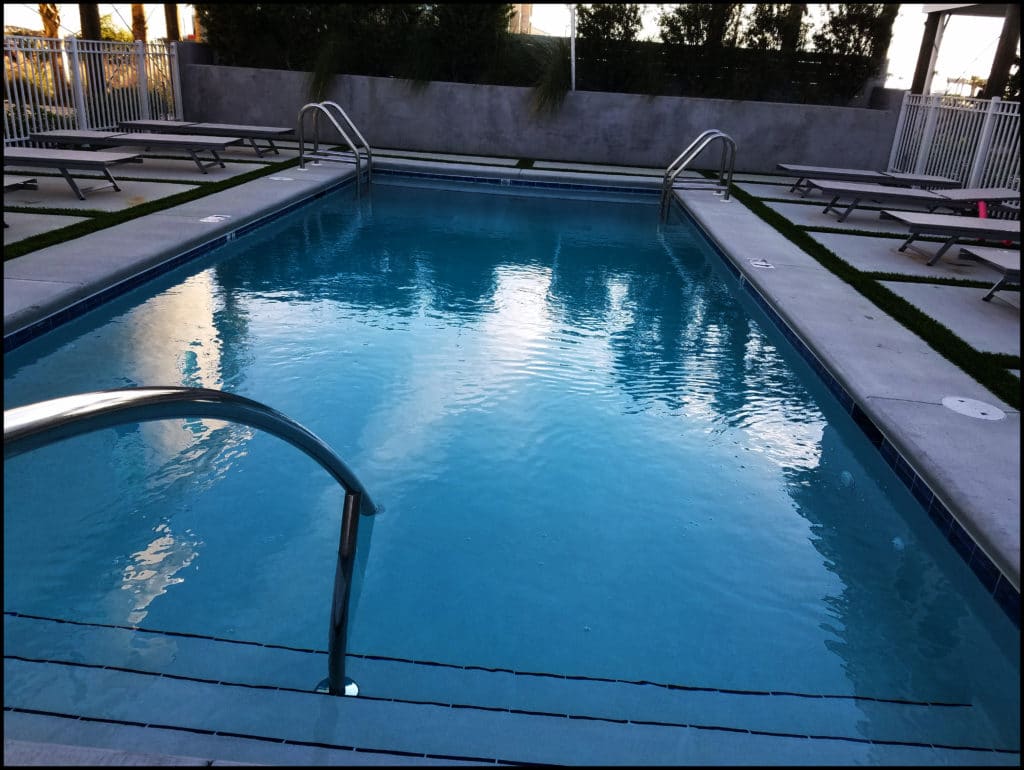 Can you say convenient?
LUCKY BIRD VACATION RENTALS: CONVENIENT IN GULF SHORES
Lucky Bird Vacations offers a variety of lodging experiences in the Gulf Shores region. The unit that I was placed in for a few nights, was Jus Jammin'. This cottage was a part of East Point Cottages and was in an easy to find location. The white, sandy beaches were only two minutes away.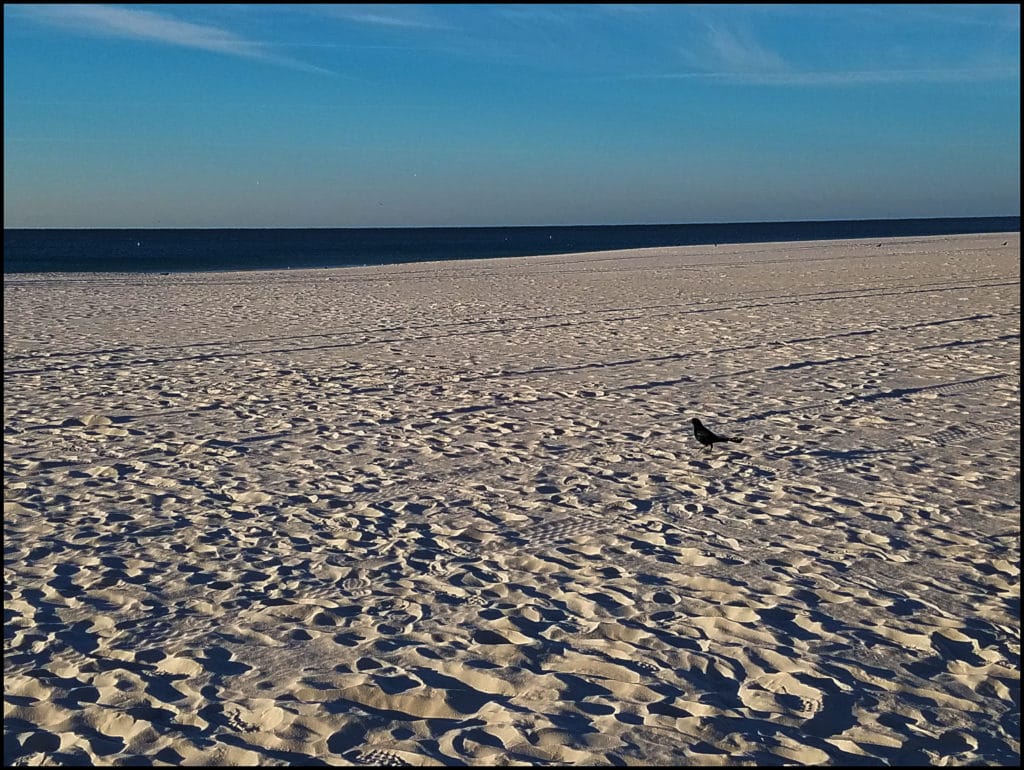 If you opt to not cook on a daily basis, there were several restaurants within walking distance, including the fun '50s themed Sunliner Diner. I particularly enjoyed the location, as several restaurants were within two minutes of my cottage.
FAMILY FRIENDLY KITCHEN
Jus Jammin' was ideal for extended families, as it provided a lot of space. WIth a full sized kitchen and table that will easily seat 8-10 people, meals can easily be prepared. A modern refrigerator, electric stove, microwave, dishwasher, coffee pot, and etc. could also be found.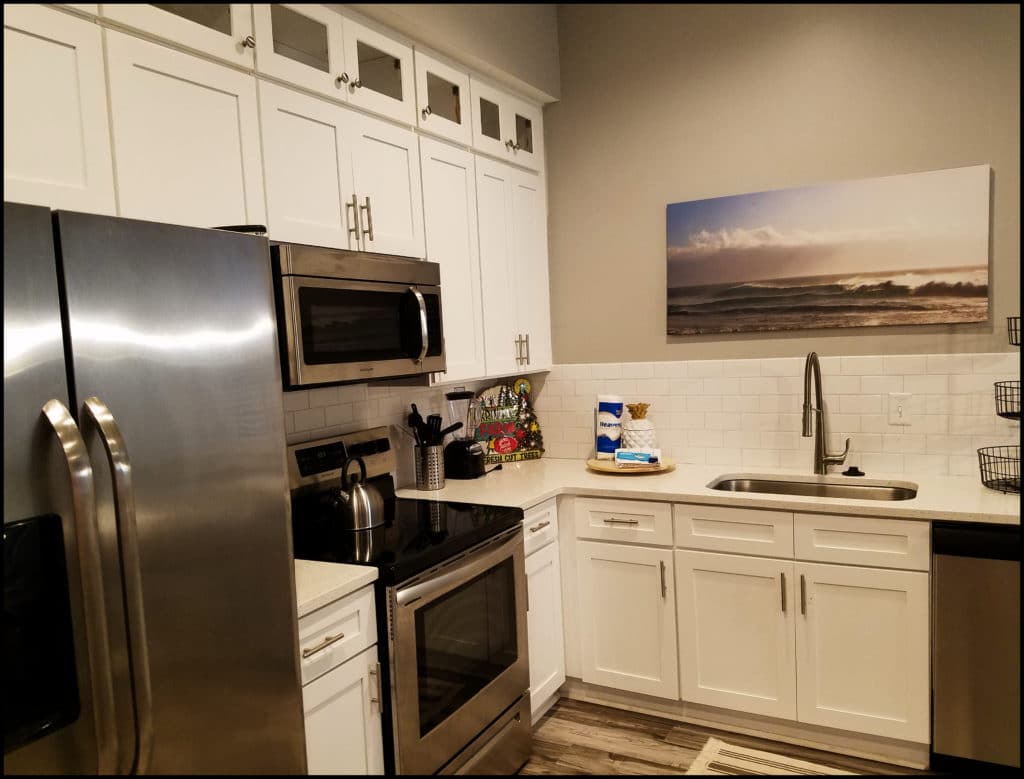 Money Saving Travel Tip: Stop at a grocery store when you arrive in town and stock up for your stay. It's always nice to experience local foods while traveling and Gulf Shores will not disappoint, as the foodie scene is strong. When time allows, enjoy your cottage and cook up a meal served with love. Often times meals that are cooked away from home, are the most memorable experiences of a vacation.
THREE BEDROOMS
Jus Jammin' offers 3 bedrooms with 3 1/2 baths. The master bedroom is on the main level, which is technically up a couple flight of stairs from the carport area. The third level is home to a bedroom with a queen bed and a bedroom with four bunk beds.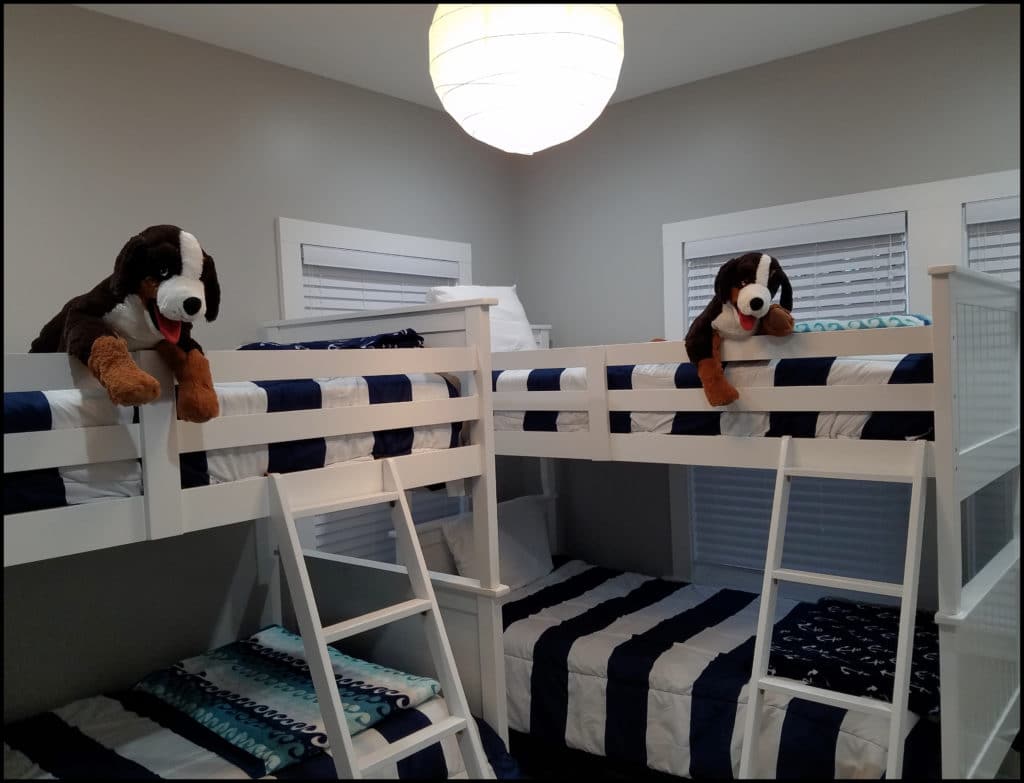 The room with the bunk beds looked like a dream room for children of all ages. Each of these bedrooms has its own bathroom with a tub and shower. The sofa sleeper is on the main level, which brings the capacity of this unit to 10 overnight guests.
The balcony was a nice extension of this unit and offered a nice sitting area, which was located right off of the great room and kitchen area. I particularly enjoyed the balcony at the end of the day, as it offered a place to reflect while surrounded by nature. Any time I can spend a moment with a palm tree in view, I'm a happy camper.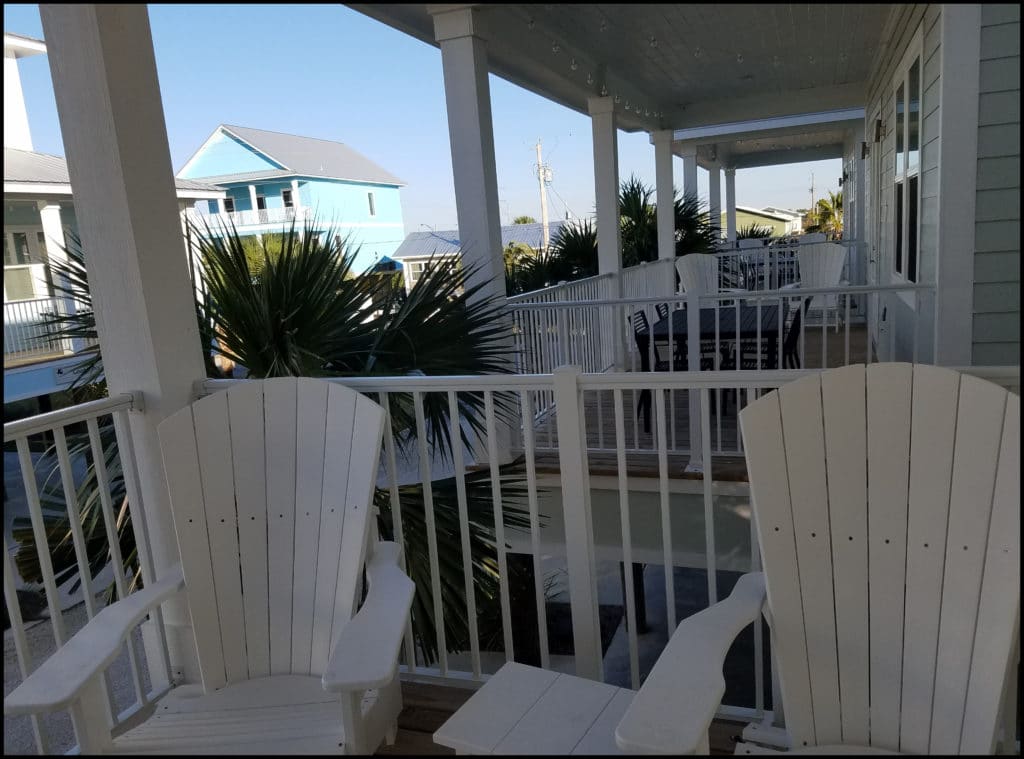 With a washer and dryer on site and a lot of space, this is an ideal property for an extended family get together. The downfall of this property is that all of the people in your party must be mobile. If you or someone in your party cannot climb stairs, Jus Jammin' is not an ideal place for you to stay. Lucky Bird Vacations have helpful people on staff, who can help you find a unit that will meet your needs.
It is no secret that beach communities are often difficult to keep clean. From the convenient, covered parking area to the stairs inside, a clean, quiet cottage was appreciated during my stay in Gulf Shores. Lucky Bird Vacations is a winner in my book and made my stay in Gulf Shores another pleasant one.
*Thank you to Lucky Bird Vacations and the folks at Visit AL Beaches for hosting me.
The following two tabs change content below.
SaraB
Sara is a travel enthusiast that resides in North Iowa. You can find her traveling where the plane, train, ship, or car will go. Are you looking to take a road trip? Sara has solutions for you!