Are You Searching For An Authentic Florida Experience? Look No Further Than Pass – a – Grille, Florida
---
The Sunshine State is home to beautiful views, warm weather and Authentic Florida Experiences all 365 days of the year, which welcome visitors like yourselves. On a recent visit to Pass- a- Grille, Florida; my husband and I were greeted by Authentic Florida. There are not a lot of places around the state where you can visit and not be overrun with crowds. It is fair to say that Pass- a – Grille, Florida surpassed our expectations in several ways. The people were very welcoming in this charming seaside community, from the shop owners to the restaurant staff.
Where is Pass – a – Grille Located?
This neighborhood community is located on the far south end of St. Pete Beach on the Gulf coast, which many people are familiar with. Go as far south as you can, and you will find yourself in a slice of Florida that is getting more difficult to find. Pass – a – Grille is a small community. You will not find any fast-food chains or familiar hotels. You will find great shopping, a beautiful beach with water activities, and fantastic restaurants. Are you ready to learn more? Let's go!
Enjoy The Beach In Pass – a – Grille
The beach offers sand that will slither between your toes and views that will draw you in. Parking is at a premium, during the busy times, so arrive early.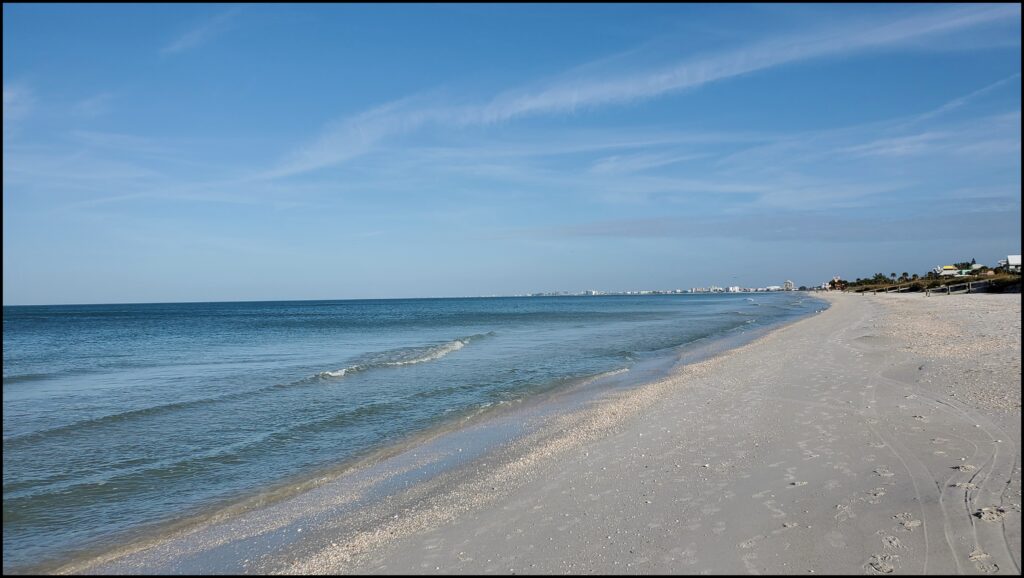 There are beach chairs, umbrellas, and paddleboards for you to rent right on the beach. There is a public beach house, available for changing into your swimwear, about halfway down the beachfront. A thank you to the Coconut Inn and Shell Key Shuttle for hosting us and allowing us to explore this seaside community.
Click Here: The American Road Trip Is Back
Take a Sunset Cruise
The friendly folks on Merry Pier with Shell Key Shuttle offer a sunset cruise, weather permitting. On the day we took this cruise, the sunset was colorful and memorable.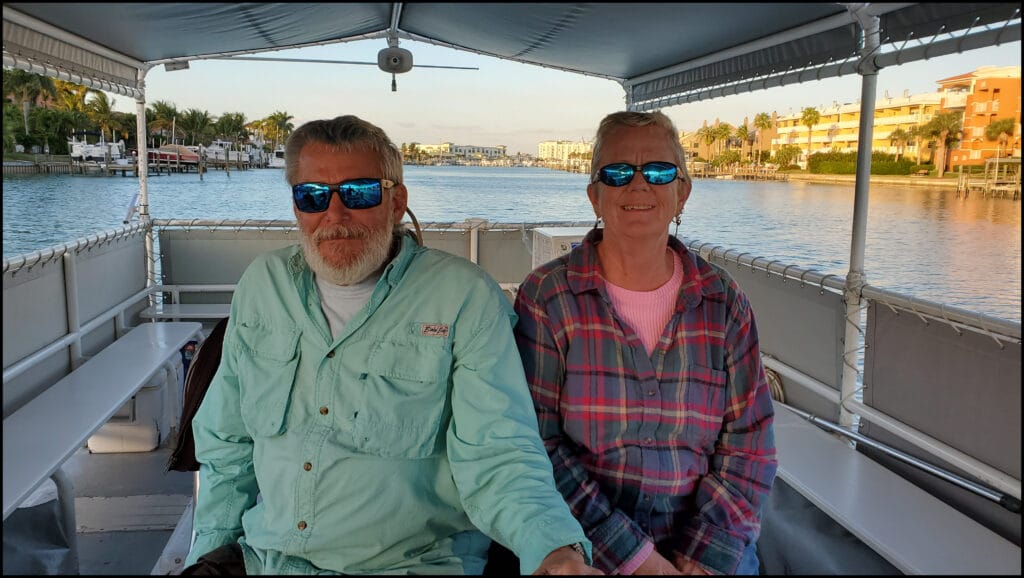 There is something to be said about experiencing a sunset out on the water in Authentic Florida. This sunset cruise is a great way to see and learn more about the area. Your tour guides are locals and know a lot about the history of Pass a Grille and island life.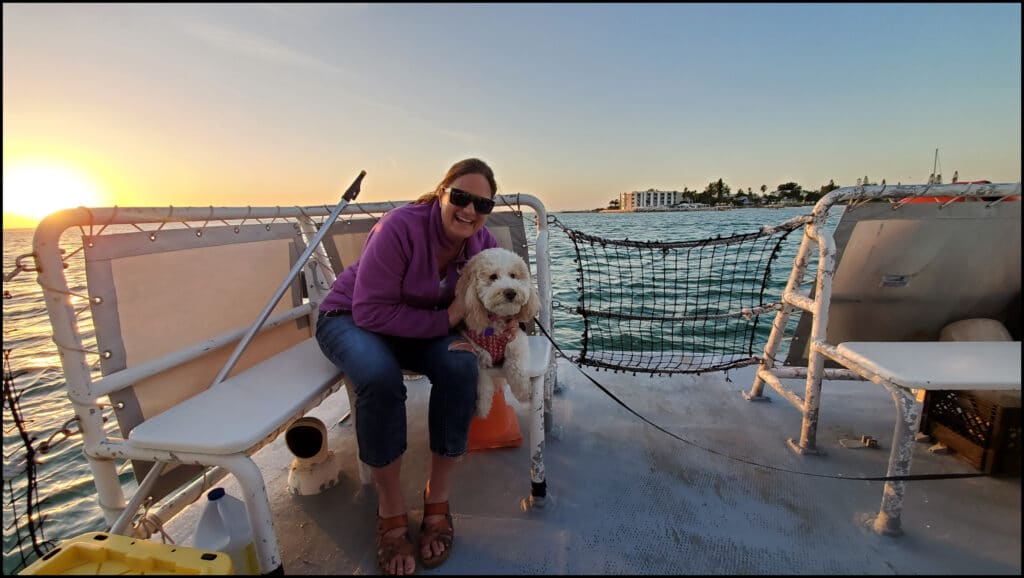 Note: This cruise is dog-friendly and Maggie had a great time!
Shop Small On The World's Smallest Main Street
Stroll the World's Smallest Main Street for the ultimate shopping experience. The friendly shop owners will roll out the red carpet for you, as you find a few treasures to take back home with you. Find a chair, kick back, and enjoy the views.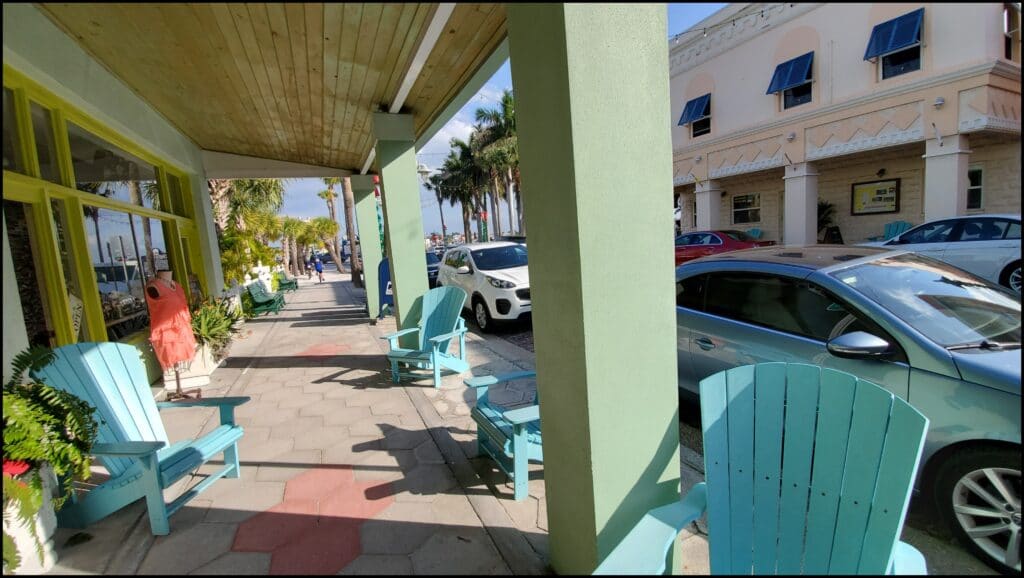 From the traditional souvenirs to the ultimate in home decor, there's something for everyone. Look up, down, and around, as the art scene is fun on this Main Street, as well.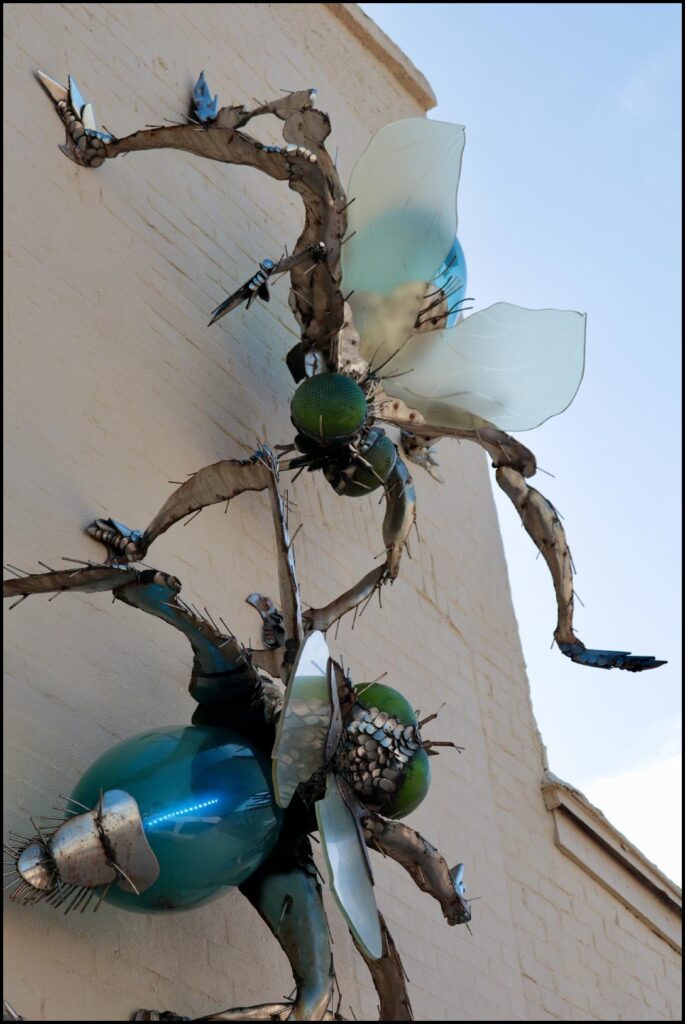 Where To Stay In Pass-a-Grille
The Coconut Inn, a charming property, is a part of Superior's Small Lodging of Florida. I have found through my years of travel, these properties are some of the cleanest properties you will find in the Sunshine State. The Coconut Inn was no exception. The staff was super to work with and the property was top notch. Most importantly, it's a short walk to the beach and you can carry a beach chair from the inn to the beach. We took a stroll on a couple of their bikes and explored the town riding on them.
It was a fun way to experience Pass-a-Grille, and I'd highly suggest using them when you stay at the Coconut Inn.
Where To Eat In Pass-a-Grille
There are several great restaurants to choose from when dining in Pass-a-Grille, Florida. We asked the locals for recommendations and they did not steer us in the wrong direction. Here are some of the places we dined at when we were in town.
Paradise Grille
Waterfront Dining on the beach is what you will find at Paradise Grille. We stumbled on breakfast while taking a morning walk on the beach. We indulged in bacon accompanied with eggs, with a view that we will not find anywhere else. When is the last time you ate breakfast with a view like this?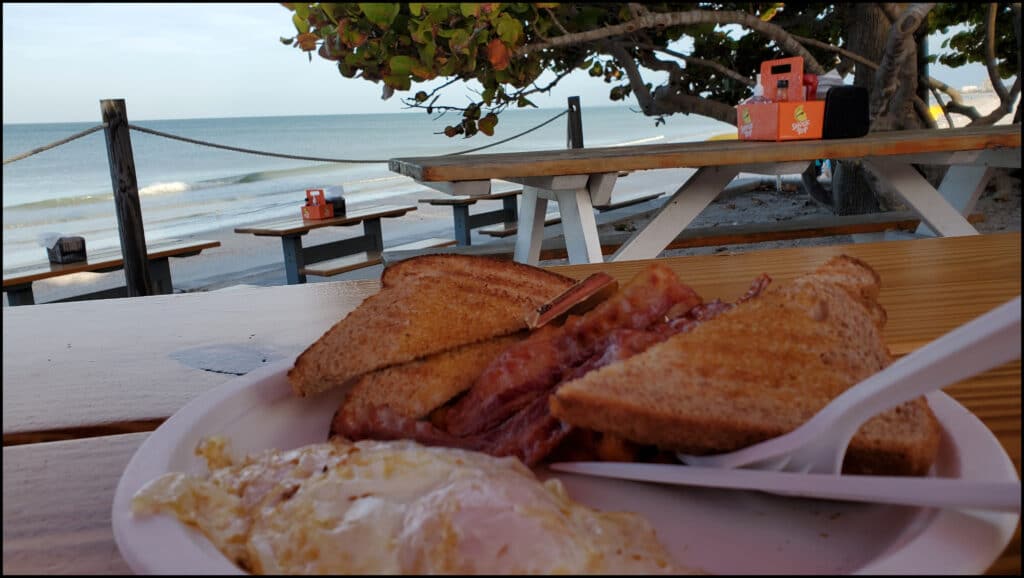 They do serve meals and live music all day long here, as it's a great meeting spot on the beachfront.
The Brass Monkey
If you want a rooftop view of the beach, this is where you need to go to enjoy lunch or dinner. The views are fantastic, as was the food and service. The Brass Monkey, owned by Kelly & Barry, are proud to say that they, "Overlook nothing but The Gulf."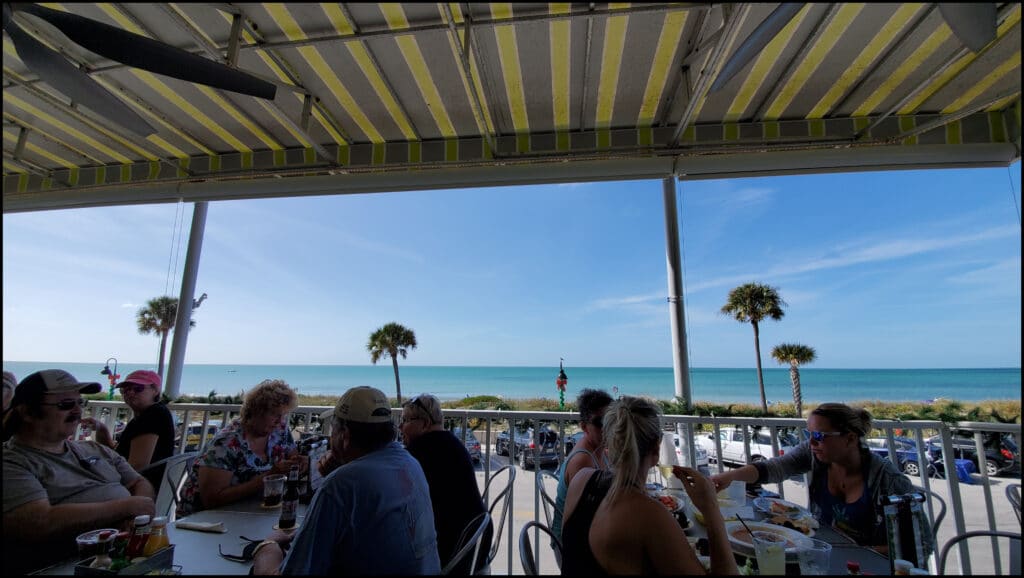 They are proud of the fact that they serve the freshest ingredients possible and all of their menu items are prepared in house.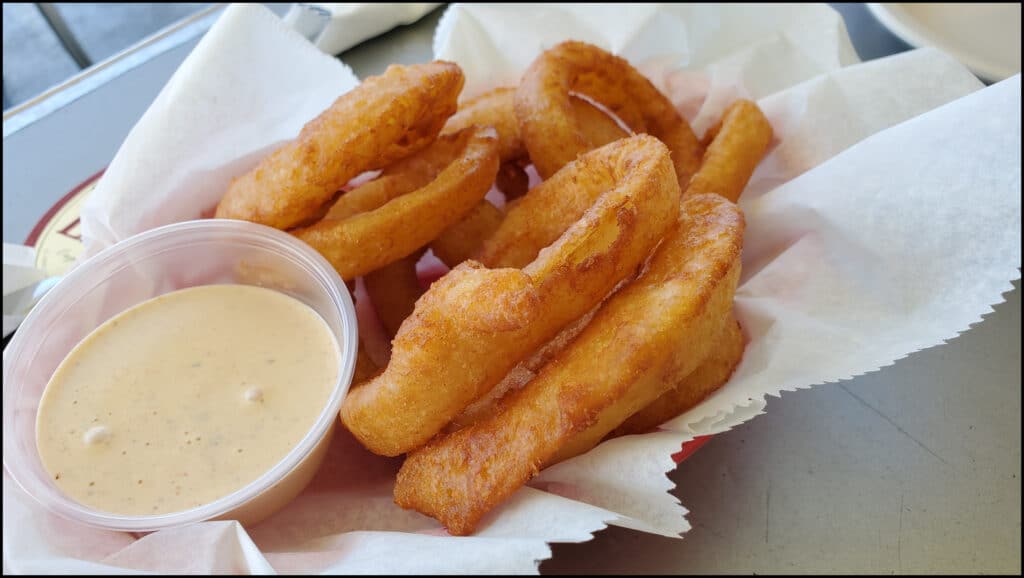 Tip: Order the onion rings, they were AMAZING!
The Hurricane
Located in the heart of the historic district in Pass – a – Grille, The Hurricane offers rooftop twin bars that offer amazing sunset views. They are known for their seafood and we ordered burgers. The burgers were very good and the seafood that others were ordering, also looked tasty.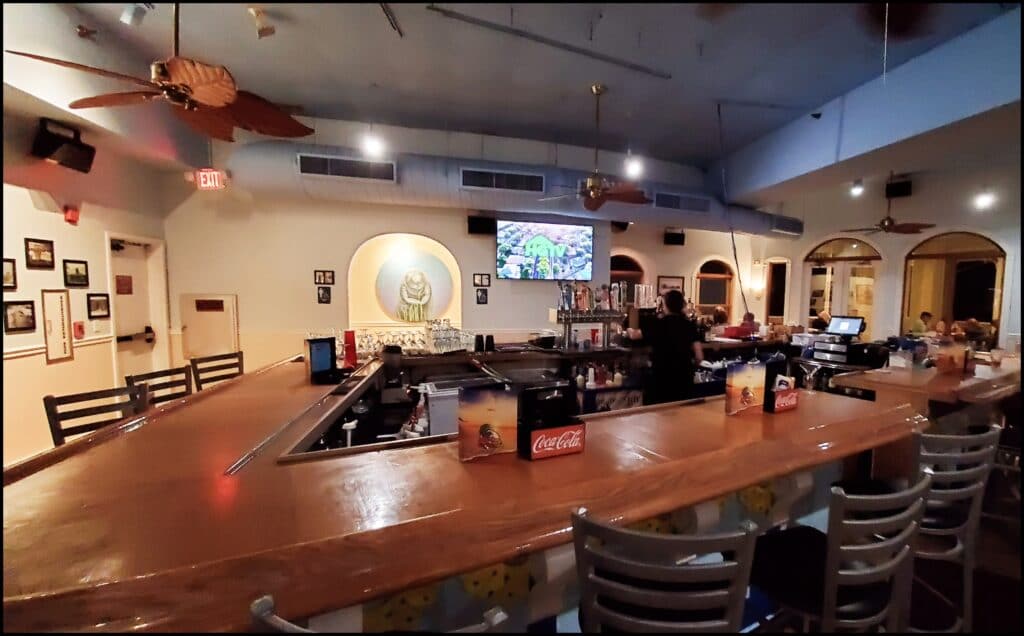 There are three levels of dining experiences at this restaurant. Each level has a different menu, so make sure you express the type of food you want to eat to your host or hostess. They are open for breakfast, lunch, and dinner, seven days a week.
The Wharf Restaurant & Bar
This restaurant was recommended to us by the locals and it did not disappoint. Their motto is, "Come for the Great Food & Drinks – Stay for the Local Atmosphere." I would agree with their motto, as this was a nice way to wrap up our day. The sun had set and we indulged in shrimp. Sitting out near the water, with the night time sky was the end of a perfect day in Pass – a – Grille. They have a variety of seating available, from outdoors to indoors, with and without views.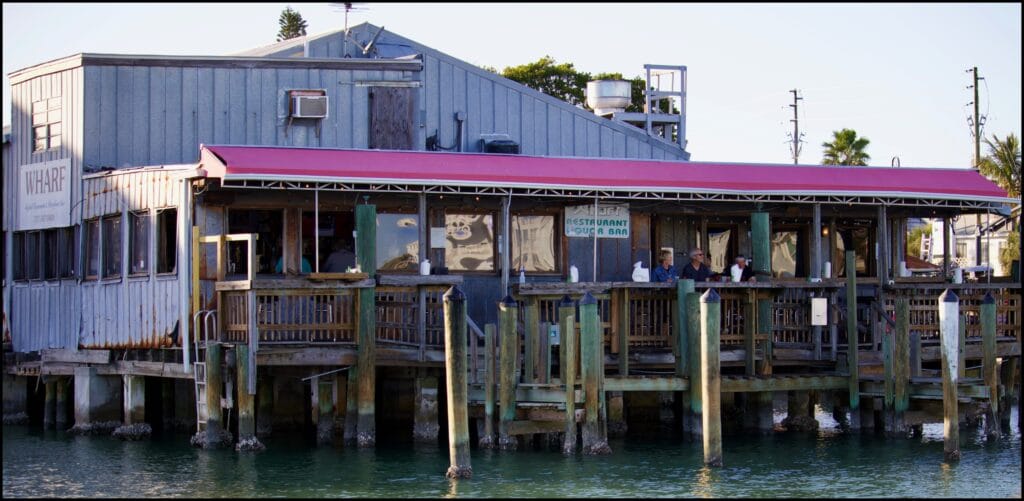 They also offer burgers, chicken sandwiches, and even BBQ. An interesting fact about The Wharf is that it used to be a fish processing plant. Take time to stroll through the restaurant to view the photos of the history of this restaurant.
The Seahorse
The Seahorse restaurant kept popping up all over town, as a recommendation from the locals. They serve breakfast and lunch and are located right across from Merry Pier. We ate here before we left town and breakfast was just as we had imagined it would be. A good old fashioned, tasty, breakfast was what we enjoyed.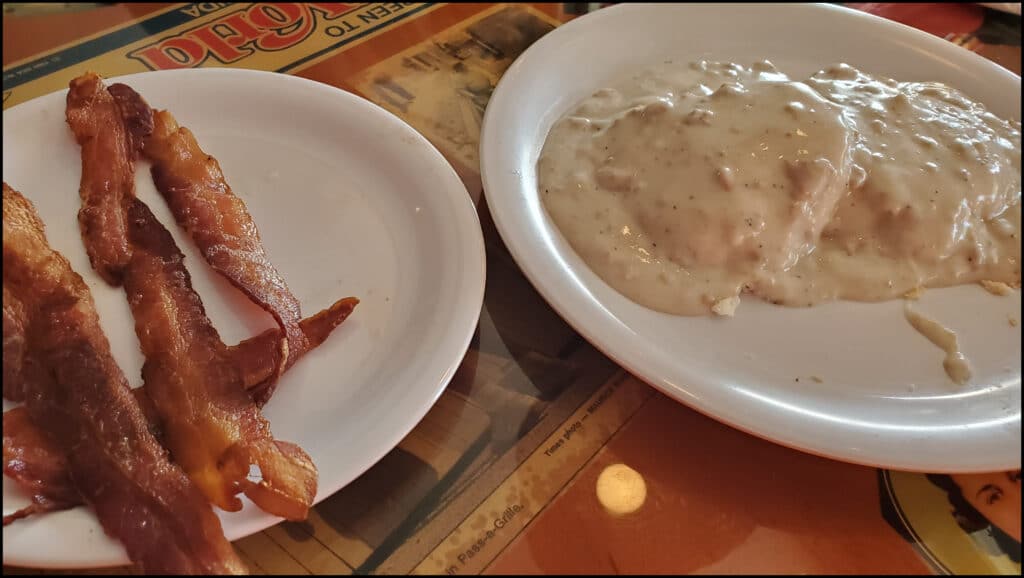 From the biscuits and gravy to the scrambled eggs, we were pleased with our meal.
We loved our time in Pass-a-Grille, Florida and would love to return at some point. Keep in mind that everything is walkable around this beach community. Free transportation is available around the island and can be accessed by flagging down one of their vehicles or through their phone app (there are signs around town).
These 100% electric Polaris GEM vehicles are a great fit for this beach town. We appreciated the fact that we were able to experience Authentic Florida and enjoy the small-town experience.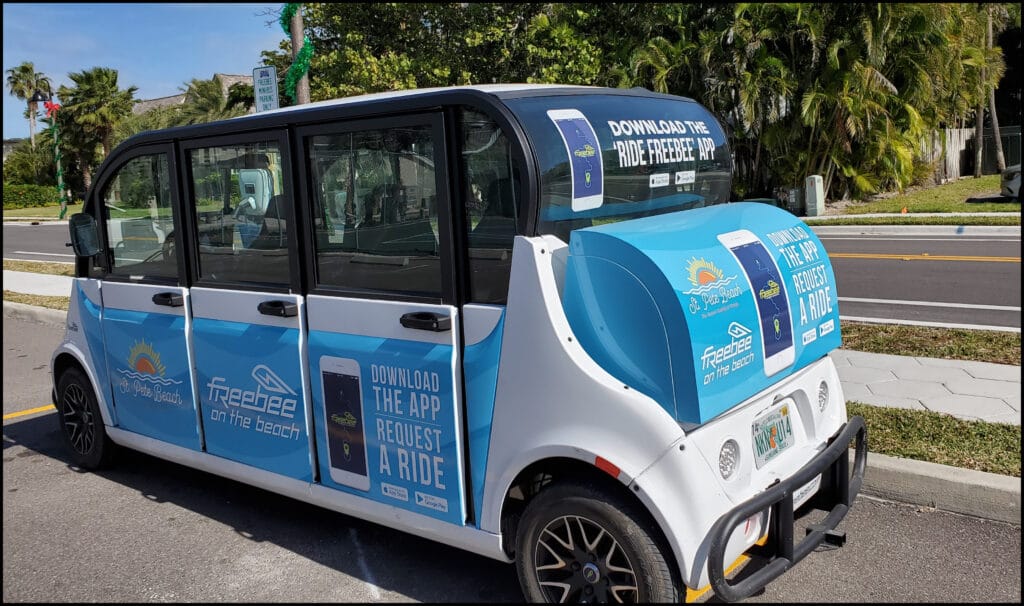 If you enjoy a quieter, laid back beach experience, then Pass – a – Grille is for you. This neighborhood community will be where your sense of excitement and relaxation will come together. Pack your sandals, swimwear, tennis shoes, warm weather clothes, and head to the beach. Your mental health, as well as your physical health, will thank you.
Happy Traveling~ Sara
The following two tabs change content below.
SaraB
Sara is a travel enthusiast that resides in North Iowa. You can find her traveling where the plane, train, ship, or car will go. Are you looking to take a road trip? Sara has solutions for you!